(12V/24V;10A) PWM Intelligent Solar Charger and discharge Controller under BIG PROMOTION!!!!!!!
Specification:
*With the waterproof solar charge controller,during rainy days,the controller will be protected from the rainy water.
*Microcontroller and dedicated software for precise control.
*Work Mode, Light control,light control & timer setting,normal control,test
*Protection against overload, short circuit and reverse connection
*Utilizes Serial Mode PWM Control for Maximum Efficiency
*Digital LED Indicator Light
*Temperature Compensation
*Waterproof controller
*Wide Temperature Working Range of -35 to 50degree
Description:
Type

V-ST5

V-ST10

V-ST15

V-ST20

Rated charge current

5A

10A

15A

20A

Rated load current

5A

10A

15A

20A

Work voltage

12v; 12/24V Auto

Over load, short circuit protection

1.25 rated load current 60sec, 1.5 rated loads current 5sec, over load protection action. ≥3 Rated load current short circuit protection action.

No load current

≤6mA

Charging circuit voltage drop

less 0.26 V

Load circuit voltage drop

less 0.15 V

Over voltage protection

17V; ×2/24V

Work temperature

Industry stage:-35 to +55 degree

Boost charge voltage

14.6V; ×2/24V; (keep 10min)

Direct charge voltage

14.4V; ×2/24V; (keep 10min)

Float charge voltage

13.6V; ×2/24V

charge return voltage

13.2v;×2/24V

Temperature compensation

-5mv/ degree/cell (Boost charge, Direct charge, Float charge, charge return voltage);

Lower voltage indicate

12.0V ×2/24V;

Over discharge voltage

11.1V(no load)- real-time modified voltage by the discharge rate; ×2/24V;

Over discharge return voltage

12.6V; ×2/24V

Control mode

PWM charge mode; modified discharge voltage by the discharge rate
Characteristics:
Control circuit: use MCU and professional software as the control center to fulfill intelligent system control.
Charging mode: use PWM high efficiency charging way. Boost, recovery and float charging auto work for battery long-life. Use temperature compensation.
High accuracy over discharging control by the discharging rate: Over-discharging control voltage modified by the battery discharging rate curve.
Self protection: protection to overload, outside and inside short circuit, reverse connection, thunder and lightning, PV panel reverse current, over charging and discharging etc. during the short circuit and overload protection, no any component will be damaged and need change, include fuse.
LED indication on system condition: LED indicating the system of charging, overcharge, power full, power low, over-discharge, over load, out short circuit, load on/off, etc.
Industry level production standard: wide temperature running area -35 to +50degree
No adjustable hardware part: use flash memory to save all work control point instead of adjustable resistance, to protect the control work point from going off as the adjustable resistance value is easily changed by temperature and vibration, in order to make sure the control accuracy and reliability.
Operation: easy to operate, robust in design.
Two output modes: direct current output mode and 1HZ output mode. The1HZ output mode is very suitable for traffic caution light.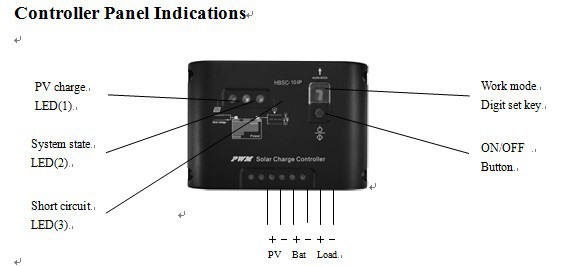 Installation:
a. fix the controller in a certain place .
size of the installing hole :
Size: 140 ×90.5(mm)
Length between installing holes:133.5×70(mm)
b. Prepare wire. Choose the plastic Copper wire. Current density no more than 4A/mm2. Cut the
suitable length of wire and make it as shout as possible. Peel off 5mm the plastic at the end of wire.
c. Connect the wire to the battery port on the controller to the battery. Pay attention to the +, - pole of the connection. If the pole is reverse, it does not work. It has the function of self protection, and there is no any part will be damaged during this step, but should correct this mistake.
d. Connect the wire to the PV port on the controller to PV panel. If the connection is correct and the PV panel gets the sunlight, charging indicator will be light.
e. Connect the load to the load port on the controller. Attention the +, - pole should be correct.
!! Attention: during the installation, if the voltage of the system is 24V, you can not use the hands to touch any conductor in the system circuit in order to protect from electric shock.
Using:
Charge & overpressure indication:If the system is properly connected ,when sunlight shines on the PV panel ,the charge LED lights in green,indicating the system is working in a good order. PWM mode is applied in charging. During the charging, if over discharge has happened, firstly the voltage for charging battery will be up to boost voltage and keep 10 mins, then returns to direct voltage and keep 10 mins to activate battery, lastly to float voltage and keep this state for the best state of battery. These process is benefit to battery full charging and its life -span.
Battery state: when the battery voltage is in normal condition, the state LED lights in green; state LED flashes slowly in green when battery finishes its charge; When the voltage of the battery is lower, it will get in yellow color. When the voltage goes down continuously to over discharge, the System state LED will get in red color, and turns off the output at the same time, until the battery voltage recovers to over discharge return voltage, the system will work again automatically.
Load indication: the load LED lights when the load works. If the load current is 1.25 times higher for 60 seconds or 1.5 times higher for 5 seconds than rated current of the controller, the trouble LED flash slowly in red to show overload happened, and the controller will shut down output. When load short circuit happens, the trouble LED will flash quickly, then the controller will shut down its output. When it happens, please check if the load is properly connected. Disconnect the load at fault and press the button, it will resume its work in 30 seconds or in another day.
Work mode setting:
Way of setting: press the on & off button for 5 seconds long until the number on the LED screen begins to flash. Press the button to choose a proper number. When the number no longer flashes, the setting is completed. Press the button to check the value.
Light ON+ Light OFF control mode: The load will start working when it gets dark until it gets bright or to the end of a setting time. There will be a 10 mins delay before turning on the load in order to make sure if it really gets dark.
Light ON + set time delay OFF mode: the start process same with above. Load will be closed after the setting time. Setting time can be seen in time setting table.
Common controller mode: The controller will work as a common controller, no light and time control, no ON and OFF delay time. only has the else function. If no sunlight on PV panel, it will turn on load at once; If sunlight on PV panel, it will turn off load at once.
Test mode: It used for the Light control system installed test. Only cancel the ON and OFF delay
Two Output modes: when the number displayed on the LED is anyone from 1 to 7, it is in Direct output mode; when the number is decimal from 0.1 to 7.0, it is in 1HZ output mode. LED can be directly started to display the 1HZ output mode. Start the pure resistance load in 1HZ output mode. Forbid using 1HZ output mode on capacitive or inductive load.
Time setting:
| | | | | | |
| --- | --- | --- | --- | --- | --- |
| Work mode | LED | Work mode | LED | Work mode | LED |
| Light ON+ Light OFF | 0 | Light ON + 6 Hours delay OFF | 6 | Light ON + 12 Hours delay OFF | 2. |
| Light ON + 1 Hour delay OFF | 1 | Light ON + 7 Hours delay OFF | 7 | Light ON + 13 Hours delay OFF | 3. |
| Light ON + 2 Hours delay OFF | 2 | Light ON + 8 Hours delay OFF | 8 | Light ON + 14 Hours delay OFF | 4. |
| Light ON + 3 Hours delay OFF | 3 | Light ON + 9 Hours delay OFF | 9 | Light ON + 15 Hours delay OFF | 5. |
| Light ON + 4 Hours delay OFF | 4 | Light ON + 10 Hours delay OFF | 0. | Normal control | 6. |
| Light ON + 5 Hours delay OFF | 5 | Light ON + 11 Hours delay OFF | 1. | Test(No delay) | 7. |
Problems & Troubleshooting:
| | |
| --- | --- |
| Problems | Troubleshooting |
| The charge LED indicator doesn't light in green when sunlight gets the PV panel. | Check if the cable of solar panel connects properly. |
| The charge LED indicator flash quickly . | System over voltage or open circuit of the battery. check if the battery connects to the system cable properly or the charging circuit damaged. |
| The load LED indicator light but there is no power output. | Check if the load connects to the system properly. |
| The load LED indicator flash quickly and there is no power output . | Check output circuit .If the load short or over load occurs, remove the load and push the button and the controller will resume its work after 30 minutes. |
| The load LED indicator light slowly and there is no power output. | Overload occurs, remove some loads and push the button again and the controller will resume its work after 30 minutes. |
| System state LED indicator flash in red color and there is no power output. | Over discharge of the battery. The controller will resume its work after finishing charge of the battery. |