1000w 12/24V 600W wind+400W solar MPPT hybrid Solar Wind Controller with 3 years warranty LCD Display free dump load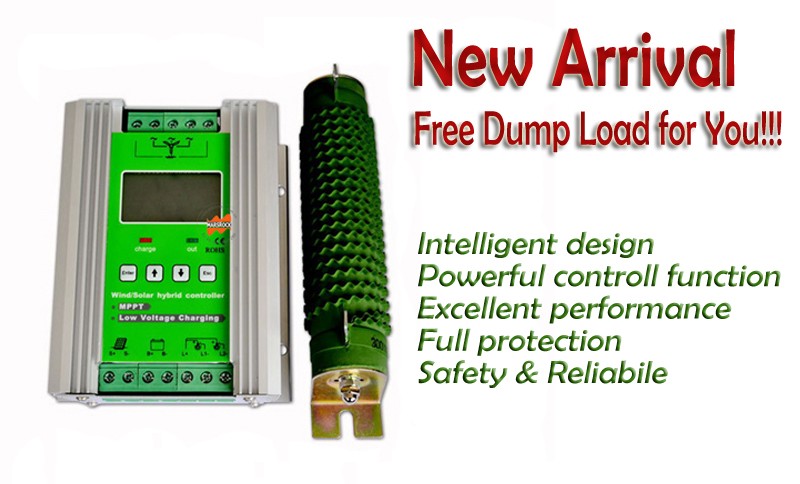 1100w Auto 12/24V Off Grid Intelligent MPPT Wind Solar Hybrid Charge Controller with 3 years warranty / LCD display
The controller is designed specifically for hybrid wind solar street light system, which can make the wind solar hybrid street light system of various resources to achieve the best configuration, of course, the controller with some simple Settings can also be used in household system.
Intelligent design succinct structure,powerfulcontroll, stable performance, safety and reliability of the products.Choose MPPT Wind turbine charging ways, charging more efficiency than ordinary PWM way more superior. The boost charge function, solve the low charging efficiency problem of low wind speed (optional). Professional digital intelligent control.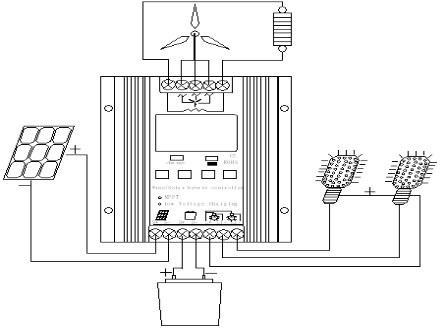 Features:
1.The Wind turbine charging part and Solar charging part are independent of each other, can make Wind turbine controller or solar controller using independent (As a Wind turbine controller cannot use light control function).
Wind turbine charging adopted

booster MPPT technology

, which makes under low wind speed, the Wind turbine's electricity can still be used;
In the high wind speed or the Wind turbine of power is beyond the scope of the battery and load absorption, the controller immediately launched the

step

less unloading function

,

protection system of the equipment.

Solar charging using

in

serie

s

MOS tube PWM technology

, which makes the controller power consumption is small, the system more stable.
2.Discharge part working mode can be set, light control mode, time control function etc, The user can be set up according to the requirements on its own combination.
3.Manmachine interface of the controller USES a custom LCD screen and four key operation mode, the user to use simple and easy to use, popular and easy to understand, convenient and quick.
4. The controllers with perfect protection function, including: lightning counter-attack, solar charger, over-voltage automatic braking, storage battery reverse connect and open protection, etc.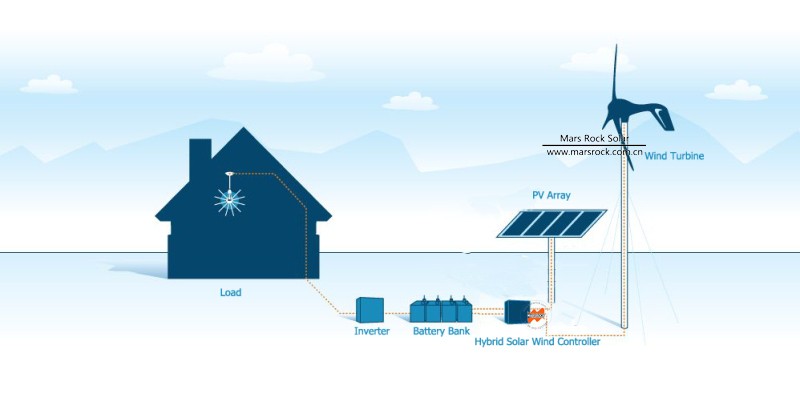 model
1000W50
1000W60
1100W60
1200W60
1400W80
Rated voltage
12V/24V Automatic identification system voltage
PV input power
500W
600W
500W
600W
600W
Wind turbine power
500W
400W
600W
600W
800W
charging
charging
41.7A/83.3A
41.7A/83.3A
45.8A/91.6A
50A/100A
58.3A/116.6A
Even charge protection
14.4V

+/-

1%(12V)
floating Charge
13.8V

+/-

1%(12V)
Even charge recover
13.2V

+/-

1%(12V)
Temperature Compensation
-24mV/
Over Discharge
Shut off (DC)
10.8V

+/-

1%(12V)
Resume (DC)
12.3V

+/-

1%(12V)
Over Voltage
Shut off (DC)
16V

±

1%(12V)
Resume (DC)
15V

±

1%(12V)
No-load Current
≤0.1A
Voltage drop (DC)
≤0.5V
Control mode
Wind turbine MPPT charge function, PWM uninstall function, PWM over-current limiting
Boost charge
Flexible independent step-up circuit (optional)
Display
LCD
Show parameters
voltagecharge current,battery volumetric
Protected type
Lightning protection, solar cells, anti-anti-charge protection, battery open-circuit protection, battery reversal protection, over speed and over-voltage soft automatic brake protection, overload protection.
Heat emanation way
radiator
Working Temperature
-25~+55
Height
≤5500m(2000m above the need to reduce power use)
Environment humidity
0~90%,No condensation
Warranty
3 years
Weight
1. Net Weight: 1.20KG 2. Gross Weight: 2.7 KGS/PC(controller+dump load)
Size(L*W*H)
1. 162×140×64(MM) 2. Packing Size: 26X22X20CM
Technical note:
In offgrid system, there is always a pair of contradictions that produce energy source and energy absorption of load does not match the problem, may be the following situation: 1. The power supply can be issued under the condition of sufficient electrical energy of the load is not likely to work and the battery power is full, so this time we need to send power electricity do discharge processing, otherwise may cause permanent damage to the equipment;2. In the power supply does not have enough electric power support is likely to appear when battery power is rarely lead to load can not have normal work, so we also need to improve power generation capacity in this situation.
In our wind solar system, solar panels power relative to the Wind turbine power is very stable power supply, so we had a wind solar hybrid controller mainly for Wind turbine design the booster MPPT charging technology and step-less unloading function, and in view of the solar panels still take simple and efficient PWM charging technology.
Booster MPPT mainly for most of the time in many parts of the wind power is not enough to support a generator to the condition of the battery charging, specific working principle is: the Wind turbine under the condition of wind speed reach the rated wind speed, the resulting voltage and power are not reach the rated power, we through realtime acquisition Wind turbine by means of booster circuit of voltage and current from the boost voltage to the battery voltage to the system requirements, using the software MPPT algorithm make the Wind turbine of power use as much as possible.
Stepless unloading function mainly aimed at the first case, when don't need additional energy, will generate the energy consumption of the Wind turbine on unloading device, the controller dedicated connection port of unloading device, the user can be selected according to actual condition when the choose and buy, we suggest in good wind conditions, such as coastal and western is empty,you must configure unloading;In some inland areas where wind conditions in general, we also recommend that try to configure unloading.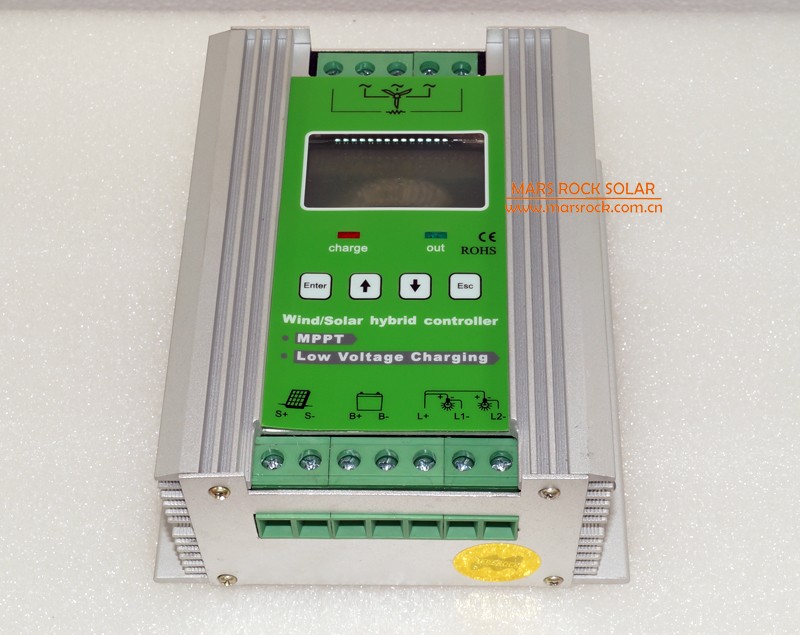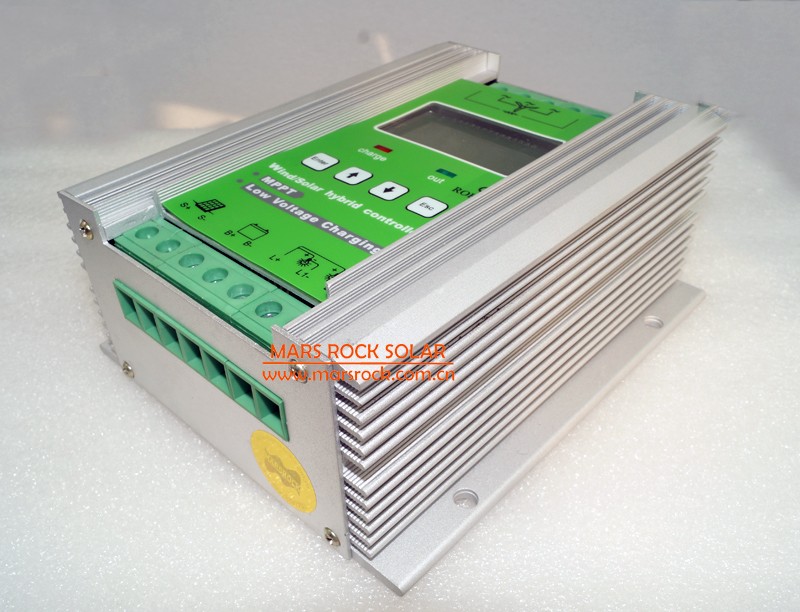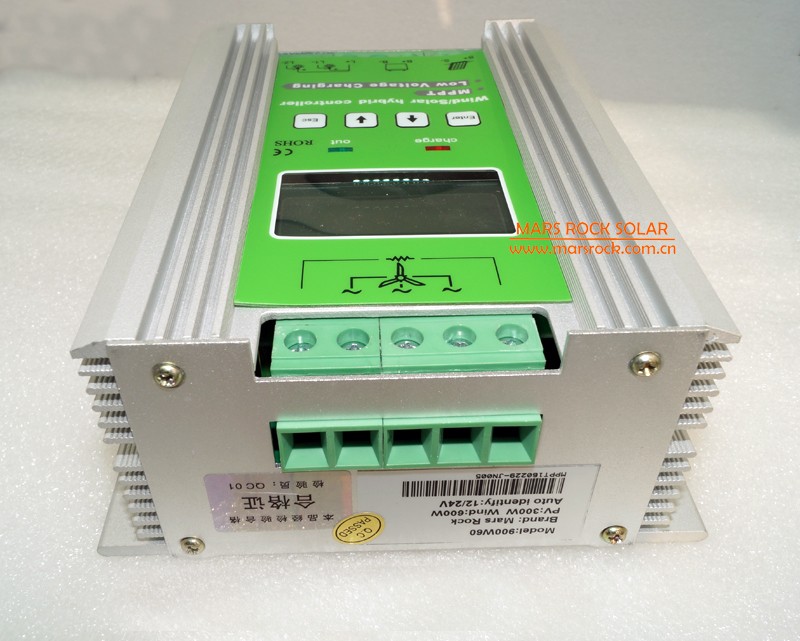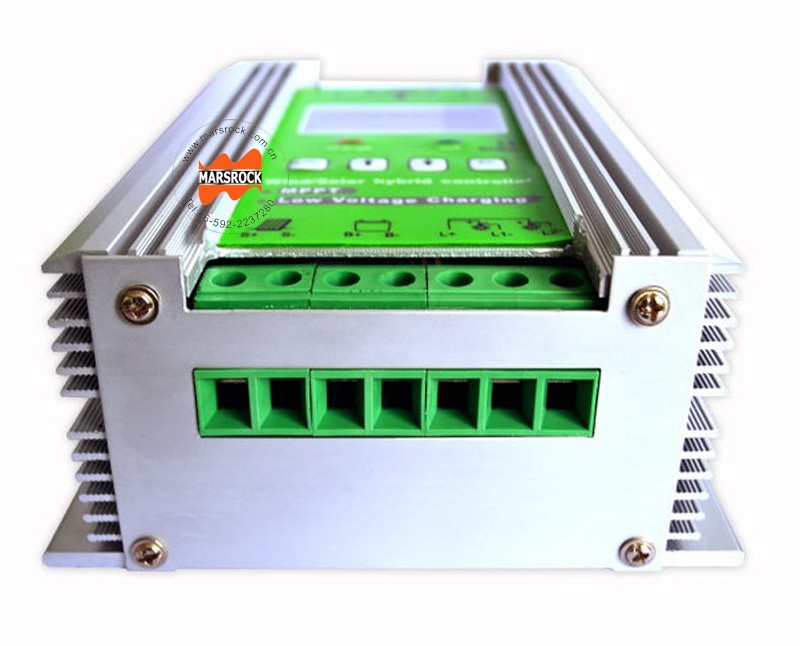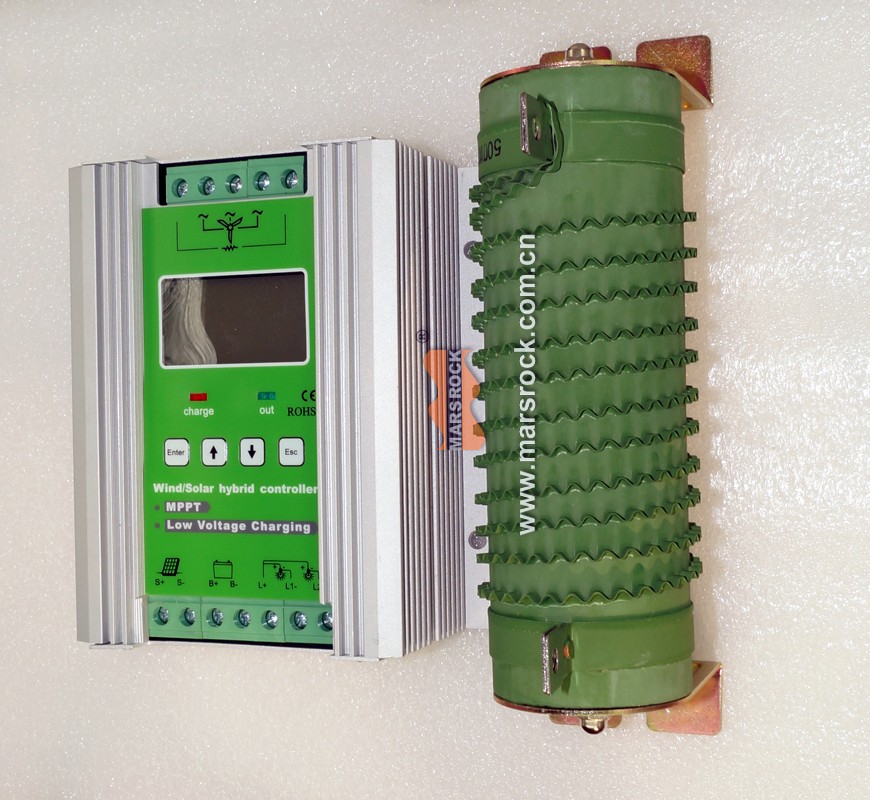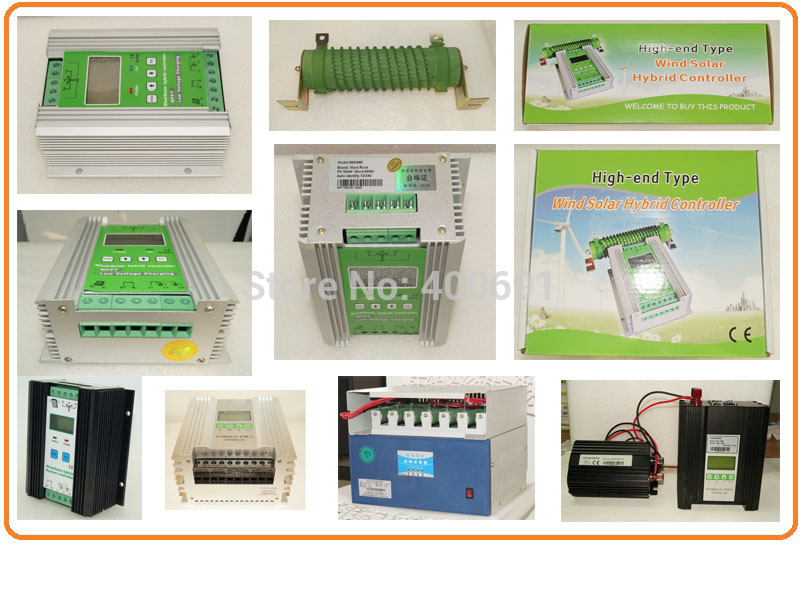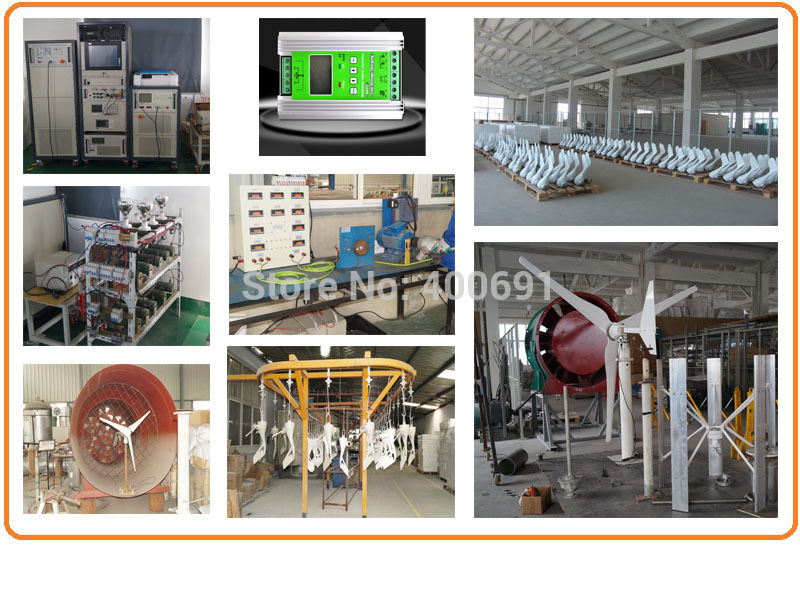 Dimension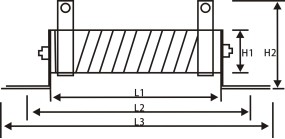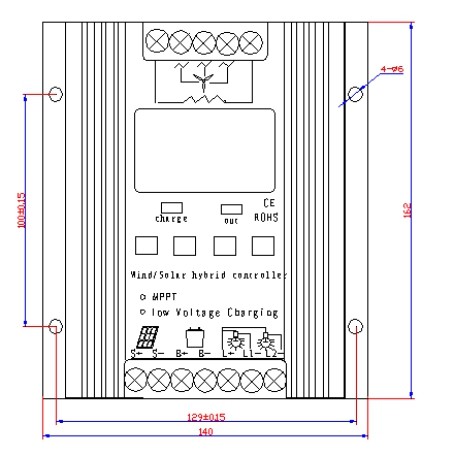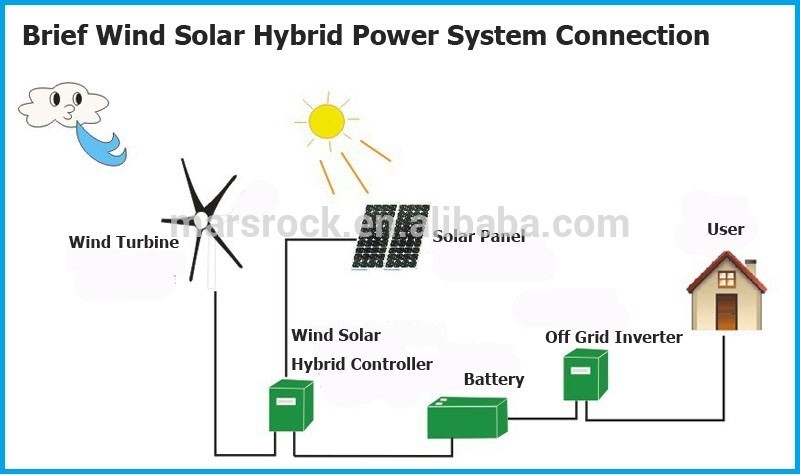 Status Indication


Button1:Press this button to enter setup interface or switch set up program;
Button2:Click this button to switch down in page views,in the setup interface click this button is used to reduce the parameter values, step 0.1 V.
Button3:Click this button to switch up browsing on page views,in the setup interface click this button is used to increase the parameter value, step 0.1 V.
Button4:Click this button to exit the setup interface, and save the parameters.
LCD screen (the default interface)
To the user in accordance with the specifications, general automatically entered into the following interface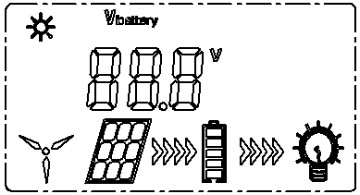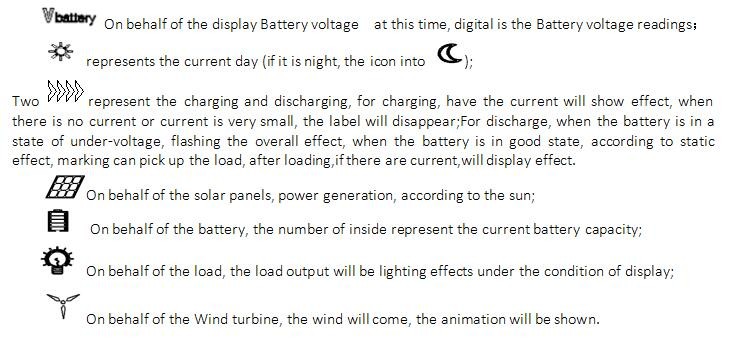 Parameters to browse
User press down key to view the Wind turbine charging current "IWind turbine",the solar charging current"Ipv", press the up button to return to the interface of a parameter.

The above three pages, collectively known as browse pages, when a minute don't operating controller buttons, LCD back-light will automatically go out.after pressing any key will once again lit back-light and continuously for one minute.
Parameter Settings
Press Enter key,the controller into the parameter set interface, as shown infollowedpic,"Vfloat" represent this time can be set to float charging voltage value, the user can press or key numerical,each time you press the increase or decrease 1v,set up finished,the user can press the ESC key to exit to browse the first page, can also continue to press Enter to switch to the next project, operation method as above.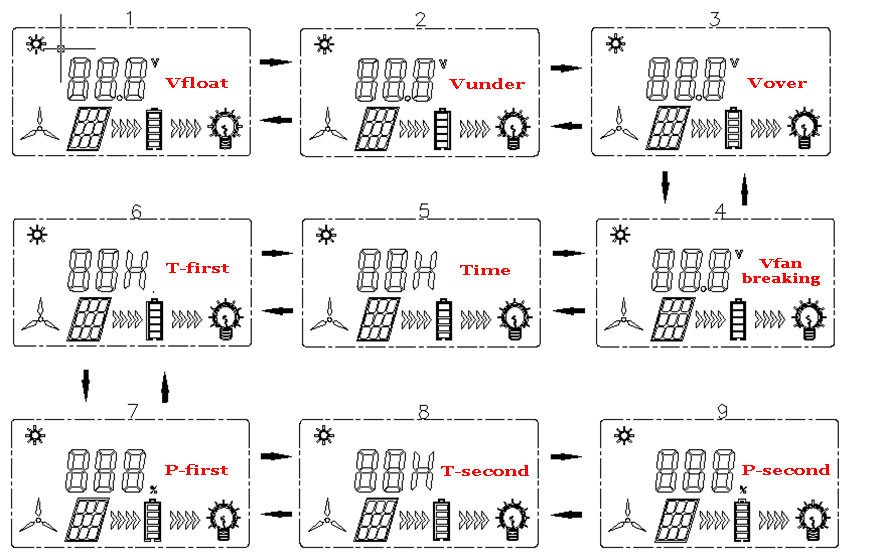 Use environment
1. Should be in a clean dry ventilated environment.
2. Avoid direct sunlight and the sun, rain, humid mist of the environment.
3. To avoid dust in a soil, dust in the environment.
4. The battery should be placed away from 0.5m or more.
5. Is strictly prohibited in flamable, explosive gas environments, to guard against flames and sparks!
6. Ambient temperature -25 degree - +50 degree .
7. The air relative humidity less than 85% (25 degree ± 5 degree ).
Safety and protection
The controller has the solar energy the counter-attack, reverse connect battery, battery open circuit, lightning protection, wind speed and over voltage protection function.
Note: lightning protection refers to the last level of protection, equipment necessary for lightning prone areas, need to use special multistage lightning protection system of lightning protection device, etc.If the user has this requirement, it is necessary to increase the corresponding cost of distribution system and indicate when you order it.
We provided product to the warranty period of one year since it is sold. If the product is exceed warranty or damaged by transportation, improper use, human element, force majeure, it is not under warranty.
Statement: we reserve the right to change products, product updates without prior notice
Any question, please feel free to contact with me: