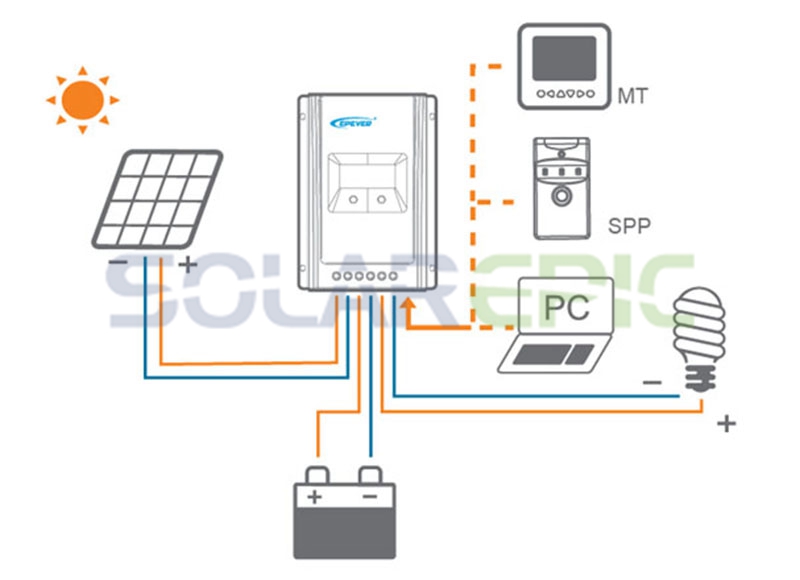 EPEVER MPPT Solar Charge Controller,Tracer-A Seres
10A ,12V/24VDC AUTO, + MT50 Remote meter
Max 100V PV Input,with LCD display
Battery : Sealed, Gel, Flooded
Features:
-Advanced Maximum Power Point Tracking (MPPT) technology, with efficiency no less than 99.5%.
-High quality components, perfecting system performance, with maximum conversion efficiency of 98%.
-Ultra-fast tracking speed and guaranteed tracking efficiency.
-Accurately recognizing and tracking of multiple power points.
-Reliable automatic limit function of maximum PV input power, ensuring no overload under any circumstance.
-Wide MPP operating voltage range.
-12/24VDC automatically identifying system voltage.
-LCD panel display design, dynamically displaying tool's operating data and working condition.
-Multiple load control modes: manual control, light ON/OFF, light On+Timer and test mode.
-Support 3 charging preprogram options: Sealed, Gel, Flooded.
-Battery temperature compensation function.
-Real-time energy statistics function.
-Available for PC monitoring and external display unit connecting like MT50 and so on, realizing real-time data checking and parameters setting.
-Support software upgrade.
Characteristics: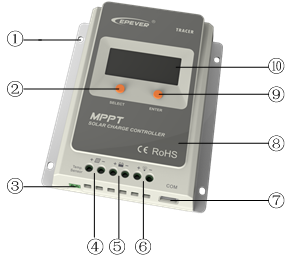 | | | | |
| --- | --- | --- | --- |
| Item | Name | Item | Name |
| 1. | Mounting hole sizeΦ5 | 6. | Load Terminal |
| 2. | Select Button | 7. | RS-485 port2. |
| 3. | RTS Port1. | 8. | Product shell |
| 4. | Solar Terminal | 9. | Enter Button |
| 5. | Battery Terminal | 10. | LCD |
Parameter:
Model

Tracer1210A

Tracer2210A

Tracer3210A

Tracer4210A

Nominal system voltage

12/24V auto work

Rated battery current

10A

20A

30A

40A

Rated load current

10A

20A

30A

40A

Max. PV open circuit voltage

100V

Max. battery voltage

32V

Max. PV input power

130W (12V)

260W (12V)

390W (12V)

520W (12V)

260W (24V)

520W (24V)

780W (24V)

1040W (24V)

Equalize charging voltage

Gel: 14.2V, Sealed: 14.4V, Flooded: 14.6V

Boost charging voltage

Gel: 14.2V, Sealed: 14.4V, Flooded: 14.6V

Float charging voltage

Gel /Sealed /Flooded: 13.8V

Low voltage reconnect voltage

Gel /Sealed /Flooded: 12.6V

Low voltage disconnect voltage

Gel /Sealed /Flooded: 11.1V

Self-consumption

≤20mA(12V) ≤16mA(24V)

Grounding

Common positive

Temp. compensation

-3mV/°c/2V

Communication Port

RS485 / RJ45 interface

Working temperature

-25°c~+45°c

Storage temperature

-35°c~+80°c

Humidity

≤95% N.C.

Enclosure

IP30

Overall dimension

172x139x44mm

172x139x44mm

228x164x55mm

252x180x63mm

Terminal

4mm2

10mm2

10mm2

10mm2

Net weight

0.6kg

1.1kg

1.2kg

1.9kg
MT50 Remote Meter Fewatures:
1. Automatic identify the controller, and display the type, model and relevant parameter data
2. Large-screen multifunction LCD displays all the operational data and system working status in digital, graphic and textual forms
3. With six navigation function keys, the operation is direct, convenient and rapid
4. Real-time energy statistics recording
5. Both data and data flowing on the same lead ,no need for external power
6. Real-time monitoring and acoustic alarm of failure information of the controller
More powerful function Via MT50:
1. Diversified load control modes : manual, light ON/OFF, Light ON+ Timer, Time Control
2. Battery type selection: Gel, sealed, flooded and USER type
3. Real-time monitor
4. Programmable parameters
5. Energy display function
?
Specifications Via MT50:
Self-consumption

Backlight and acoustic alarm on<65mA

Backlight on<23mA

Backlight off <15mA

Faceplate dimensions

98×98 mm / 3.86×3.86 in

Frame dimensions

114×114 mm / 4.49×4.49 in

Connector type

RJ45

Meter cable

Standard 2m, max .50m

Meter weight

0.190 Kg

Ambient Temperature

-20°c~+70°c/-4°F~158°F