15A 12V/24V PWM Solar System Controller with Metal Shell, LED Digital Display, Auto Identify Voltage, Temperature Compensate, Workable for Solar Home System and Solar Light
Function
1. 12V/24V Automatic identification by system
2. LED digital display and one-key operation, easy to use
3. The improved 3-section computing method can weekly give the battery a Balanced charging. It can stop the battery from being unbalancing and vulcanizing and let the battery been used for more time.
4. the controller is equipped with the serial PWM charging main circuit with additional 3%~6% efficiency than the non-PWM circuit which can work for more time and increase the using period of the system.
5. Controller has three load work ways and can be easily used in varies streetlights and monitors.
6, Visualized LED display which can let the users get to know the conditions of solar power and storage battery.
7. Overcharge, over discharge and overload protection; Electronic short circuit protection; Reverse connect preventing protection.
8. Lightning prevention
Controller panel figure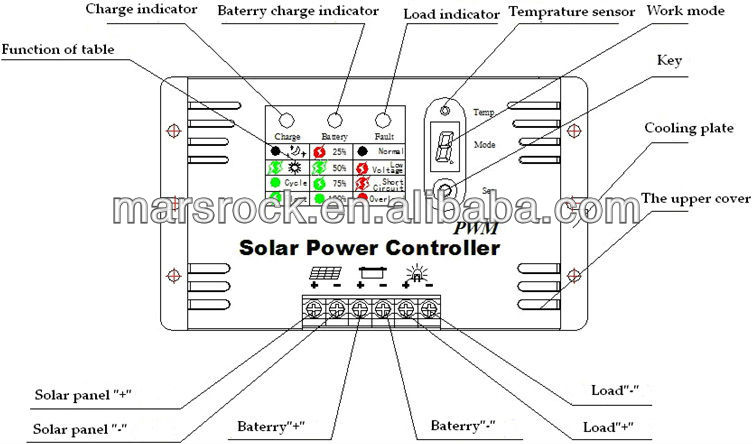 Wiring figure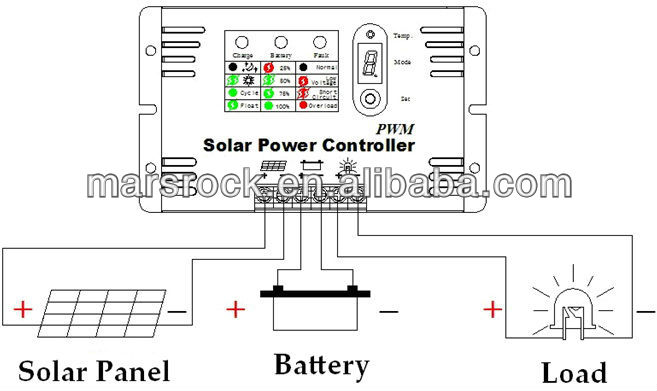 Installation and usage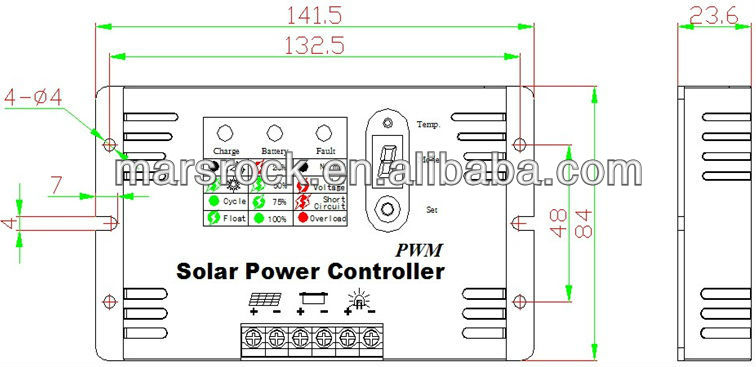 1,Installation should be fixed and the sizes are as follows:
2,Outline size and Installation size:
3,Wire preparation: make sure the wire lengthen firstly. Reduce the length of the wire as much as possible after the assurance of the installation allocation in order to decrease the electrical loss.
4,Connect the battery firstly, pay attention to the pole and do not connect inversely. The indicator light of the controller will make no indication if the batteries are connected wrongly and the internal components of the controller will not be damaged. If connected rightly, BATTERY indicator light should indicate.
5,Connect the wires of solar-cell panel secondly, pay attention to the pole and do not connect inversely. CHARGE indicator light will light or flash due to charging after 10s if the sunshine exists. If not, check the connection. Notice: solar-cell panel should be located outside and in faced with sunshine.
6,Connect the load line lastly; connect the LED illuminant or DC load line to the output electrical pole of controller. Pay attention to the pole and do not connect inversely in case of breaking the equipment.
Indication instruction of LED light
LED

Status

Function

Charge

off

At night or battery is failed to connect

light normally

Balanced charge

slow flash

Float charge

double flash

Daytime (no charge)

BATTERY

Red lamp in double flash

(<11.0V); ×2/24V

Under voltage (<11.0V); ×2/24V

Green lamp in double flash

(11V~12.0V) ; ×2/24V

Under voltage warning (11V~12.0V) ; ×2/24V

Green lamp in slow flash

(12.0V~13.0V) ; ×2/24V

Normal voltage (12.0V~13.0V) ; ×2/24V

Green lamp lights normally

(>13.0V) ; ×2/24V
battery voltage (>13.0V) ; ×2/24V

PRORECTION

Red lamp in slow flash

Load line in under voltage or high voltage protection

Red lamp in double flash

Load line short circuit protection

Red lamp lights for long time

Load line over load protection

Dot light loop

The voltage of electric automatic identifying battery in the controller in medium
Technology qualification
System voltage

12V/24V Auto

System current

15A/20A

No-load loss

<10mA

Solar energy input voltage

<55V

Over voltage protection

16.5V; ×2/24V

Over voltage recovery

15.0V; ×2/24V

Balance charge voltage

14.6V; ×2/24V(25°C) time maintenance 1H

Increase charge voltage

14.4V; ×2/24V(25°C) time maintenance 1H

Float charge voltage

13.8V; ×2/24V(25°C)

Charging return voltage

13.3V; ×2/24V(25°C)

Discharge protection voltage

11.1V; ×2/24V

Discharge protection voltage

12.8V; ×2/24V

Temperature compensation

-4.0mv/°C/2V

Daytime identifying voltage

7.0V; ×2/24V

Night identifying voltage

3.0V ×2/24V

Over-load, short-circuit protection

1.5 times rating current 30S

1.5 times rating current 10S overload current protection

≥3 times rating current short circuit protection

Work temperature

-25°C to +60°C

Protection degree

IP30

Outline size

141.5mm*84mm *23.6 mm

weight

0.35kg
General safety and usage advice
Advice for safety
1. The battery saves large amount of energy, do not let it in short circuit in any case. We suggest to connecting the battery wire with fuse. (Slow motion type, in accordance with rating of the controller.).
2. Battery can produce combustible gas. Keep it away from the spark, fire or the flame which is without protection. Make the battery storage ventilated.
3. Do not touch or short-circuit the wire or terminal for some wires or terminals can produce the rating voltage which is two times of the battery. Insulation tools should be used when in operation.
4. Make sure to keep the children away from the battery and controller.
5. Please observe the manufacture's safety advice.
Range of use
Controller is only applicable to the system which is solar energy with 12V/24V rating voltage. Battery is in plumbic acid with liquid openings or be sealed (by VRLA valve) and can also be ferrous phosphoric acid lithium. Note the type before you buy it.