Leadshine two-phase stepper motor driver M860 20-80VDC power supply
The M860 Stepper Motor Drivers is a excellent performance microstepping based on pure-sine current control.With above technology and the self-adjustment function(self-adjust current control) to various motors, keep the driven motors run with low noise,less heating, smoother movement and better performances at higher speed than other drives in the markets.it is adapt to driving 2,3,4 phases hybrid stepper motors.
M860 Stepper Motor DriverFeatures
High Efficiency
Excellent high speed performance
Max DC72V
Max output 7.2A
Self-adjustment function
Pure-sine current control
300KHz Max Pulse input frequence
Suitable for TTL and optically isolated input
Auto idle current reduction
16 steps resolutions in decimal binary, max 51,200 steps/rev
Suitable for 2 ,3, 4 phases motors
Support PUL/DIR and CW/CCW modes
Short-voltage protection, over-voltage protection, over-current protection
M860 Stepper Motor Driver Specifications
M860 Stepper Motor Driver Electrical Specifications (Tj : 25oC~77oC)

M860 Stepper Motor Driver'sConnector P1 Configurations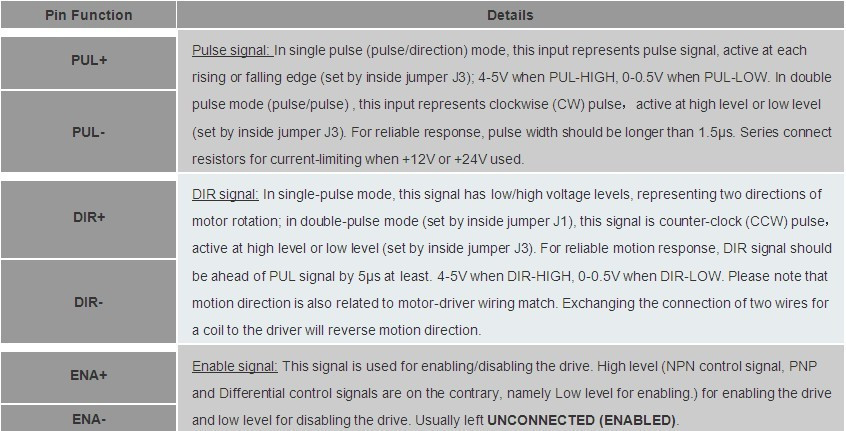 M860 Stepper Motor Driver'sConnector P2 Configurations

M860 Stepper Motor Driver's Microstep and Current
The drives uses an 8 bits DIP switch to set stepper motor resolution and motor operating current, as shown below:
Dynamic Current(1/2/3) Microstep Resolution(6/7/8)
Standstill Current(4,Half/Full)
M860 Stepper Motor Driver'sMicrostep Resolution Selection
Microstep resolution is set by SW5, SW6, SW7, SW8 of the DIP switch as show in following: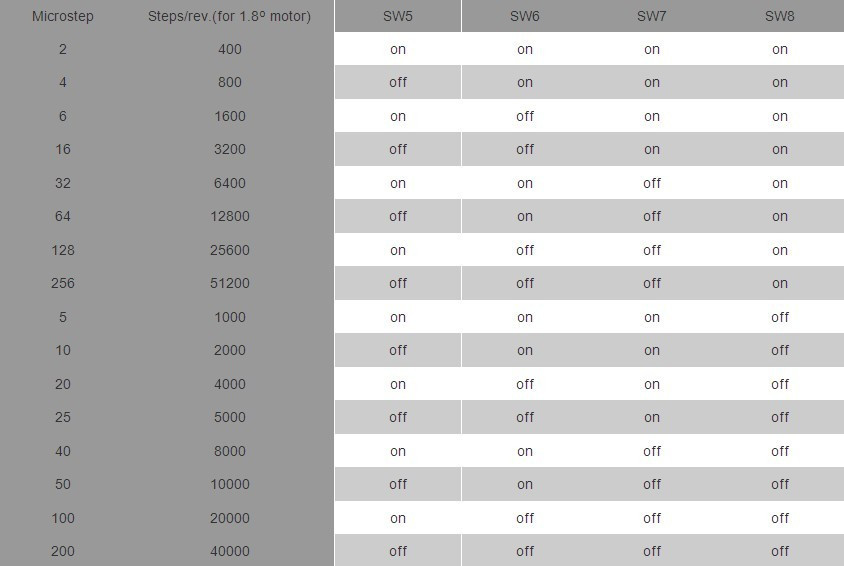 M860 Stepper Motor Driver'sCurrent Settings
The first three bits (SW1, SW2, SW3) of the DIP switch are used to set the dynamic current. Select a setting that closest to your motor's required current.

Note:Due to motor inductance, the actual current in the coil may be smaller than the dynamic current setting, particularly in high speed condition.
M860 Stepper Motor Driver's Typical Connections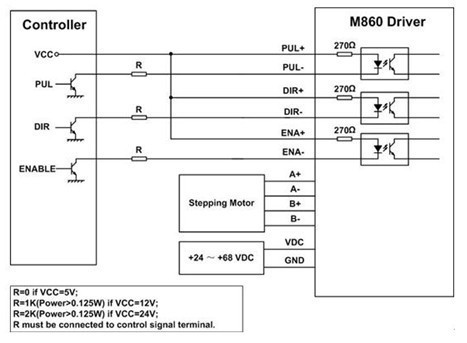 M860 Stepper Motor Driver's Mechanical