20A 12/24V High Efficiency Advanced Tracer-2215RN MPPT Solar Charge Controller (with optional MT-5 Remote Meter, if demand, you can additional purchase)

Part 1. About Tracer series MPPT Charge Solar:
Tracer series controller adopts latest MPPT technology(Maximum Power Point Tracking) and advanced tracking algorithm to make the solar module operate at idea voltage which the solar moducles can product the maximum available power. Compared to conventional PWM controller, MPPT technology increases the charge efficiency up to 30% and potentially decrease teh power of solar array needed.
The ablity to step-down the higher voltage solar module to recharge a lower voltage battery bank greatly increases system design flexibility. The cable size can be reduce because of the small current from the solar array.
The Tracer series controller is for off-grid solar system and control the charging and discharging of the battery, both suitable for the solar power system and the street light system. The controller features a smart tracking algorithm inside that maximizes the energy from the solar PV module(s) and charge the battery. At the same time, the low voltage disconnect function (LVD) will prevent the battery from over discharging.
The Tracer controller charging process has been optimized for long battery life and improved system performance. The comprehensive self-diagnostics and electronic protection functions can prevent damage from installation mistakes or system faults. In addition, the Tracer controller has a RJ45 interface to allow communication with a meter for remote monitoring.
Part 2. Product main features:
1. MPPT technology;
2. Peak conversion efficiency of 97%;
3. High Tracking efficiency of 99%;
4. Several seconds tracking speed;
5. 4-Stage charge with PWM output;
6. Nature convection cooling;
7. Full power output up to 45 °C;
8. Temperature compensation;
9. Sealed, Gel and Flooded battery option;
10. Diversified load control;
11. RJ45 interface &optional meter;
12. 2 years warranty;
13. CE certificate.
Part3. Technical information:
Electrical parameters
Tracer-1210RN
Tracer-1215RN
Tracer-2210RN
Tracer-2215RN
Tracer-3215RN
Tracer-4210RN

Nominal System Voltage

12V/24Vauto work

Rated Battery Current

10A

20A

30A

40A

Maximum Battery Voltage

10A

20A

20A

20A

Maximum Battery Voltage

32V

Max. Solar Input Voltage

100VDC
(Tracer-1210RN)
100VDC
(Tracer-2210RN)

___

___

150VDC
(Tracer-1215RN)
150VDC
(Tracer-2215RN)
150VDC
(Tracer-3215RN)
100VDC
(Tracer-4210RN)

Max. PV input power

12V 130W

12V 260W

12V 390W

12V 585W

24V 260W

24V 520W

24V 780W

24V 1170W

Self-consumption

≤10mA(24V)

Communication

TTL232 / 8pin RJ45

Temp. compensation

-30mV/°C/12V(25°C)

Mechanical Parameters

Overall dimension

156x97x68mm

169x118x83mm

242x169x91mm

242x169x91mm

Mounting holes

147x60mm

160x80mm

180x160mm

180x160mm

Terminal

4mm2

10mm2

25mm2

25mm2

Net weight

0.55kg

0.95kg

2kg

2.05kg

Environmental parameters

Working temperature

-35°Cto +55°C

Storage temperature

-35°Cto +80°C

Humidity

10%-90%NC

Enclosure

IP30
Part 4. Electronic protection:
1. PV Array Short Circuit;
2. PV Overvoltage;
3. PV Overcurrent;
4. Load Overload;
5. Load short circuit;
6. PV Reverse Polarity;
7. Battery Reverse Polarity;
8. High Voltage Transients.
Part 5. Product structure: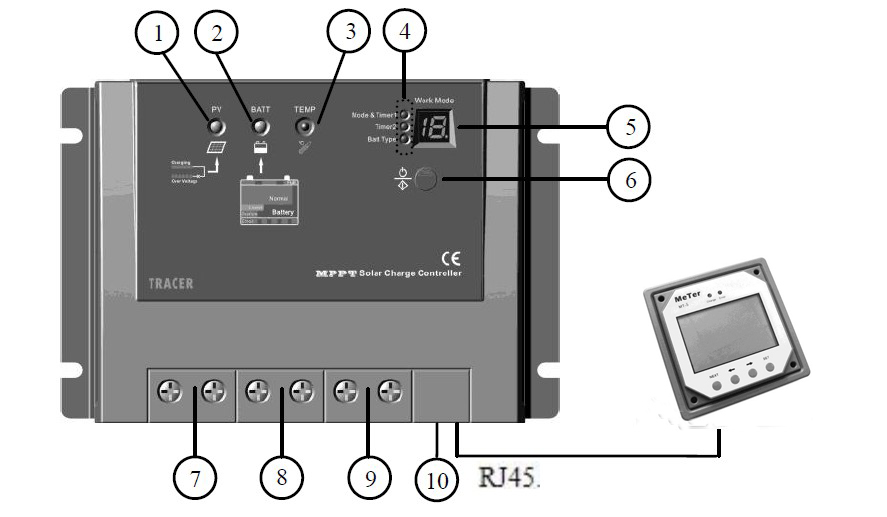 1 – Charging Status LED Indicator An LED indicator that shows charging status and overvoltage of battery;
2 – Battery Status LED Indicator An LED indicator that shows battery status or system errors;
3 – Temperature Sensor Measure ambient temperature and make temperature compensation for charging and discharging;]
4 – Setting Indicators Corresponding indicator will be on when set timer1, timer2 and battery type;
5 – LED Digital Display Display the load work mode and status;
6 – Setting Button (in manual mode used for load ON/OFF) Set load work mode and select battery type;
7 – Solar Module Terminals Connect solar modules;
8 – Battery Terminals Connect batteries;
9 – Load Terminals Connect loads;
10 – RJ45 Communication Interface.
Optional Accessories: Remote Meter (Model: MT-5)
The digital remote meter displays system operating information, error indications, and self-diagnostis read-out. Information is displayed on a lacklit LCD display. The large numerical display and icons are easy to read an large buttons make navigating teh meter menus easy. The meter can be flush mounted in a wall or surface mounted using the mounting frame(included). The MT-5 is supplied with 2m of cable and a mounting frame. The MT-5 connects to the RJ45 port on the Tracer.
1)MT-5 pictures display:

2)MT-5 main features:
.Display the system status and parameters with digital and graphic icon;
.Battery type selectable;
.Battery Ah setting function;
.Temperature compensation coefficient adjustable;
.Four keys to solve the setting easily;
.Control the load by manual.
3)MT-5 technical parameters:
Remote meter LCD specification Working current

Working current

Backlight and LED indicator off < 15mA

Work temperature

-10°C to +40°C

Communication port

RJ45(8PIN)

Communication cable

2 meters with supplied cable
Part 6. Product connection display:
1. Battery writing: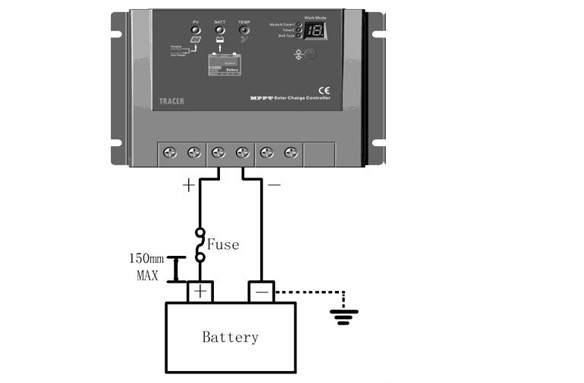 Before connecting the battery, measure the battery voltage. It must be over 9V to power the controller. For 24V, the voltage must be greater than 18V to properly detect a 24V battery. The 12/24V battery detection is automatic and the check is only performed at start-up.
Wire an in-line fuse holder no more than 150mm from the battery positive terminal. Do not insert a fuse at this time. Confirm the connection correct and then turn on the power.
2. Load writing: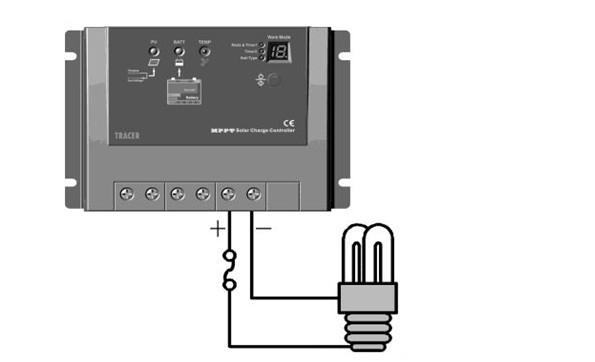 Connect load positive (+) and negative (-) to the Tracer load output as shown in figure 3-3. The load terminals may exist voltage, connect carefully to avoid short circuit.
An in-line fuse holder should be wired in series in the load positive (+) or negative (-) wire as shown. Do not insert a fuse at this time. Confirm the connection correct and then turn on the power.
If wiring the load connection to a load distribution panel, each load circuit should be fused separately. The total load draw should not exceed the 20A load rating.
3. Solar module writing: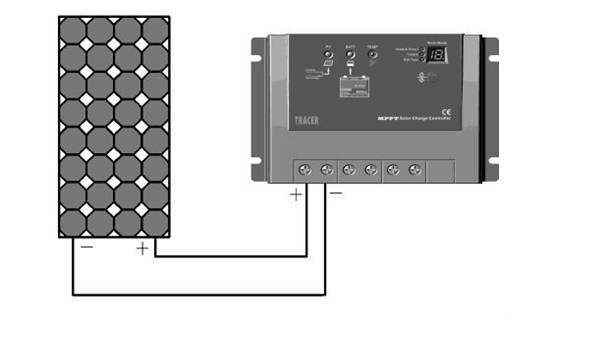 The Tracer can accept 12V, 24V nominal off-grid solar module arrays. Grid –tie solar module(s) may be used if the open circuit voltage does not exceed the maximum solar input rating. The solar module(s) nominal voltage must be equal to or greater than the nominal battery voltage.
4. System writing view: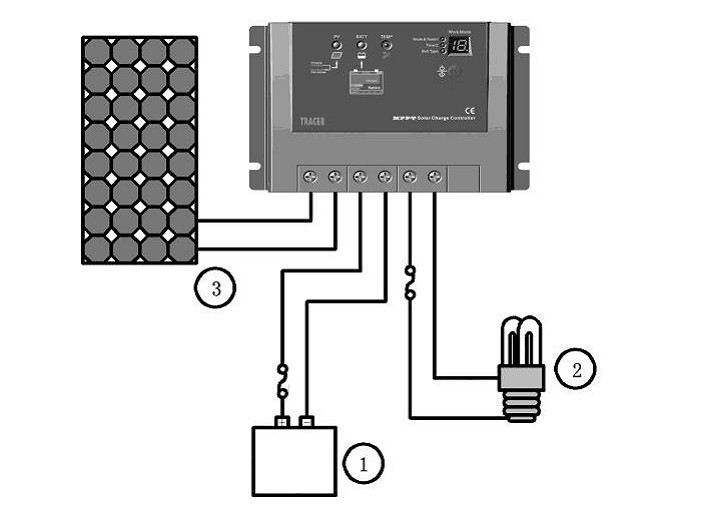 Part 7. About US:
Mars Rock has the abundant technical strength, the independent research and development of modern production base, advanced production equipment, and a group of first-class r&d engineers and sales personnel. We strictly accord to ISO9001/2000 international quality system operation. Device type selection of procurement, product manufacturing, quality control, product after-sales service have been formed such as strict, rigorous, standardized management procedures. MPPT controller product has passed TUV, CE, FC, CB, CSA international certification authority; Has been widely used in electric power, fire control, transportation, finance, construction and other fields, products are exported to Europe, Asia, the americas, Australia, Africa, and many other countries.