Microwave sensor SK-600 instruction
Product parameters
Size: 75 * 41 * 42mm
Working voltage: AC220 ~ 240V 50 / 60Hz
Load power: 1200 watts (resistive load, incandescent and other electrical resistance) / 600W (inductive load, energy-saving lamps and other non-resistive electrical appliances, LED lights and other issues on the LED as a driving power, when the power, Very large, we have this sensor switch is generally connected to the following 150W LED no problem, if the LED driver board to do good, then hundreds of W is no problem, but the market generally ordinary LED drive instantaneous current is very large.
Interface: 3-pin pluggable port (N, L, L '), 1.5mm2 cable
Detection principle: microwave motion detection
Installation: indoor, wall or ceiling installation
HF system: 5.8GHz +/- 75 MHz CW radio, ISM band
Transmit power: <2mW
Detection angle: 360 °, 160 °
Motion detection: 0.3 .., 3 m / s (1 ... 10 km / h)
Distance: 2-10m (radius), adjustable
Work delay: 10 seconds to 30 minutes, adjustable
Light control illumination: 10 ~ 500LUX, adjustable
Power consumption Power: close to 0.5W
Operating temperature: -10 ... + 70 ° C
Protection class: IP20
Product weight: 80G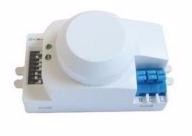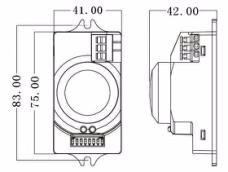 TECHNICAL SPECIFICATIONS
Power supply: 220-240VAC Max load: 1200W
Power frequency: 50/60Hz Detection angle:360°
Installation sit: indoors, ceiling mounting Reach:2-10m(radii.), adjustable
HF system: 5.8GHz CW radar, ISM band Time setting:10sec to 30min
Transmission power:<0.2mW Light control:10~500LUX
Power consumption:approx.0.5w
NOTE: The high-frequency output of this
sensor is <0.2Mw-that is just one 5000th of
the transmission power of a mobile phone
or the output of a microwave oven.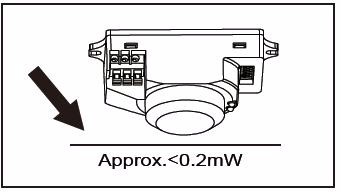 INDUCTION RANGE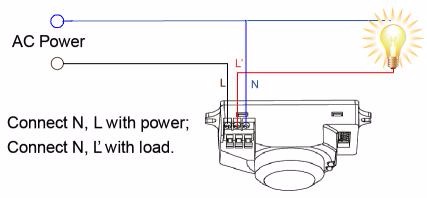 Reach setting (sensitivity)
Reach is the term used to describe the radii of the more or less circular detection zone produced on the ground after mounting the sensor light at a height of 2.5m, switch to the on is "1", switch to the off is "0";The corresponding file of switch location and detection distance as follow:

NOTE: The above detection distance is measured using a person who is between 1.6m~1.7m tall with an average build, moving at a speed of 1.0~1.5m/sec. if any of these variables are changed, the detection distance will also resultantly change.
Time setting
Time can be set 10s to 30min.Any movement detected before this time elapse will re-start the timer. It is recommended to select the shortest time for adjusting the detection zone and for performing the walk test. Switch to the on is "1", switch to the off is "0"; the corresponding file of switch location and detection distance as follow

NOTE: after the light switches OFF, it takes approx. 1sec before it is able to start detecting movement again. The light will only switch on in response to movement once this period has elapsed.
Light-control setting
The chosen light response threshold can be infinitely from approx. 10lux-2000lux. switch to the on is "1", switch to the off is "0"; he corresponding file of switch location and detection distance as follow: