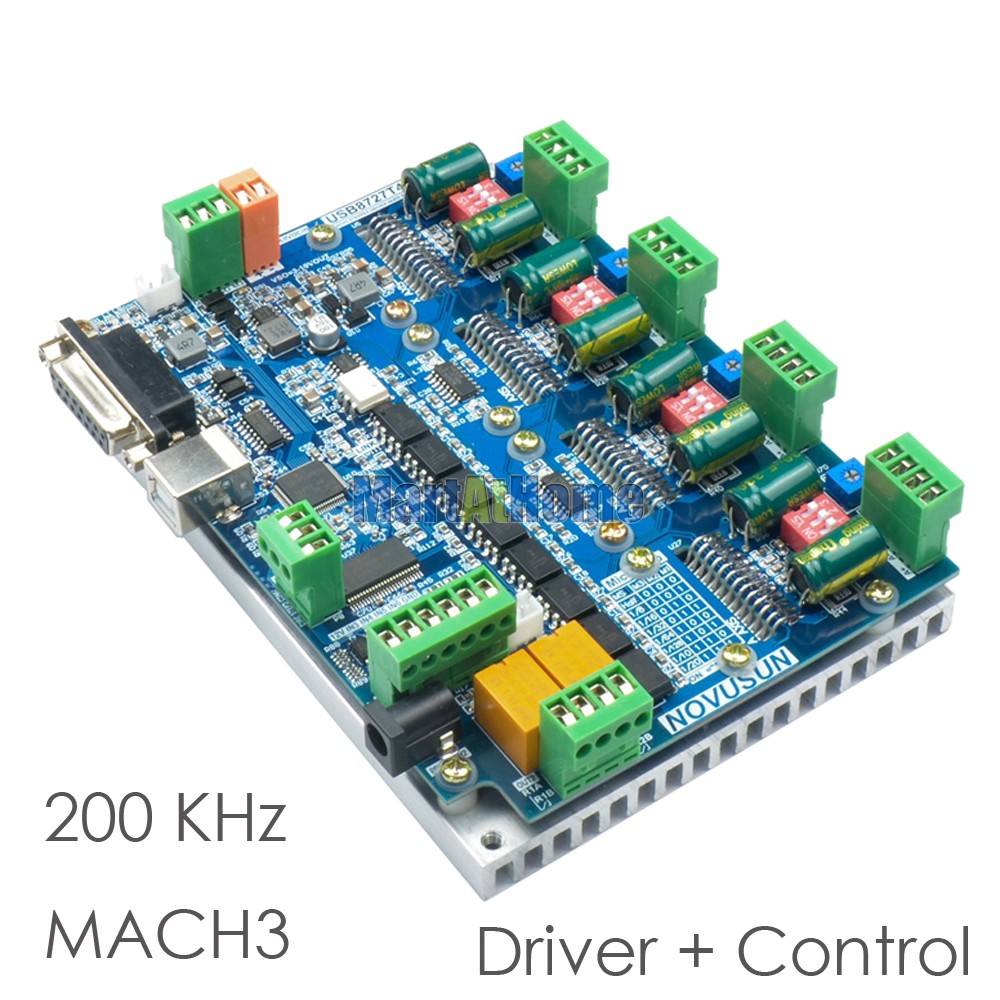 2in1 USB MACH3 4 Axis Stepper Driver Board & Control Board 200KHz 4A Support MPG
Package included:
1 x 2in1 USB MACH3 4 Axis Stepper Driver Board & Control Board
1 x USB Cable
Manual, Mach3 (We will send these to you by email. Please let us know your email address when you purchase)
Features:
1. 4-axis stepper motor drive output
2. 5th axis control signal output.
3. 6 programmable input interface, can be configured to limit the emergency stop and other functions.
4. Comes with 1 spindle start and stop IO output.
5. Comes with 1 way spindle 0-10V speed output.
6. Comes with 2 programmable relay outputs.
7. Support standard hand pulse, serial digital hand pulse and digital manual control.
8. Support MACH3 software
9. USB interface, support MACH3 software.
10. The control section is electrically isolated from the drive section
11. High-speed optocoupler isolation
12. Up to 200K stepper motor control pulse output, suitable for most machine system needs.
13. 4 stepper motor drive for 0-4A current adjustable, the maximum support 4A.
14. 4 stepper motor drives up to 128 subdivision controls.
Application:
For the processing of various patterns of colorful molds such as embossed plate, sole mold, button model, zipper die, pattern text, die mold, die mold and Glass mold.
For the advertising industry, such as brand licensing, signs, building model, badge, badge, mingban, display board, logo, house, signs, craft decoration and furniture decoration.
For the portrait, landscape, calligraphy lettering, seal and other art class carving, yin Wen, yang text outline, relief production and so on,
If the board works with a CNC controller, it will be suitable for a variety of small and medium-sized automation equipment.
Related Products: