48V 40A MPPT solar battery charge controller, 40A 48V PV regulator with LAN DC loads, battery temperature sensor wires

1) Solar off-grid energy generation system
2) Solar energy/utility power complementary power generation system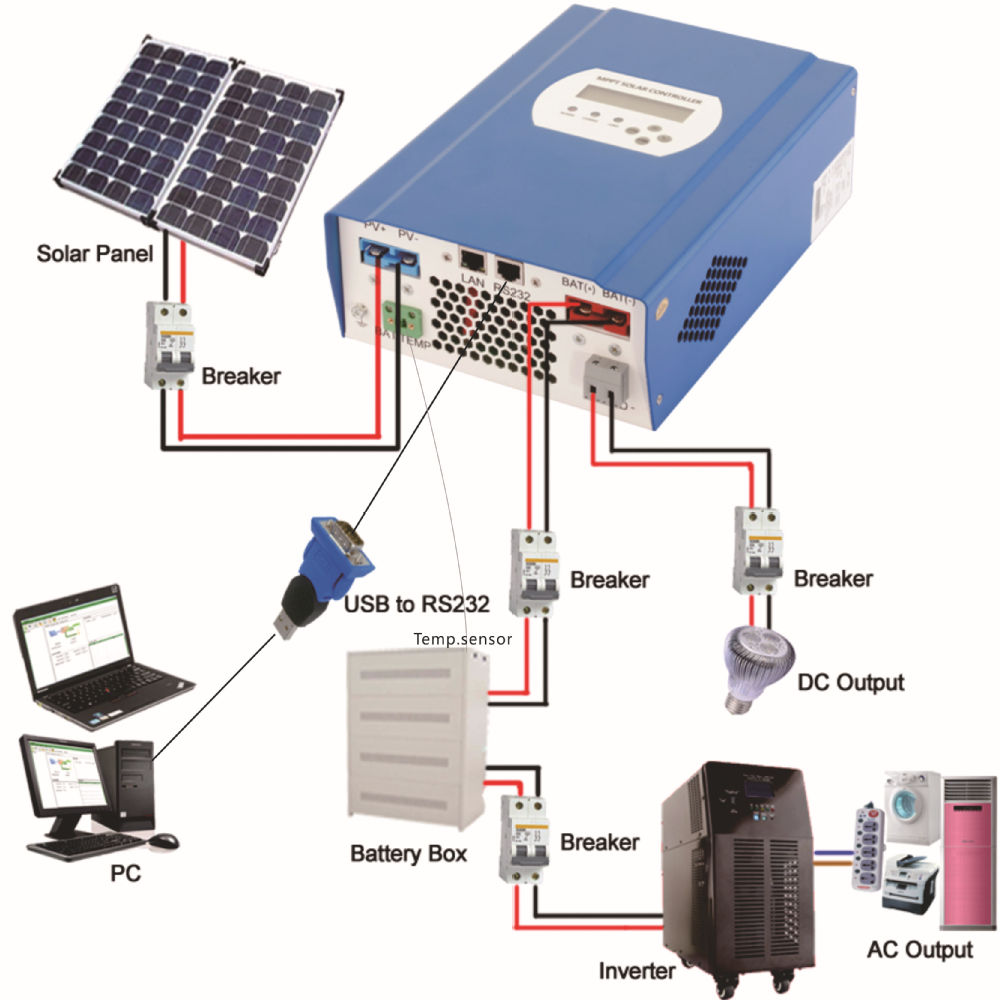 This is a solar charge controller 40A ~60A that have automatic max. power point tracking function with high efficiency that almost 30%~60% higher than traditional charge controller. It also features the functions of system voltage auto recognition, wide rang of PV input ,charge for all kinds of battery,automatic discharge control,RS 232 / LAN communication function and so on. It is very high-end product for solar market.

New Product I-P-SMART2-12V/24V/48V-40A 50A 60A
1.High conversion efficiency maximum 99%,
2.12v/24v/48v system auto recognition.
3. Maximum PV Input Voltage DC150V
4.Maximum PV Input Power 3300W
5.Battery standard optional Types (Vented ,Sealed,Gel,NiCd) Other types of battery can be defined by users.
6.Fast charge/Constant charge/Floating charge three model charge the batteries
7.RS232 Communication port and extensible LAN remote control
9.4 kinds of DC load control: Time Ctrl, PV&Time Ctrl, PV Volt Ctrl, ON Mode, OFF Mode
10. 1.5M Battery Temperature Sensor Wires.
11.Information: Total PV generating power.
12.LCD & LED show all the parameters. (4 Buttons )

1.Software working parameters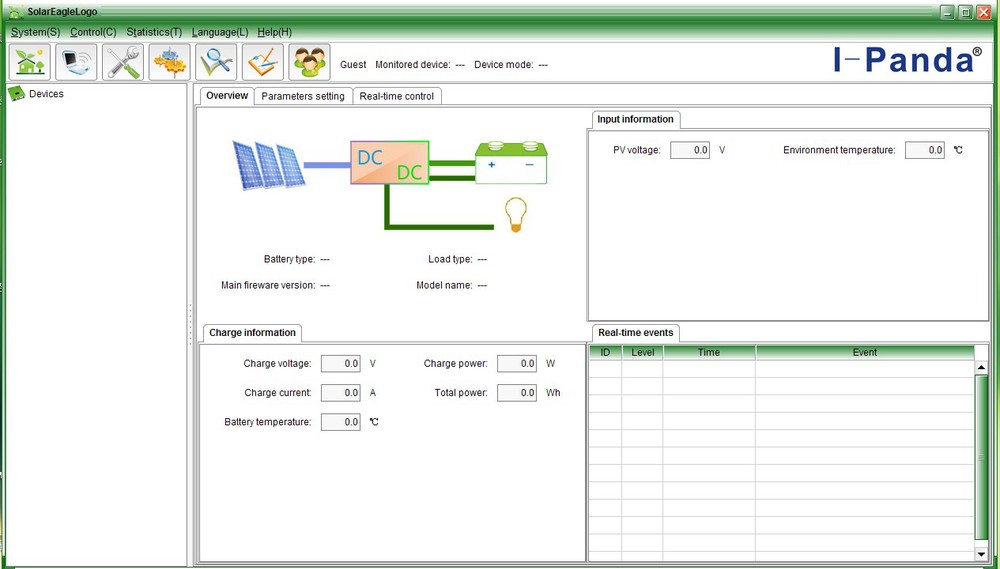 2. 4kinds of DC load control:
Shanghai
Fair : SNEC 8th (2014) International Photovoltaic Power Generation Conference & Exhibition
Booth No.:E1-680 Time : 2014.5.20~2014.5.22
Address: Shanghai New International Expo Centre (SNIEC(Longyang road No. 2345 , New district Pudong )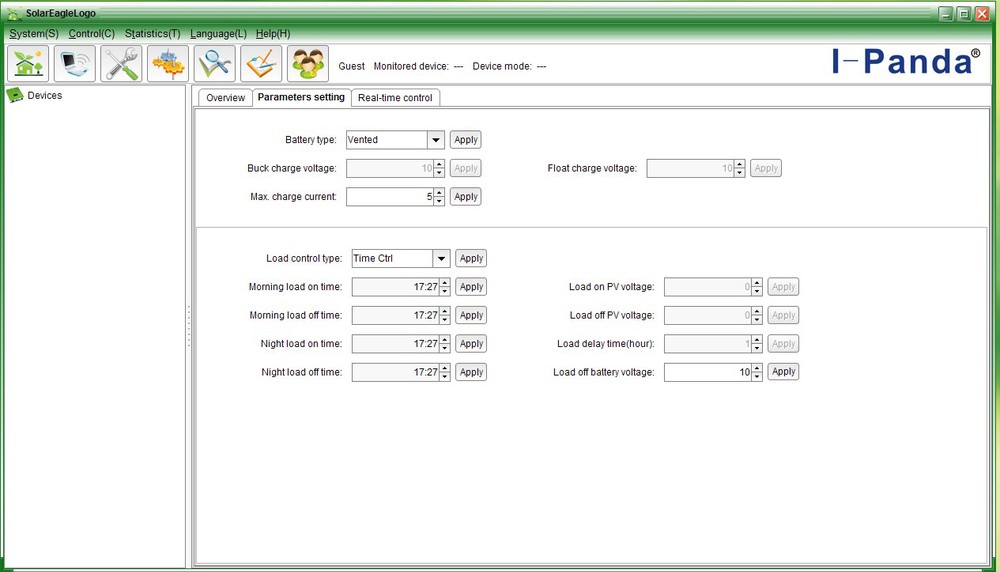 3. Memory function: generating capacity record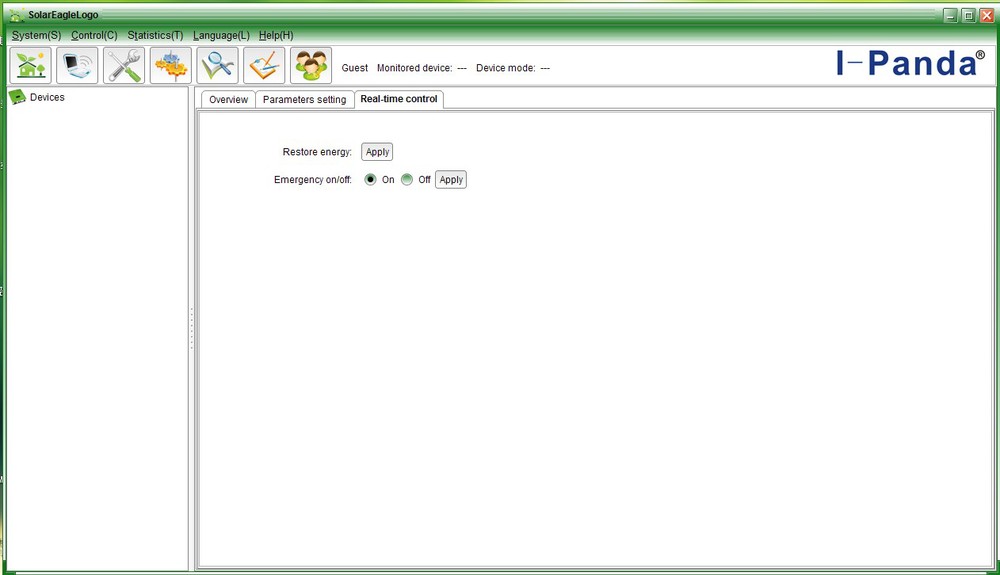 4.Language System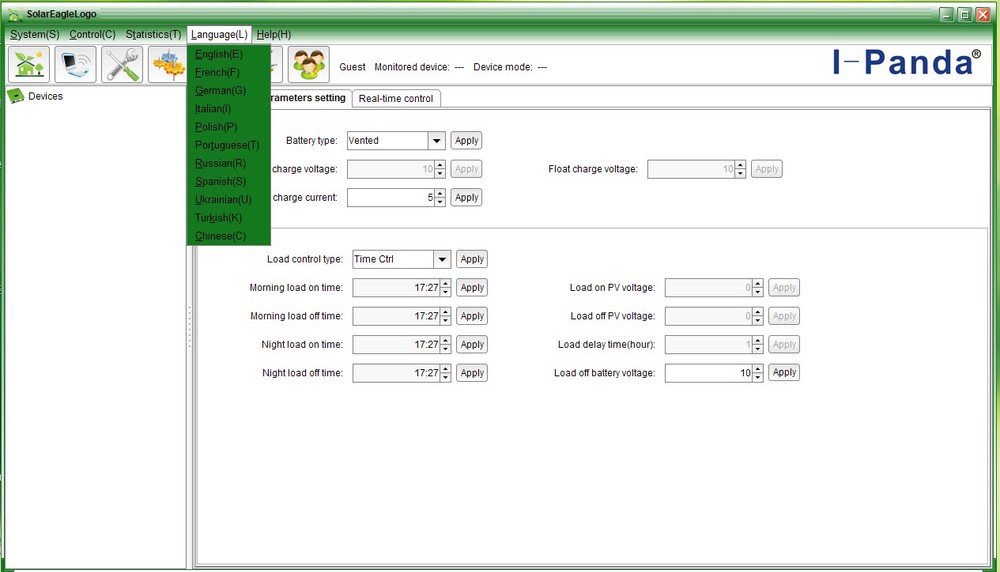 1.MPPT charge mode,conversion efficiency upto 99%
2.12V/24V/48V system auto recognize
3.Wide range of PV input with max. is DC150V
4.Unlimited parallel connection
5.Journal function , Save function set ,Date ,time ,Generating capacity and so on
6.Charge mode: three stages (fast charge ,constant charge ,floating charge) .It prolongs service life of the batteries
7.Discharge mode: ON/OFF mode, double time control mode,PV voltage control mode ,PV voltage+time delay mode and so on
8.Recommended battery types: sealed lead acid, vented, gel, NiCd battery. Other types of the batteries can also be defined
9.Most information could be provide by LCD and LED like: model no.,PV input voltage,battery type,battery voltage,charging current,charging power,working status and so on. Also customer's information like company name,website and logo can be added into Solar Eagle software
10.RS232 and LAN communication port. IP and Gate address could be user define it satisfy global area.And communication protocol can be provided to help customer manage all information
11.The upper computer software is displayed in 11 languages, it could show work status and set parameters of the discharge system
12.With intelligent design,the device can be upgraded online lifelong
13.Adopting the well-known brand components,the devices can suffer the temperature not less than 105
.The service life is designed to use for 10 years in theory
14.Compliance with the 2002/95/EC environment protecting demand, doesn't include the Cadmium, hydride and fluoride etc material
15.Equipment integrity: controller + CD-ROM(microcomputer software) + communication wire + temperature sensing wire+Anderson terminals
16.CE,ROHS certifications approved
17. 2 years warranty. And 3-10 years extended warranty service also can be provided

Item No.
Description
I-P-SMART2-12/24/48V-40A
(blue, green)
System Voltage
12V/24V/48V System Auto Recognition
PV Input Voltage Range
DC12V system
DC18V~DC150V
DC24V system
DC34V~DC150V
DC48V system
DC65V~DC150V
Maximum PV Input Power
DC12V system
560W
DC24V system
1120W
DC48V system
2240W
Charging Mode
MPPT
Precision,Scientific,Stable and Efficient Power Tracking
Charging Efficiency
Maximum Efficiency
99%
Charging Method
3 Stages
Fast charge/Constant charge/Floating charge
Discharge Mode
Intelligent Control
ON/OFF/Dual Time Control/PV Voltage Control/PV Voltage and time delay control mode.
Discharge Power
DC12V/24V/48V
40A
Barrtery Types
Selected Types
Vented ,Sealed,Gel,NiCd
User-Defined
Other types of battery charging can be set by controlller or software
Display
Working State
LCD,LED,PC Operating/test software,
Communication Port
RS232/LAN
Spare Parts
Controller /Hanging buckle/Temperature sensing Wires/ PC communication Wires/Software /Manuals/Terminal