This is the price for 4 lights and a flight case (for 4 lights).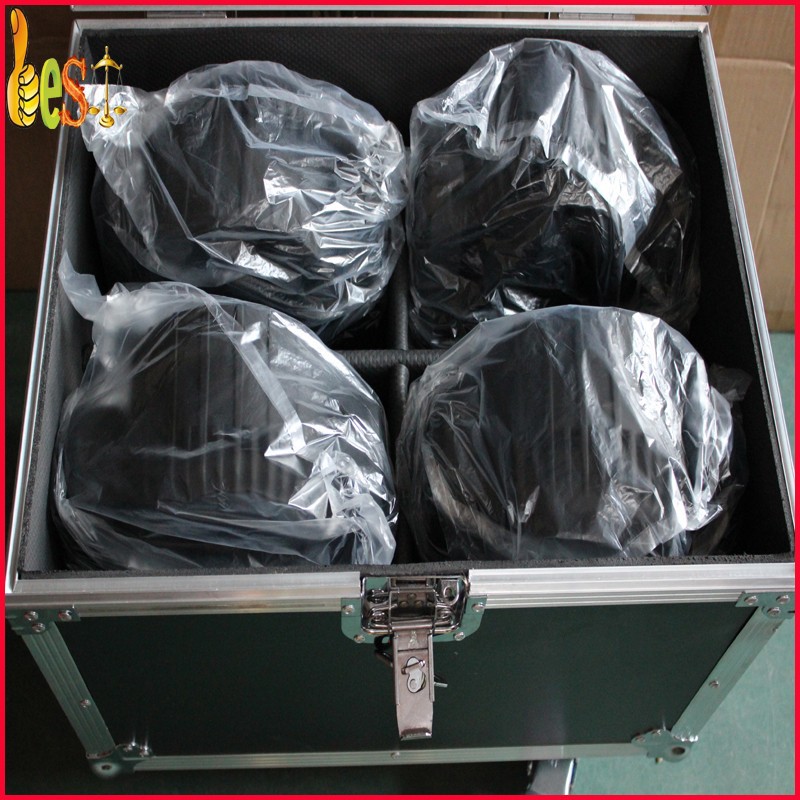 Features
High quality LED light
Ideal for highlighting skin tones, textiles or set pieces
Tight and punchy beam effects, long throw
Multiple field angle options for a perfect beam
Incredibly fast and precise movement
150 watt total power requirement
Ultra-compact, low weight design (5.23 kg)
Power and data daisy-chain
Physical
Shutter effect: Electronic, with pulse and random effects
Electronic dimming: 0 - 100%, four dimming curve options
Pan: 630°
Tilt: 180°
Pan and tilt speed: Adjustable via onboard control panel and DMX Beam angle: 5 degree
Net Weight:6.5kg
Gross Weight:7.5kg
Product Size:260x150x300mm
Carton Size:390x305x440mm(1 piece),450x410x350mm(2pcs in a carton)
Control and Programming
Control: DMX
RDM: Implemented
Control resolution: 8-bit, with 16-bit control of pan & tilt
DMX channels: 11/15 Channels
Setting and addressing: Control panel with backlit graphic display
Protocol: USITT DMX512-A, ANSI/ESTA E1.20 RDM
Transceiver: RS-485
Optics
Light source: RGBW QUAD Multichips high power emitters
Color temperature: 2800K
Minimum LED lifetime: 50, 000 hours (to >70% luminous output)*
LED refresh rate: 1220 Hz
*Manufacturer´s figure obtained under manufacturer´s test conditions
Construction
Color: Black
Housing: High-impact flame-retardant thermoplastic
Protection rating: IP20
Installation
Mounting points: One M12 threaded hole for rigging clamp
Location: Indoor use only, must be fastened to surface or structure
Orientation: Any
Minimum distance to combustible materials: 100 mm (3.9 in.) from head, no minimum distance from base
Minimum distance to illuminated surfaces: 200 mm (7.9 in.)
Connections
LED DMX 4-Button menu system
Universal computer AC IEC power cable cord
DMX data in/out: 3-pin locking XLR
Electrical
AC power: 100-240 V nominal, 50/60 Hz
Maximum total power consumption: 150 W
Power supply unit: Auto-ranging electronic switch mode
Typical power consumption, all effects static, zero light output: <25 W
Typical Power
100 V, 50 Hz: 145 W
120 V, 60 Hz: 144 W
208 V, 60 Hz: 150 W
230 V, 50 Hz: 150 W
240 V, 50 Hz: 150 W
PF = power factor, Measurements made at nominal voltage with all LEDs at full intensity. Allow for a deviation of +/- 10%
Thermal
Cooling: Forced air (temperature-regulated, low noise, user-definable levels)
Maximum ambient temperature (Ta max.): 40° C (104° F)
Minimum ambient temperature (Ta min.): 5° C (41° F)
Total heat dissipation (calculated, +/- 10%): 420 BTU/hr.
Accessories
1pcs 1.2 m (4.6 ft.) power cable, 12 AWG, SJT, with PowerCon
1pcs Powercon power in and power out connector(speakons)
1pcs half-clamp and 2pcs quick locks(screws)