DESCRIPTION:
Acorn Led String Lights Decoration:
For a fabulous, intimate lighting accent, think small. Our 10-foot battery-powered String Lights use tiny (some would say magical) LEDs the size of a grain of rice strung along shapeable, thread-sized silver filament to create an almost weightless, firefly-like effect. Weave them through wreaths, garland and centerpieces, or string along Candle Decorations, indoors and in covered outdoor areas. Compatible LED Remote Control (include in package) allows them to be turned on or off at a touch. Built-in timer provides automatic shutoff.
Features:
Decorate Your Fall&Thanksgiving Theme:
1. For Autumn theme decorating. Acorn shape icon, glistening lights and sparkling accents set the vivid tone for those who take their home or outdoor decoration seriously.
2. Used as Indoor & Covered Outdoor night lighting decor, bring exciting LED light into your home with our string lights.
3. Step right up to see a fun, new way to capture the atmosphere of ocean!
Portable & Versatile
1. Cordless battery operated, safe and convenient with ON and OFF switch on the side.
2. Can be displayed standalone or combined with other pieces to create an eclectic lighting installation.
Durable & Energy-Saving & Economic
1. LED bulb produces no heat after long-time use.
2. Plastic exterior, sturdy but not too heavy.
Specification:
· Lights Icon shape: Acorn
· Material: Plastic, Copper Wire Plated Silver
· LED quantity: 40 pieces
· Input Voltage: 3V
· Power: 3pcs AA battery box ( Not included battery)
· Total length: 300cm / 10 Feet
· The color of the wire : Silver Color
· Modes: Remote Control
· Occasion: Indoor for Covered Outdoor
· Suitable for:
Indoor Decoration: Bedroom, Babby Shower, Bathroom, Curtain Rods, Window,
Dining Table, Living Room, Drying racks, Door, Kitchen, Cloakroom. Centerpieces, Mistletoe.
Outdoor Decoration: Porch, Portico, Patio, Garland, Wreath, Fence, Bistro, Pergola, Deckyard, Kids
Tents, Market, Cafe, Gate, Yard, Tree, Camping Tents, Landscape, Lawn, Umbrella, Snowman.
Holidays, Festivals, Themes: Chirstmas Tree, Wedding, Kindergarten, Parties, Columbus's Day, New Year's Day, Fall, Winter,Thanksgiving, Easter Decorations.
Why Buy From Us:
1. Different from traditional string lights, our copper string lights are lighter, safer and prettier.
2. When you decorate the Christmas tree with our string lights, the wires will be invisible. The bulbs are tiny and our icons are designed and made exclusively, we payed so much attention on details to make each of our item come with a story.
3. Decorating fantasy comes to life with this marvelous lighting fixture. The white and amber LED strung wire, creates a magical experience in you home.
4. Battery-powered strings bring new drama to wreaths, centerpieces and mantels alike.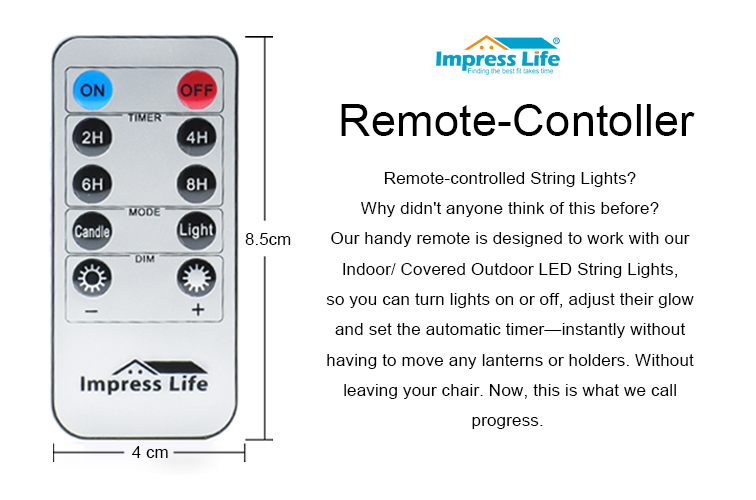 DETAIL PICTURES: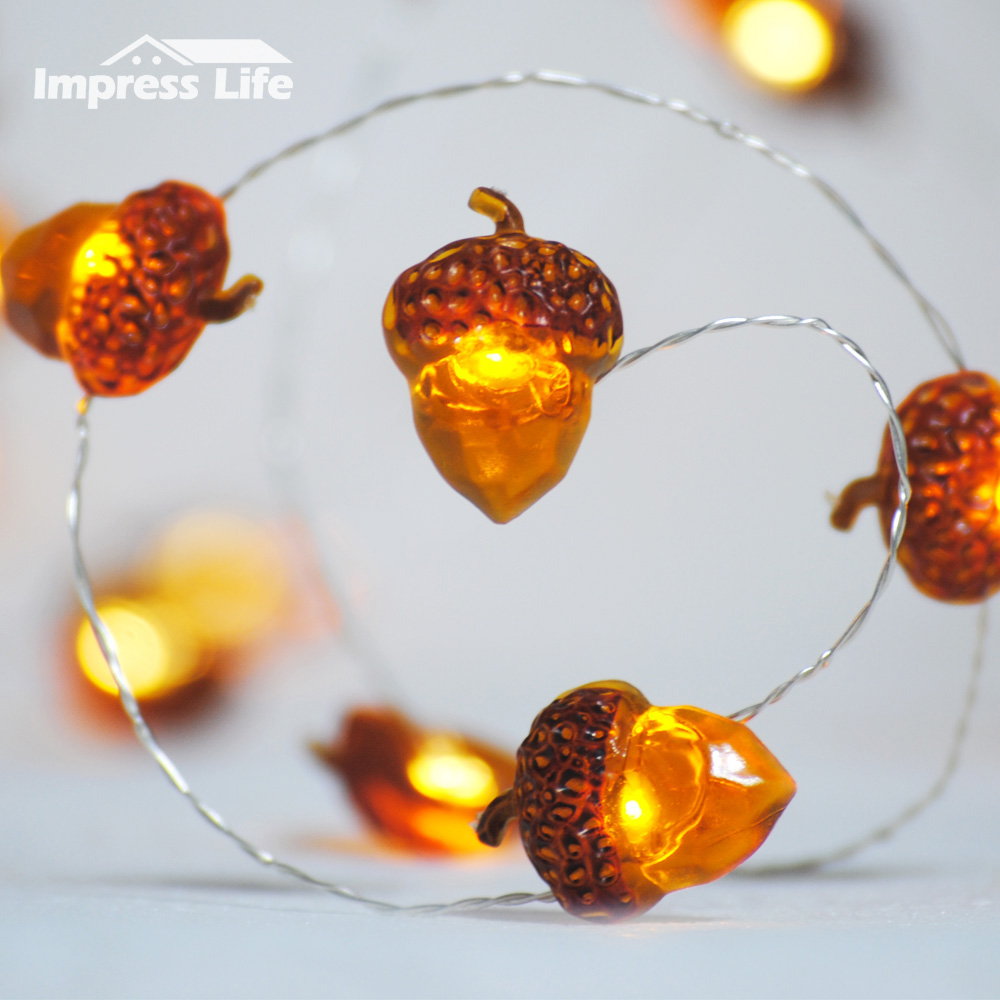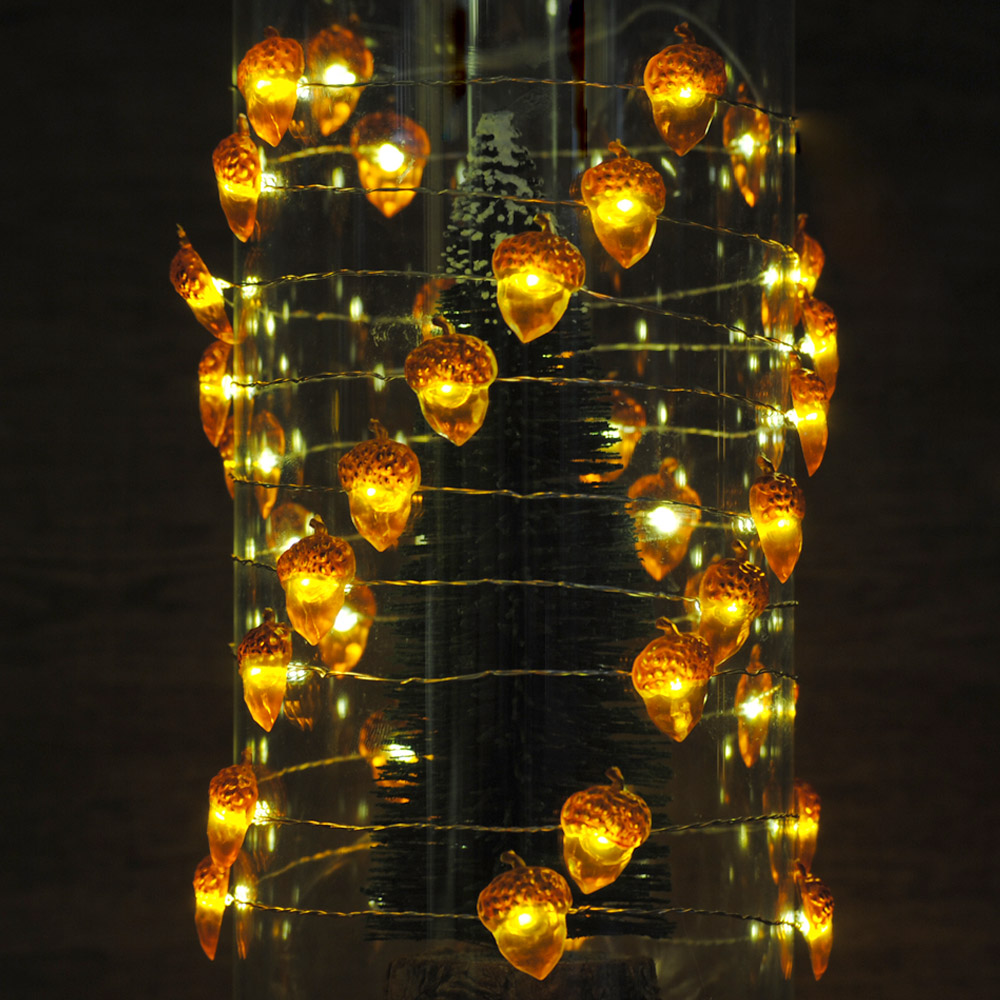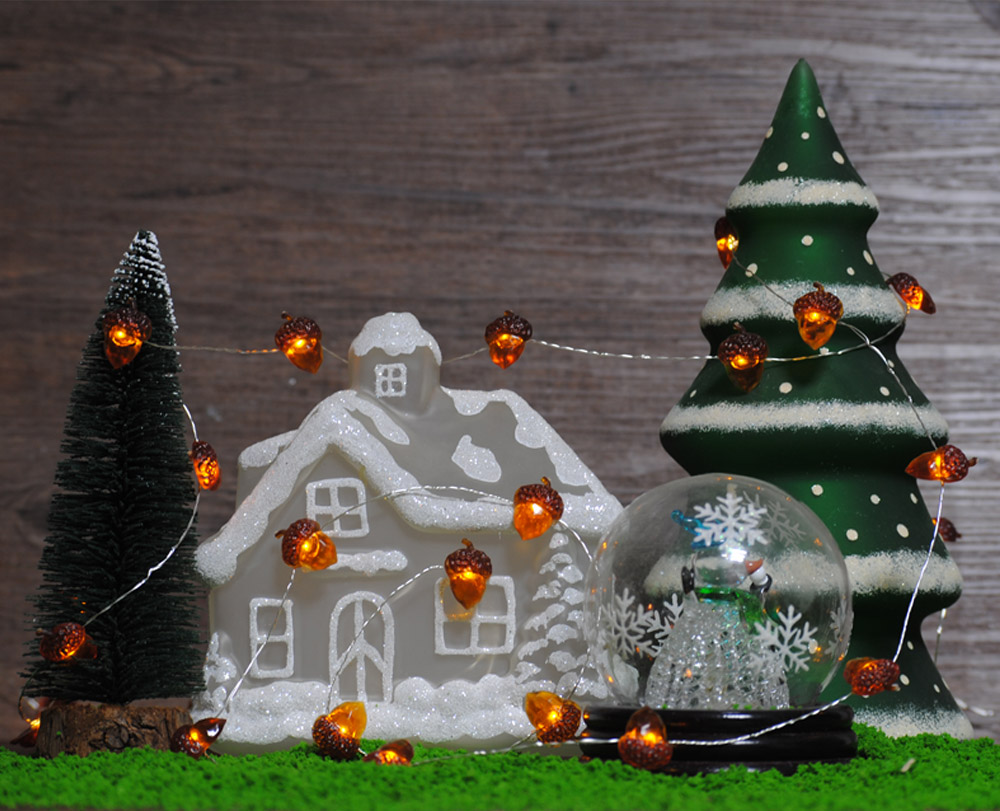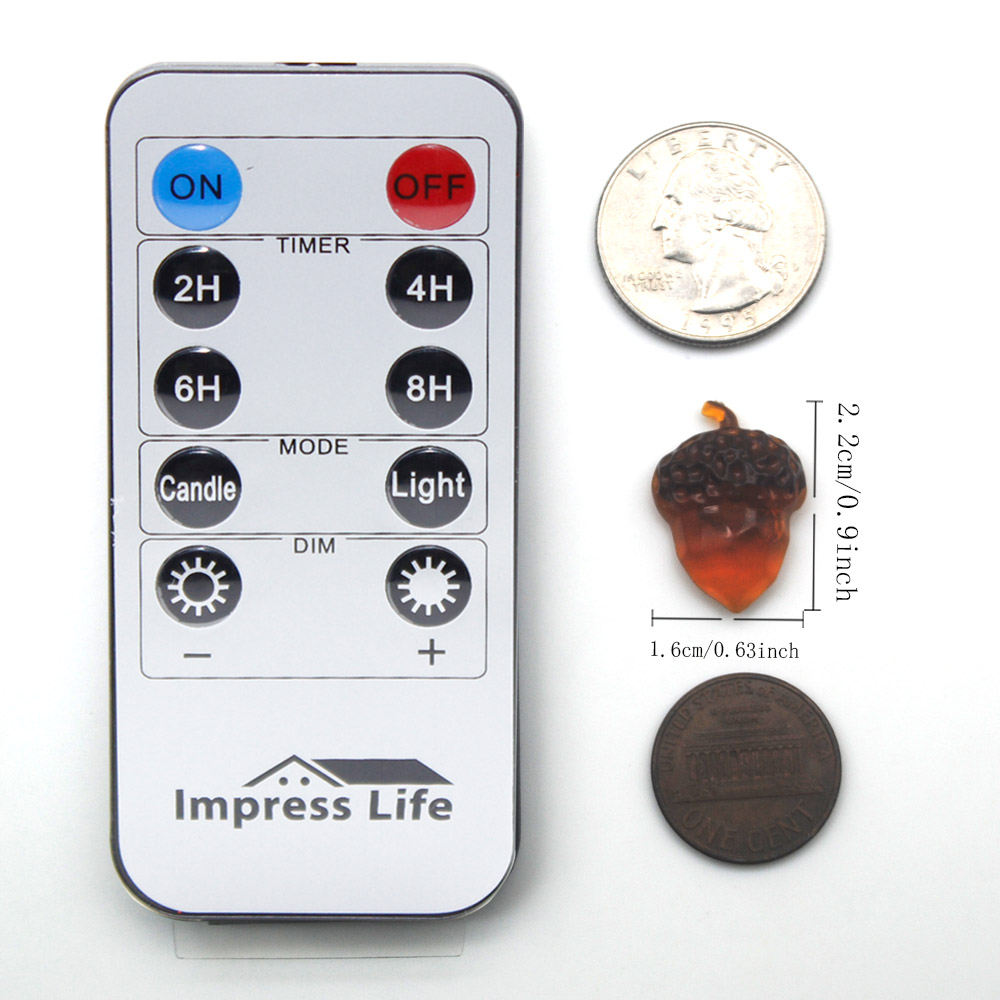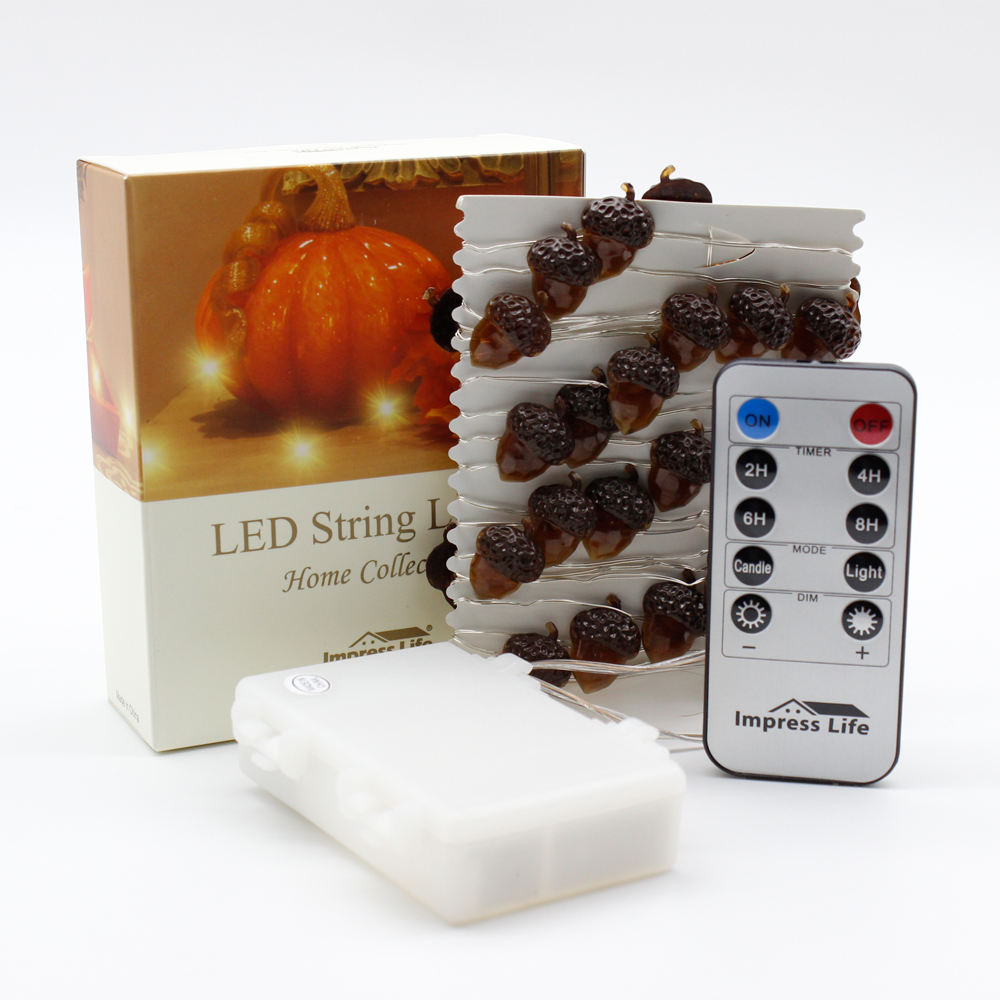 BUYER NOTIFICATION:
For indoor/covered outdoor use, easily set or wrap, safe and never go hot (silver plated copper wire, longer life, meets IP64 requirement). WARNING: DO NOT soak battery box in water.

Battery-operated, requires 3 AA batteries (not included), 3 AA batteries could last approximately 30 Hrs, remote capable (included in package). WARNING: For safety reasons, please use alkaline batteries or rechargeable batteries. Otherwise low quality batteries may damage the electronic panel and affect the length of use time.

2/4/6/8 Hrs build-in timer provides automatic shut off. Build-in and remote capable timer function(if you turn it on under 6 Hrs timer mode at 3 PM, it will turn off at 9 PM and turn it on again 3 PM the next day).

You can chose flicker mode and control the intensity of light by dimming the light or on the contrary, rang of remote control is around 5 meters.

NOTE: All products here were designed and manufactured by IMPRESS LIFE® exclusively. We believe creativity and quality are the keys that make us stronger. With your support to our unique and original items, we will never stop evolving and present you the delicate life you never seen.