all-sun ETP113 Digital Thermometer Portable Temperature Meter
High Precision Electronic Thermometer With Stainless Probe
Shipping Caution:
* Parcel will be shipped from our Eastern Europe warehouse -- Estonia if you
come from the following countries.
Eastern Europe: Russia, Belarus, Ukraine, Latvia, Lithuania, Estonia, Finland, Sweden, Norway,
Poland
Western Europe: Austria, Belgium, Bulgaria, Cyprus, Czech Republic, Germany, Denmark, Spain,
France, United Kingdom, Greece, Croatia, Hungary, Ireland, Italy, Luxembourg,Malta, Netherlands,
Portugal, Romania, Slovenia, Slovakia
* Shipping time: about 5-20 days (Ordinary Time)
But because the end of this year is coming and Russian mail is overloaded, the
delivery time would be delayed to 28 days.
Meanwhile,
all express companies are at the peak period, so the delivery time to any countries
will be delayed for 30-45 days
Please await it patiently and we would try our best to serve you!
—— About the logistics of Jan&Feb, 2017
Note :
This package does not include batteries.
Due to new rules of China Post Air, parcels must not include batteries,
otherwise it will not get through the custom.


> This thermometer is a high precision electronic thermometer with a
stainless probe. It possesses Celsius /Fahrenheit measurement,
maximum/minimum memory and data hold.
> It can be used in industry, laboratory, food temperature test and
monitoring , as well as in cooking (such as check out the temper-
ature of boiled food, infant milk).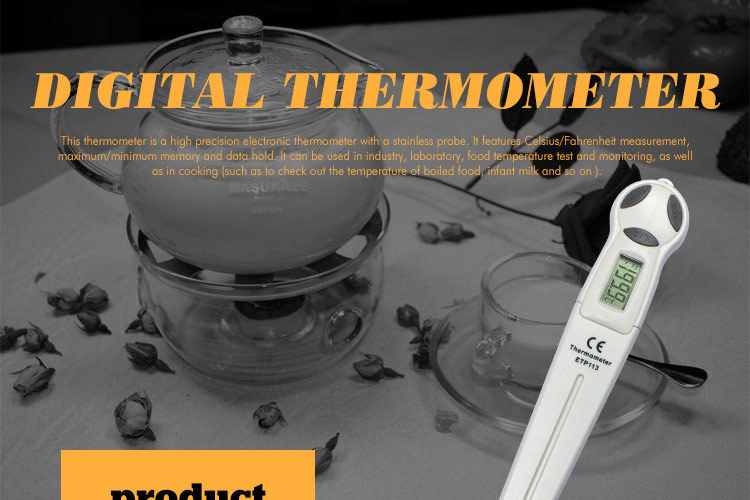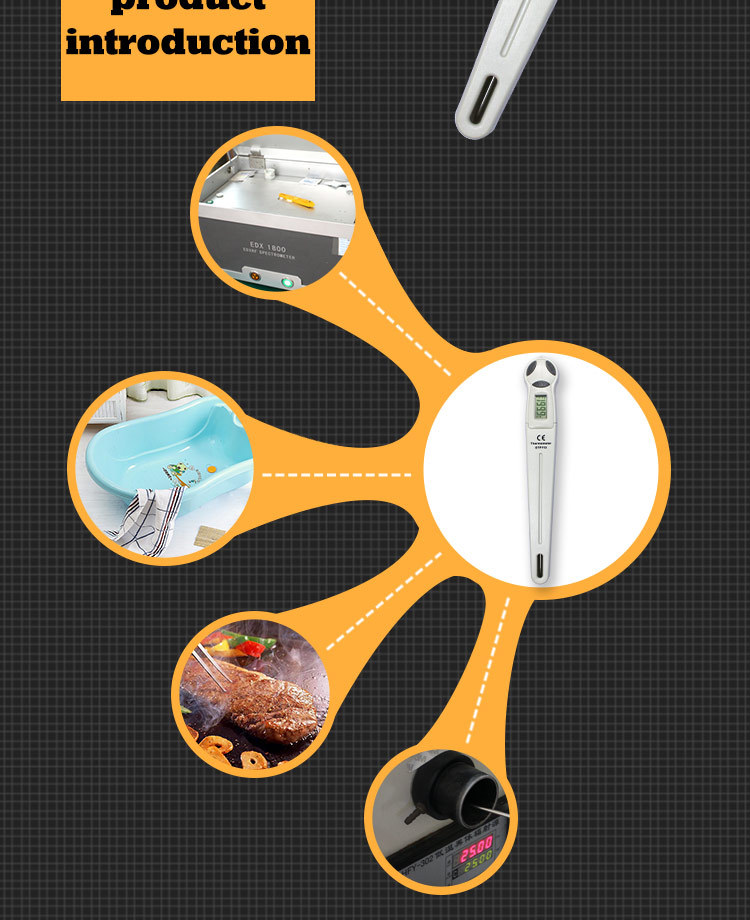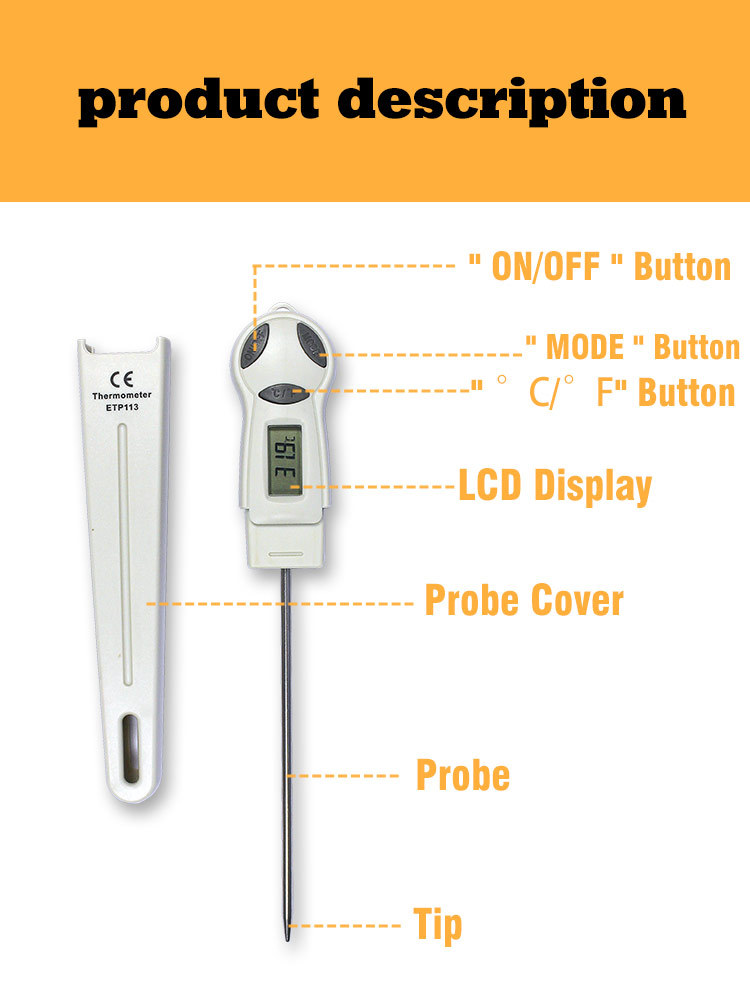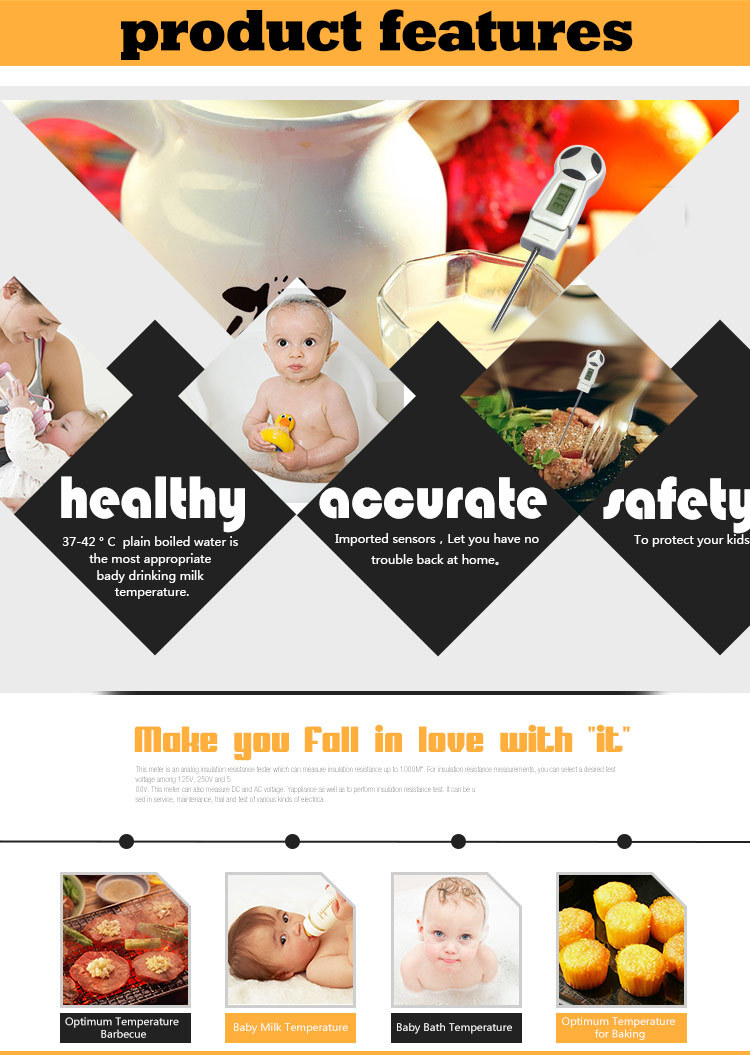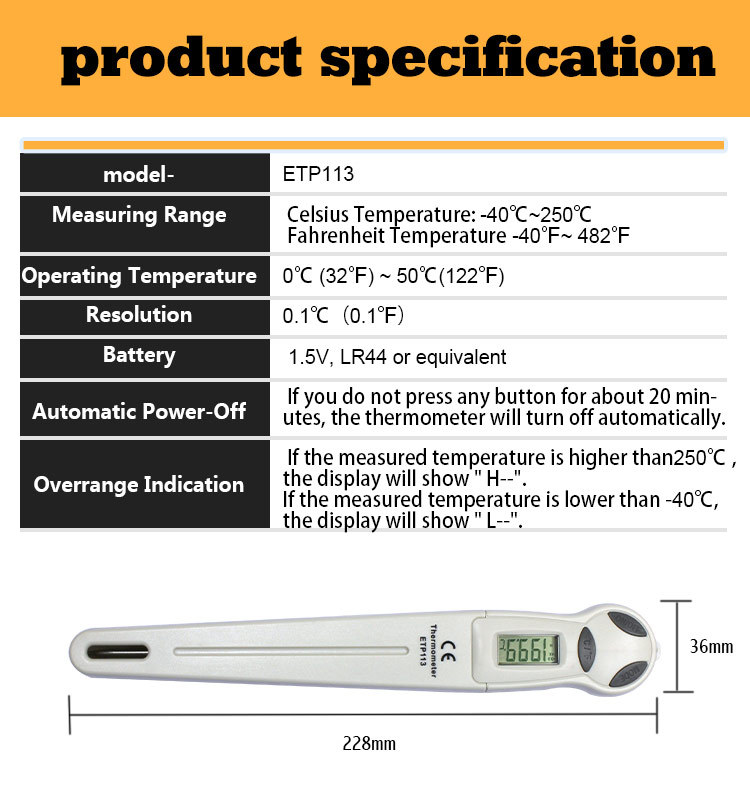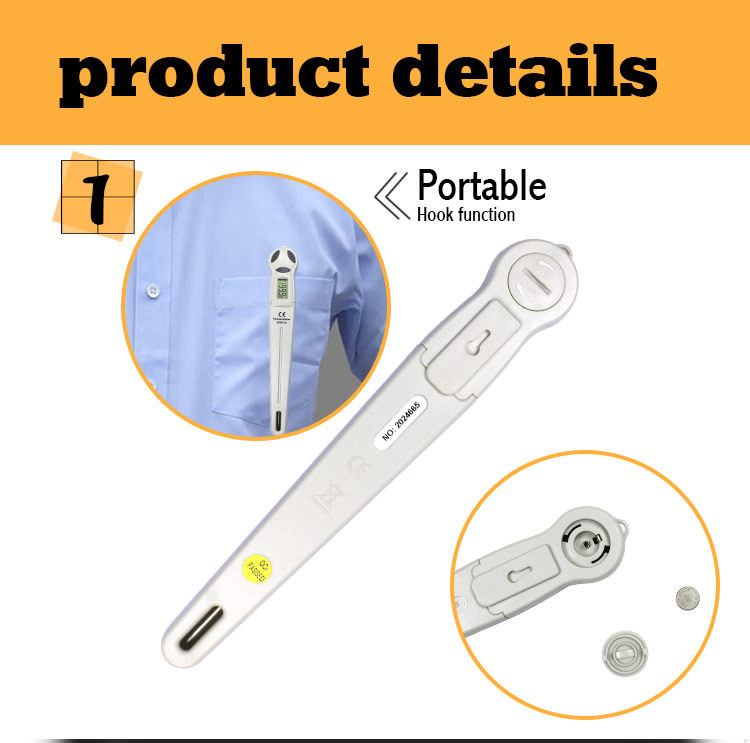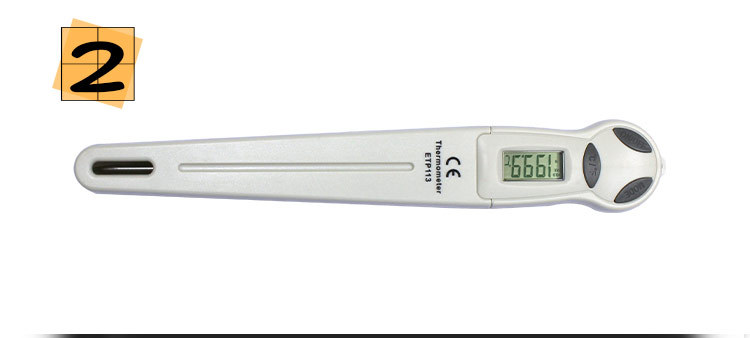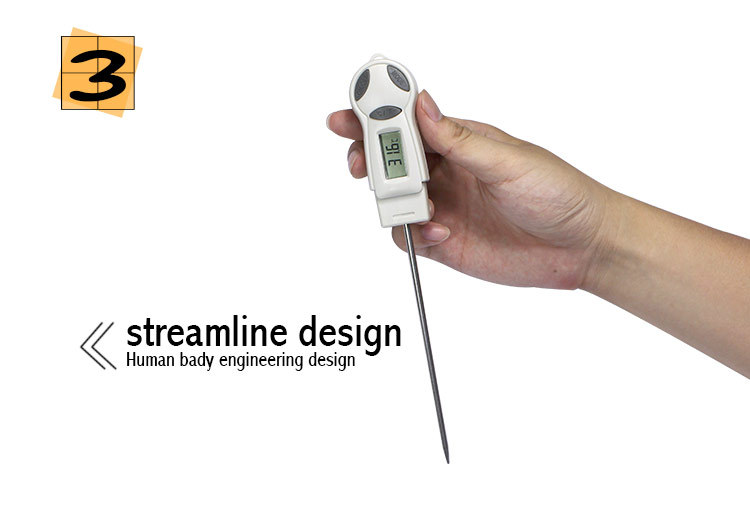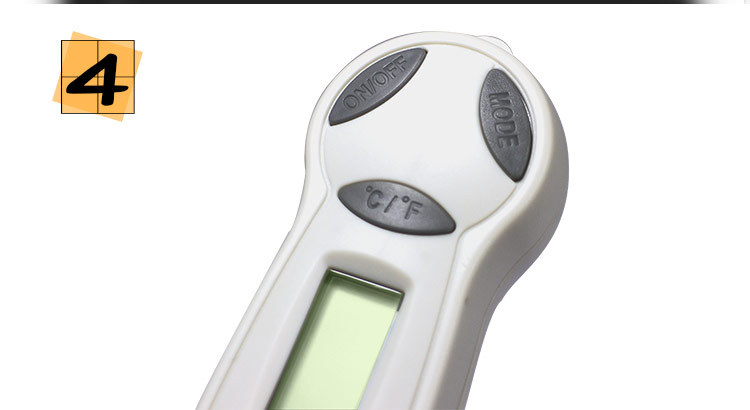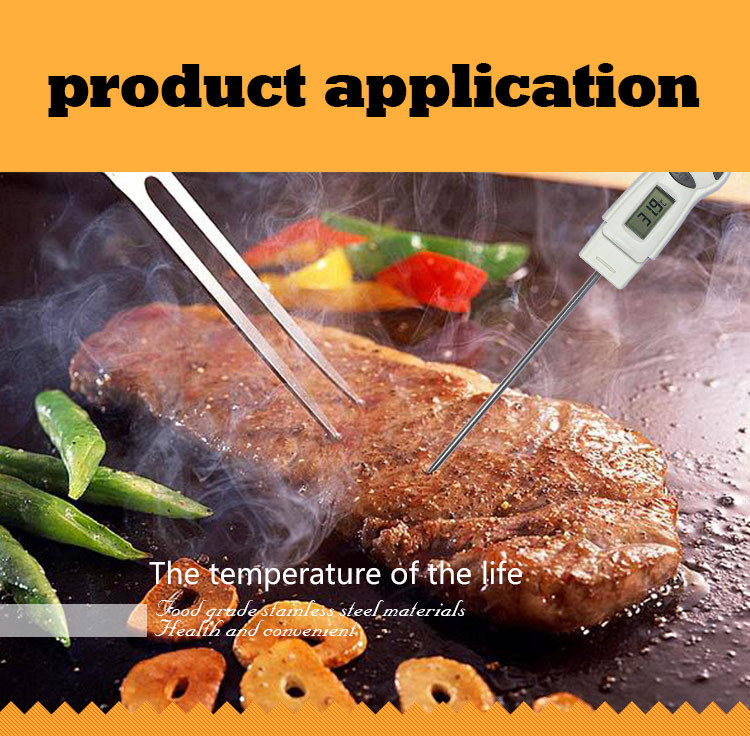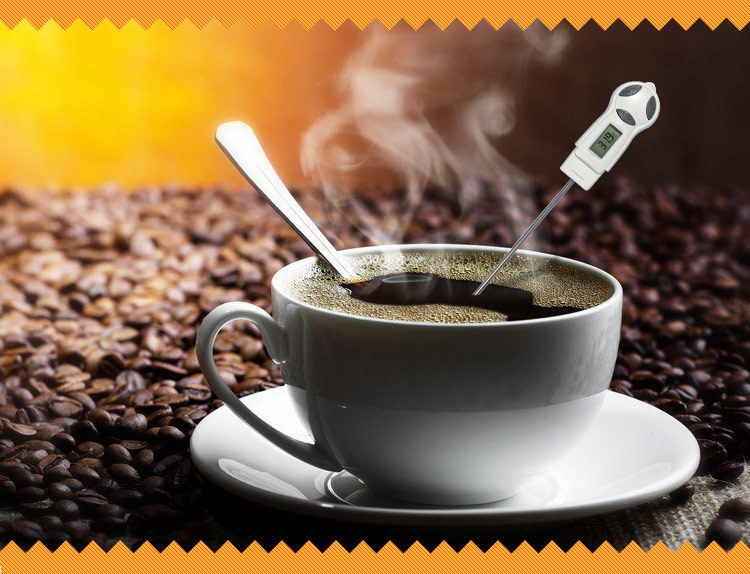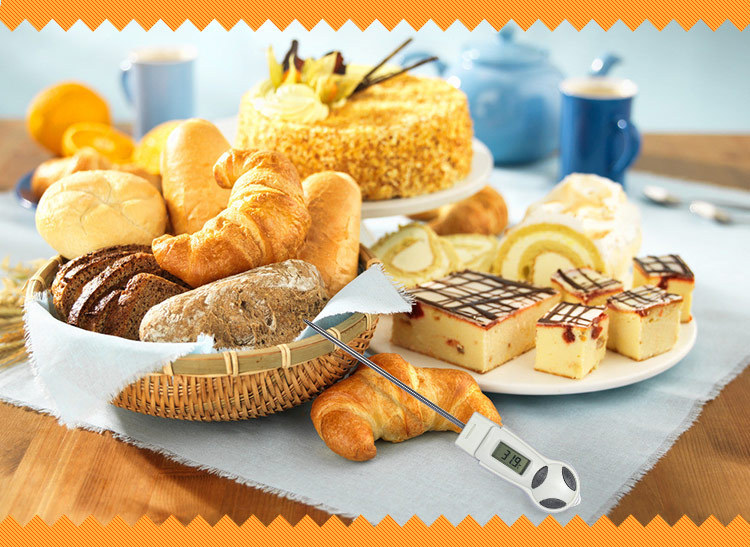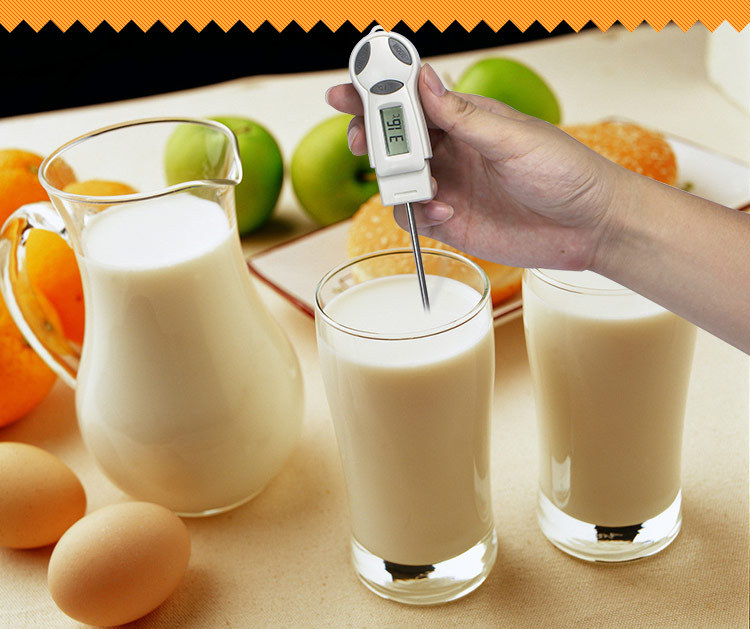 Operating Instruction
1Press the ON/OFF button to turn on the thermometer, the
display shows all symbols instantaneously, then the display
reads zero and then shows the current temperature (sensed
by the tip of the thermometer's probe)
2Press the Celsius/Fahrenheit button to switch the thermo-
meter between Celsius mode and Fahrenheit mode
3Press the MODE button to hold the current reading on the
display. The symbol HOLD flashes on the display as an ind-
ication
Press the MODE button again to show the maximum meas-
ured value of all measured values since the thermometer is
turned on. Max flashed on the display
Press the MODE button once more to show the minimum
measured value of all measured values since the thermom-
eter is turned on. MIN flashes on the display
Press the MODE button once again to return to the current
temperature measurement
You can continue to press the MODE button to repeat the
above procedure
4To turn off the thermometer , just press the ON/OFF butt-
on again.
Specifications
Measuring Range: Celsius Temperature: -40~250Celsius;
Fahrenheit Temperature: -40~482Fahrenheit
Operating Temperature:
0Celsius(32Fahrenheit)~50Celsius(122Fahrenheit)
Battery: 1.5V, LR44 or equivalent