AliExpress Supply CE&RoHS Certificate LCD and LED Power Display 48V 40A Automatic identification solar charge controller
welcome to scan our products !
welcome to China !
welcom to visit our factory !
Product Description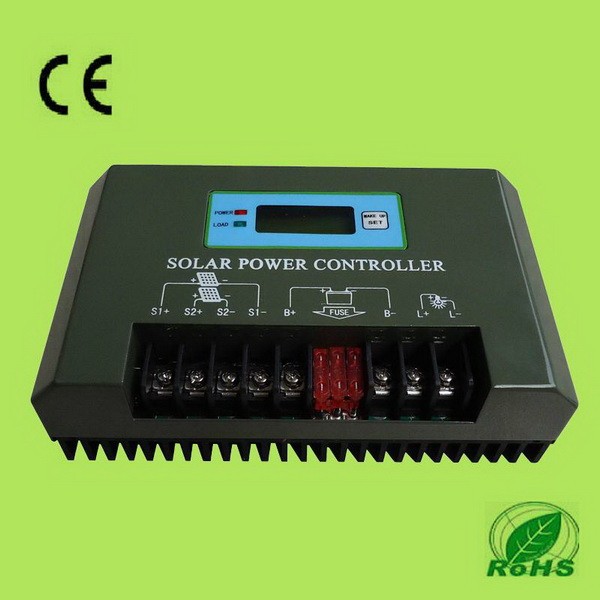 Model:JC4840 (LCD and LED Display)
Rated Voltage:DC48V
Max Current:40A
Input Power:1920W
Max. Open circuit Input Voltage:100V
Balanced charge voltage:57.6±1%
Float voltage:(54.0V-55.2V)±1%
Excessive discharge cut: 44.4V±1%; Recover:52.8V±1%
Excessive charging voltage cut: 66V±1%; Recover:60V±1%
Zero Loading Current:≤10mA
Working temperature: -20~55 degrees C
Light control open voltage:≤8V±1%
Light control off voltage:≥28V±1%
Display: LCD&LED
Controller protection:Overload, reverse polarity, over-discharge, overcharge, short circuit,Lightning protection, solar reverse charge protection, battery open-circuit protection, reverse battery protection,etc.
Dimension:180*107*55mm
Weight:1.3KG
Product Features:
Solar street light controller is a microprocessor-controlled and displayed through intelligent charge controller, using high-quality, low-loss, long-life components to ensure reliable performance, so that long-term street lighting system can work to reduce the maintenance cost of the system, particularly greatly reduce battery maintenance costs.
JC series solar street light controller can adapt to the harsh working environment that can provide two-way access to the load, by setting the dual time function keys can be freely set the system settings and lighting working hours, automatically turn on or off according to the intensity of light load, can be used for LED, low pressure sodium lamp, metal halide lights, garden lights range of lighting systems.
Microprocessor control, intelligent control of charging and discharging

After the memory controller lost power on again, press the mode is automatically de-energized before work

Light control + time control within one hour to 15 hours can be set to achieve timing fine

With perfect battery overcharge and over-discharge protection

With battery open circuit, overvoltage, output short circuit protection

With solar cell reversal protection, anti-anti-charge function at night

Undervoltage and overvoltage anti-shock protection, low no-load loss

Temperature compensation function
Product installation and wiring:
LCD default interface

Press the button to enter the following screen, the cursor blinking in the first row, this time will Enter Operating Mode and Time Control

Set the operating mode , home on behalf of household mode , lamp streetlight representatives mode, each time you press the transformation once, after setting a good job mode , wait a few seconds release the button , the cursor automatically jumps to the second line , second line for the street light mode, you can set the time , every time you press the button , the time plus one hour , if it is please ignore household mode , wait a few seconds after the automatic return to the default interface, set successfully.
Installation and Use : Please Appendix wiring, please note that "+" " - " polarity , battery first pick , followed by solar cells, followed by the load. LCD display controller and the battery voltage and battery charge status , two LED charging indicator system , respectively , and discharge instructions.
1. Mate battery positive and negative ( positive fuse located on the left side prohibit a wrong )
LCD screen is connected properly initialized Happy , red led flashes, after completion of the output light ( green led) long bright . Undervoltage , overvoltage long off. Otherwise, check the line.
2. then connect the solar panel as shown ( left positive prohibit a wrong ) Appendix connected correctly, charging the president or flashing lights (red led). Otherwise, check the line. ( Two routes access panels , each rated to withstand normal current value ) .
3. finally connected load ( Appendix bulbs , cathode left ) , properly connected light bulb ( type street lights off during the day long . Undervoltage , overvoltage long off ) . Otherwise, check the line.
Note : A, above 1,2,3 points , in the order received ( overvoltage, undervoltage , charging , etc. Please refer to the basic parameters ) .
B, set the controller installed in the ventilation environment.
C, select sufficient capacity cables , to avoid too much wear and tear on the line , causing the controller to misjudgment . ( Do not connect the inverter output of the load directly connected to the battery , it may affect the controller work . )
D, the battery at least once a month to be filled , otherwise the battery will be permanently damaged. Be greater than the charge and discharge , the battery can is filled. When users configure the system , keep in mind this.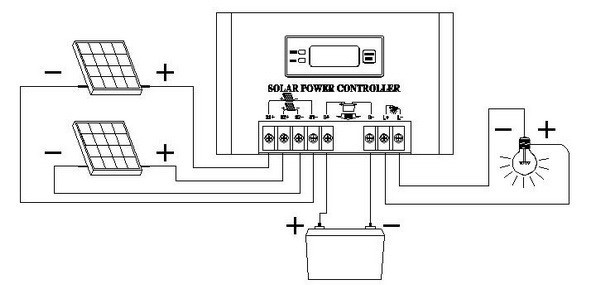 Picture of 48V 40A Automatic identification LCD&LED display solar charge controller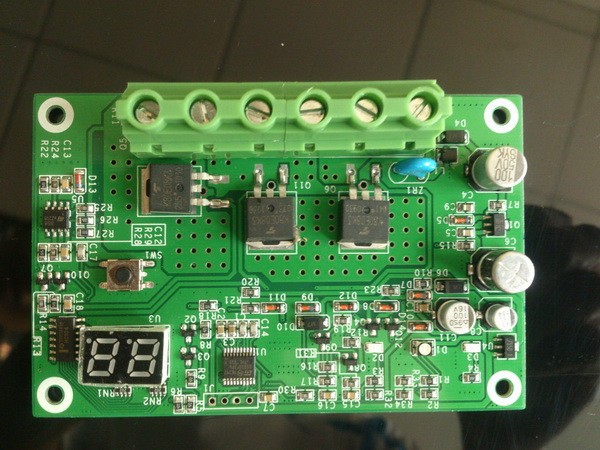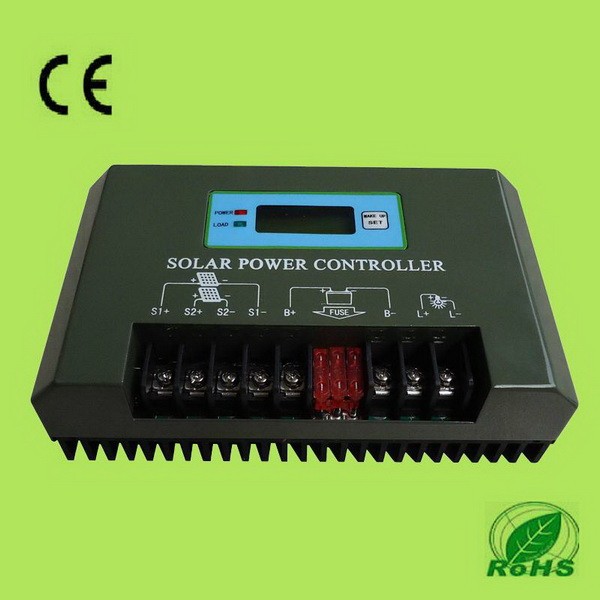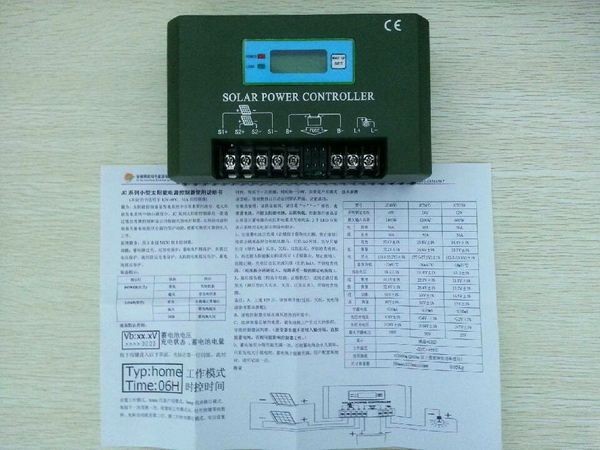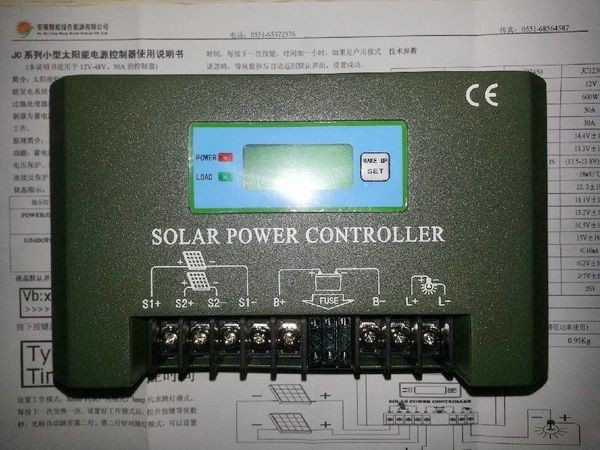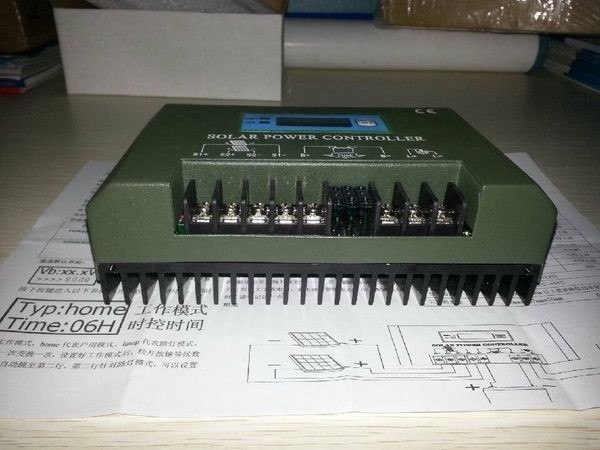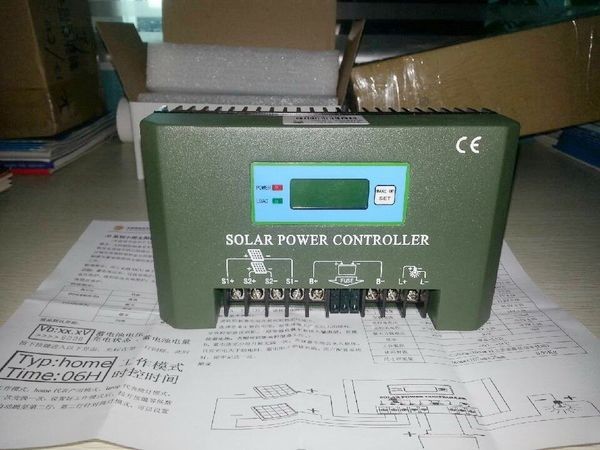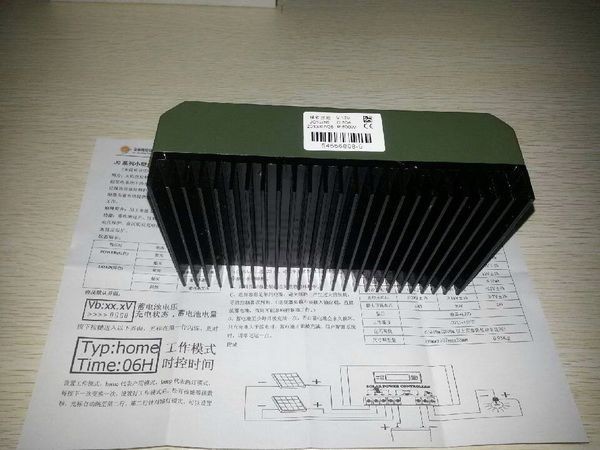 1. Intelligent design, simple structure, control powerful, stable performance, safe and reliable products.
2. optional large-size LCD display, all parameters visible and intuitive user
3. humane key operating functions, all parameters can be adjusted according to user requirements to facilitate customers to use in various environments
4. with a variety of output state setting function, often power / half power / time periods, etc.
5. LCD battery voltage and charging current
6. digital intelligent control.
1. Solar reverse charge, at night, such as poor light conditions, the battery voltage may be higher than the terminal voltage of the solar array. The controller with anti-reverse charging way to prevent the battery charging solar cells produce anti.
2. Battery Battery reverse polarity protection, the equivalent of a short circuit occurs, it will have a huge transient currents. The controller in the careless reverse, the circuit will automatically fuse blows, making the entire loop disconnect the battery, so as to effectively protect the battery and the device
3. battery open-circuit protection after long-term use, the battery may be open or poor contact occurs. The controller protects the battery open the device itself is not damaged
4. In the case of overload overload controller will automatically cut off the circuit.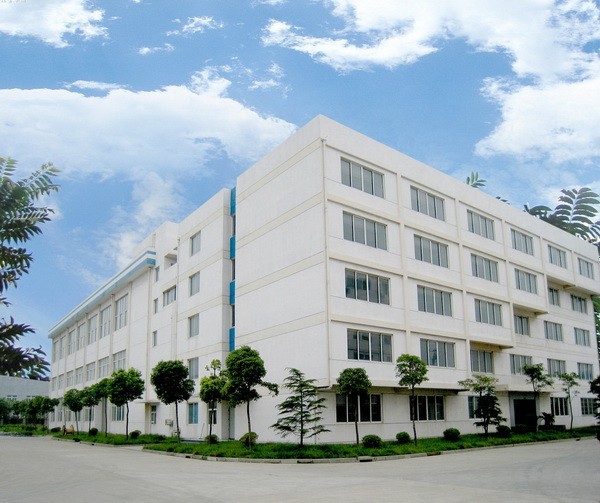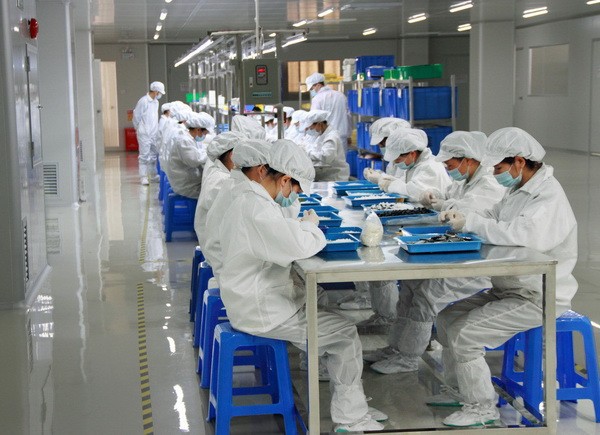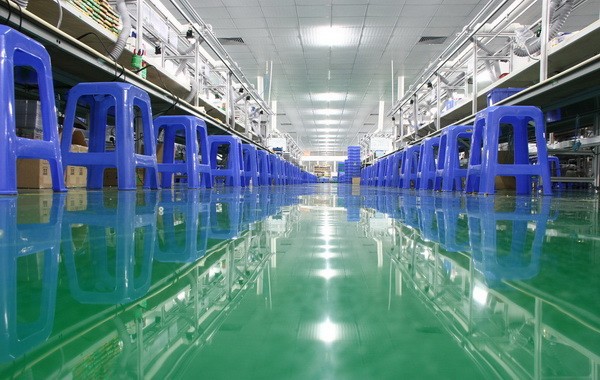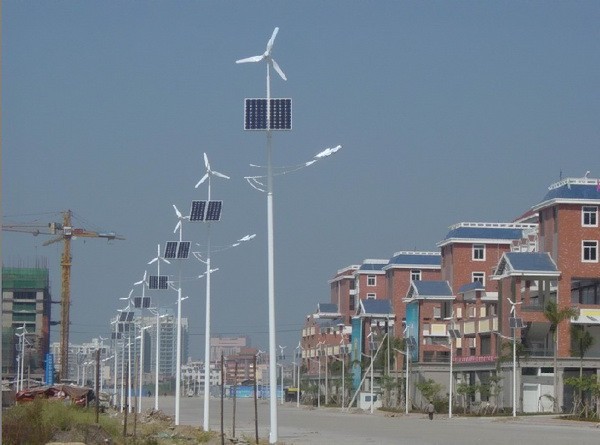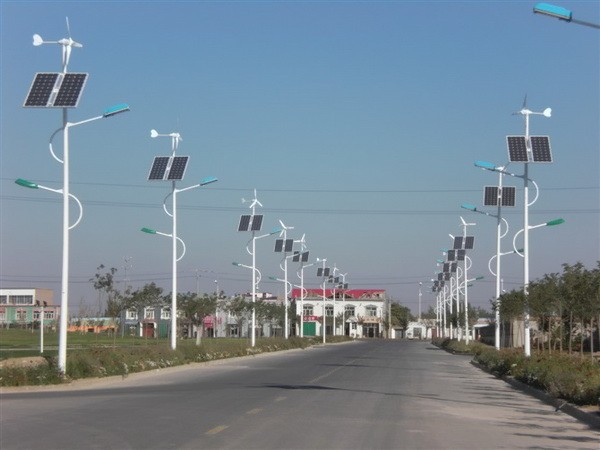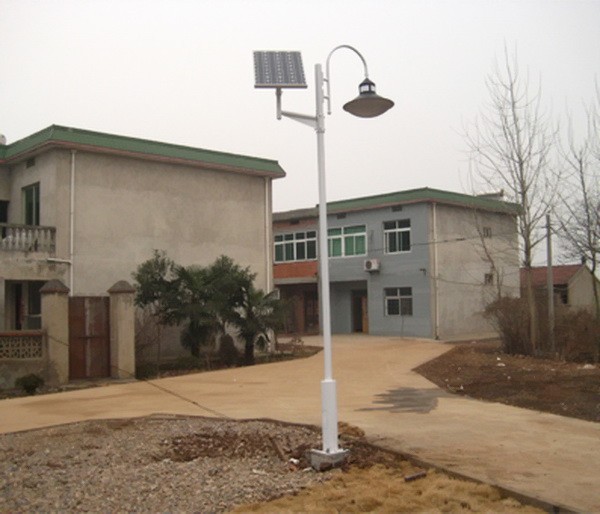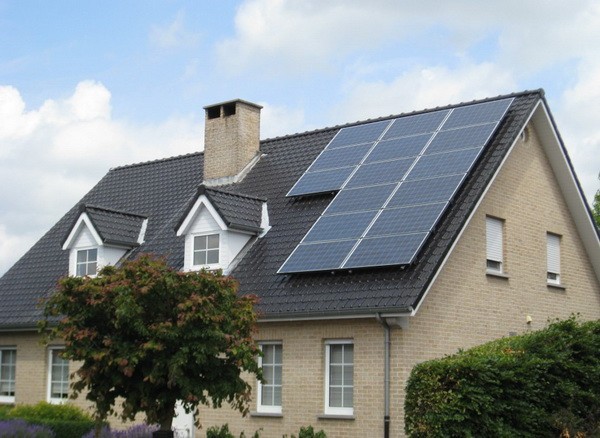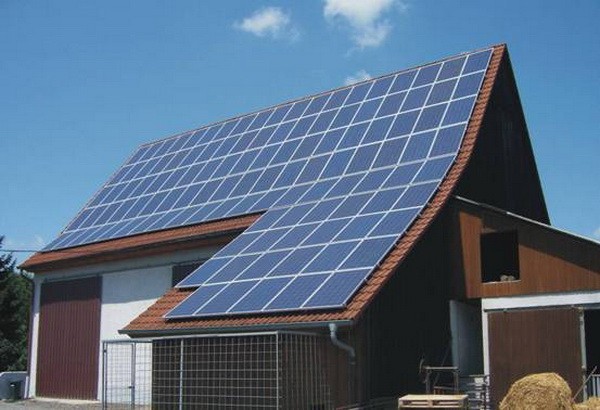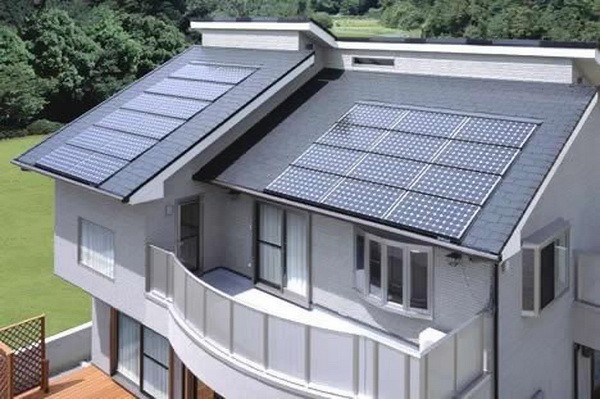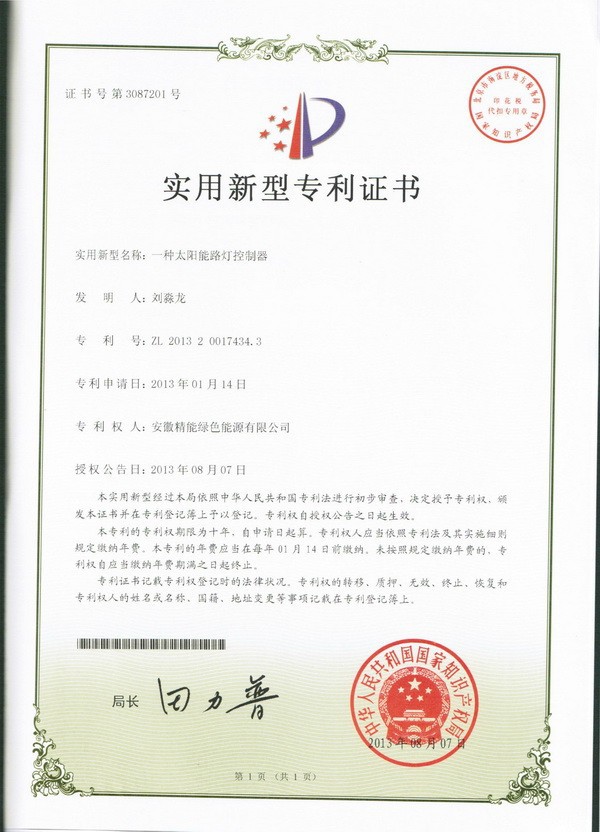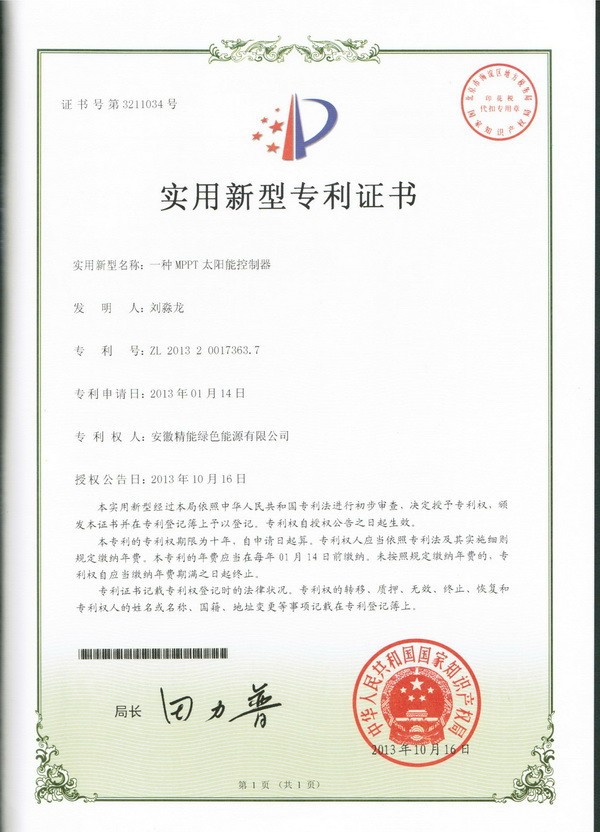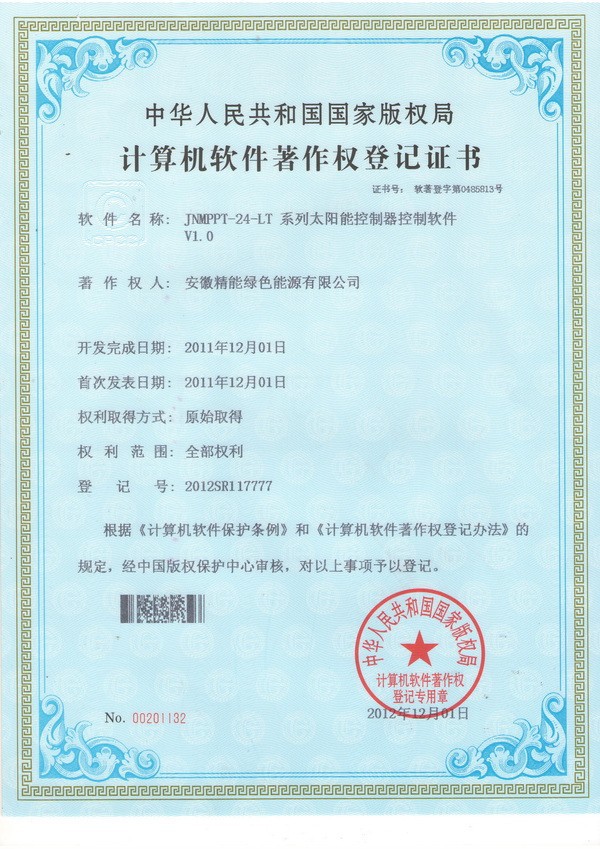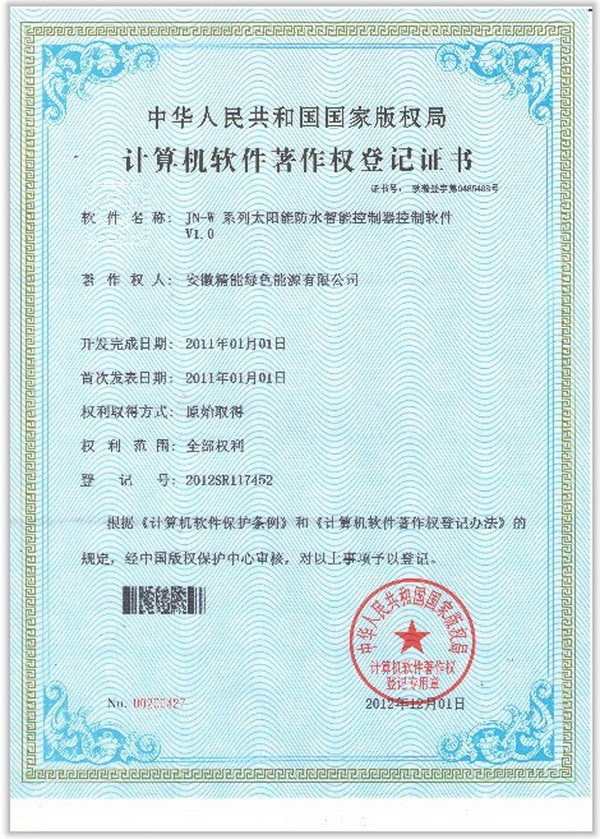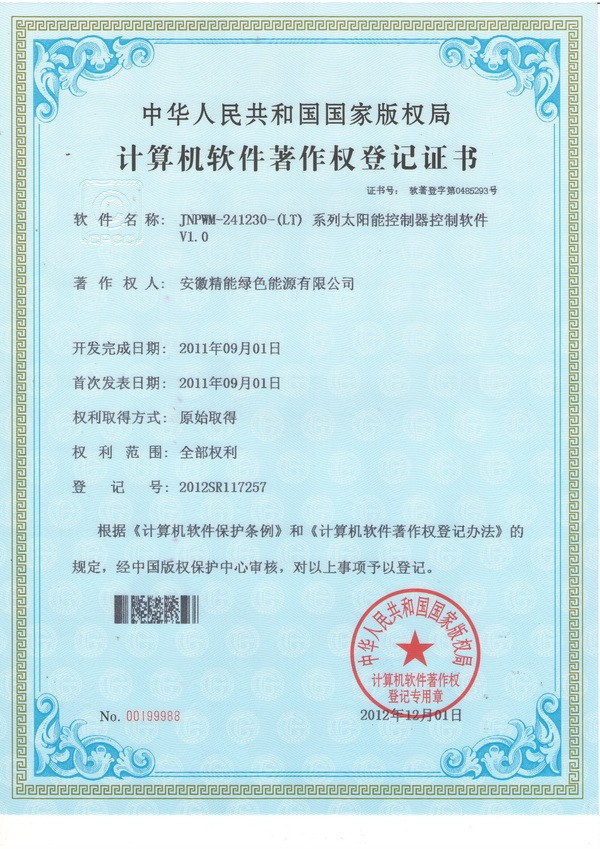 CE&RoHS Certificate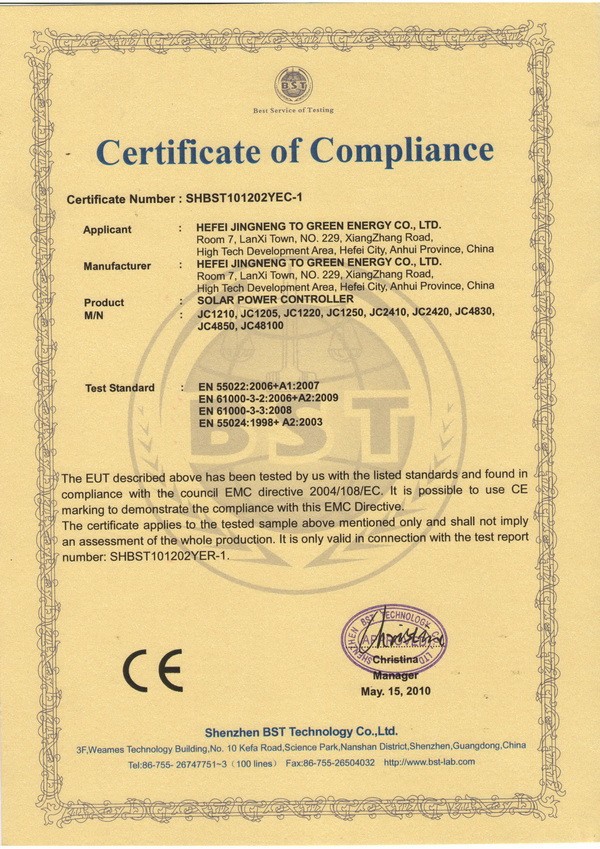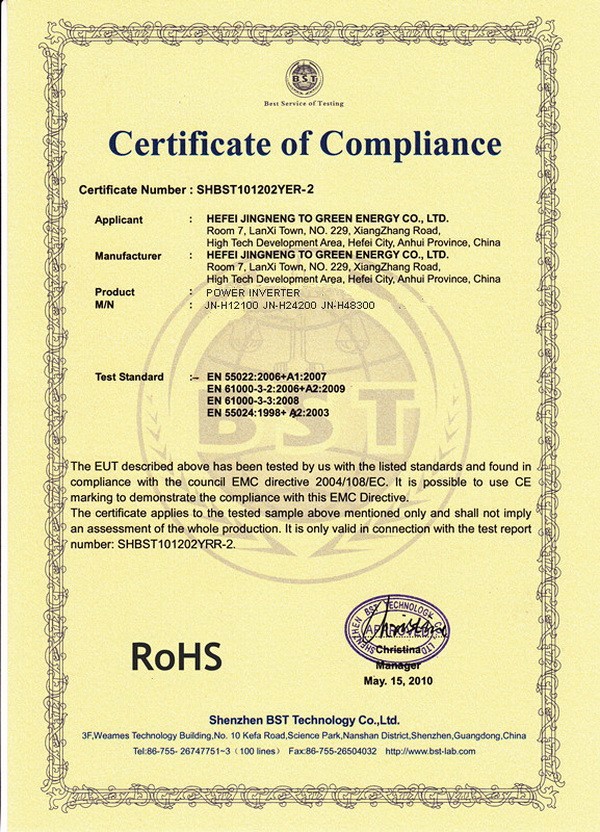 About Shopping and payment
1. We do suggest that customers make sure that item/items can be fit your needs or we can help you to check whether item/items can be suitable before making a deal.
2.We suggest you'd better contact us before payment, we can accept ESCROW,Credit cards,T/T,Western Union and so on. Of course,payment on aliexpress itslef is advised. Also, it is the safest payment for you.
3.If you have any other problem about payment, pls contact us asap.
We Will Send Your Order Within 7 Days After We Received Your Payment. Please Choose The Shipping You Are Want.For The Shipping, We'd Like Introduce Details For You in Here:
(1). E-package is Only For US Customer, It Takes about 27Days To Arrive .
(2). China Post Air Mail is Send To Most of Countries, It Takes about 39Days To Arrive.
(We do not recommend use because it's delivery rate is very low, it is easy to lose.)
(3). If You Choose EMS/DHL/UPS Shipping, It Takes 5-8Days To Arrive.
(4). Before buying,please make sure your aliexpress and alibaba address is correct.Or not,please correct it before payment.
We Will Write A Lower Value On Package to Avoid Produce Tariffs. Every Country Has Different Tariffs Policy, Sorry We Are Not Responsible For Customer Clearance. Kindly Notice This!
If You Want us Write Product Details on Package as You Want, Please Send Message to us In the First Time When You Make Order.
We Are A Professional Business Company. We Will Offer Good After-sales Service For You. If You Have Any Question About Our Product Or Service, Kindly Send Message To US. We Will Reply You AS Soon As Possible.
If You Are Satisfied With Our Product, Kindly Leave Full-stars and Good Feedback For us. Your Feedback will Encourage us DO it Better In The Further. Thanks!

Warranty and Return
1. 12months Warranty for defective items (excluding items damaged and/or misused after receipt). Buy with confidence
2. Refund or replacement request is available only the requests within 1 week after parcel received returning the item as the same condition as received.
3. Please contact us to request a return authorization. Your name, auction number, and reason for return should be included in the email. All items returned must contain all original packaging materials.
4. Please repack the item carefully. Items returned will be tested and a new replacement will be shipped to the buyer immediately when found defective. In the event that a suitable replacement is not available then a refund will be issued. Shipping, handling and insurance fees are non refundable.
5. Return shipping is to be paid by the Buyer