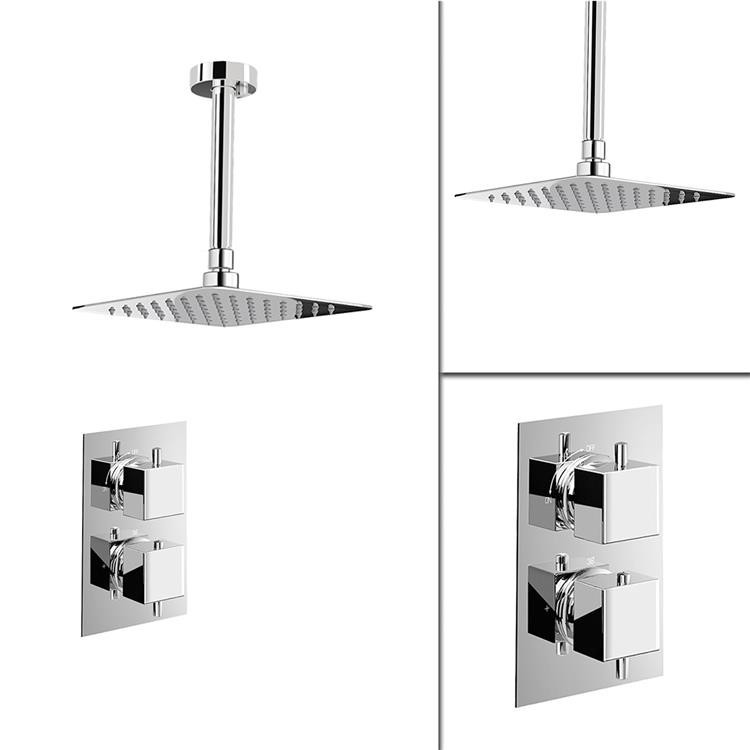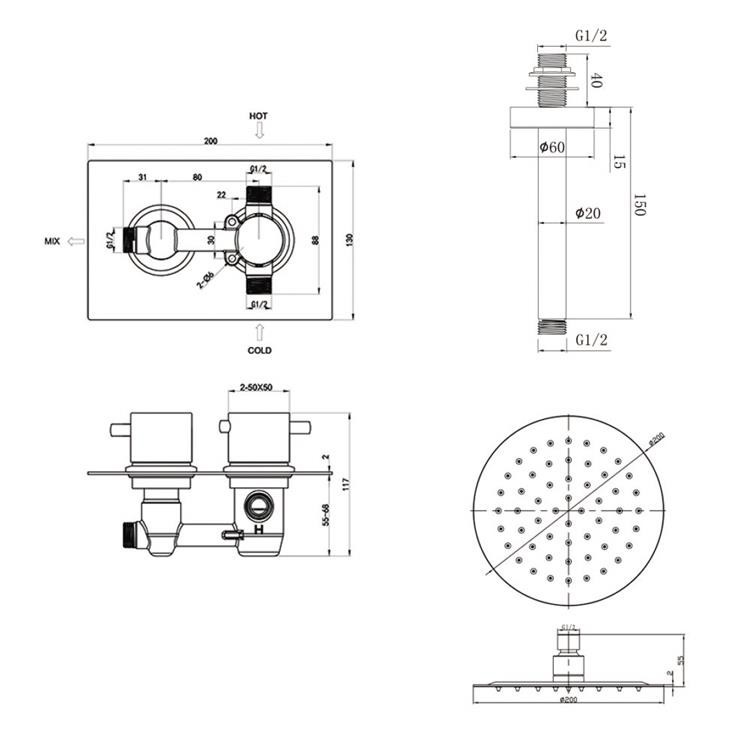 2 Dial 2 Way Thermostatic Mixer Valve
Top Dial - on/off
Bottom Dial - temperature control
Shower Head Features:
Easy clean anti-limescale rubber jets
8" Ultra thin Stainless Steel square shower head with a high shine chrome finish
Provides an even spray and full water coverage
Swivel joint allows you to adjust the angle of the spray
Shower Arm Features:
Round arm is finished in thick chrome
Water tight ftting to minimise the possibility of water leakage
Arm is suitable for all plumbing systems
Thick, high quality chrome finish compliments modern shower heads
Hand Held Shower Head Features:
Easy Clean Anti-Clog nozzles
Water tight construction to minimise possibility of water leakage
Chrome effect round handset fits any standard hose
Easy to fit - no tools required
Solid, durable brass bracket
Why buy our mixer shower?
Did you know cheaper mixers are made up of 6 or 7 different parts welded together, increasing the potential for leaks?
Our mixers are cast from one single piece of metal eliminating these weak spots.
Did you know we use the latest technology in the manufacturing process?
We mould our thermostatic mixers by Gravity Die Casting to ensure a stronger more durable mixer. We use CNC Machinery to cut all of the threads on our mixers to ensure 100% accuracy, creating a tighter fit which eliminates leaks. Other manufacturers cut costs by engraving their mixers by hand, these are more susceptible to leaks due to the inaccuracies of hand engraving.
Did you know our thermostatic mixers are hand polished?
Before we chrome our mixers they are hand polished to create a great smooth surface that makes it easier for the chrome to bond.
Did you know we finish our thermostatic mixers in thick, high quality chrome?
Our mixers have a highly reflective mirror finish that stays looking new for longer. We achieve this high quality finish by thickly chrome plating our mixers. You can test the quality of chrome by simply placing your finger on the chrome on poor chrome your finger will leave a mark on good chrome your finger print will disappear.
Did you know our thermostatic mixers are double tested?
Our mixers are tested twice during the manufacturing process. Our thermostatic mixers are air pressure tested before they are chrome plated, and water pressure tested before they are packaged, as a result of this there many be some water still inside your mixer when you receive it.
Working requirements
Our thermostatic showers work on water systems that produce a minimum of 1.0 bar water pressure. This can be achieved by using one of the following systems:
- Combination boiler systems
- Gravity fed systems (only with a pump)
- Megaflow system
- Pumped hot water systems
- Un-vented hot water systems
- Standard pressurized hot water cylinder type systems