This Item includes:
3 PCS Nema 34 Stepper Motor with 892oz-in (6.3N.m for bipolar connection)holding torque,dual shaft
3 PCS Stepper Motor Driver DQ860MA,24-80VDC,7.8A Peak Current,256 Microstep replacing MD882,
1 PCS 350W, 48VDC,7.3A, Power Supply.
1 PC Breakout Board & 1 Parallel Cable for free offering
1, Stepper Motor
Technical Specifications
Part No.: 85BYGH450D-007B (Dual Shaft)
Frame Size: NEMA34
Step Angle: 1.8 degree
Voltage: 6.4V
Current: 2.0A/phase
Resistance: 3.2 Ohm/phase
Inductance: 15 mH/phase
Holding torque: 6.16N.m 880oz-in (with Bipolar Connecting)
Rotor inertia: 3600g-cm2
Number of wire leads: 8
Weight: 3 kg
Length: 94mm
Please tell us if you need Double shaft or single shaft, we can manufacture both for you. If you need Double shaft, please tell us your requirements for length of front and rear shaft, as well as the diameter. So that we can offer you the quite good products, thanks!
2, Stepper Motor Driver DQ860MA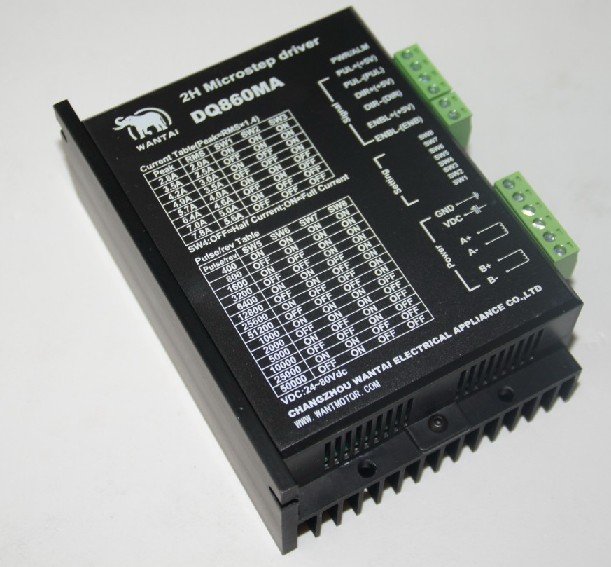 Introduction:
DQ860MA is a type of two-phase hybrid stepping motor driver, The drive voltage of which is from 24VDC to 80VDC. It is designed for use with 2-phase hybrid stepper motor of all kinds with 57mm to 86mm outside diameter and less than 7.8A phase current. This circuit that it adopts is smiliar to the circuit of servo control which enables the motor run smoothly almost without noise and vibration. Hording torque when DQ860MA run under high speed is also significantly higher than the other two-phase driver, what's more, the positioning accuracy is also higher. It is widely used in middle and big size numerical control devices such as curving machine, CNC machine, and computer embroider machine, packing machines and so on.
Features:
High performance, low price
Average current control, 2-phase sinusoidal output current drive
Supply voltage from 24VDC to 80VDC
Opto-isolated signal I/O
Overvoltage, under voltage, overcorrect, phase short circuit protection
15 channels subdivision and automatic idle-current reduction
8 channels output phase current setting
Offline command input terminal
Motor torque is related with speed, but not related with step/revolution
High start speed
High hording torque under high speed
3, Power Supply-350W, 48VDC
4, Breakout Board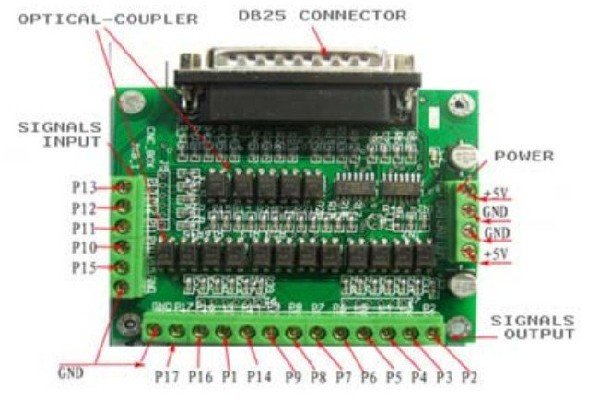 Description:
Built in DB25 male connector.
DB25 Output Pin:P1,P2,P3,P4,P5,P6,P7,P8,P9,P14,P16,P17.
DB25 Input Pin: P10,P11,P12,P13,P15.
DB25 GND Pin: P18-P25.
Power supply: +5V DC.
Built in C-class Optical-coupler.
High quality with Surface-mount Tech.
More Order quantites, more discount !!!
Our Products are mainly used in robotization, Spinning Automatization, Printing, Packing, Medica Machine, Make-up Equipment, Communication, Household Appliance, Water Pump, Milling Machine, Engraver Machine, CNC Routers.. etc automatic equipment of various trades.
We product all kinds of motors & driver. And we can manufacture products according to our customer's design.
Currently we are looking for qualified stocking distributors with competitive price and good discount in United States & Canada for mutually beneficial long-term relationship. We try our best to support our distributors and business partners to develop more market percentage.
Please join us, let's create the glorious future together!