1.Full support for MACH3, KCAM4, EMC2, and support parallel port to control the host computer software;
2.Leads to all the parallel port 12 data transmission output pin, which can control the five stepper motor driver;
3.With 5-way input interface, can take the limit switch and emergency stop switch, reset, and the knife;
4.5 input LED indicates the status of the input;
5.With the way 12A relay control, normally open, normally closed leads, user-friendly connection;
6.Supply 5V USB power supply or external power supply to facilitate the access of external power supply;
7.On the external drive enable signal amplification, filtering, enhancement processing;
8.Pulse, the direction of signal shaping, enhanced load capacity, data transmission speeds reach 10 MBit / S;
9.Output pins with the expansion interface can 2.54mm pin 2.54mmXH-Block;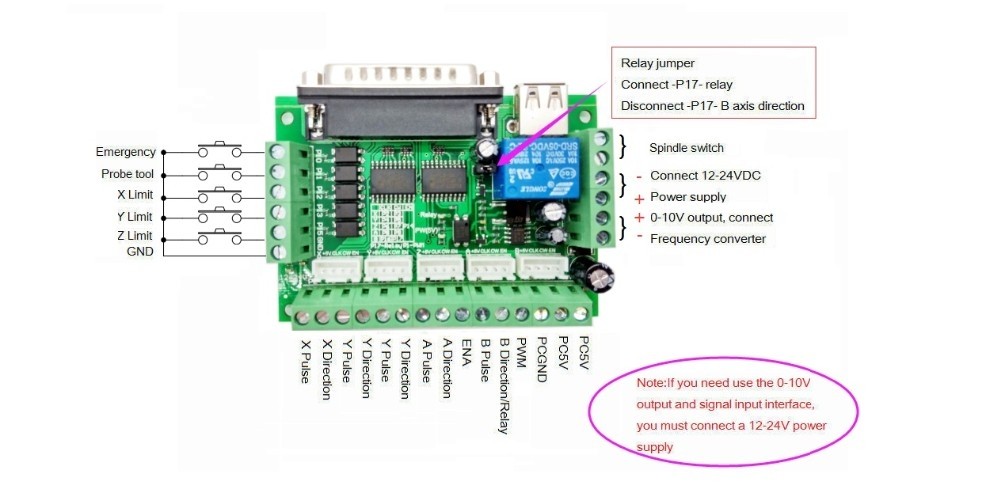 Single Axis Stepper Motor Driver
1.the use of new imported Japanese Toshiba TB6560 chip;
2.The base used dense teeth radiator, cooling super, to ensure the stable operation of equipment;
3.the input signal using a high-speed opto-isolation to ensure not losing steps, which the pulse direction signals with the same level of 6N137, dual high-speed optocoupler;
4.a variety of semi-flow mode and the semi-flow current selection, the use of more flexible
5.Decay mode is adjustable to ensure the motor running smooth;
6.Compact Dimensions, cooling pad size: 75mm * 65mm, four mechanical installation positioning hole size is: 67mm * 58, mounting hole diameter is 4mm
7.Set method detailed table on the board, easy to use;
8.With anti-reverse circuit, even if not careful the power plug back and will not burn the chip, it's very safe to use.
Single-chip motor driver for sinusoidal microstep control of stepping motors
Power on in indication led
3Amps-34Volts(Supply voltages:12-34DC)
Full step, half step, eight step and sixteenth step(selection with dipswitches)
torque (100%, 75%,50%, 20%)
work Current (0-3A selection with SW1/SW2/SW3)
4 Wire,6 Wire,8 Wire stepper motors can be used
Two phases bipolar driver
Easy wiring with standard screw terminals
Step frequency up to 100khz
fuse protection on power supply rail(protects the board,but also your power supply and motor)
Rated voltage: DC 12V-24V
Current can be adjusted (Current Settings):
0.5A, 1A, 1.5A, 2A, 2.5A, 3A
Subdivision adjustable (Excitation Mode):
Attenuation adjustable (Decay Mode):
100% - the fast decay mode
Through the regulation of the decay mode can improve the running state of the stepper motor, to eliminate noise and jitter in the motor movement of the stepper motor lock.
Automatic semi-flow settings (the Torque Settings):
20% ---- no pulse current is reduced to 20% of the normal operating current
50% ---- no pulse current is reduced to 50% of the normal operating current
75% ---- no pulse current is reduced to 75% of the normal operating current
100% --- no pulse when the current is reduced to the normal operating current of 100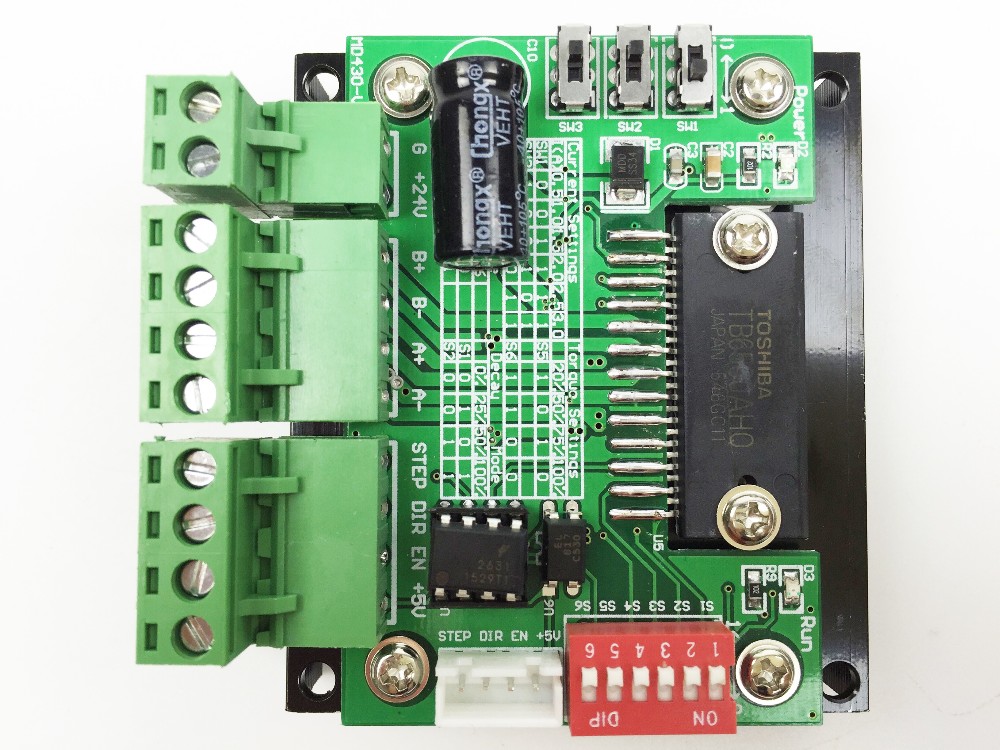 The 57J1876-447 two-phase stepper motor is suitable for a wide range of motion control applications. Terminated with 8 motor leads, the motor can be connected in a few different ways, including bipolar series ,bipolar parallel and unipolar.
•2 phase 1.8° stepping angle
•Holding toque of 2.2 N*m (312 oz-in)
Suitable for all kinds of small automation equipment and instruments, such as: pneumatic marking machine, marking machine, cutting machine, laser marking machine, plotter, small engraving machine, CNC machine tools, handling equipment, etc. The efficiency is very high for the users who expect low vibration, little noise, high precision and high speed small equipments.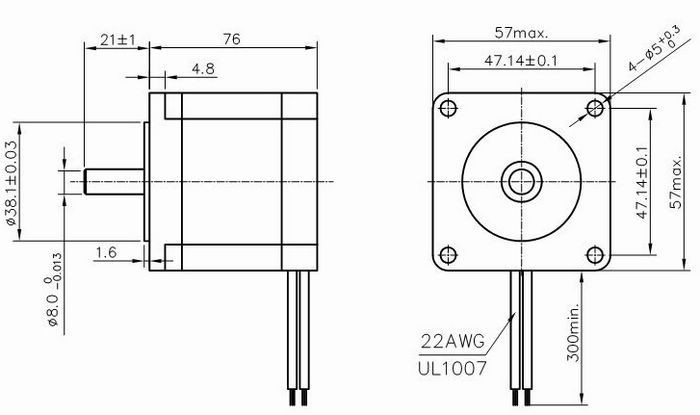 3 x 1 Axis TB6560 stepper motor driver
3 x 57J1876 3A 312 oz/in stepper motor
1 x 5 axis breakout board
English user manual will send by a CD or Email