1,fully support of MACH3 and other computer software support for parallel port control.
2,USB power supply and peripherals powered phase separation to protect computer security.
3,peripheral wide voltage input,12-24V, and anti-reverse function.
4,all of the input signal, all the light lotus isolated, which can be accessed emergency stop on the knife, the limit to protect computer security.
5,all the way to the relay output port, control spindle switch. Output port P17 mouth.
6,all the way through the optocoupler isolated 0-10V analog voltage output can be controlled with the corresponding analog interface converter to control the spindle speed. Output port P1 port.
7,open all 17 ports, which can be accessed with the optocoupler drive, 5-axis stepper motor can be controlled.
8,P1 as PWM outputs can be controlled with optocoupler input spindle governor.
9,can be accessed by a common cathode or common anode input level to 5V drive.
10, Output pins with the expansion interface can 2.54mm pin 2.54mmXH-Block;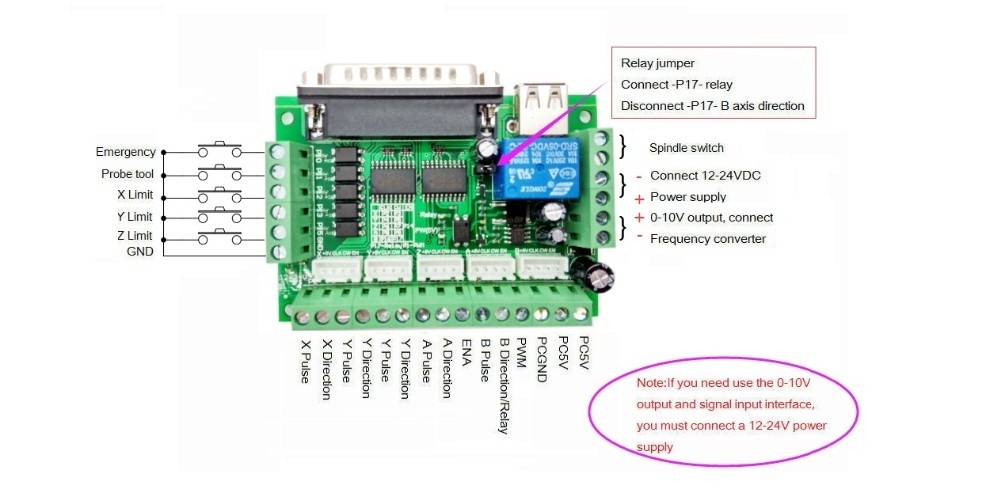 TB6600 Single Axis Stepper Motor Driver
1.DC power input type:12V~40V;
2.Output current:0~4.5A, stepless adjustable;
4.Automatic half current function: half or full current can be Selected through the switch;
5.Protect form : Overheated protection, over-current protection;
1.24V+:DC power positive pole
3.A+ A-:Stepping motor one winding
4.B+ B-:Stepping motor other winding
5.CLK-:Stepping pulse input+5V (Rising edge effective , rising edge duration >10μS)
6.CW-:Stepping motor direction input, voltage level touched off, high level foreward , low level reverse
8.+5V: Signal common terminal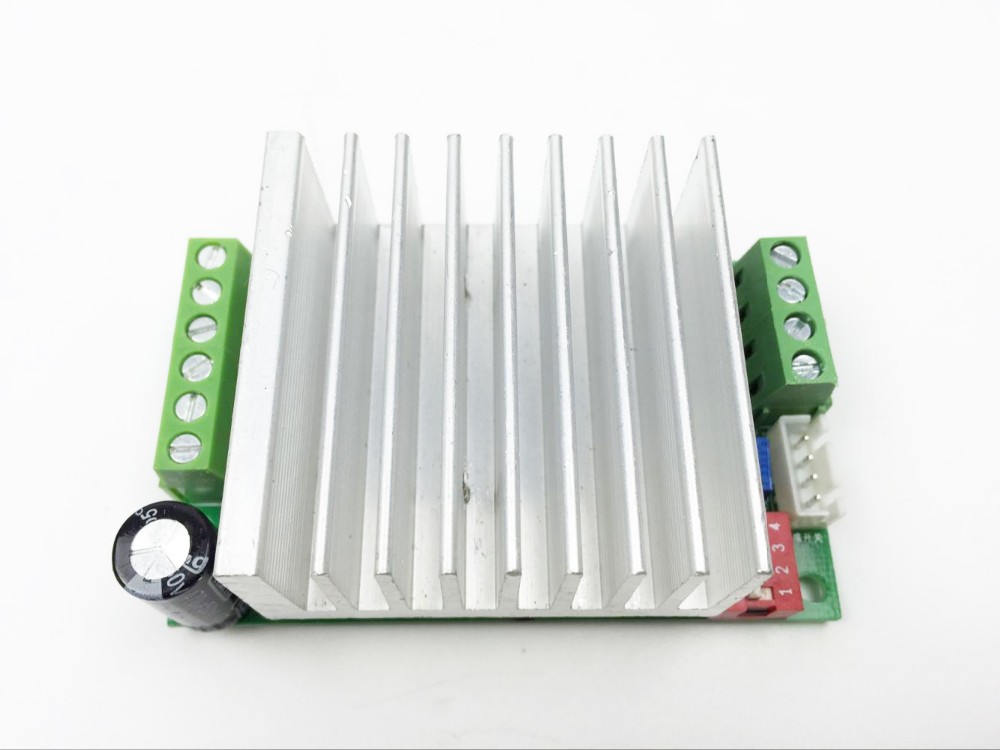 The 57J1876-447 two-phase stepper motor is suitable for a wide range of motion control applications. Terminated with 8 motor leads, the motor can be connected in a few different ways, including bipolar series ,bipolar parallel and unipolar.
•2 phase 1.8° stepping angle
•Holding toque of 2.2 N*m (312 oz-in)
Suitable for all kinds of small automation equipment and instruments, such as: pneumatic marking machine, marking machine, cutting machine, laser marking machine, plotter, small engraving machine, CNC machine tools, handling equipment, etc. The efficiency is very high for the users who expect low vibration, little noise, high precision and high speed small equipments.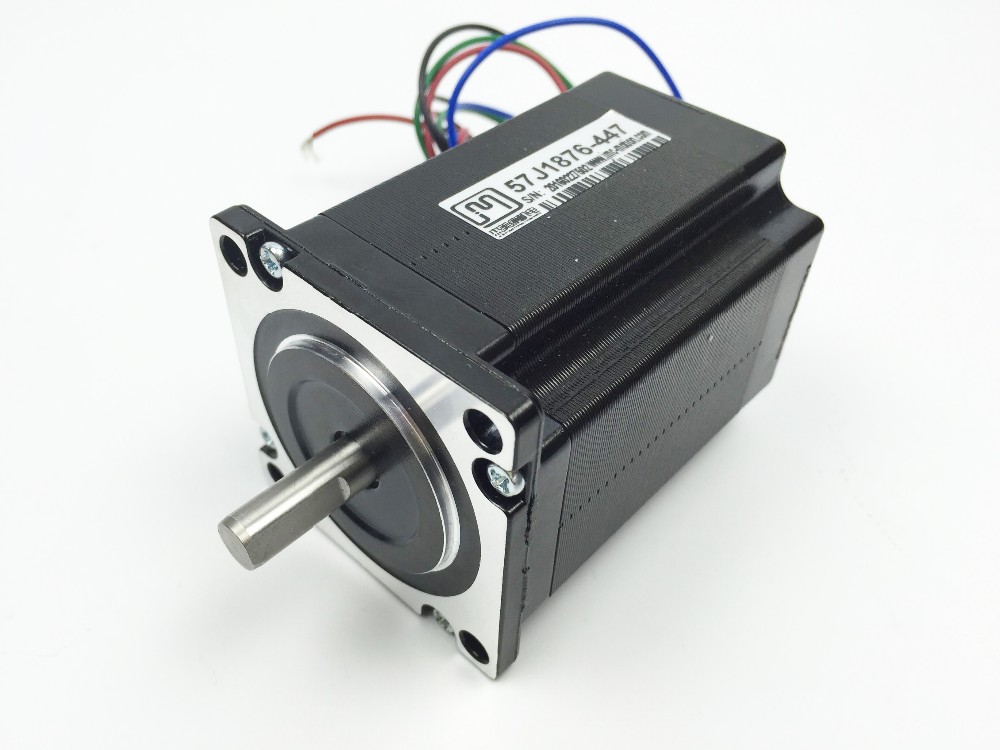 1. the range of AC input voltage is changed by the switch
2. high-efficiency, high reliability
3.100% full load burn-in test
4. Protections: Short circuit / overload / over voltage / over temperature
5. built-in cooling DC fan control
6. Working frequency is 25 kHz
12.Size:215 * 115 * 50mm(L*W*H)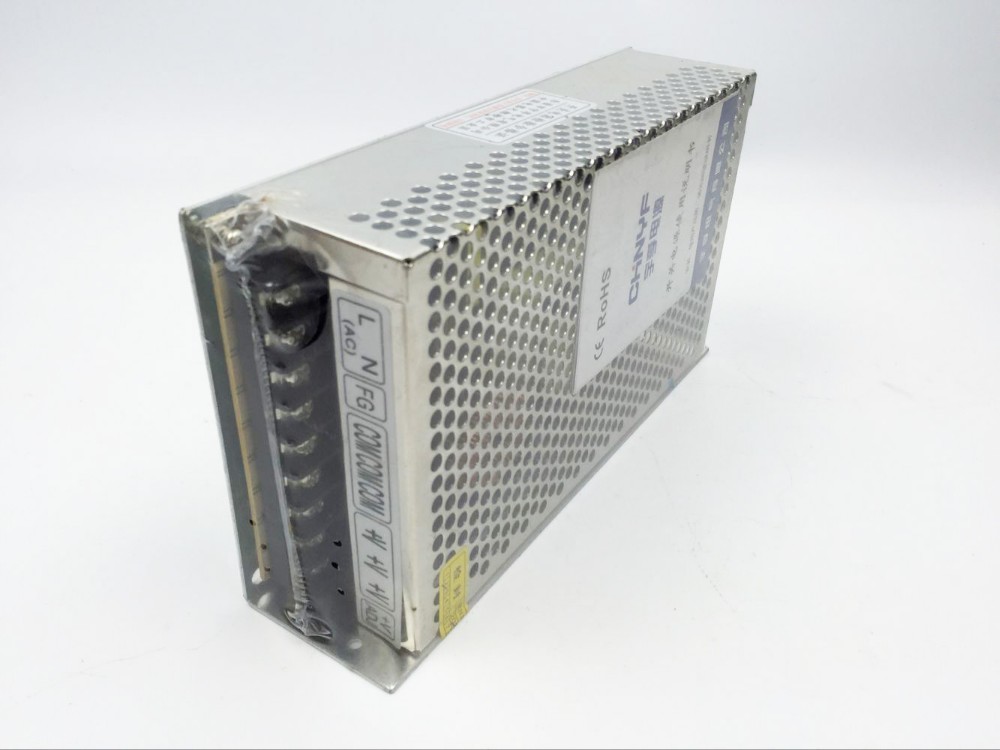 Package including:
1 x 24V/10A switching power supply
3 x 1 Axis TB6600 stepper motor driver
3 x 57J1876 3A 270 oz/in stepper motor
1 x 5 axis breakout board
English user manual will send by a CD or Email