5IN1 MI-LIGHT Led controller With Smart Intelleigent Control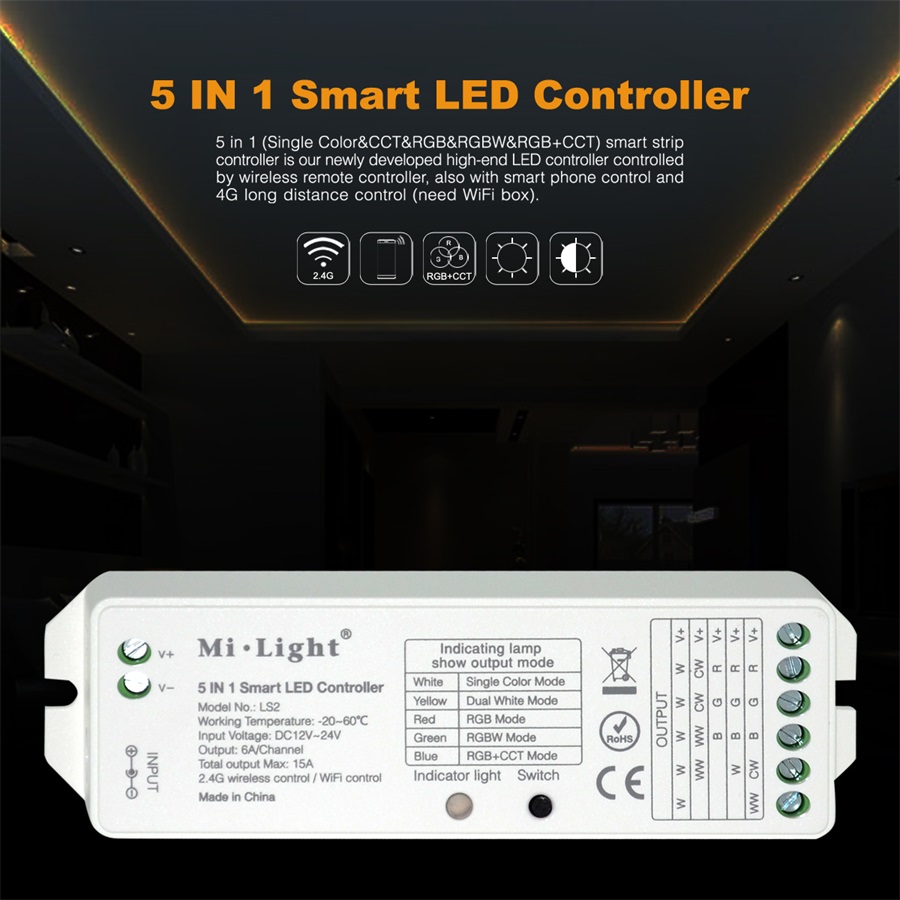 5 IN 1(Single Color&CCT&RGB&RGB&RGBW&RGB+CCT) smart strip controller is our newly developed high-end LED controller controlled by wireless remote controller,also with smart phone control and 4G long distance control(Need WIFI BOX).

The controller has auto-transmitting and auto-synchronizing function and with brightness,CCT,RGB,RGBW and RGB+CCT Output mode.This controller adopted widely usded 2.4GHZ wireless technology with the features of low power consumption,long signal transmitting and strong anti-interference,etc.

One compatible remote control many controllers at the same time.Wide used on the controlling of hotel lighting and home lighting.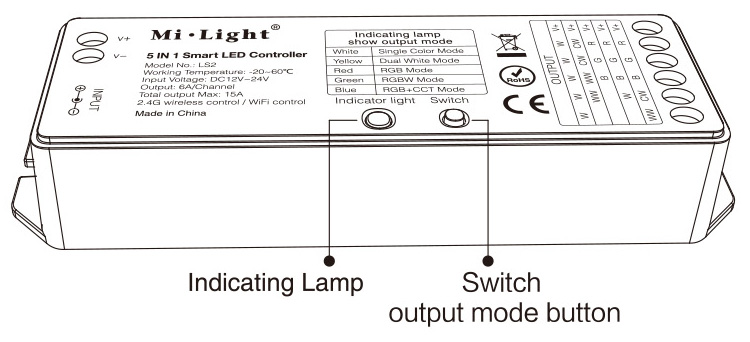 Indicating Lamp Showing Instruction
Indicating Lamp Color Output Mode
White Light Single Color Mode
Yellow Light Dual White Mode
Red Light RGB Mode
Green Light RGBW Mode
Blue Light RGB+CCT Mode
Technical Data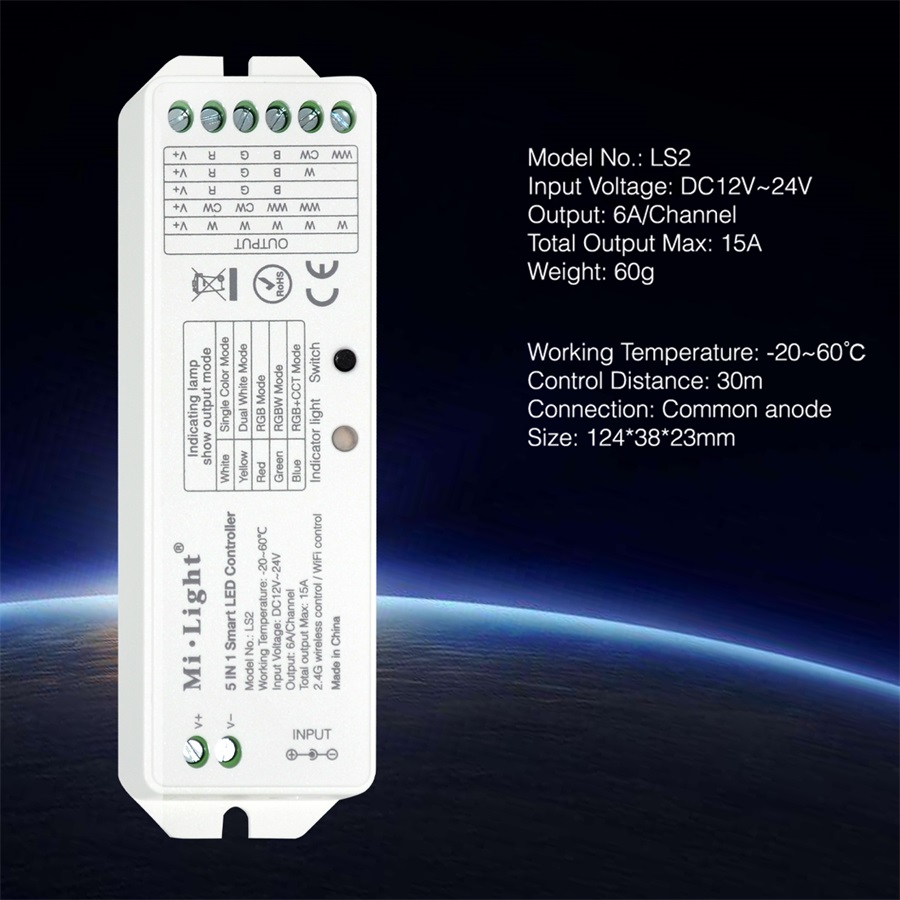 Model Number:LS2
Input Voltage:DC12-24V
Output:6A/Channel
Total Output MAX:15A
Weight:60G
Working Temperature:-20-60 Centigrade
Control Distance:30M
Connection:Common Anode
Dimension:124*38*23mm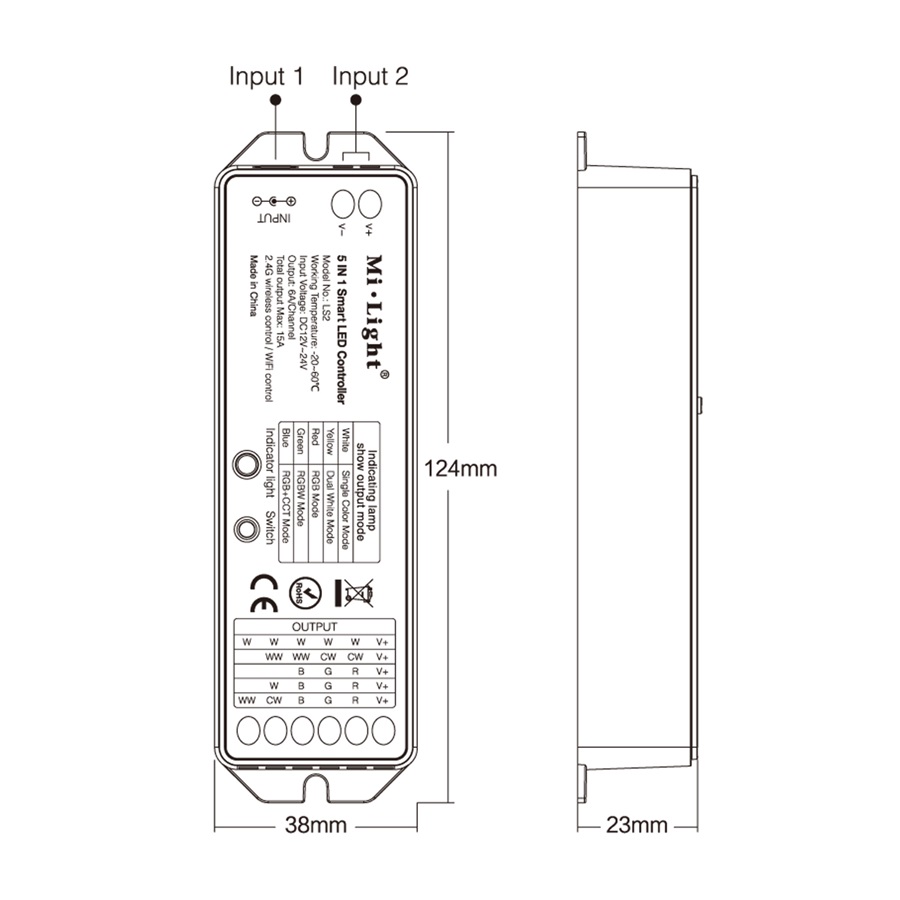 Dynamic Mode Sheet
Saturation Adjustable Both On Static and dynamic mode.
Number

Dynamic Mode

Brightness&Speed

Brightness,Color Temperature

RGB/RGBW/RGB+CCT

1

White Gradual change

Color Gradual change

Adjustable

2

White jump to change

White Gradual change

3

White gradual+jump to change

RGB color gradual change

4

NC

7 color jump to change

5

NC

Random jump to change

6

NC

Red Gradual+jump to change

7

NC

Green Gradual+jump to change

8

NC

Blue Gradual+jump to change

9

NC

White Gradual+jump to change
Product Show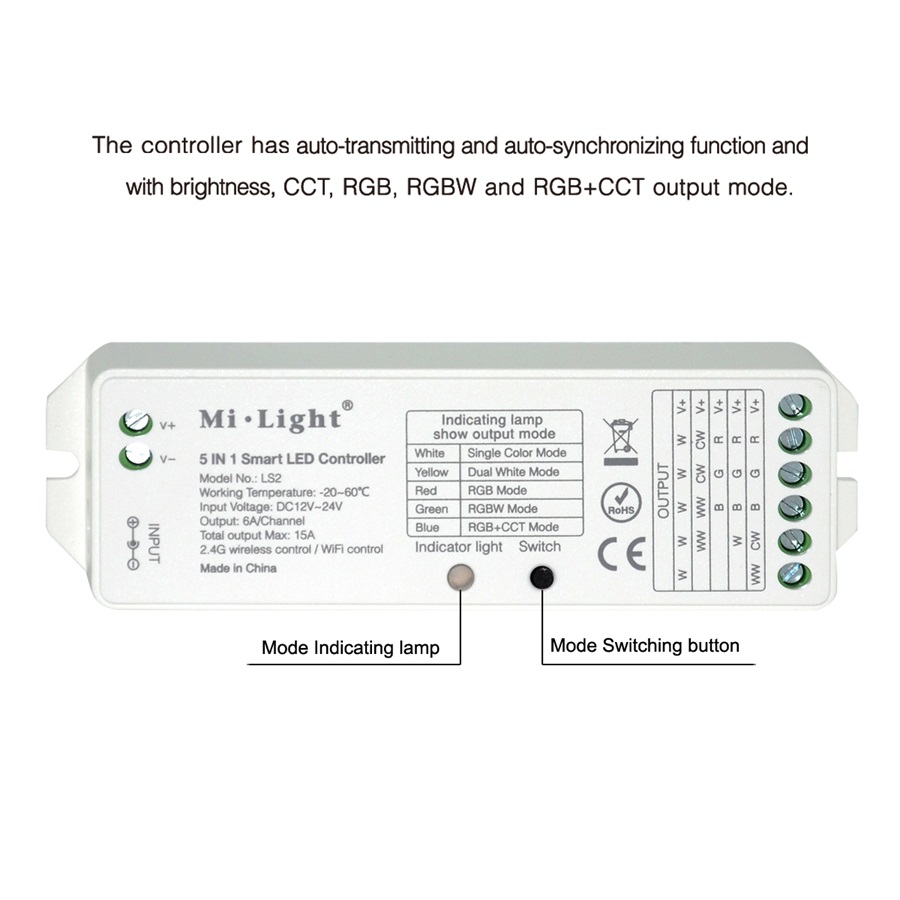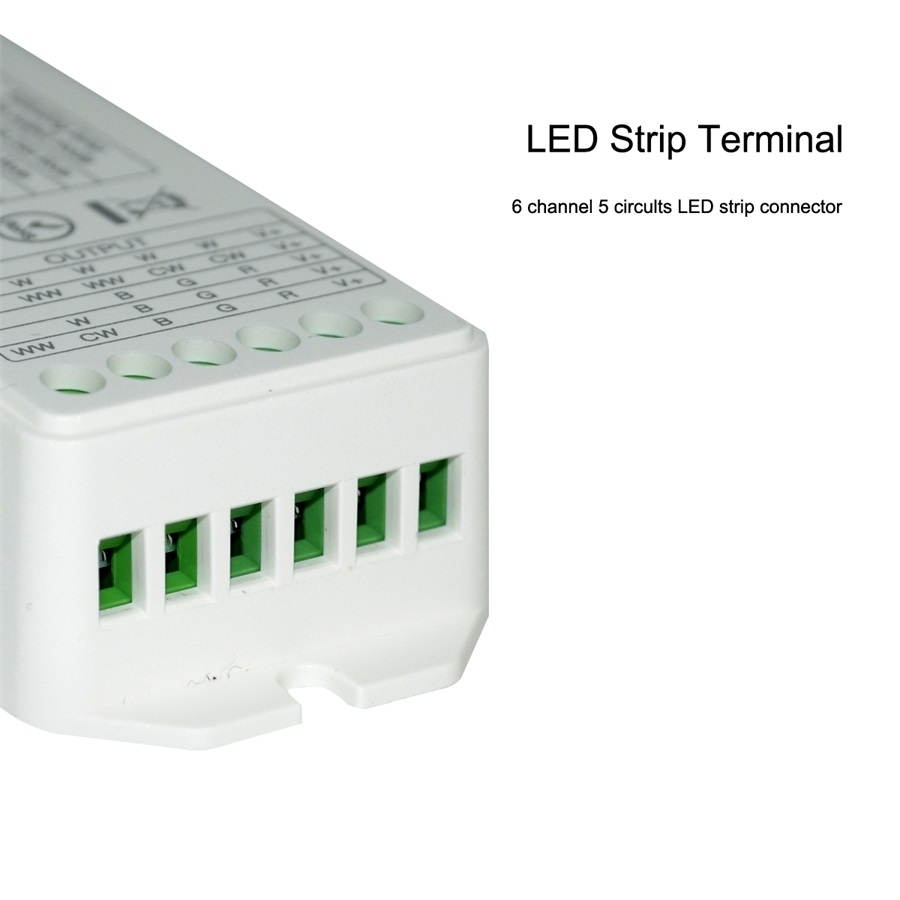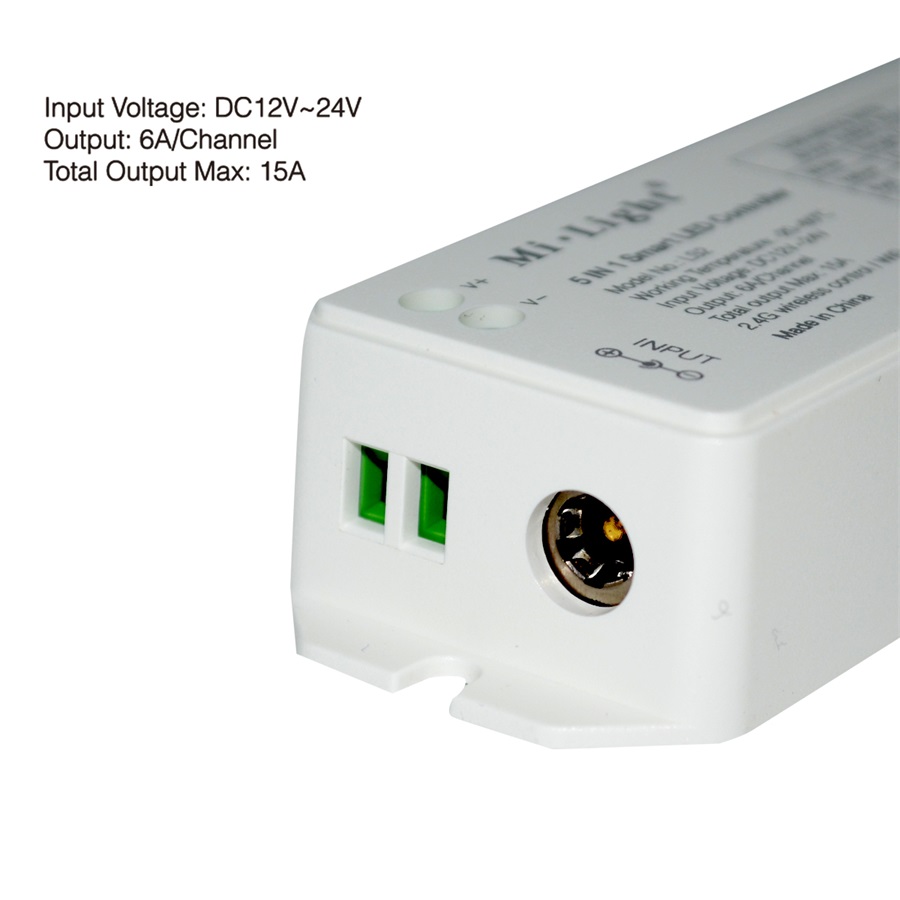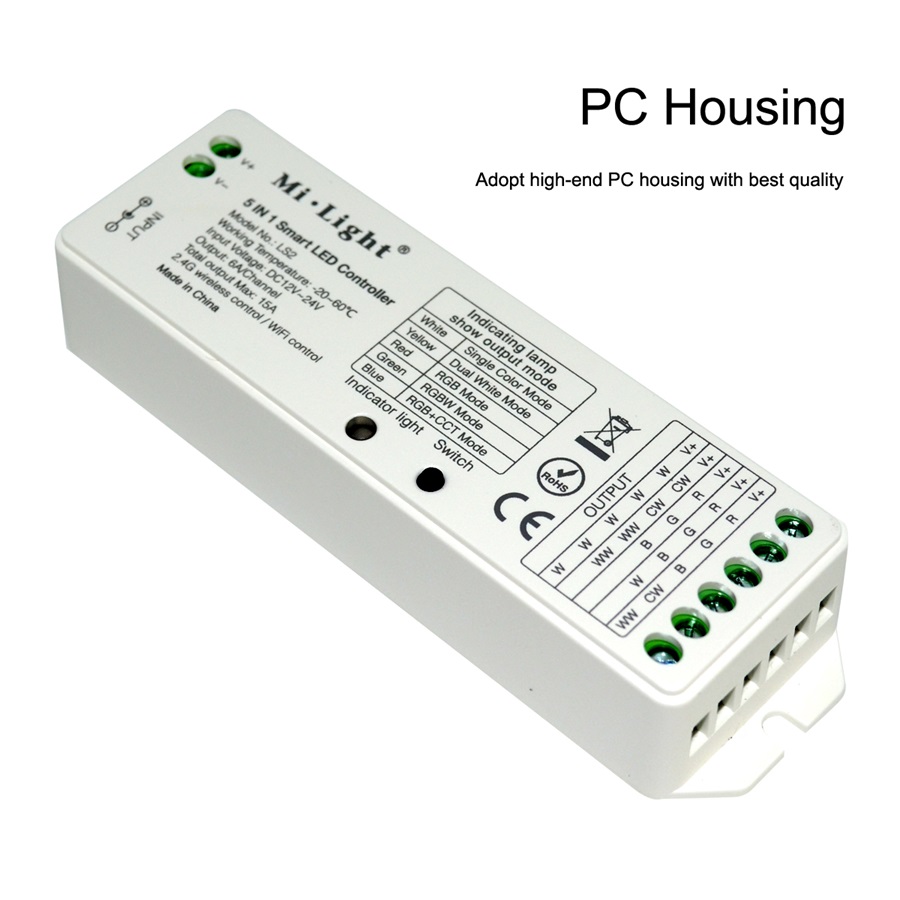 1pcs 5IN1 MI-LIGHT Led Controller

This controller can use for:
1,Single color led strip
2,CCT led strip
3,RGB Led Strip
4,RGBW RGBWW Led strip
5,RGB+CCT Led strip