Place of Origin: Guangdong, China (Mainland) Brand Name: Xfoyo
Model Number: FYTM2207T Motor Type: Stepper Motor
Color: Black Voltage: AC180-230V
Driving current: 1.3-7.0A//phase 16 grade to chose Subdivision: Maximum resolution:60000 steps/turn,16 grade to choose
Maximum pulse frequency: 200Kpps
1. High performance,low price,low noise,good stability
2. This Motor driver take the unique control circuit system, the high speed response and stability are increased.
3. Driving current can be adjusted from1.3A-7.0A continuously
4. When the pulse stops more than 100ms, the coil current is automatically halved.
5. Frequency of pulse response most up to 200Kpps
6. Over current, over voltage, under voltage, short circuit protection function
7. Low repair rate, high reliability
8. It suit for the stepper motor which outside diameter in110-130mm
Suitable for the automation equipment and instruments of the field of kinds of motion control area. For example: Electronic equipment, semiconductor equipment, laser cutting and welding, paster, packaging machinery, engraving machine, marking machine, cutting machine, apparel plotter, numerical control machine, automated assembly equipment ,act. They are the first chosen for the customs in low noise, low vibration and high response.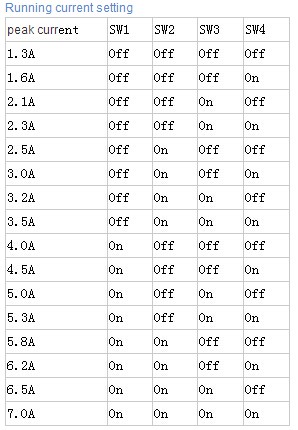 1. Input pulse signal trailing edge is effective
2. The input control signal voltage is 5V, should be connect the Current limiting resistance when the control signal voltage above 5V.The driver takes with 24V signal ports itself.
3. When the input voltage is less than AC90V or higher than AC230V, the driver will be automatically protected; the cooling fan of the driver will be to working in the driver's temperature exceeds 48 degrees.
4.The drive will stop working when the temperature more than 80 degrees, the alarm indicator light will bright, the drive will restoration work until the temperature down to 50 degrees .Overheating protection, please install radiator.
5. Set the dial code switch SW10. If you need the motor rotation, but lack of the corresponding upper control signal, try to use the controller built-in self and test function. (OFF: receiving external pulses; ON: the drive inner will running in speed of 30 turns /minute)
6 The alarm indicator light ALM will bright when over current (load short circuit), please check the motor wiring and other short circuit faults, eliminating the faults need to re-energized .
7. The indicator light of No-motor is bright, please check the motor wiring, eliminating the faults need to re-energized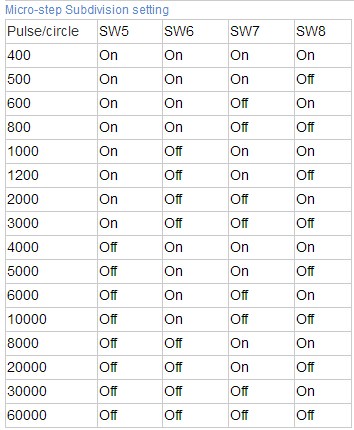 if you have any problems of payment please contact us!
if you need to buy more goods but the price isnotvery cheap please contact us!
All products have been checked and packaged in good condition before dispatch.
ALL peoducts have 1yeas warranty.
If you are not satisfied with our product and service.Please contact us first before giving a non positive feedback or dispute.we will try to our best solve the problems