EXCELVAN COLOR Wireless Weather Station With Forecast Temperature Humidity EU Plug Alarm and Snooze Thermometer Hygrometer Clock
Notice:This item is only for EUROPE country(not include UK).
Note:
This weather station is RRC and EU standard,DCF77 can only be used in European countries,it can only Automatic update time in European countries,and the plug is EU plug.US country can't use normally ,please be attentioned about this.
Features:
1.Measure & Display indoor & outdoor temperature and humidity with trend. Temperature Measuring Range: 0 ~ 50°C (indoor) , -20 ~ 60°C (outdoor).
2.Five weather icons display: sunny, partly sunny, cloudy, rainy, storm.
3.Large LCD display will simultaneous display of time,calendar (available in 7 different languages: German, English, Italian, French, Dutch, Spanish, Danish).
4.Colored background illumination LED with long-time lighting backlit connected to the power source.
Specification:
Radio controlled clock
Indoor/outdoor temperature: 0 °C to 50 °C; -20 °C to 60 °C
Temperature increments: 0.1 °C
Temperature measurement accuracy: ±1 °C (0 to 40 °C), otherwise ±2 °C
Wireless sensor: transmission frequency 433 MHz
Radio signal range: up to 50 m in open area
Wire probe length: 1 m
Relative humidity: 20-90 %
Resolution: 1 %
Humidity measurement accuracy: ±5 % (30-80 %), otherwise ±8 %
Power supply:
Main station: 4.5 V DC 150 mA AC/DC adapter, 2× 1.5 V AA batteries (not supplied)
Remote sensor: 2× 1.5 V AAA batteries (not supplied)
Dimensions and weight without batteries:
Main station: 110 × 145 × 45 mm, 252 g
Remote sensor: 100 × 60 × 21 mm, 54 g
Note:
1.This main unit is intended to be used only indoors.
2.The battery is not included.
3.The sensor can be mounted on the wall or placed on desktop, but the station should be placed on desktop.
4.Only one sensor is included in set.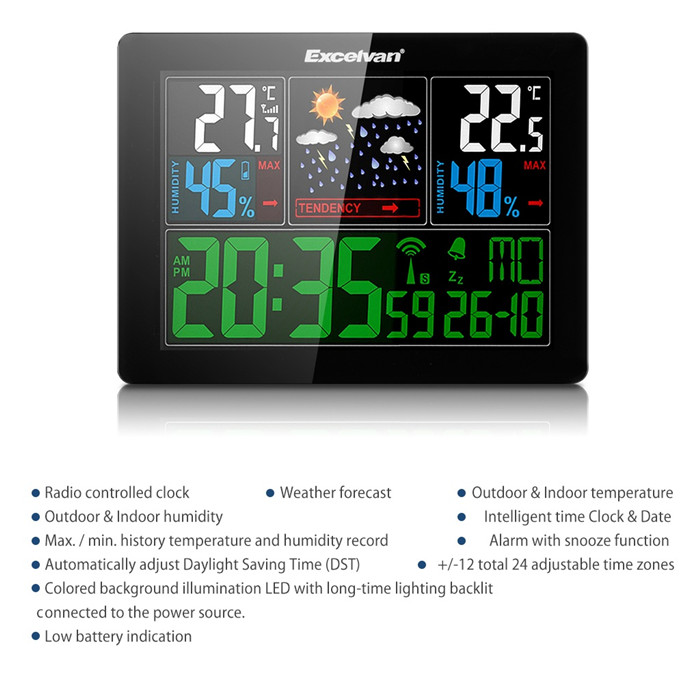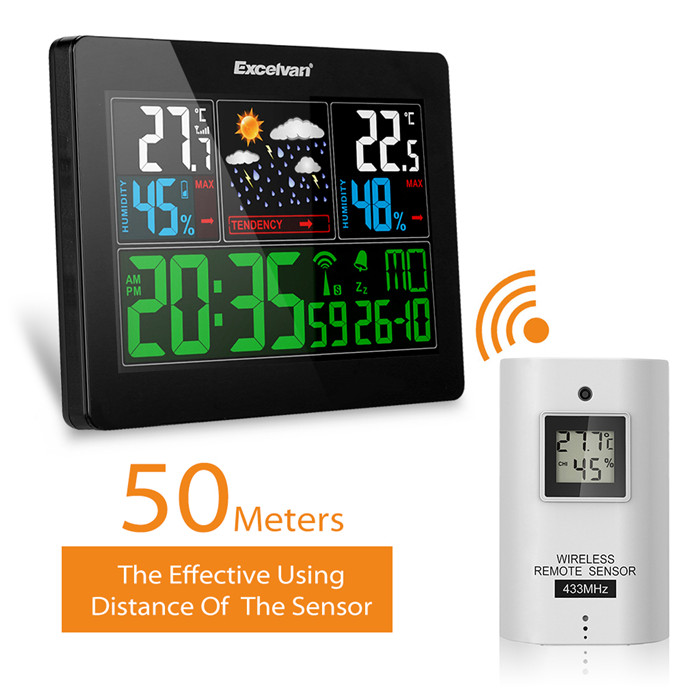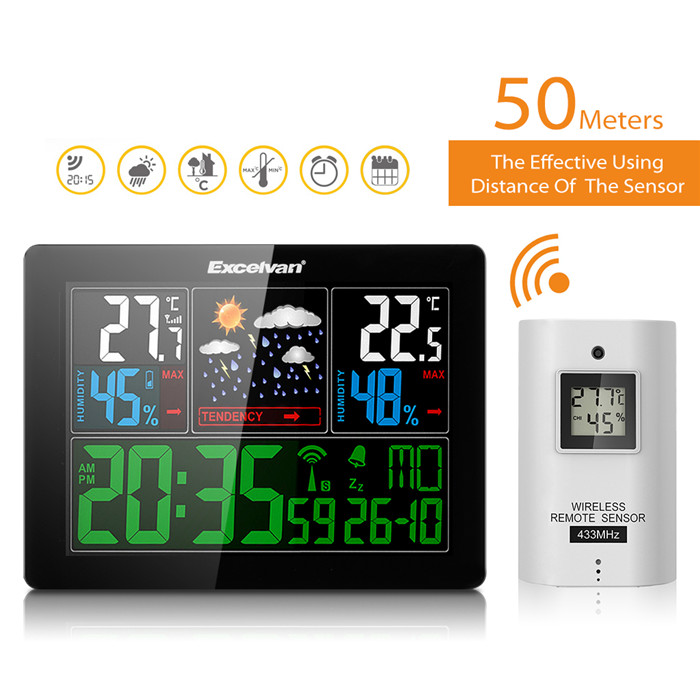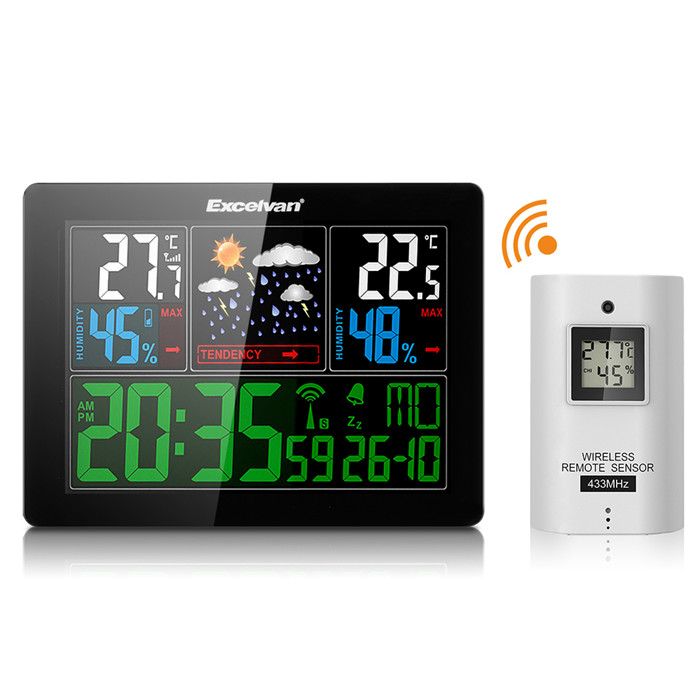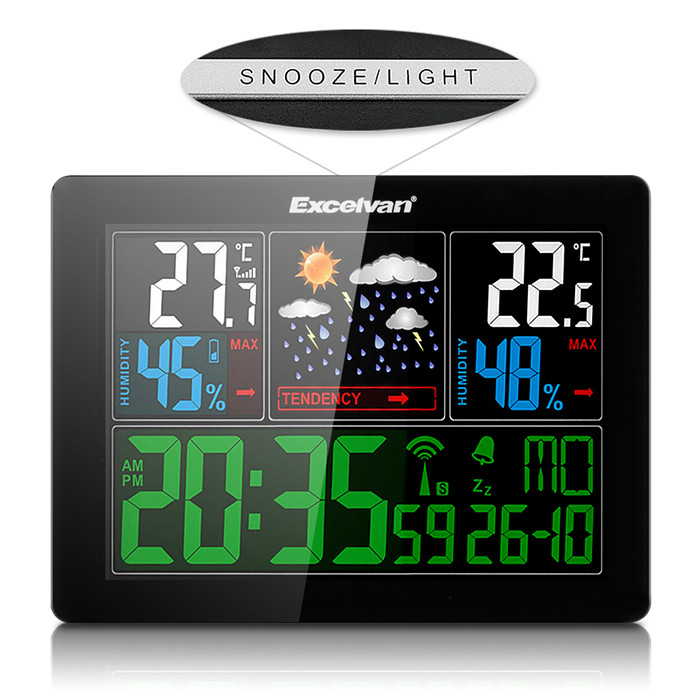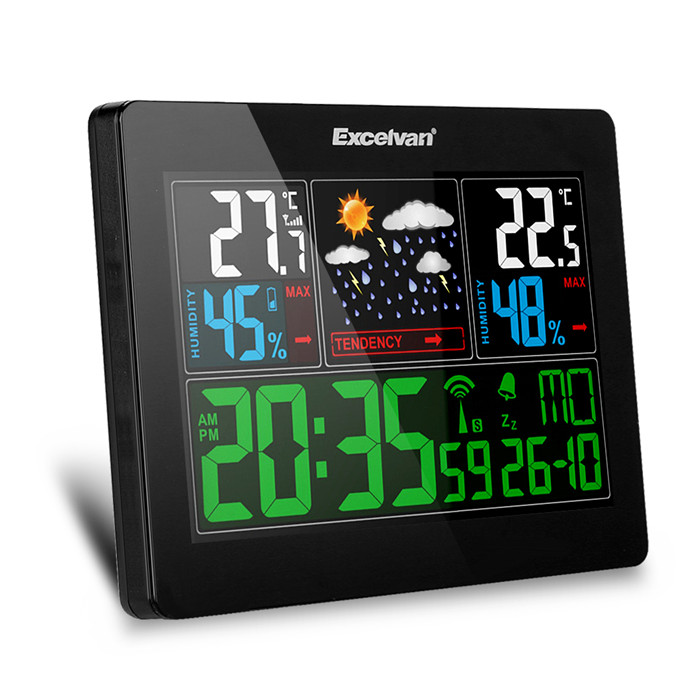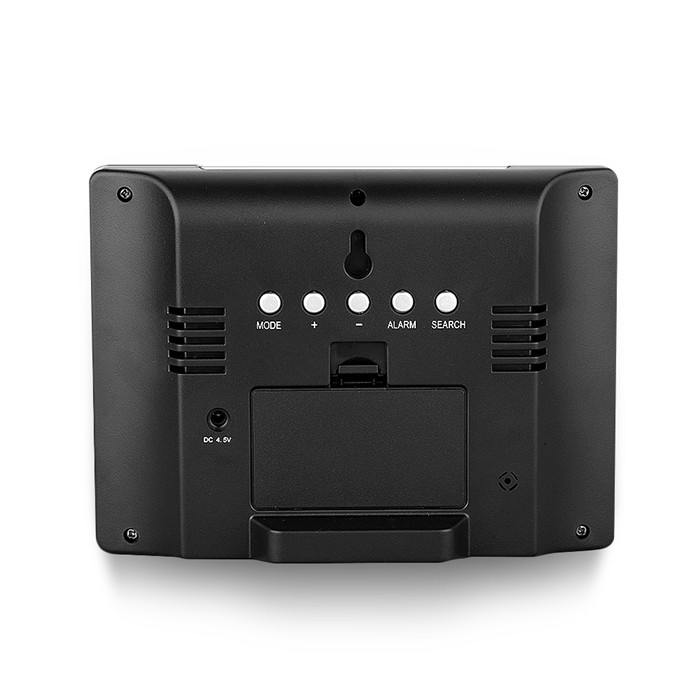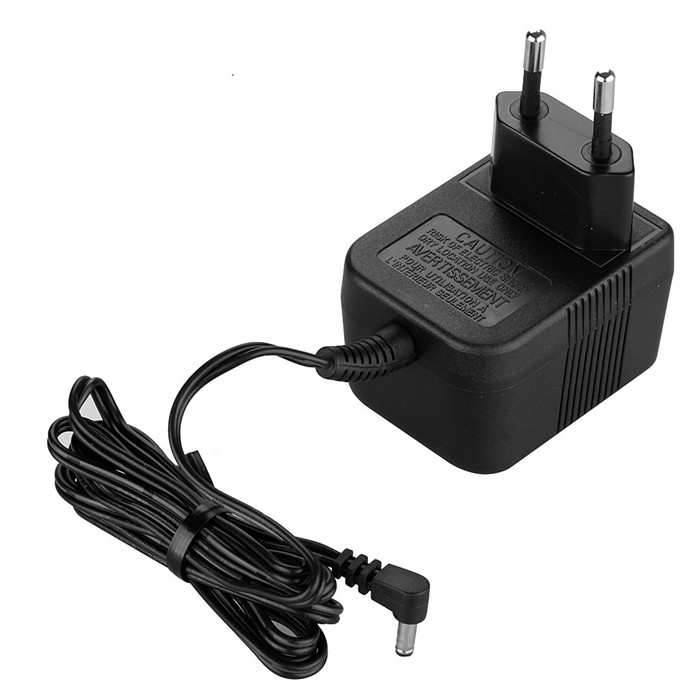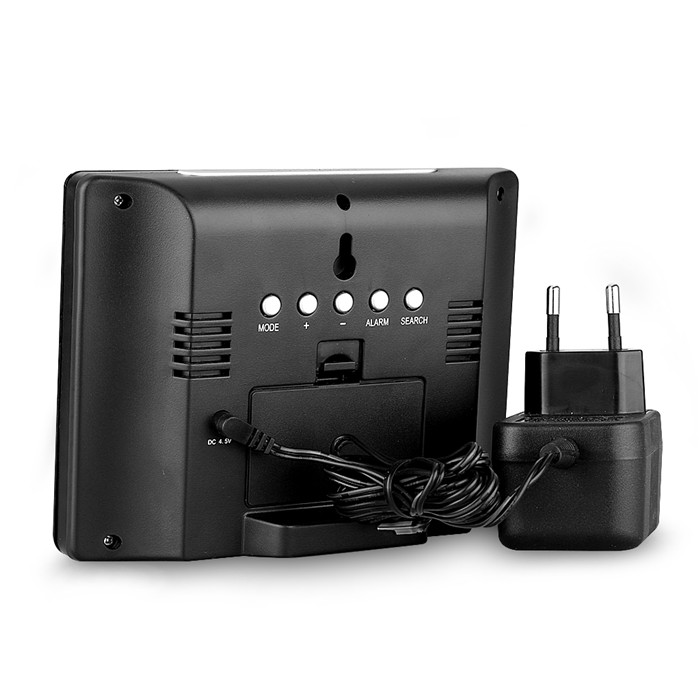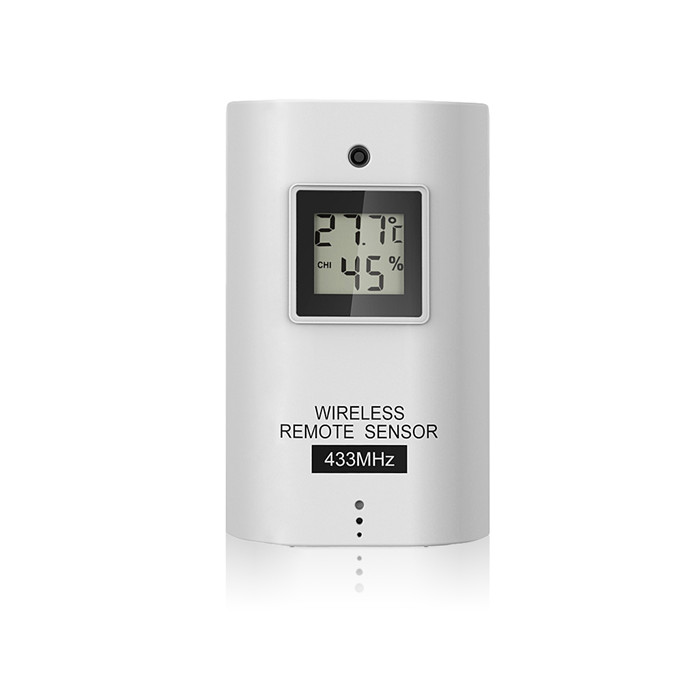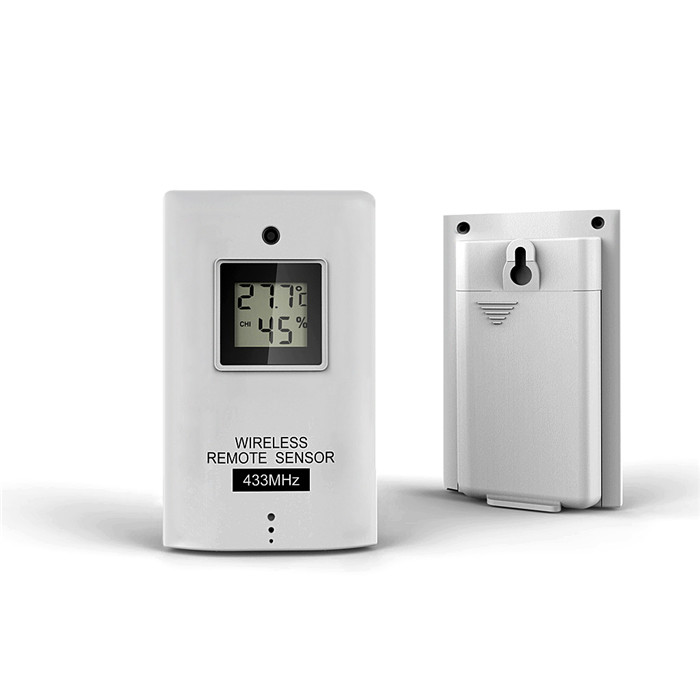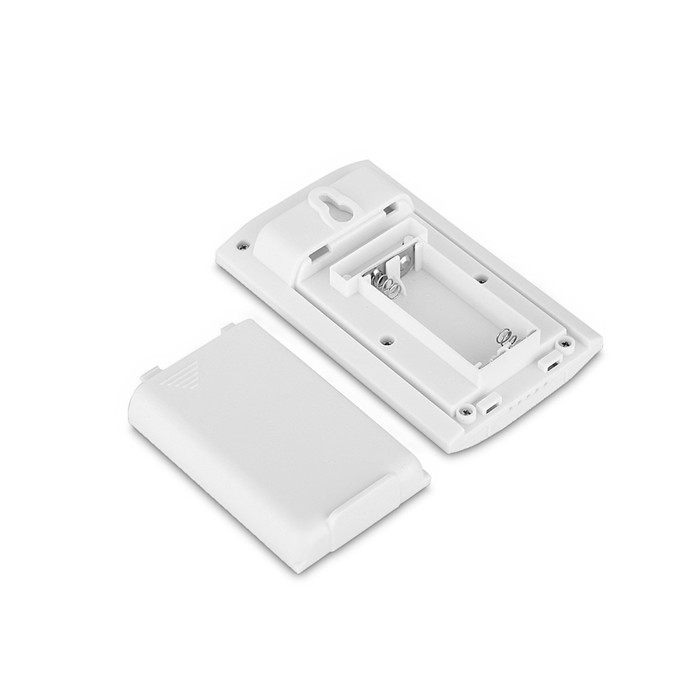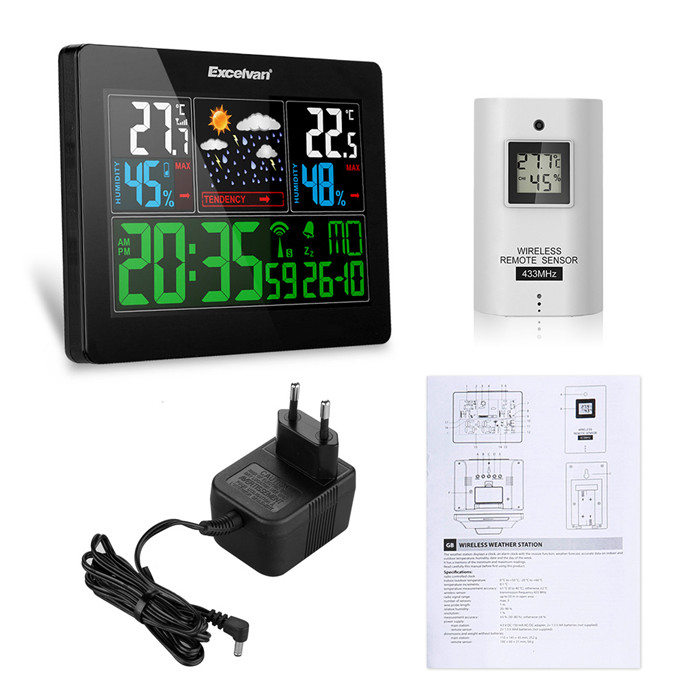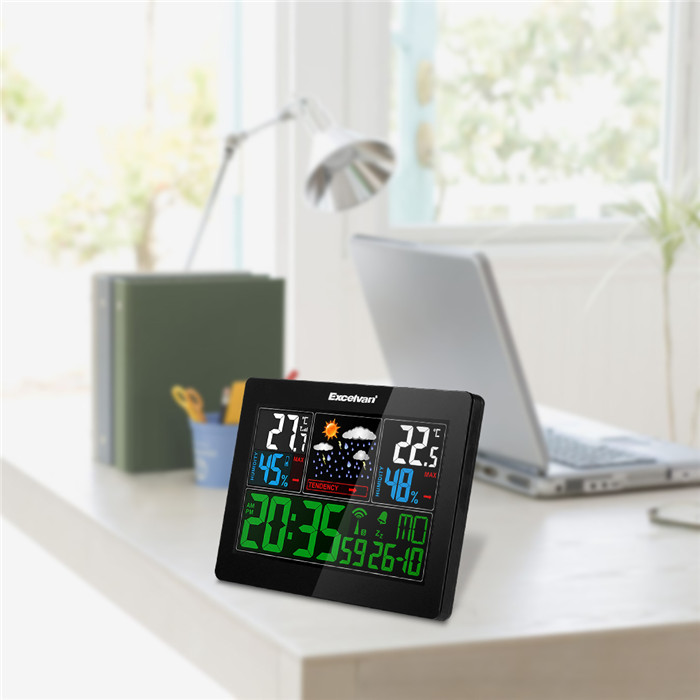 Package includes:
1* Weather station
1* Outdoor sensor
1* User manual
1* Power adapter