Title: EXCELVAN Wireless Weather Station with Wind Speed & Rain, Temperature, Humidity, Barometer, Moon Phase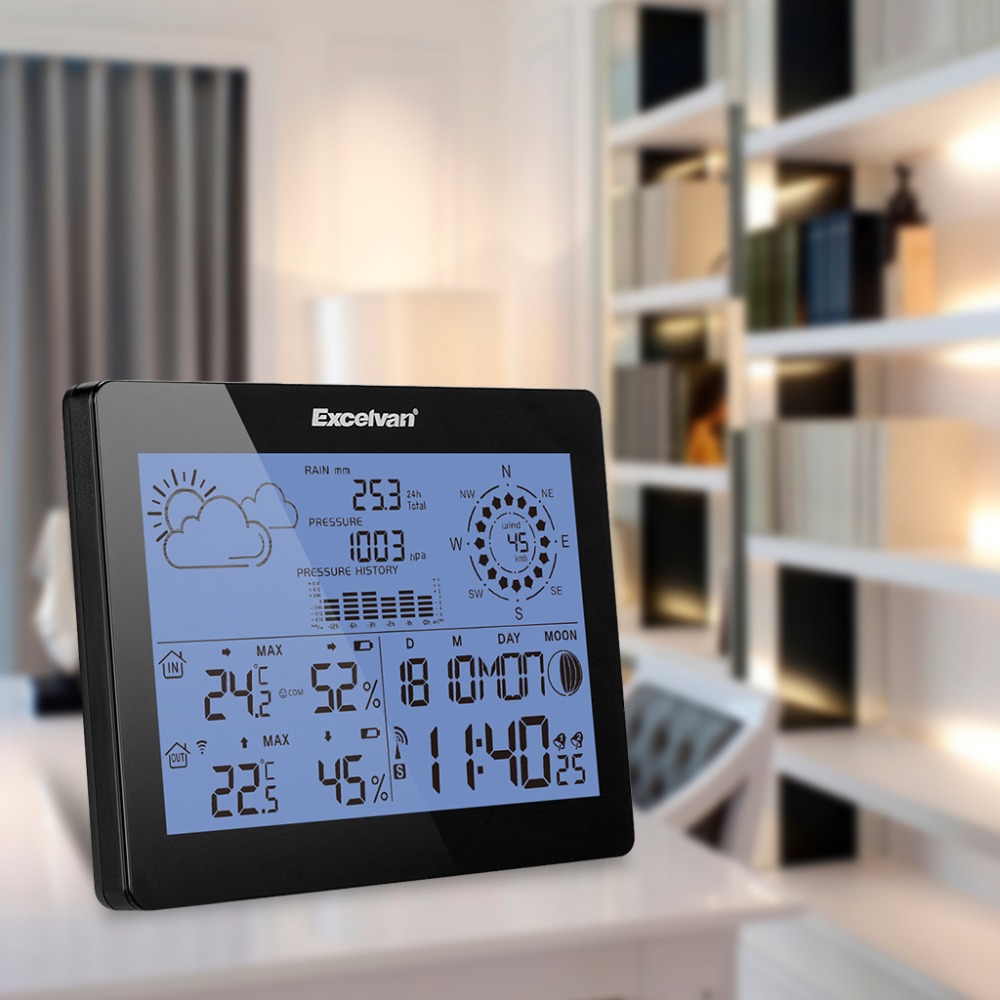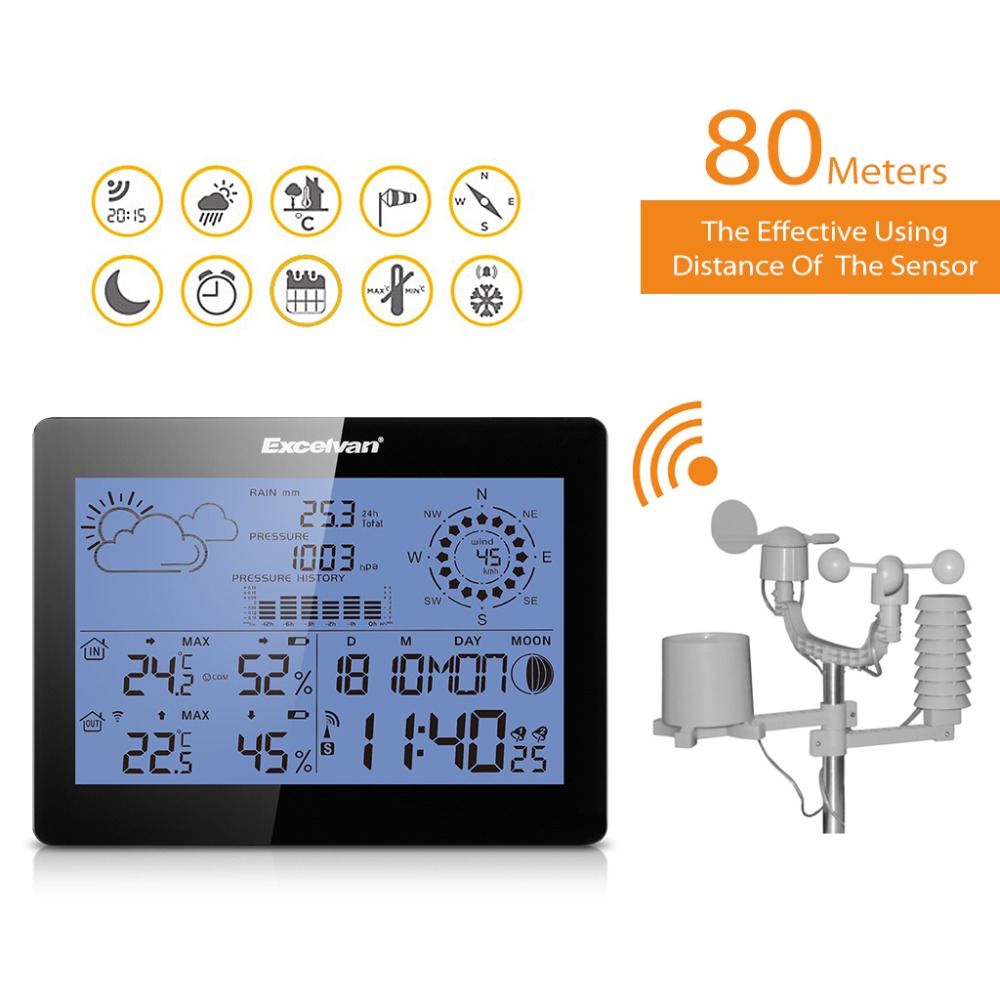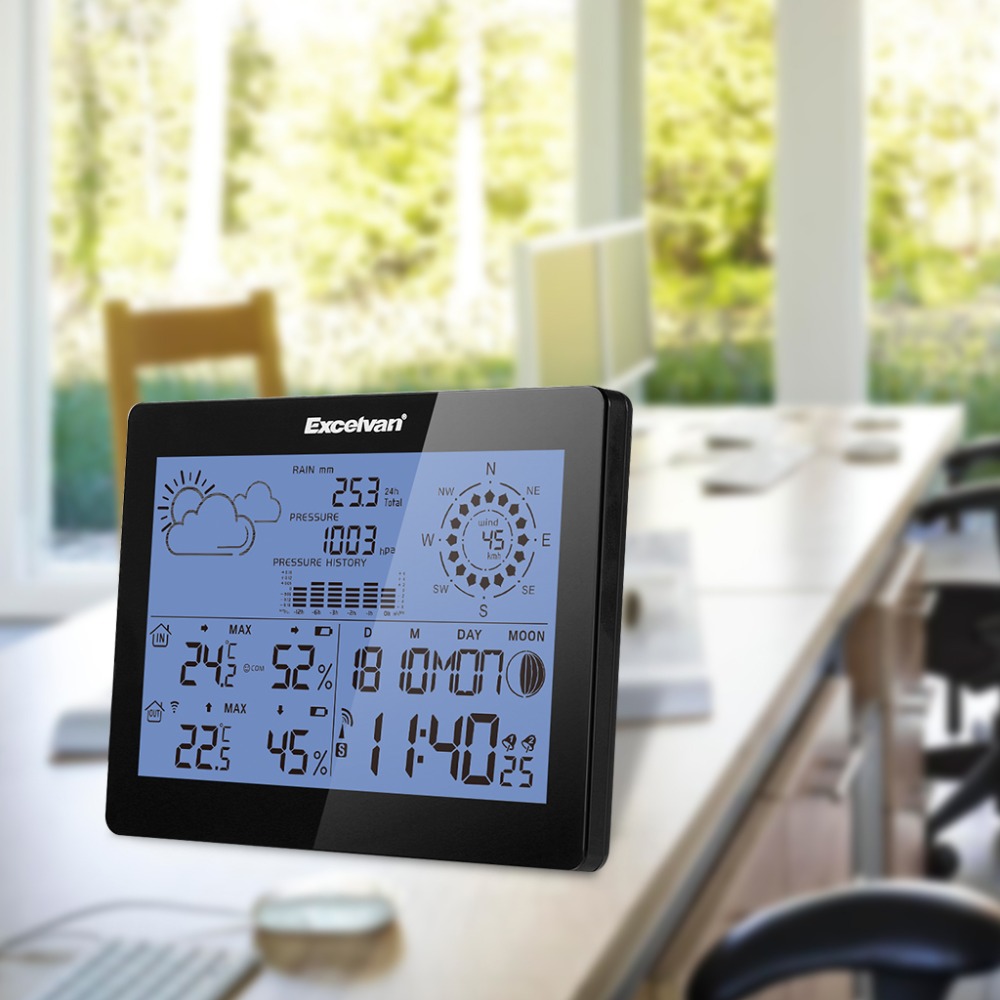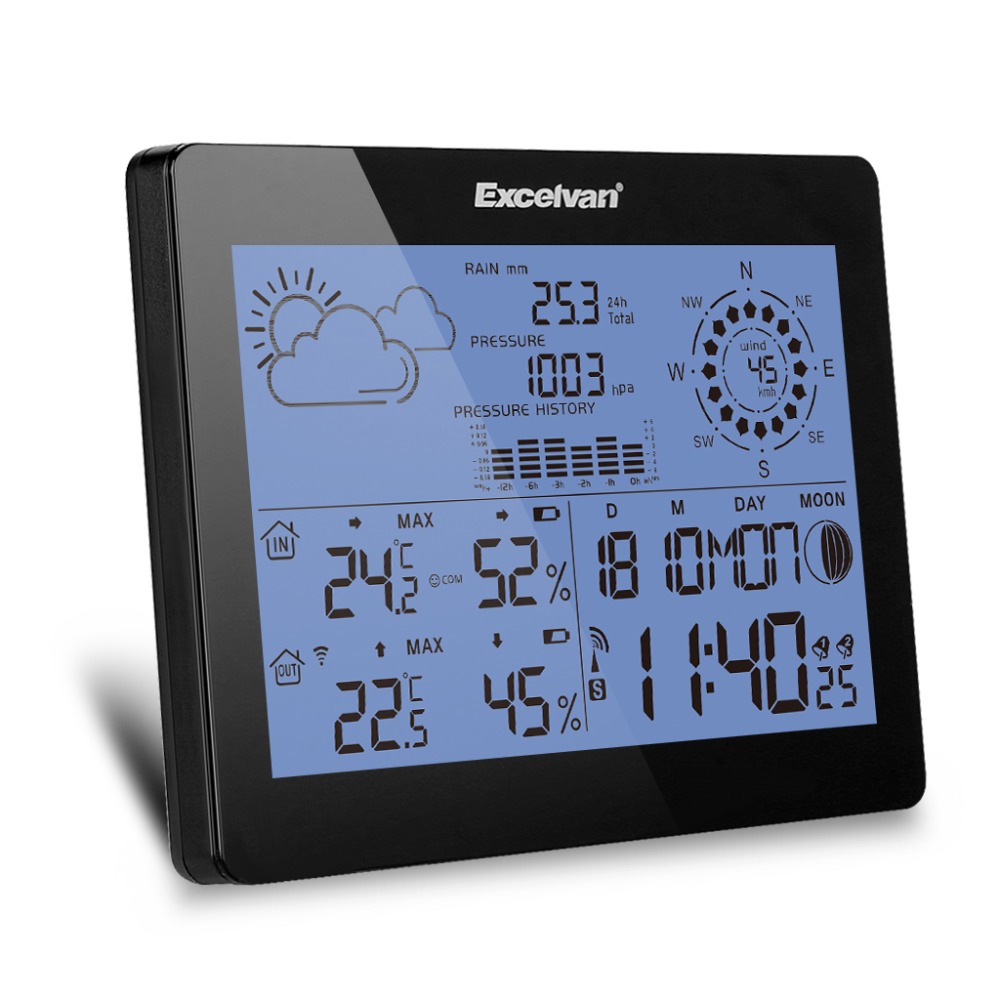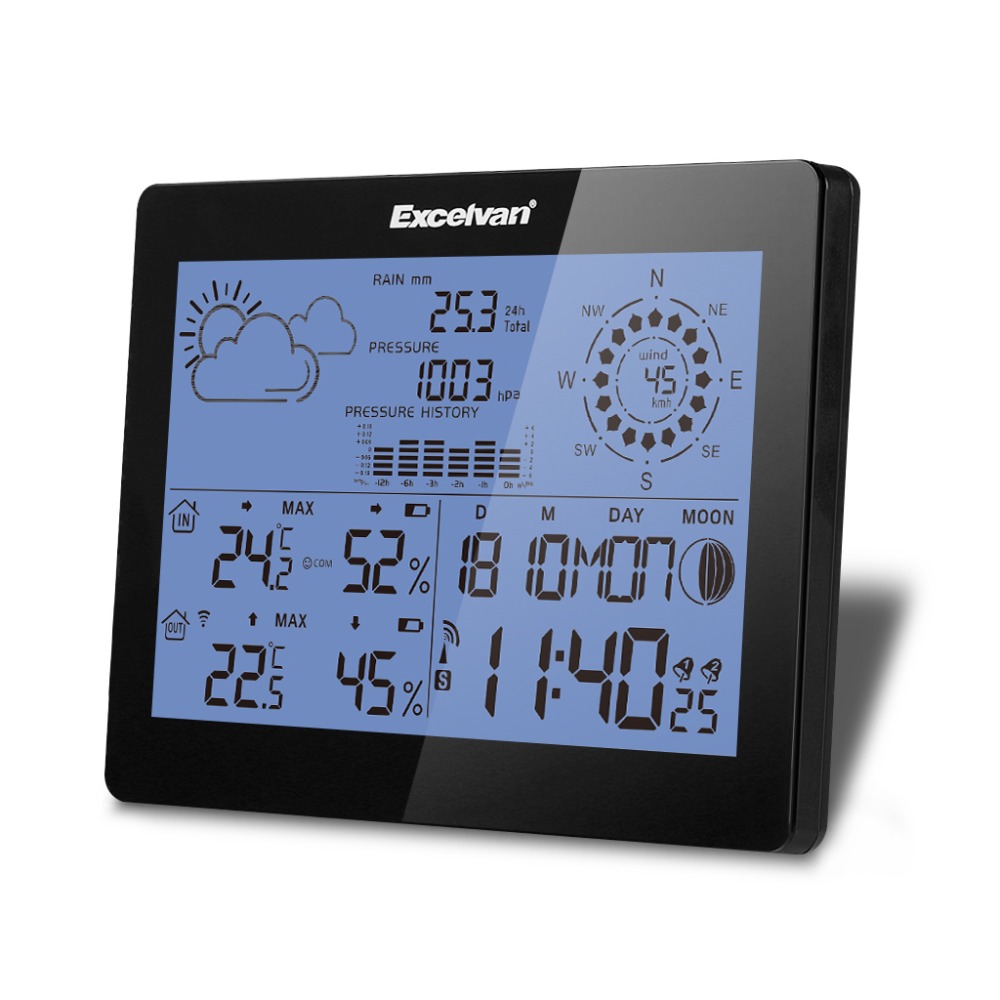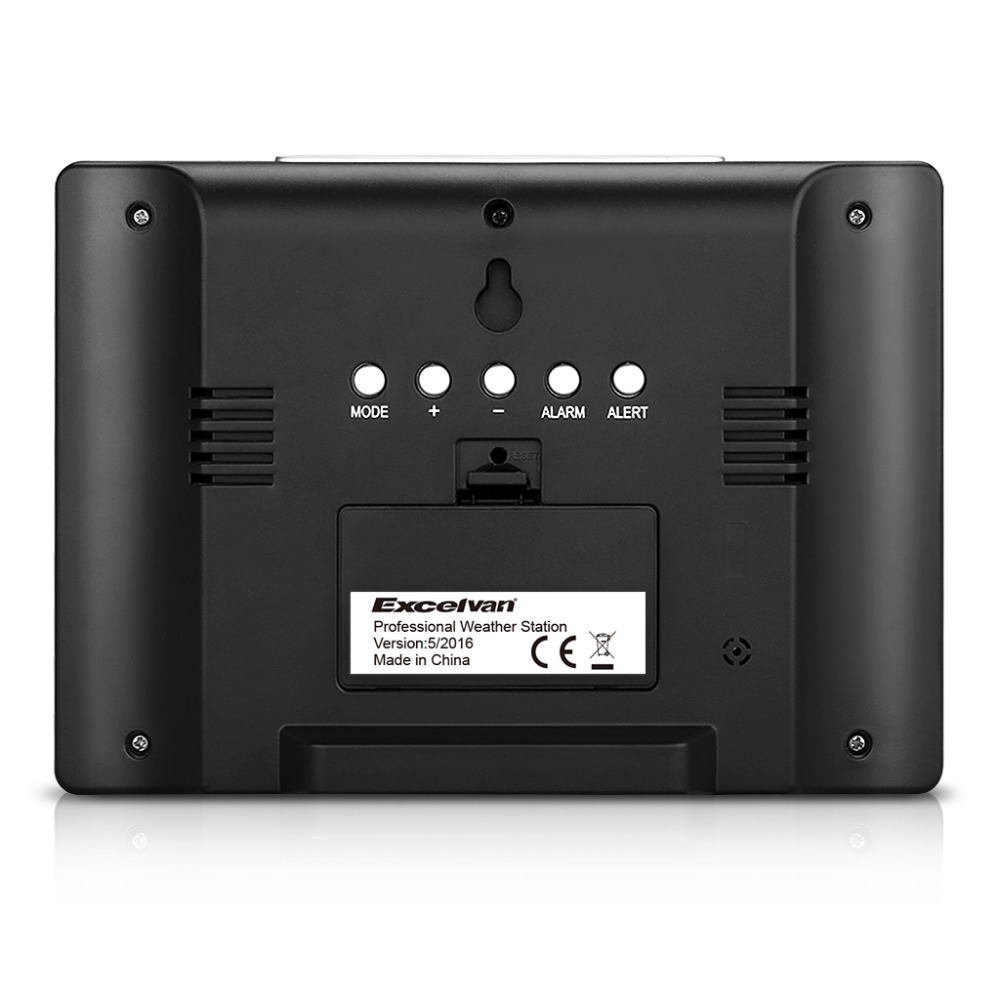 Introduction:


The Excelvan professional weather station is an affordable weather unit that accurately monitors indoor and outdoor weather conditions. The indoor console displays temperature, humidity, wind speed, rainfall, wind direction and barometric pressure on an easy to read LCD screen. The weather forecast can be quickly determined by the weather icons that let you know what the weather conditions are like outside.
The Excelvan weather station consists of a remote sensor and an indoor display monitor. The wireless sensor will transimit precise weather readings from a distance of up to 262 feet. The remote sensor includes four important part: wind speed sensor, wind direction sensor, rain gauge and thermo-hygro sensor. Wind speed sensor monitors backyard wind speed & gust. Wind direction sensor records 16 wind direction. Wireless rain gauge monitors backyard rainfall & empties itself. Thermo-hygro sensor monitors backyard temperature & humidity. For accurate data, the remote sensor mast should be securely mounted onto a horizontal surface and in an open area away from trees or other coverings where rainfall or wind speed may be reduced causing inaccurate reading.
The display monitor can be easily mounted on the wall or on your desktop. Large indoor display shows you the 12-hour barometric pressure history. Weather forecasting is based on the changing barometric pressure. Soft blue backlight makes the weather station easy to view even in the dark, shows the time, date and day. The weather station is a perfect gift for everyone!
1: Measure & Display indoor and outdoor temperature and humidity. Measuring Range: 0° to 50°(indoor) , -20° to 60°(outdoor).
2: Weather forecasting tendency with five weather icons: Sunny, Partly Sunny,Cloudy, Rainy and Storm. Let you know at a glance the weather forecast to know the outside weather conditions, which based on the changing barometric pressure.
3: 16 Wind directions, Wind speed units in mph or km/h(user selectable). Rainfall data in 1 hour, 24 hours and total since last reset display. Rainfall units in mm or inch(user selectable).
4: Barometric pressure units in hPa or inHg, and features a 12-hour pressure history chart to track trend.
5: 3 Comfort symbol, 24 adjustable time zones, DCF radio controlled time and date with manual setting. Dual alarm with snooze function, Large LCD displays time in 12/24 format, day of week and date. Supper bright blue backlight makes the weather station easy to view even in the dark. The weather station can be wall-mounted or can stand-alone on the table.
6: Comes with a precission remote sensor which can be placed up to 262 feet maximum from the main station. The remote sensor includes wind speed sensor, wind direction sensor, rain gauge and thermo-hygro sensor. Batteries required: The main station is powered by 2x 1.5V AA batteries(not included), thermo-hygro sensor is powered by 2 x 1.5 V AA batteries(not included).
Specification:
Main unit:
·Thermometer measuring range: inside: 0°C to 50 °C
outside: -20°C~ 60 °C
·Indoor/ Outdoor humidity : 20% ~ 95% R.H.
·Temperature display elective in °C or °F
·Wind speed in mph /kmh, wind speed 0~256kmh
·Wind direction in 16 directions
·Rainfall in mm and inch and display of 1hour, 24hour, TOTAL.
·Rain volume:(0~999.9MM)
·Power supply: 2× 1.5 V AA batteries (not supplied)
·Size: Unit size:171*123*50mm
LCD size:124*78mm
·Weight
Main station: 293g
A set of sensor equipment: 987g
Outdoor sensor:


·Frequency: 433 MHz
·Transmission range: 80 meters in the area
·Batteries: 2x AA, LR06, 1.5V
Package includes:


1* Weather station
1* Thermo-hygro sensor
1* Wind speed sensor
1* Wind direction sensor
1* Rain gauge
1* User manual
Note:


1. This main unit is intended to be used only indoors. The outdoor sensor should be placed in the open area.
2. Indoor and outdoor temperature measuring accuracy is /-2°.
3. The battery is not included. The main unit LED backlight will keep for lighting about five minutes.
4: The display of day of week in 7 different languages: German, English, Italian, French, Dutch, Spanish, Danish).