High Quanlity Industrial LED-Driver for solar street light system& message board&flashing or warning system& controlling system
Part 1. Product Introduction
The CIS-DR is perfect for a variety of lighting applications like solar street lights, message boards, flasher or warning systems, and as well as it works great for controlling systems, for traffic, oil or gas sectors, just to name a few. The CIS-DR drives LED strings over a wide voltage range (2 - 54 V). The LED current is selectable in three stages: low, middle and high current (mA) by a rotary switch, for each product size (LC, MC, HC).
Part 2. Product feature
>>Specially designed for solar street lights and applications in demanding environments
>>Robust fully protected case (IP67)
>>Buck/boost converter for a wide LED string voltage range, for all standard industry LED blocks
>>External temperature sensor
>>Soft-start enhanced design for a longer LED lifetime
>>Linear or true-color PWM LED dimming
>>Analog & PWM dimming inputs
>>Small size fits in most applications
Model
CIS-DR-LC

CIS-DR-MC

CIS-DR-HC

Supply voltage range

11 to 35 V

Max. input current

3.5 A (internal limited)

6.5 A (internal limited)

Max. output current

350 mA, 550 mA, 700 mA

1,050 mA, 1,400 mA, 1,750 mA

2,100 mA, 2,450 mA, 2,800 mA

Max. ouput voltage

54 V

Undervoltage protection:

LVD level

Reconnect voltage level

10 V

11 V

Max. input supply voltage

35 V

Own consumption

< 10 mA

Grounding

Negative grounding

Temperature range:

Storage temperature

Operating temperature

-40 to +60 °C

-40 to +50 °C

Max. altitude

4,000 m above sea level

Length of conductors

50 cm

Technical data dimming input

Dimming options

Linear, PWM

PWM dimming input control voltage

Voltage range: 2 – 10 V; PWM frequency range: 100 – 600 Hz

Linear input voltage range

0 – 10 V

Input current

0 – 100 μA

Technical data dimming output

Dimming options

Linear (high efficiency), PWM (true-color-dimming) 400 Hz
Part 4. Product Applying drawing: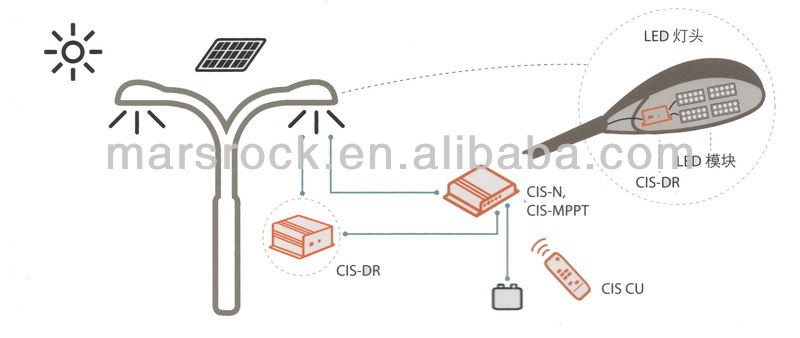 Part 5. Product Size drawing: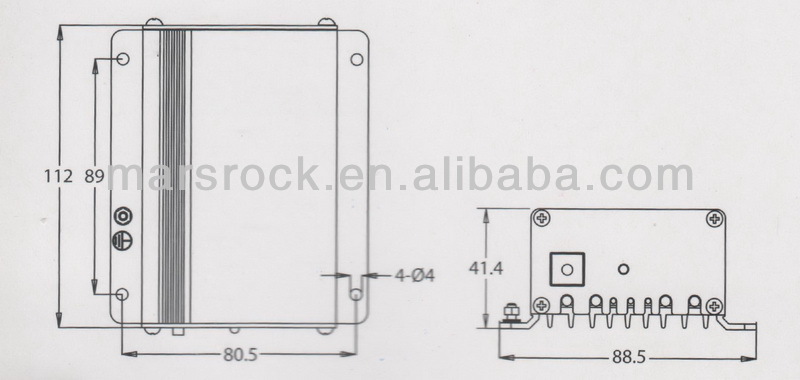 Part 6. Function description
1. Wires and operating elements: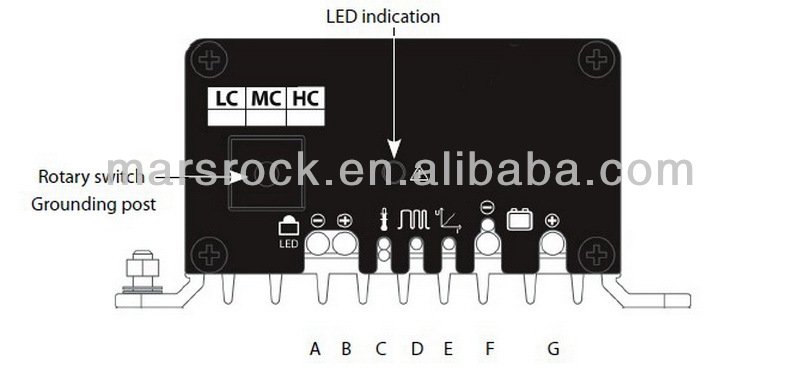 Function

Diameter / cross section

colour

A

Negative wire LED-output

2.5 mm²

Blue

B

Positive wire LED-output

2.5 mm²

Yellow

C

Temperature sensor for LED

Twin wire with sheet metal




attachment fixtures

Black

D

PWM-dim input

0.2 mm²

White

E

Analog-dim input

0.2 mm²

Red

F

Negative terminal battery / load




output charge controller

2.5 mm²

Black

Negative dim-ground

0.2 mm²

Black

G

Positive terminal battery / load




output charge controller

2.5 mm²

Red
2. Analog-dim input
By selecting analog input you can change the LED brightness setting with an external voltage from 0V = 0% (LED OFF) to 10V = 100% (LED full brightness). For instance CIS series by Phocos. Voltages below 1V switch the LED OFF and above 9V switch the LEDs fully ON. Between 1V and 9V the LED current is equivalent 10% .. 90% of the selected current.
3. PWM-dim input
By selecting PWM input you have the possiblility to vary the brightness between 10% and 90% with the duty cycle. PWM voltage range 100...600Hz. Permanent low signal switches off, permanent high signal witches on.
4. Linear and true colour dim function
Using the linear output function the LED current is reduced by dim input values. Decreasing the LED current is more efficient than true colour dimming but can cause changes in colour, therefore CIS-DR offers the true colour dimming function. Please select the PWM output function with the rotary switch. The PWM frequency at the output is 400Hz.
Part 7. Remark
If your order amount more than $100,000 per time, we will consider to accept OA, LC, DP, DA payment ways. But you must obtain a credit rating from Alibaba firstly. Detailed operating, please contact your local financial services centre of Alibaba.