Solar Power 0-1000W, Wind Power 0-600W, 12V & 24V Auto Recgonizing Hybrid Wind-Solar Charger Controller Wide Range Power Adjustable

New design: Suitable for Solar Power 0-1000W, Wind Power 0-600W, 12V and 24V system. This wide adjustable power range allow you to connect to different kinds of solar wind system. As long as the solar power is no more than 1000W, wind power is no more than 600W, this controller can perfectly work in any hybrid system. No limitation!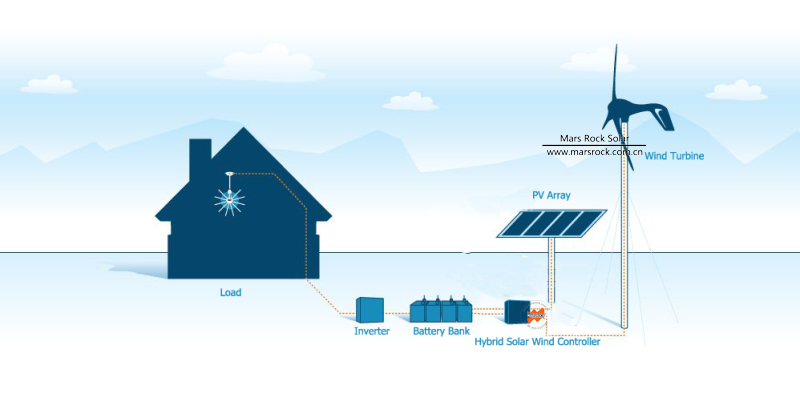 This controller is specially designed for high-end small wind-solar hybrid systems and applies to wind-solar hybrid street lighting systems and wind-solar hybrid monitoring systems. Its main functions are shown as below:
1) PWM Mode Charging/ Discharging: This controller, being a high-performance wind-solar hybrid controller, can control wind generators and solar cells to charge or discharge the storage batteries at the same time; when charging, it adopts high-resolution PWM mode to charge the storage batteries via voltage and current limiting, which can effectively prolong the storage batteries' service life;
2) Rotating Speed Checking: The controller is provided with an accurate rotating speed measuring and controlling module, so it can check the wind generator rotating speed in real time, and also can realize over-speed brake according to the set upper limit of safe rotating speed.
3) Controlling Two Separated Output Channel: The controller is provided with two-channel DC output interfaces, and each channel has a maximum output current 10A; for each channel, the user can independently set three kinds of different output modes, namely, light-controlled on/off, light-controlled on/time-controlled off, and normally open.
4) MPPT Function: The controller is provided with MPPT (maximum power point tracking) function. It, via advanced algorithm, can automatically search the maximum power point to realize the maximum conversion from wind energy to electrical energy. Through test, compared with traditional controllers, this controller can improve the charging efficiency by more than two times at maximum.
5) LCD Display: The controller is provided with a customized LCD, so the user can easily check and set the status of controller via the human-computer interaction interface
6) Aluminum Alloy Case: The controller casing made of high-quality aluminum alloy is well designed, and has an attractive appearance and a good heat dissipation performance.
7) Suitable for Different Environment: The controller is manufactured with strict production process and high-quality industrial components, so it can run reliably for a long time under cold, high-temperature, or humid environment.
Protection function

Explain

notes

1. Solar prevent reverse charge

At night or the light is bad, the battery voltage may be higher than the solar array voltage. The controller can prevent the generation of solar cells reverse battery charge

2. Reverse battery protection.

Reversed when the batteries have a huge transient current of the circuit fuse in the fuse will automatically make the battery circuit is disconnected, so as to effectively protect the battery and the device.

Replace the fuse, right after connecting the battery positive and negative running

3. Battery open circuit protection

Long-term use, the battery open-circuit may occur, or poor contact. The controller in the battery open-circuit protection device itself will not be damaged.

Regularly check the line connection

4. Over-voltage, over speed or overload

In high winds or over-voltage condition, the controller will automatically start braking function to protect the fan and battery. Controller in case of overload will automatically cut off the circuit

Repair can be restored when the

circuit resistance
Output terminal connection diagram of LCWS-A1 wind-solar hybrid controller with double-channel standard configuration
Output terminal connection diagram of LCWS-A1 wind-solar hybrid controller with single-channel dimming signal (optional)

Each controller is provided with RS485 communication port. If two controllers need to be connected, they shall be connected in the way of anode to anode, cathode to cathode, GND to GND, and at last connect the RS485 port behind the computer via a third RS485 port.

Dimmer port and communication port RS485 are optional, so the customer shall clearly specify what you need; otherwise we will deliver the one in standard configuration.

Model

WSA800W30A

WSA1600W30A

System voltage

12V & 24V

12V & 24V

Turbine input voltage range

0 ~ 40V

0 ~ 40V

Turbine input current range (initial value)

0 ~ 15A(12A)

0 ~ 15A(12A)

Turbine maximum input power

300W

600W

PV input voltage range

0 ~ 25V

0 ~ 50V

Input current range (initial value)

0 ~ 30A(15A)

0 ~ 30A(15A)

PV maximum input power

500W

1000W

PV MPP

17 ~ 20V

34 ~ 40V

Number of output circuits

2-channel or 1-channel with dimming signal

Output control mode

Always open;light-controlled; light on/time off

Maximum output current of each loop

10A

Static power

About 0.4W

About 0.8W

Communication interface

RS232 / RS485(optional)

Operating temperature range

-20 ~ +50°C

Operating humidity range

35% ~ 85% (no condensation)

Product size

150*145*85.5mm

Package size

188*182*130mm

Weight

About 1.75Kg