Hybride Wind Solar Charge Controller 1000W Regulator, 24V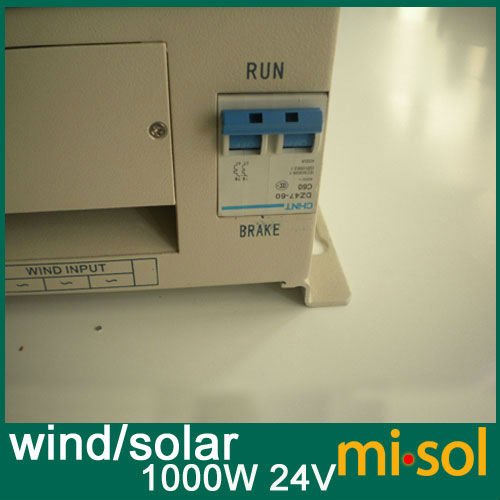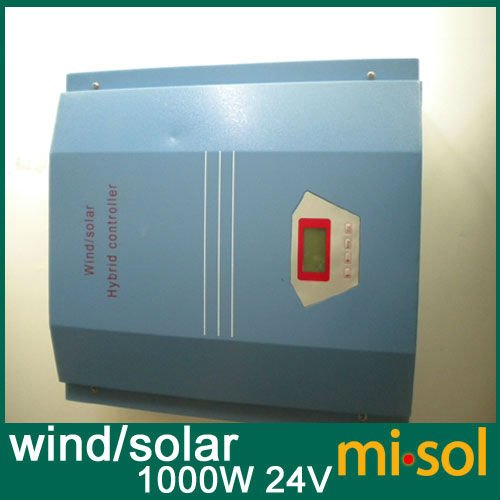 This listing includes: 1 pcs of hybrid wind/solar controller 1000W, 24VAC.
The wind/solar hybrid controller is control device which can control wind turbine and solar panel at the same time and transform wind and solar energy into electricity then store to the battery bank. Wind/solar hybrid controller is the most important part in off-grid system, whose performance has much effect on life expectancy and operation of the whole system, especially the battery expectancy. Life span of battery will be shortened by over charge or over discharge in any case.
- Superior military-grade components to ensure the product stability.
-
Adopt Single Chip Micyoco (SCM) to have precise system control.
-
Perfect protection function, thus the system has higher reliability.
-
Check and set all operation parameters as requirement from LCD display.
-
Voltage limiting and current-limiting charge mode, ensures battery in the best charging status.
-
PWM stepless unload mode, which burn the excess power into dump load, making the battery charging in best status.
- European CE certification.
-
Manual in English
OPTIONAL FUNCTIONS:
(If you need optional fuction, please enquiry us)
-
Temperature compensation function.
- Low voltage charge function, which makes full use of low wind power.
-
RS communication function: RS232 are optional communication ports.(OPTIONAL)
-
Stand alone wind/solar hybrid power station
-
Stand alone domestic household wind/solar hybrid power system
-
GSM base stations, expressway and other no-residential regions.
-
Coastal islands, remote mountainous, border posts for regions shortage of or without electricity.
-
Government demonstration projects, landscape lighting project, street light project etc.
Model

WWS10A-24

Rated Wind Turbine Power

1kW

Rated Solar Power

300W

Rated Battery Voltage

24V

Wind Turbine Maximum Input Current

80A

Wind Turbine Maximum Input Power

2kW

Unload Voltage(factory default)

28V

Unload Current(factory default)

50A

Control Mode

PWM

Display Mode

LCD

Display Parameters

Wind Turbine Power, Wind Turbine Voltage, Wind Turbine Current,

PV Voltage, PV Charge Current, PV Power, Battery Voltage.

Working Temperature &Humidity

-20~+50 Cel. Degrees/35~85%RH(Without Compensation)

Temperature Compensation(optional)

4mV/Cel. Degrees/2V ,–35 Cel. Degrees--+80 Cel. Degrees, Precision:±1 Cel. Degrees

Communication Mode(optional)

RS232

Protection Function

Solar reverse charge protection , Solar reverse connection protection,

Battery over charge protection ,Battery reverseconnection protection,

Lightning protection, Wind turbine current limiting,

Wind turbine automatic brake and manual brake.
· Please pay within 3 days after auction.
· Please contact us for your payment if you have any problem.
Delivery details
· Your item will be shipped within 48 hours in business days if payment for the order is cleared before 8PM PST daily (except Saturday, Sunday and Holidays). If there's an exception, we will inform you.
· Buyer, as the importer, is responsible for paying the customs clearance cost or related TAX.
Terms of sale
· Positive Feedback is our life. Before you leave a neutral or negative feedback, please contact us first to get a better solution. We care our valued customers. So if you have any problems, please contact us immediately. Please give us the opportunity to resolve a problem. We understand the concerns and frustrations you might have and try our best to resolve the issues. Leaving neutral or negative feedback cannot solve the problems.
About us
· Welcome to our store. We are specialized on Energy Saving electronics: Solar water heater and controllers, pump stations, solar charge controller, inverter, SOLAR Lamps, etc.. Please visit us often. We are pleased to work with you!
Contact us
All communication is handled through emails and ALI message. We strive to answer all emails as quickly as possible.