57mm 90W 36V Brushless DC Servo Motor Drive Kit 3000RPM 1000 Line 4000ppr BLM57090-1000+ACS606 Leadshine New CNC Machine
Brushless Servo Motor BLM57090-1000
Descriptions
Leadshine designs and manufactures a wide range of high-quality & cost-effective brushless servo motors. Developed in the advanced manufacturing technology and built with high quality materials, Leadshine brushless servo motors have rated voltage from 24 VDC to 220VAC and rated power of 25 W to 1500 W. For standard motors, they are integrated with 1,000 or 2,500 line incremental encoders, have continuous speed of 3,000 RPM and 4000 RPM peak speed. For high volume OEM customers, Leadshine also offers customizations to meet special requirements such as customized shafts, brakes, etc. When powered by servo drives from Leadshine or third-party, they can run very smoothly and quietly with high precision, excellent torque performance, and very little heating.
Electrical Specifications Applications
Model

Rated Voltage

(VDC)

Rated

Power

(W)

Rated Torque (N.M)

Peak Torque (N.M)

Rated Speed (RPM)

Rated Current (A)

Peak Current

(A)

Torque Const.(N.M/A)

Back EMF Const. (V/RPM)

Resistance

(ohms)

Inductance

(mH)

Inertia (kgm2 x 10-4)

Motor length L(mm)

Mass(kg)

BLM57090

36

90

0.29

0.87

3000

3.45

10.35

0.084

8.8

1.35

4.1

119

100

0.75
* The standard model is integrated with a 4,000 PPR (1000-line) incremental encoder.
Brushless Servo Drive ACS606
Genneral Introduction
Leadshine designs and manufactures high performance brushless servo drives powering a wide range of servo motors from 25-1,500 W. High performance EL5 series brushless servo drives adopts Leadshines's advanced control algorithm, and offers a lot of advanced features for excellent performance. The economic ACS series brushless servo drives are 32-bit DSP based, capable of driving brushless servo motors up to 400W to the peak speed of 4,000 RPM with high precision.
Eletric lectrical Specifications (Tj = 25oC/77oF)
Parameters

ACS606

Min.

Typical

Max.

Unit

Peak output current

0

-

18

A

Continue output current

0

-

6

A

Supply voltage

+18

-

+60

VDC

Logic signal current

7

10

16

mA

Pulse input frequency

0

-

200

kHz

Isolation resistance

500

MO

Current provided to encoder

-

-

100

mA
BLM57090-1000 Dimension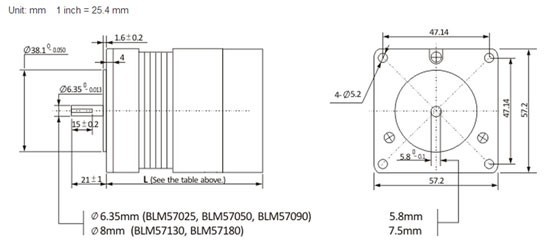 ACS606 Dimension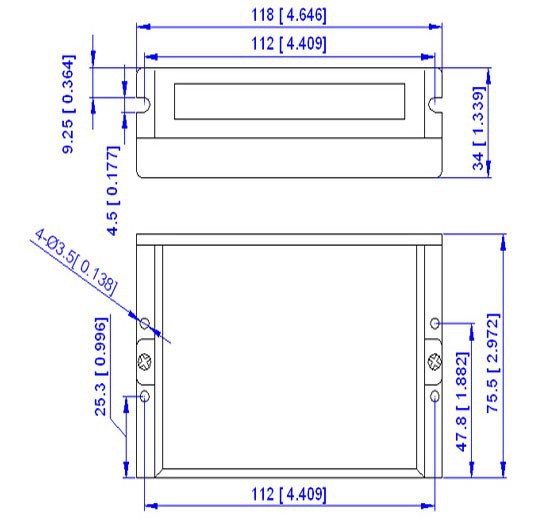 Typical Connection