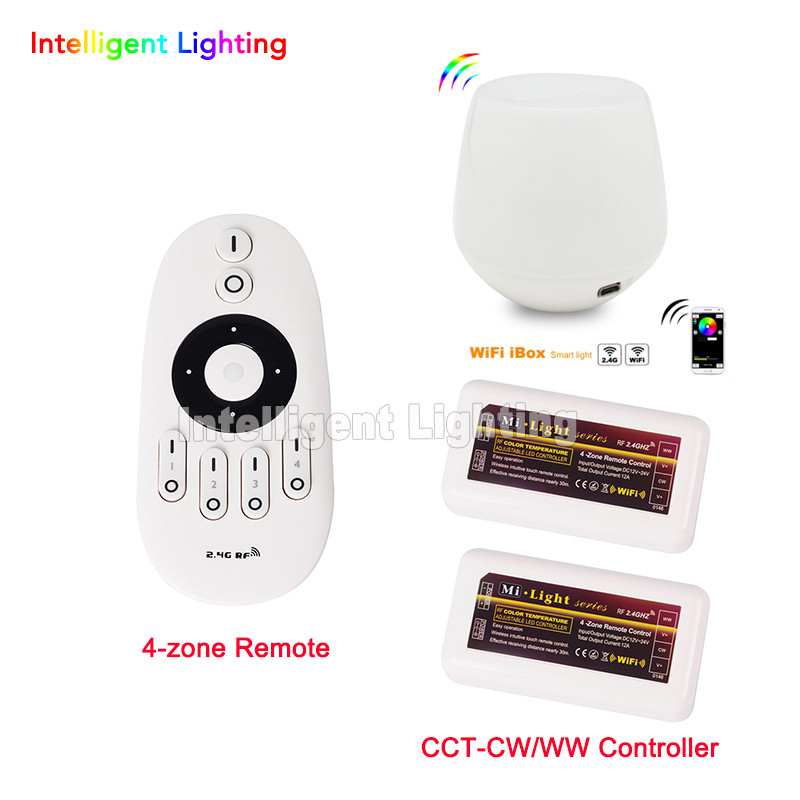 Do you want to get a wireless light controller to control your light at home? Here we provide
you with a high performance Light Controller. This kind of light controller has compact
design and exquisite appearance, simple to operate. It can adjust the brightness of light
according to different occasions. I think it will bring you comfort and health. Except that, this
light controller comes with high efficiency and energy-saving. Now, it has popular with many
people, and bring great convenience to people life. Then come to have a try!


Features:
1. New and high quality
2. Low power comsumption, and long using lifespan
3. Can adjust the brightness of light
4. Light weight, small size, high efficiency, easy remote control, etc
5. Widely used in different occasions, such as the home, office, meeting rooms, schools,
corridors, etc

Technical Parameters(remote control)
1 Power supply: AAA battery * 3pcs
2 Cover material:ABS
3 Fabrication processing: multicolour printing & UV varnish
Technical Parameters(controller)
1 Working voltage: DC12V/24V
2 Output control: 1 circuits
3 Control current 6A/circuit
4 Connecting mathod: common anode
5 Dimension: L85*W64*H24
6 Receiving range:20-30meters

Our service:

1.Customer first,quality first,to exceed your expectation is the aim of our work.

2.Be careful with any order,and patient for any of your question.

3.The customer service is also important,please contact us when you recieve the products if there is any problem.

Warning:

a.Switch off the power before replacing lamp;

b.Keep away from direct sunshine and high temperature,of course the lowest temperature.

c.Don't touch the body when it on light.
This manual describes the WiFi controller which can be used to all the 2.4G smart light
series, RGB
light bulb, RGBW light bulb/down light, dual white light bulb/down light, etc.
With this simple WiFi controller, you can control your lights with iOS 5.0 or Android smart
phone
App,
free download from Apple App Store, or Android Google Play with the new App
name: Mi ·light,
automatically setting and you are ready to go!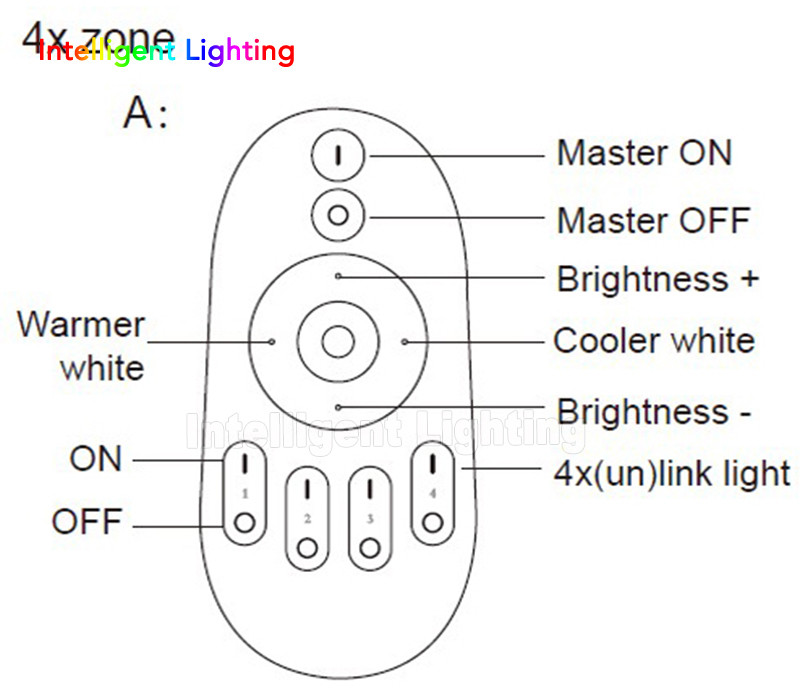 How to use:
1.Brightness & color temperature adjusting:
to adjusting all controllers, first press "Master ON" or to adjusting individual controllers,
then press "Zone ON";secondly set the adjustment for color temperature or brightness.
2.Night light mode:
for individual controllers, press and hold the "Zone OFF" from one of the 4 zones,For all
controllers,press and hold "Master OFF", The lights now consume only 0.4watts.

3.Resume function:
The previous setting will be resumed while power on again!

4.Matching Code:
Press one of the "Zone ON" buttons one time within 3 seconds when power on again,the
light will blink 3 times if matching is successful;

5.Clearing Code:
Press one of the "Zone ON" buttons five times within 3 seconds when power on again,the light will
blink ten times if clearing is successful.
Grouping:
You can add an endless numbers of controllers t a zone on the 4 channel remote by
code-matching to different zones.This way you are completely flexible in creating different
group combinations.Below you can see some grouping examples.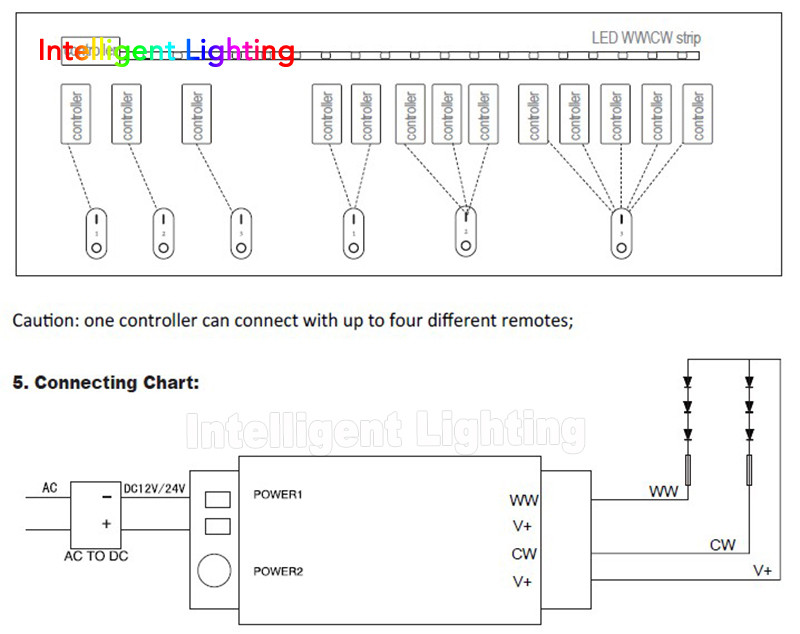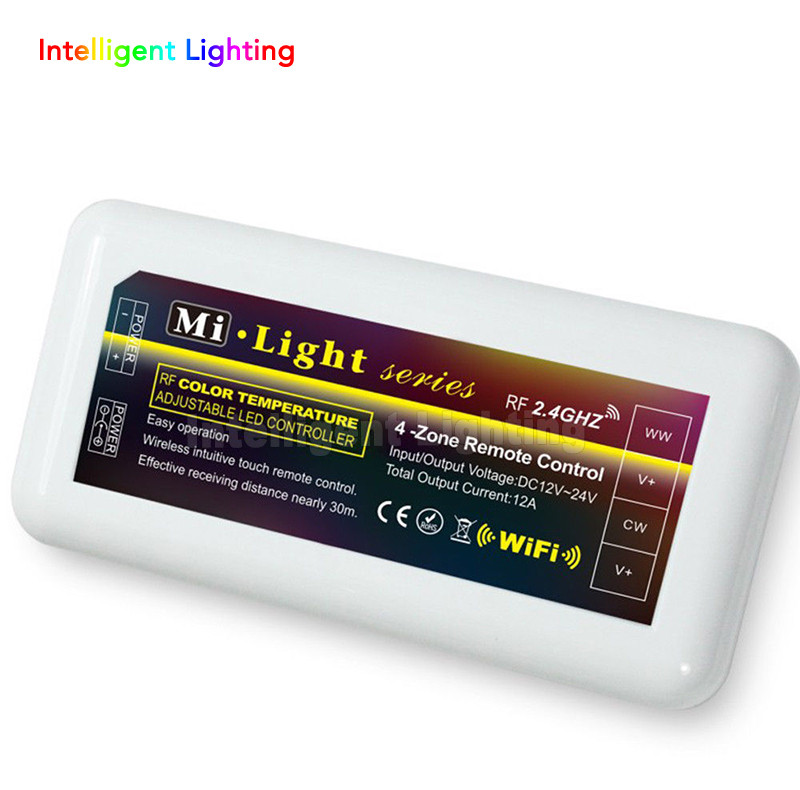 Mi Light WiFi Controller
Mi Light WiFi Controller
tipo del Led: Led Ad Alta Potenza
colore: RGB
tensione in ingresso: DC5/500mA
potenza: 2 W
colore: RGB
protocollo: 2.4 GHz, Wifi 802.11b/g/n
modalit à di connessione: wifi
peso netto: 110g
distanza di controllo: 20-30 m
funzione:
1. App di Controllo Un Lunga Distanza, con wifi e smart phone App, & egrave; possibile controllare le luci ovunque, compatibile con IOS, Android 4.3 o superiore.
2. Compatiaility, 2.4 GHz RF Circuito Integrato, compatibile con tutte le serie Milight.
3. funzione Timer. automatico 0N/OFF con funzione timer
4. Color cambiare e Dimmerabile, 16 Milioni di colori tra cui scegliere, dimmerabile, saturazione controllo
5. Search Milight da Apple store, o eseguire la scansione del codice mostrato sulla sinistra, ricerca Milight dal Play store di Google, o eseguire la scansione del codice mostrato sulla sinistra (Android 4.3 o superiore)
6. You pu & ograve; utilizzare venire luce di notte
Procedura di programmazione
1. Wire tutti i dispositivi di controllo a un alimentatore o
strisce di alimentazione ma non accenderlo ancora.
2. With il potere fuori, il dispositivo afferrare intelligente, e hanno app aperto alle vostre specifiche tipo di controller
3. Power sul controller.
4. Entro 3 secondi di alimentazione fornire premere la parte superiore
pulsante una volta in app sul dispositivo intelligente.
se programmazione ah avuto successo qualsiasi collegato striscia di luce dovrebbe lampeggiare due volte lentamente e remoto sar & agrave; immediatamente essere funzionale.
Tips1: Questo hub funziona con unità & agrave; di controllo RF e controllo.
Tips2: Singolo Device Pairing consente onu controllo hub e
telecomando delle nazioni unite per comunicare venire un unico
coppia. Multi Dispositivi di Accoppiamento consentire telecomando delle nazioni unite
controller per comunicare con controllo multiplo
mozzi senza la richiesta ransmitting gamma.
attenzione:
1. Non Può l'esposizione al sole in caso di invecchiamento.
2. Avoid contatto con liquidi corrosivi, cioè forte alcalino liquido.
3. Pay attenzione al fuoco, umidità, cadere.
4. Working temperatura-40 C-C, teperature di stoccaggio-20 C-C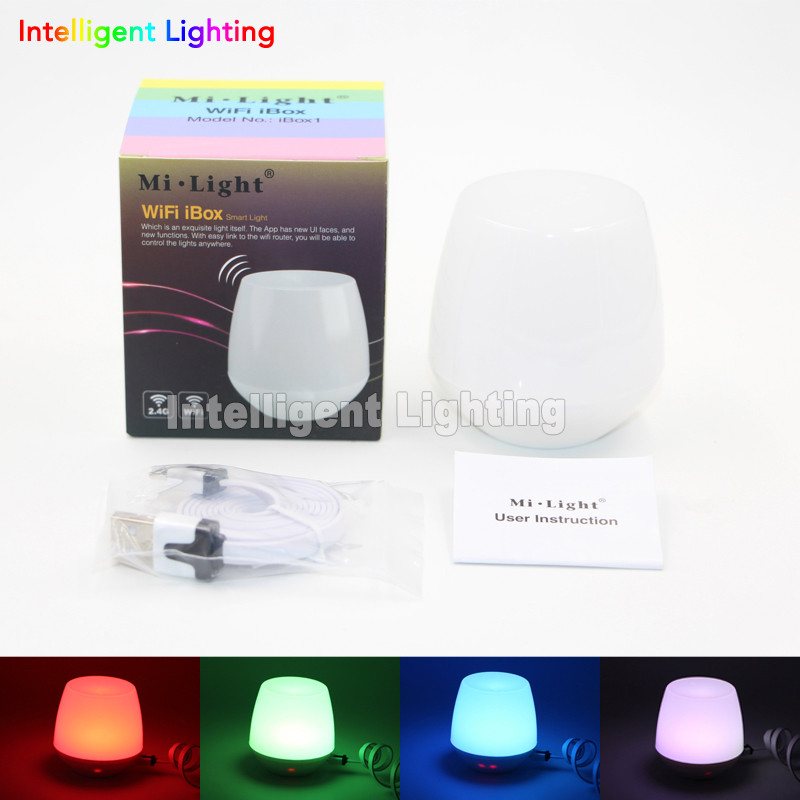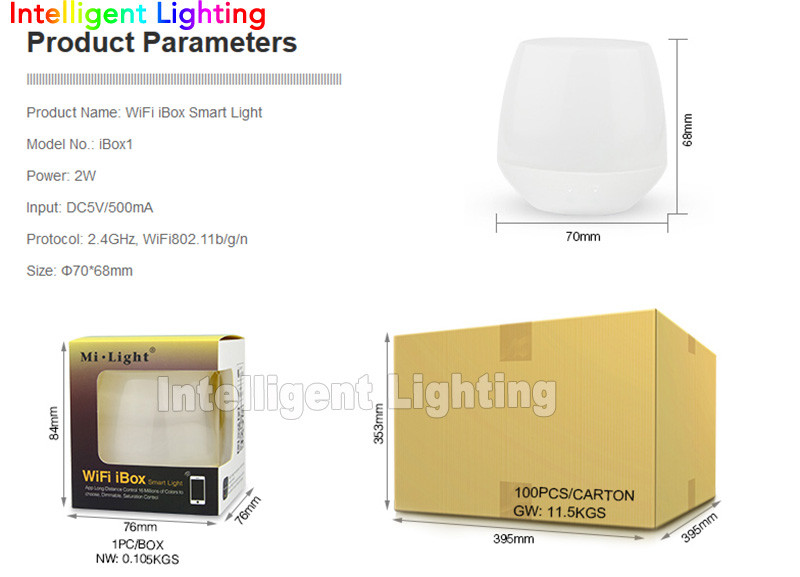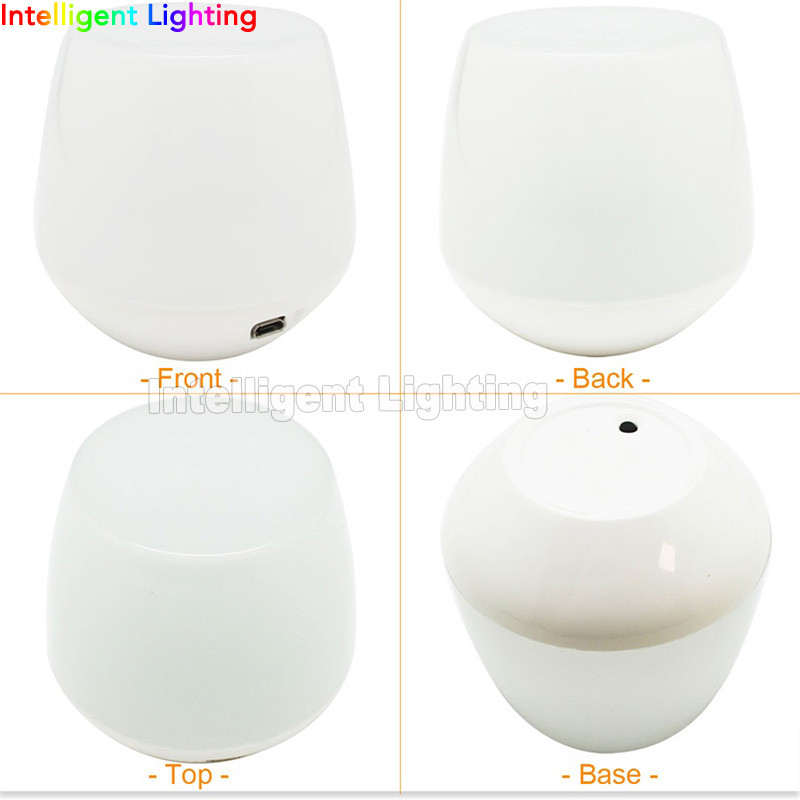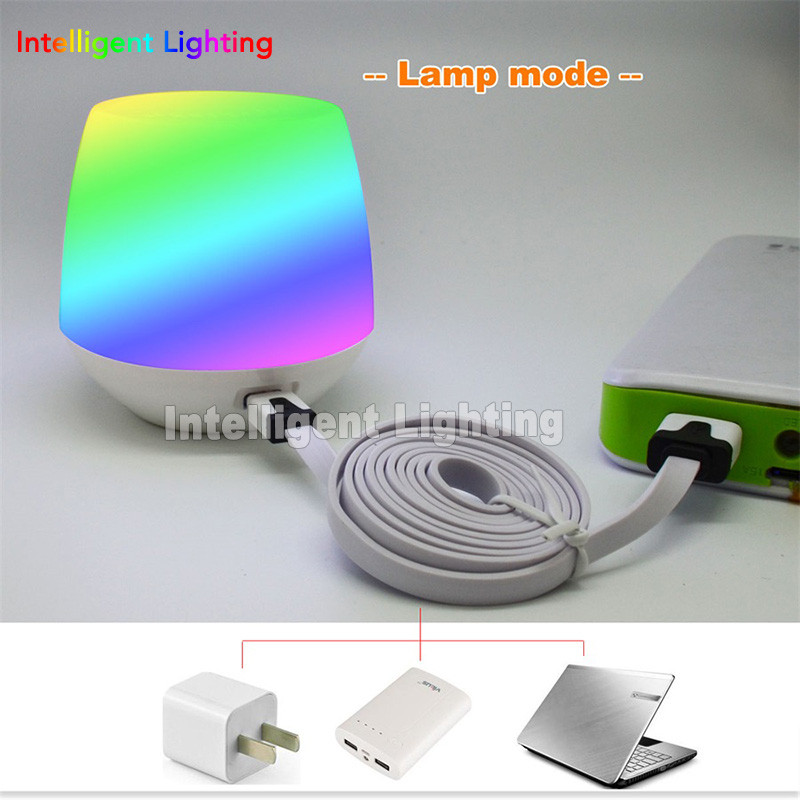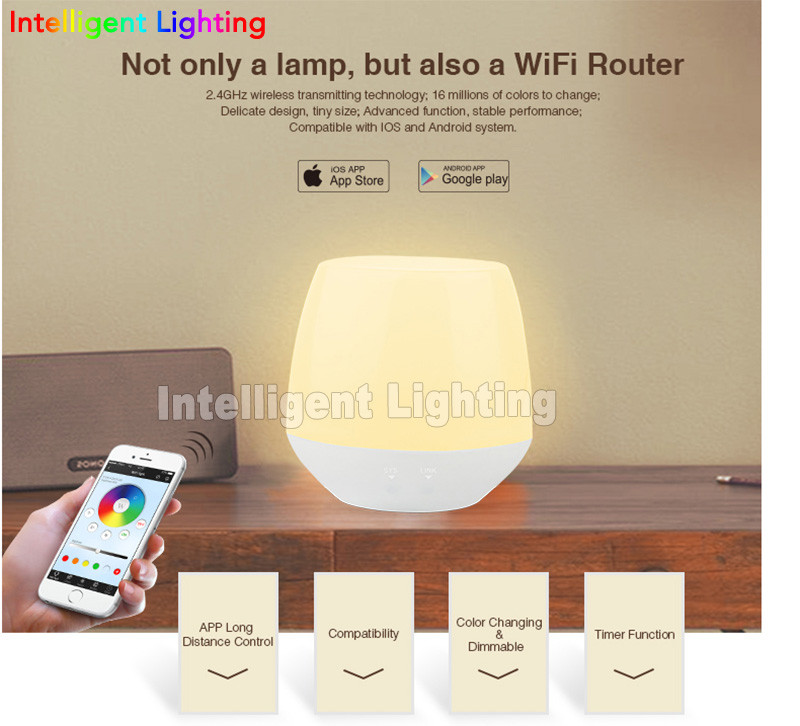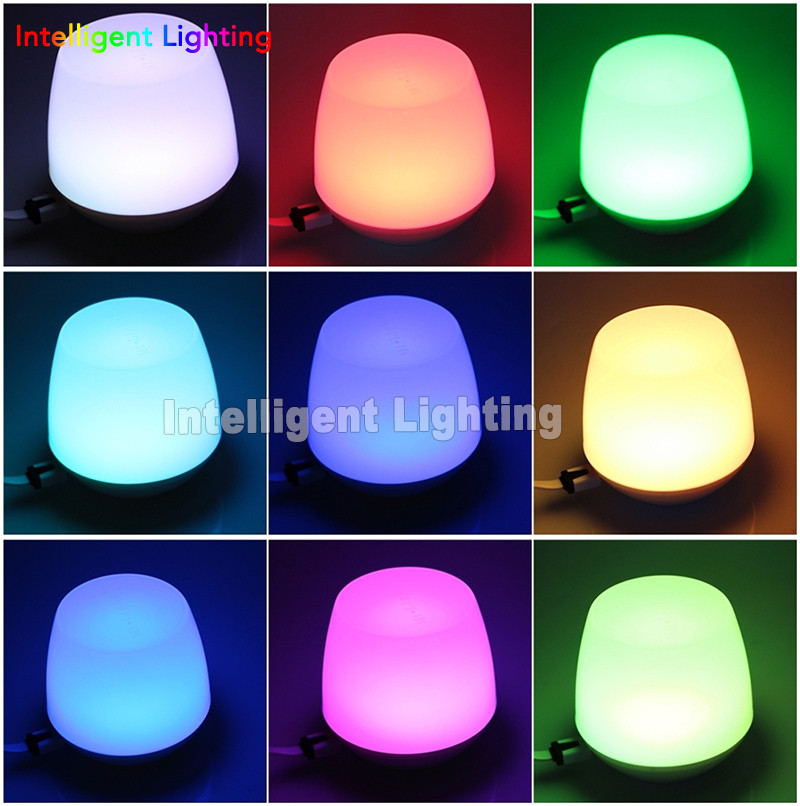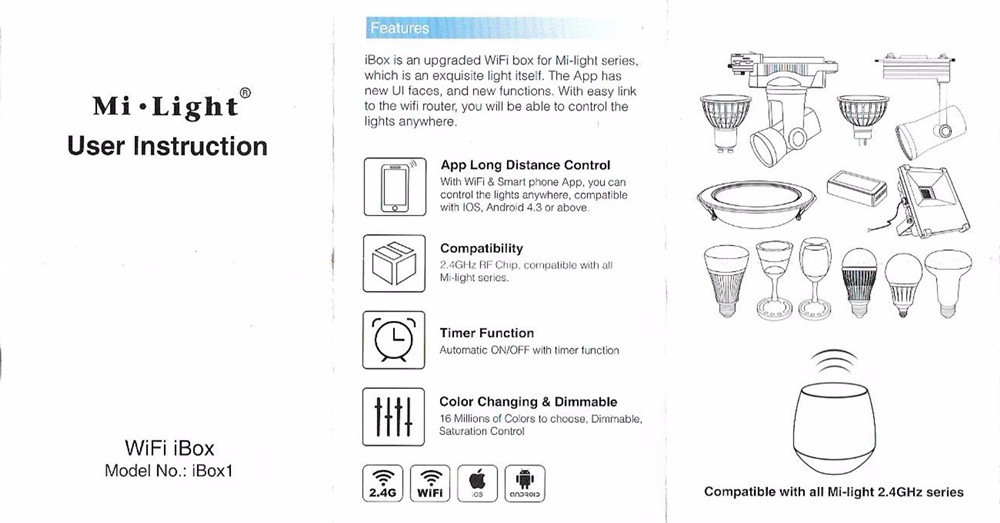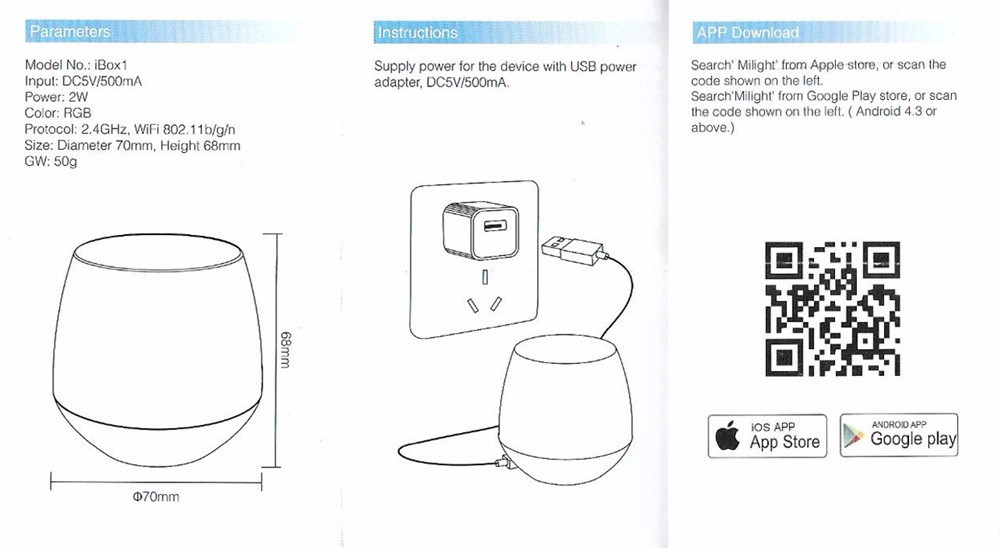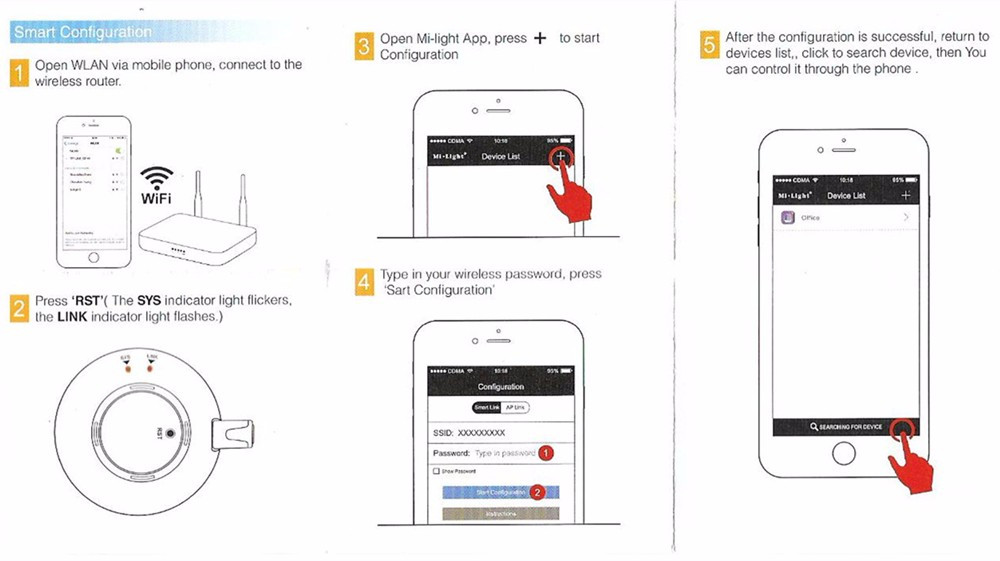 1 X RF Remote (Not including the batteries)
1 X Wifi Controller
2 X 2.4G WW CW LED Controller