?

MPPT solar charge controller,

30A

, 12/24V 1 UNIT
?

Remoter meter

(MT50) 1 UNIT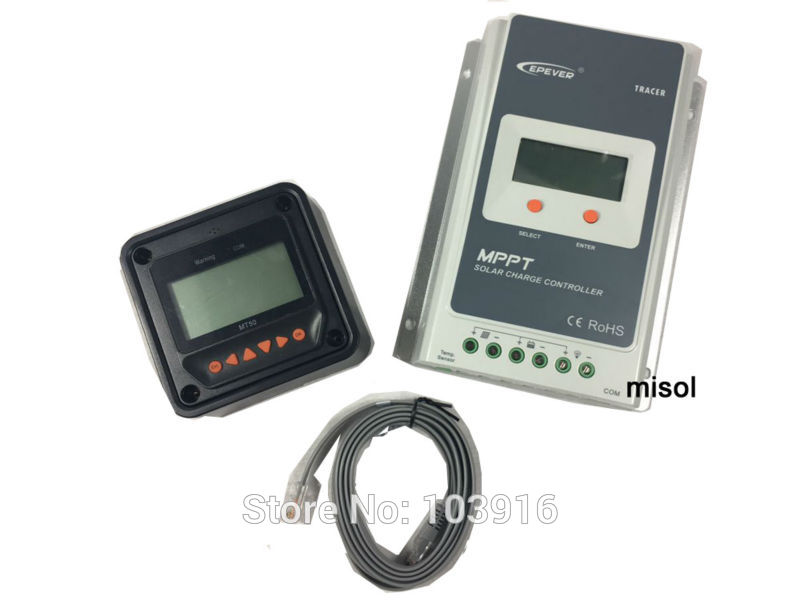 MAX. PV input power: 390W (12V), 780W (24V)
MAX. Input voltage(PV VOC): 100VDC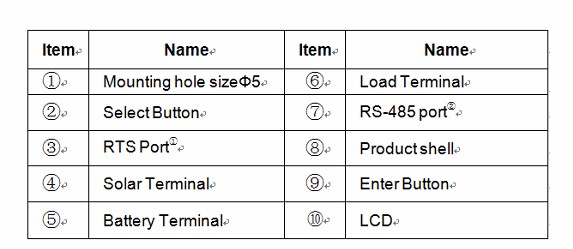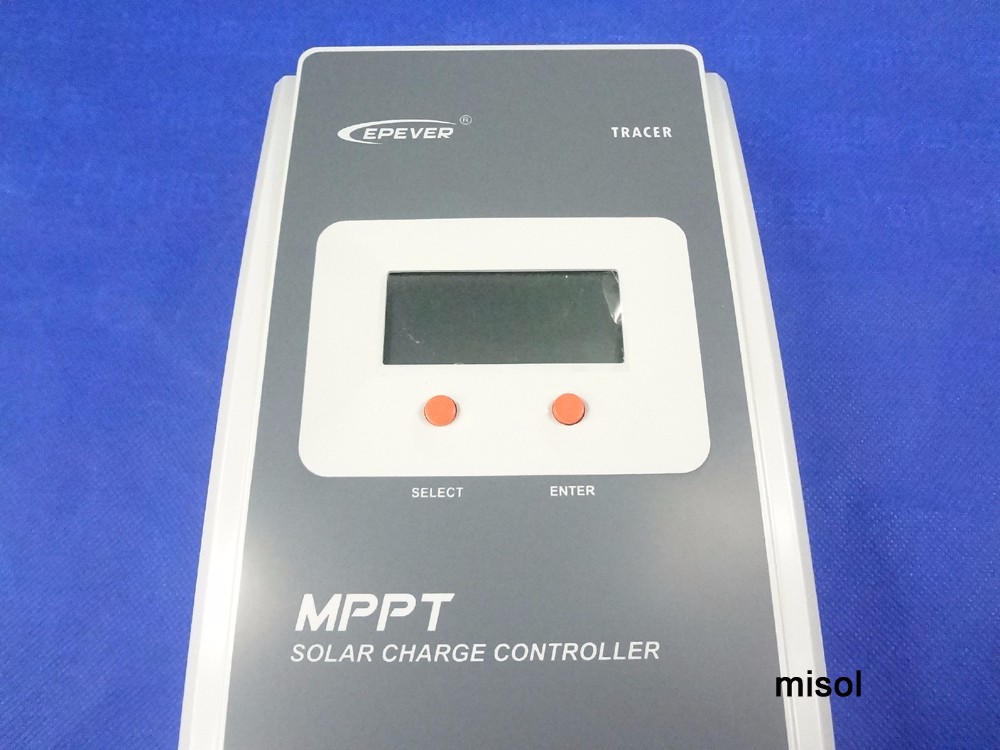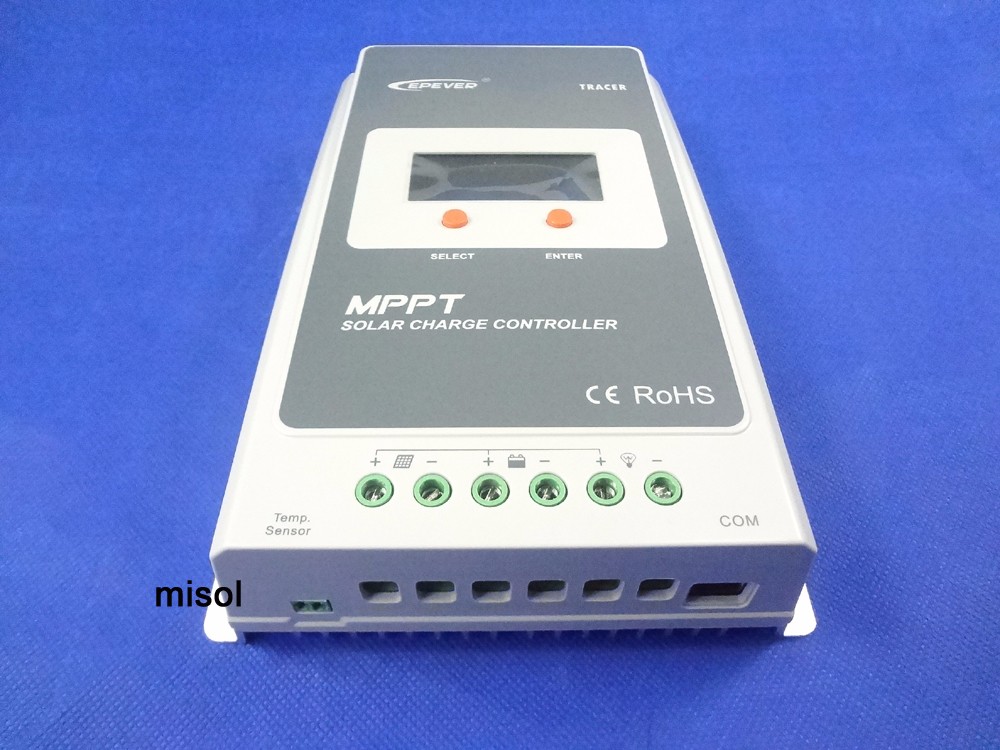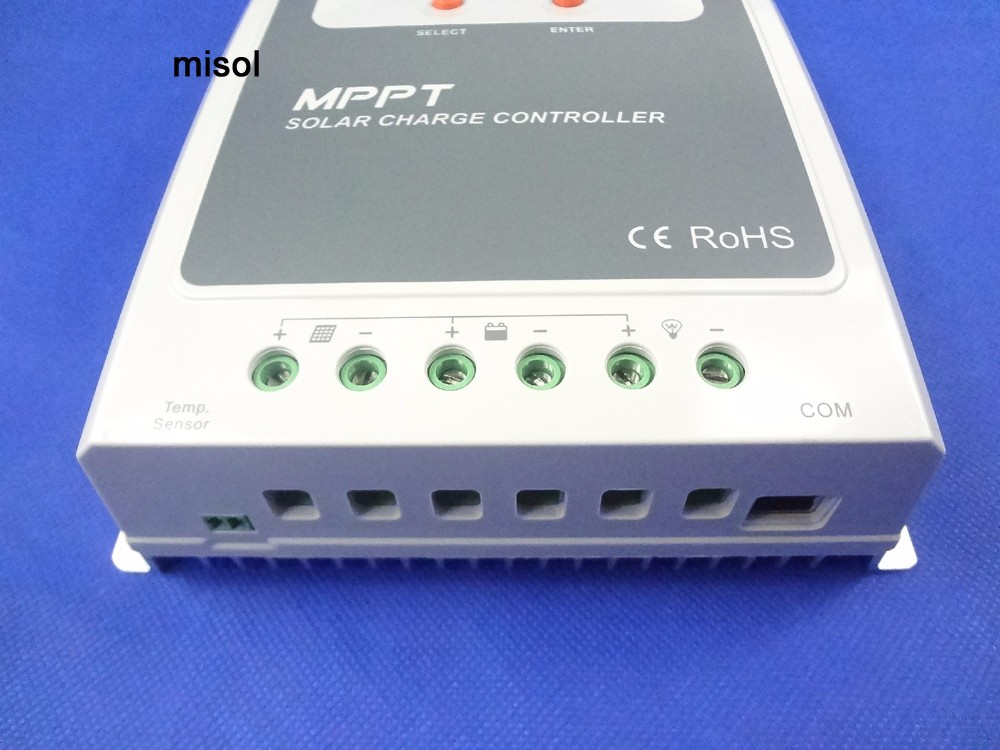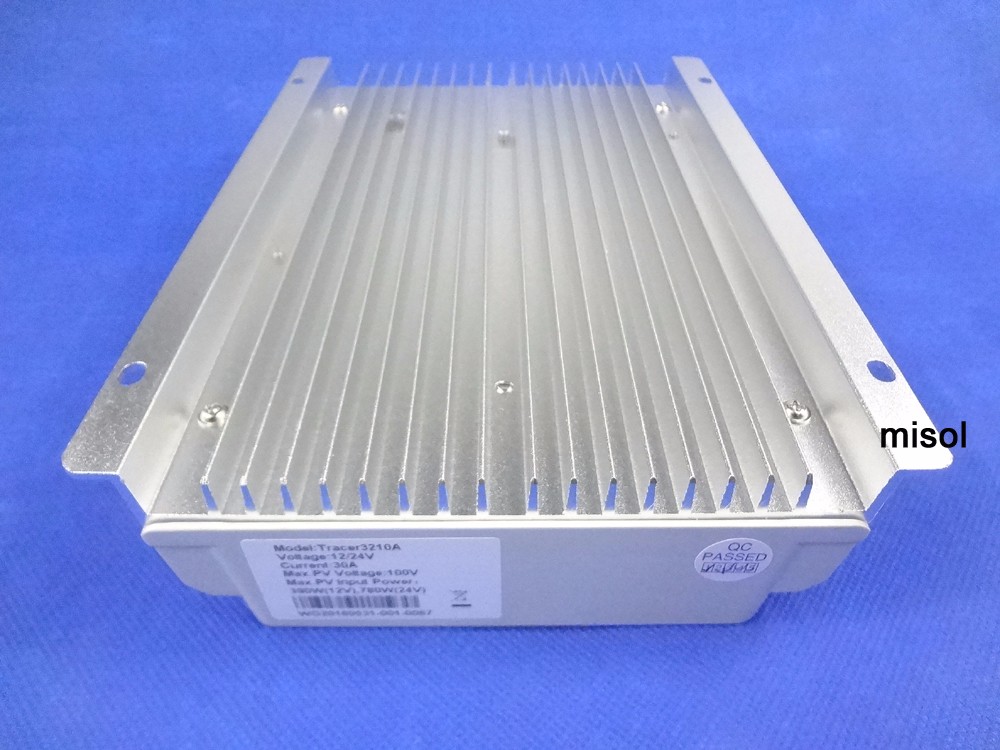 1. RTS port is for connection a RTS (Remote Temperature Sensor) to remotely detect battery temperature. (Optional, RTS is not included in the package)
2. Monitor controller by PC and update controller software via RS485 (RJ45 interface). (optional, the cable connection to PC is not included in the package)
Thank you very much for selecting our product!
Appreciate you for choosing MPPT solar charge controller, Tracer-A series. Based on common positive design and advanced MPPT control algorithm, with LCD displaying running status
With MPPT control algorithm, in any situation, products of this series can fast and accurately track out the best maximum power point (MPP) of photovoltaic array, in order to obtain the maximum solar energy in time, which remarkably improves energy efficiency. There is dual display function: local LCD panel and remote meter. With Modbus communication protocol interface, it is convenient for customers to expand applications and monitor in various fields like telecommunication base station, household system, street lighting system, wilderness monitoring system, etc.
?

Advanced maximum power point tracking technology (

MPPT

) to optimize using the solar system, with efficiency no less than 99.5%..
?

Ultra-fast tracking speed and guaranteed tracking efficiency.
?

Accurately recognizing and tracking of multiple power points.
?

Reliable automatic limit function of maximum PV input power, ensuring no overload under any circumstance.
?

Wide MPP operating voltage range.
?

12/24VDC

automatically identifying system voltage.
?

LCD panel display design, dynamically displaying tool's operating data and working condition.
?

Multiple load control modes: manual control, light ON/OFF, light On+Timer and test mode.
?

Support 3 charging preprogram options for

battery: Sealed, Gel, Flooded.
?

Battery temperature compensation function.
?

Real-time energy statistics function.
?

With RS-485 communication bus interface and Modbus communication protocol, it is available to meet various communication requirements in different situations. (

Optional

, the cable connection to PC is not included in the package)
?

external display unit

(MT50), realizing real-time data checking and parameters setting. (

optional

)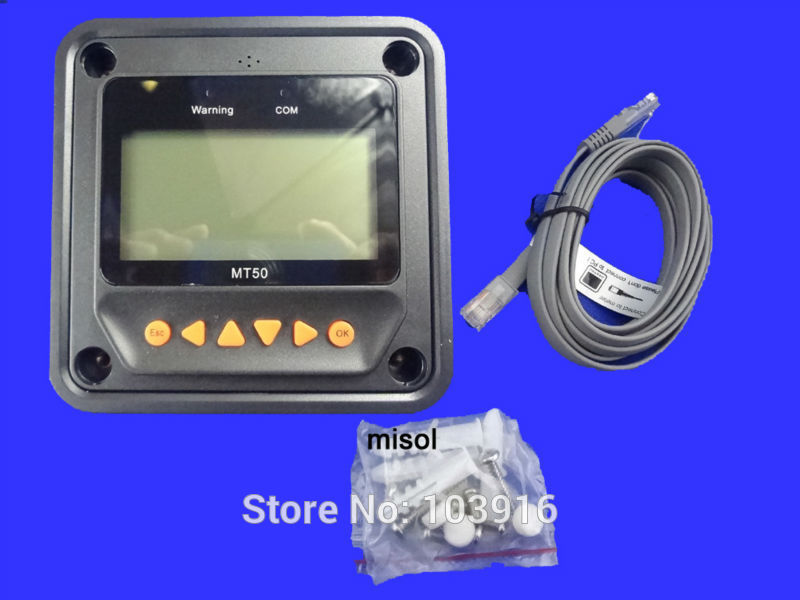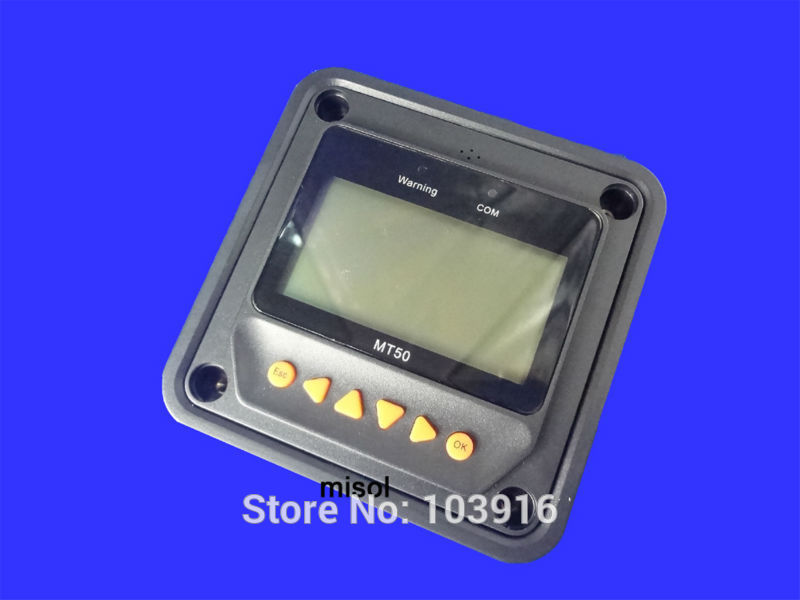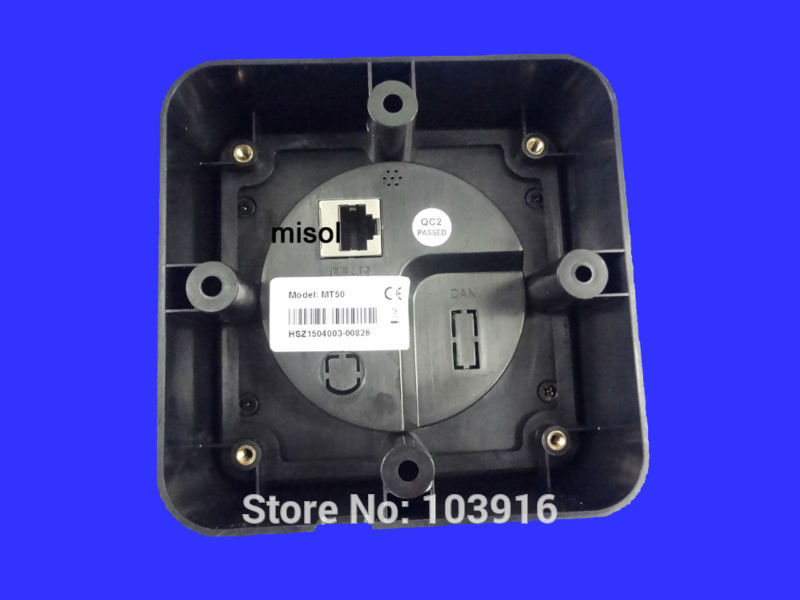 Solar Module MPP Voltage(17V, 34V, 68V) / Nominal System Voltage(12V)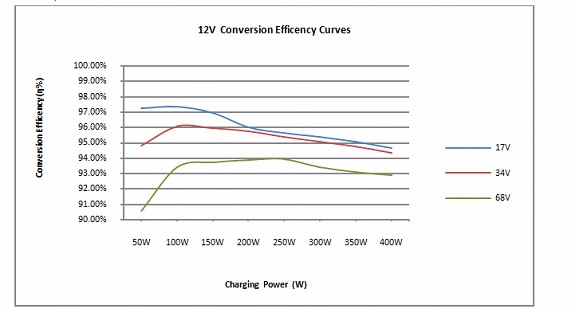 Solar Module MPP Voltage(34V, 68V) / Nominal System Voltage(24V)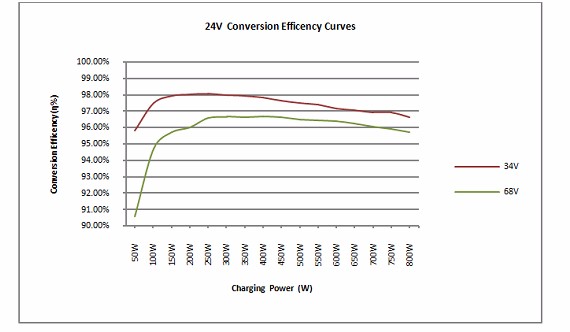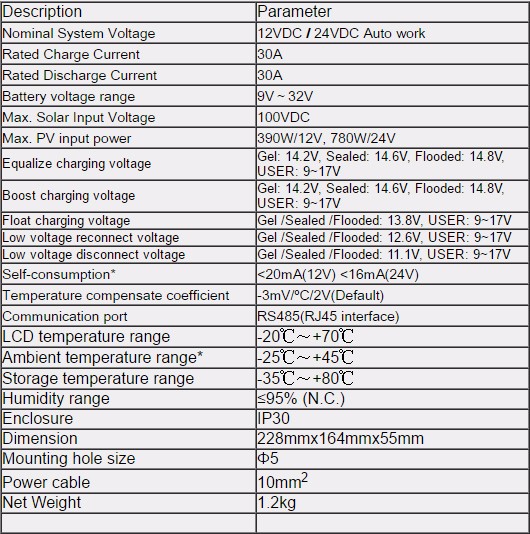 Product Dimension in unit (mm)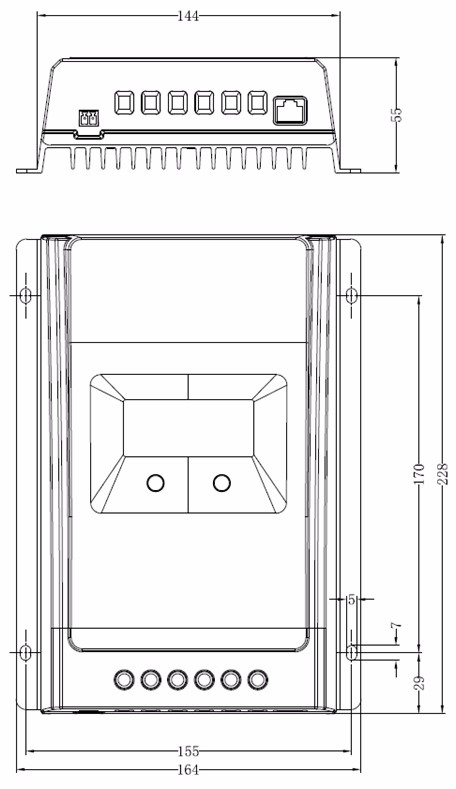 Overview of remote meter(MT50):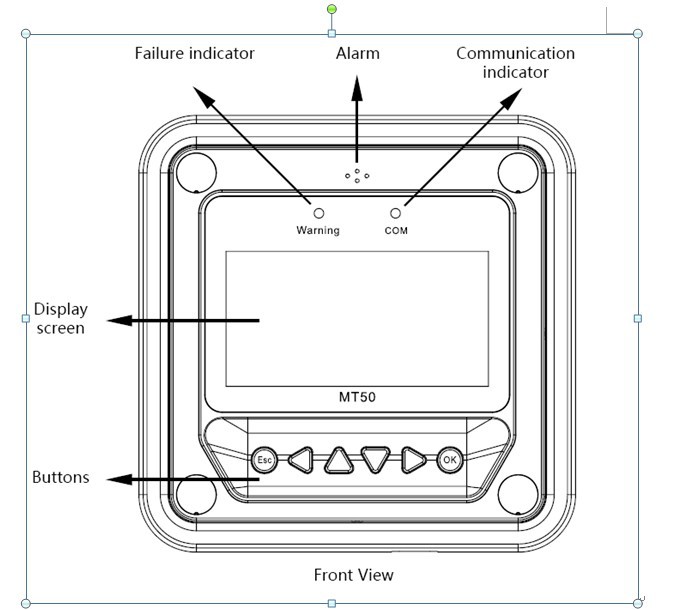 ■ Automatic identify and display the type, model and relevant parameter data of controllers;
■ Real-time display the operational data and working status of the connection devices in digital, graphic and textual forms by a large-screen multifunction LCD;
■ Direct, convenient and rapid operation of six navigation function keys;
■ Both data and power flowing on the same lead, no need for external power;
■ Real-time data monitoring and remote load switchover of the controllers, and data browse and modification of device parameters, charge control parameters and load control parameters;
■ Real-time display and acoustic alarm of failure information of the connection devices;
■ Light on/off + timer (control the working time)
■ The password of the solar charge controller could be modified by the control panel of this remote meter.
■The current failure information of the solar charge controller could be displayed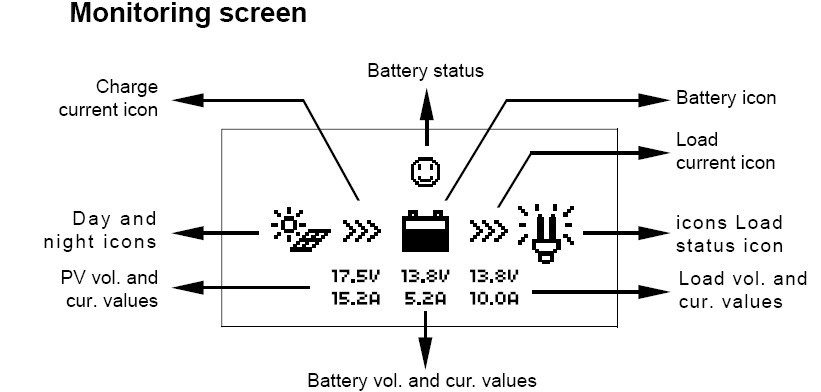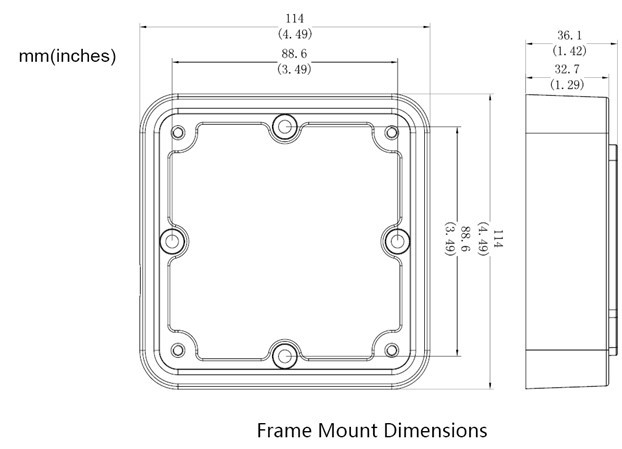 Payment
· Please pay within 3 days after auction.
· Please contact us for your payment if you have any problem.
Terms of sale
· Positive Feedback is our life. Before you leave a neutral or negative feedback, please contact us first to get a better solution. We care our valued customers. So if you have any problems, please contact us immediately. Please give us the opportunity to resolve a problem. We understand the concerns and frustrations you might have and try our best to resolve the issues. Leaving neutral or negative feedback cannot solve the problems.
Delivery details
· Your item will be shipped within 48 hours in business days if payment for the order is cleared before 8PM PST daily (except Saturday, Sunday and Holidays). If there's an exception, we will inform you.
· Buyer, as the importer, is responsible for paying the customs clearance cost or related TAX.
About us
· Welcome to our store. We are specialized on Energy Saving electronics: Solar water heater and controllers, pump stations, solar charge controller, inverter, SOLAR Lamps, etc.. Please visit us often. We are pleased to work with you!
Contact us
· All communication is handled through emails and ALI message. We strive to answer all emails as quickly as possible.