MPPT 150/60D 60A Solar Charge Controller 12V/24V/36V/48V Auto Max 150V Solar Panel Battery Charge Regulator with LCD Display
>>Untra-fast Maximum Power Point Tracking (MPPT)
Especially in case of a clouded sky, when light intensity is changing continuously, an ultra fast MPPT controller will improve energy harvest by up to 30% compared to PWM charge controllers and by up to 10% compared to slower MPPT controller.
>>Advanced Maximum Power Point Detection in canse of partial shading conditions
If partial shading occurs,two or more maximum power points may be present on the power-voltage curve.Conventional MPPT's tend to lock toalocal MPP,which may not be the optimum MPP.The innovative fangpusun algorithm will always maximize energy harvest by locking to the optimum MPP.
>>Outstanding conversion efficiency
No cooling fan.Maximum efficiency exceeds 98%.
>>Flexible charge algorithm
Fully programmable charge algorithm(see the software page on out website),and eight preprogrammed algorithms,selectable with a rotagy switch(see manual for details)
>>Extensive electronic protection
Over-temperature protection and power derating when temperature is high.

PV short circuit and PV reverse polarity protection.

PV reverse current protection.
?
>>Internal temperature sensor
Compensates absorption and float charge voltage for temperature
>>Display
Graphical LCD display
>>Operation
Simple menu-driven operation
Programming by buttons
>>Certificate
?
>>Maximum Power Point Tracking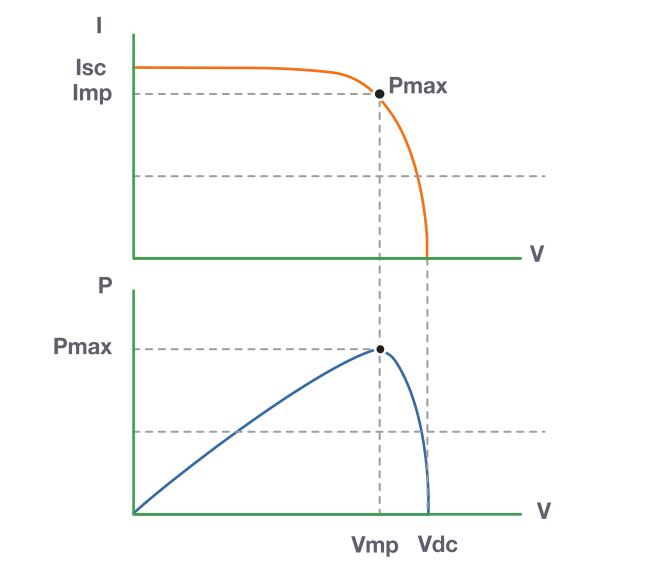 1.Upper curve:
Output current (I) of a solar panel as function of output voltage (V).
The maximum power point (MPP) is the point
Pmax along the curve where the product I x V reaches its peak.
2.Lower curve:
Output power P=I x V as function of output voltage.
When using a PWM (not MPPT) controller the output voltage of the solar panel will be nearly equal to the voltage of the battery , and will be lower than Vmp.
>>Specification
Solar Charge Controller

MPPT 150/60D

System voltage

12/24/48V Auto Select(Only Factory setting 36V)

Maximum output current

60A

Maximum PV Power , 12V

860W

Maximum PV Power , 24V

1720W

Maximum PV Power , 48V

3440W

Maximum PV open cricuit Voltage

150V absolute maximum coldest conditions.145V start-up operating maximum

Maximum efficiency

98%

Self-consumption

20mA

Charge voltage "absorption"

Default setting:14.4V/28.8V/43.2V/57.6V(adjustable)

Charge voltage 'float'

Default setting:13,8V/27,6V/41.4V/55.2V(adjustable)

Charge algorithm

multi-stage adaptive

Temperature compensation

-16mV/°C resp.-32mV/°C

Protection

Battery reverse polarity (fuse)/Oupt ut short circuit / Over temperature

Operating temperature

-30 to + 60°C (full rated output up to 40°C)

Humidity

95%,non-condensing

Enclosure

PV terminals 2)

35 mm2 /AWG 2(Tr models)

Battery terminals

35 mm2 /AWG 2

Protection category

IP43(electronic components),IP22(connection area)

Weight

3kg

Dimensions(X x Y x Z)

Tr models:248×178×103 mm

Standards

Safety

IEC 62109-1-2010
>>Item Show