MPPT 30A 12V 24V Solar Charge Controller LCD Display with Real-time Energy Statistics Function for Liquid and GEL Battery NEW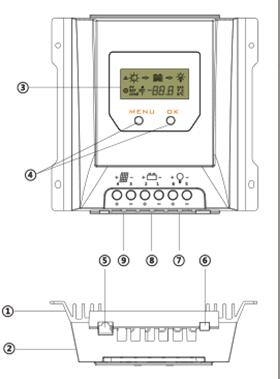 1) Heat Sink
--dissipate controller heat
2) Plastic Case
--Internal protection
3) LCD
--Display settings and operating status,system parameters
4) Key:MENU,OK
--Set and view the operating parameters
5) Two USB interfaces
--Output 5V,2A
6) Temperature Sensor Port
--Collect temperature information,Temperature compensation.
7) Load Terminals
--Connected load.
8) Battery Terminals
--Connect the battery
9) Solar module terminals
--Connected solar modules.
Magic series solar controller on based on an advanced maximum power point tracking(MPPT) technology developed,dedicated to the solar system,the controller conversion efficiency up to 97%.
Features:
1) Innovative Max Power Point Tracking(MPPT) technology,tracking efficiency >99%.
2) Full digital technology,high charge conversion efficiency up to 97%.
3) LCD display design,read operating data and working condition easily.
4) Real-time energy statistics function.
5) 12V/24V automatic recognition.
6) Liquid and GEL battery for selection
7) External temperature sensor, automatic temperature compensation.
8) Built-in temperature sensor,when the temperature exceeds the set value ,the charging current will lower down followed by the decrease of temperature,so as to control the controller's temperature rise.
9) Four stages charge way:MPPT,boost,equalization,float.
10) With current-limiting charging mode,when the power the charging power,which enables the system to work under the rated charging current.
11) Multiple load control modes:Standard,Dusk to Dawn,Timer and test mode.
12) Two USB interfaces(EU Series).
13) Based RS-485 standard Modbus protocol,to maximize their communication need of different occasions.
14) Perfect EMC & thermal design.
15) Full automatic electronic protect function.
LCD: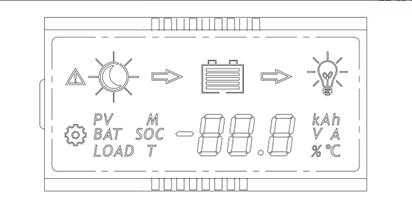 Status Description: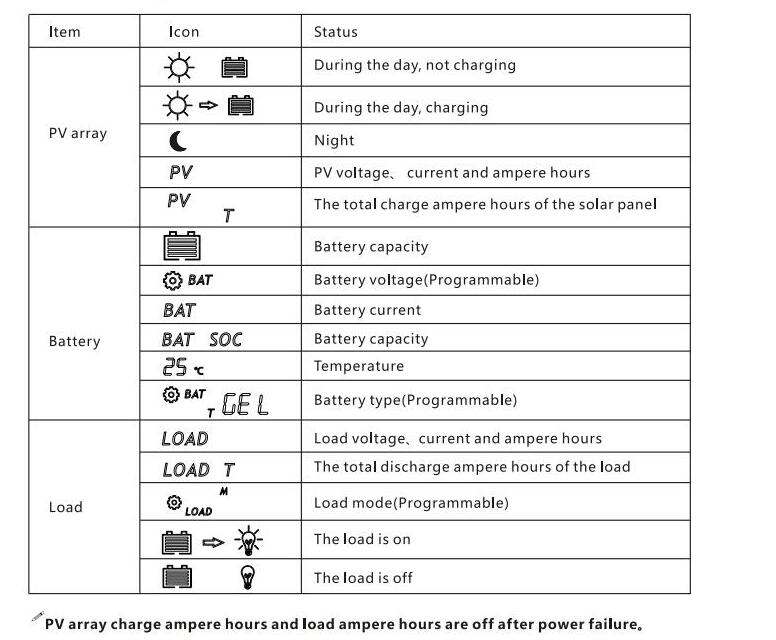 Data:
?
Item

MT1050 EU

MT2075

MT2010

M 3075

MT3010

Battery Parameters

System Voltage

12 V/24 V automatical recognization

Max Charging Voltage

10A

20A

30A

MPPT Charging Voltage

< 14.5 / 29.0V @25°C

Boost Voltage

14.5 / 29.0 V @25°C

Equalization Voltage

14.8/29.6 V @25°C (Liquid)

Float Voltage

13.7 / 27.45 V @ 25℃

Low Volt.Disconnect

10.8~11.8 V/ 21.6~23.6 V,SOC 1~5

Reconnect Voltage

11.6~12.8 V/23.2~25.6 V

Overcharge Protect

15.5/31.0V

Max voltage on Batterminal

35V

Temp.Compensation

-4.17 mV / K per cell ( Boost,Equalization)

-3.33mV / K per cell (Float)

Battery Type

Liquid,Gel

Panel Parameters

Max volt on PV terminal

45 V

55 V

90 V

55 V

90 V

Max input power

130 W

260/520 W

390/780 W

Dusk / Dawn detect volt.

8.0 / 16.0 V

MPPT tracking range

(Battery Voltage + 1.0)~ Voc *0.9

Load

Output Current

10 A

20 A

30 A

USB interface

5 V,2 A

------------

Work mode

Standard, D2D ,Street lamp mode(2~9 hours)

System Parameters

Max tracking efficiency

>99.9%

Max charge conversion

96.5%

97.0%

Dimensions(mm)

189*96*53

189 x 182 x 58

Weight

480 g

1000g

Self consumption

7mA

Ambient temperature

-20 ~ + 50°C

Storage temperature

-25 ~ + 80°C

Ambient humidity

0 ~ 100% RH

Protection degree

IP 32

Max Altitude

4000 m
Pictures: