PWM Solar charger controller 30A 12V/24VDC Automatic identification system
Product description
The controller applies to the solar net division system (independent system). It can control the electrical charge and discharge process automatically. The discharge process of the storage battery has been optimized thus it can increase the lifetime of the storage battery and improve the function of the system. The thorough electronic protection function can keep the controller away from damage when the users install it error or the system is in bug.
Function:
1. Systematic voltage auto-identification
2. MCU design with high speed and excellent performance
3. Nice heat dissipation and electromagnetism compat design
4. PWM charging main circuit which increased the power using time thus leads to the longer lifetime of the system
5. The controller adopted the LCD liquid crystal display and doubles key human-computer interface, the integrated menu display and operation.
6. Humanized browse interface makes the operation more convenient.
7. Use the MOSFET switch, without any machinery switch
8. The intelligentize battery electric quantity indicator which makes the user check the battery working condition easier.
9. Plumbic acid seal, the alternation between the two colloid batteries.
10. The temperature conductor is installed outside which has the high precision temperature compensation
11. Electrical leakage storage function, without the repeated set which makes the usage convenient
12. The visual LED display which can let the user get to know the conditions of solar energy and the load.
13. The overcharge, discharge and overload protection; electronic circuit protection and the battery fraud connection protection.
14. Lightning protection.
The controller panel figure: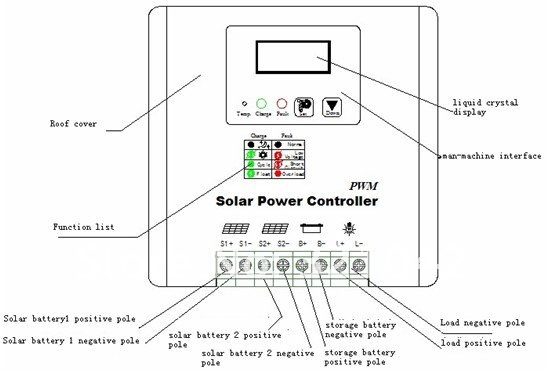 Wiring figure:
Controller installing and use:
The controller should be installed firmly, the sizes are as follows:
Outline size and installing size figure: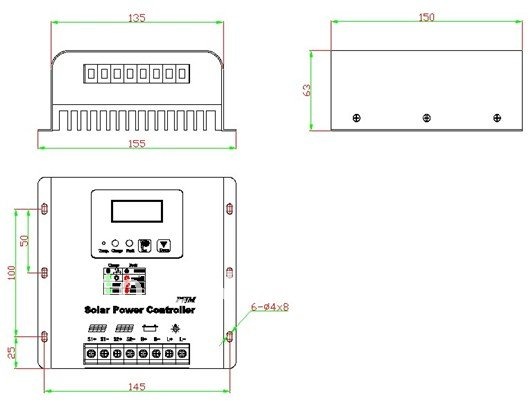 1. Wire preparation: ensure the wire length firstly; try to minimize the wire length as much as possible to reduce the electricity loss after ensuring the install location.
2. Connect the storage battery first, note the positive and negative poles, and do not connect error. If connect error, the indict light of the controller do not have any signal. But it will not make any damage to the internal units of the controller. If connect right, the liquid crystal will have the initialized interface.
3. Connect the solar energy battery wire second, note the positive and negative poles, and do not connect error. If there exists light, the CHARGE light will light or blink after 10 seconds. If not, check the connection.
4. Connect the load at last, connect the LED light or DC load with the output positive and negative poles of the controller. Note the positive and negative poles, and do not connect error to prevent the equipment from been burnt.