Spiral Stainless Steel Immersion Heater Copper Head Distilled Water Heating Element 80mm Tube Height 220V 380V 2500W 3000W 4500W
| | | | | | | | |
| --- | --- | --- | --- | --- | --- | --- | --- |
| Tube Height | Thread Diameter | Tube Diameter | Voltage | Power | Tube Material | Thread Material | Centrel Distance |
| 80mm | M16 | M10 | 220V | 2500W | 201 SUS | Copper | 40-50mm |
| 80mm | M16 | M10 | 380V | 2500W | 201 SUS | Copper | 40-50mm |
| 80mm | M16 | M10 | 220V | 3000W | 201 SUS | Copper | 40-50mm |
| 80mm | M16 | M10 | 380V | 3000W | 201 SUS | Copper | 40-50mm |
| 80mm | M16 | M10 | 220V | 4500W | 201 SUS | Copper | 40-50mm |
| 80mm | M16 | M10 | 380V | 4500W | 201 SUS | Copper | 40-50mm |
Besides above models, if you need other models, it can be customized according to your request, but please offer your request, including:
Material/Voltage/Power/Sizes as following picture(L/D/H)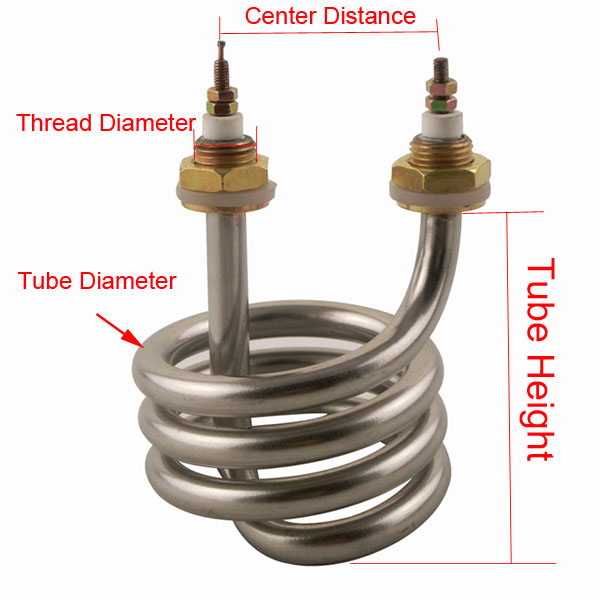 Please note: Under the confidtion of insulation, the International Starndard for the heater power accept allowance -10%~+5%. If you care about it, please do not make order. Thanks.