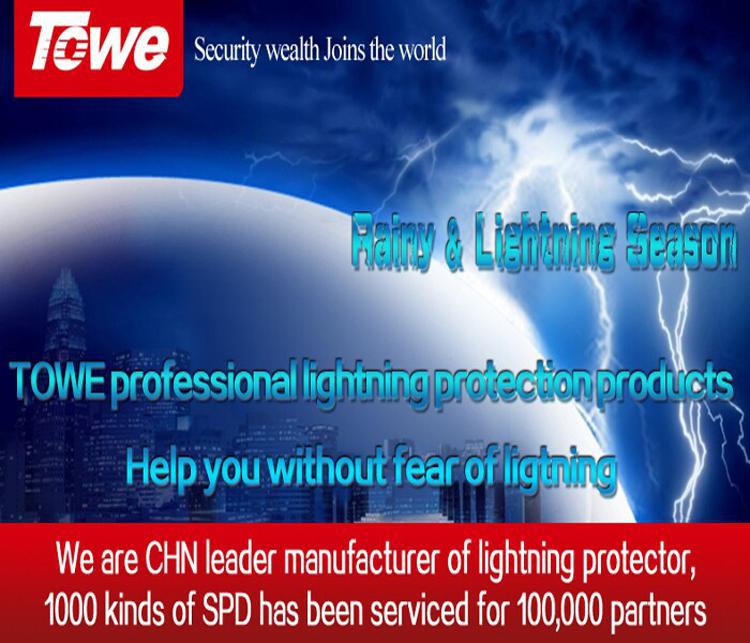 Application
LPZ 1-2 or higher interfacial area for lightning area, generally used for distribution of electricity or UPS front of the building for the second stage (C) Overvoltage

Products Type
TPS C40 1P+N TPS C40 2P TPS C40 3P+N TPS C40 4P TPS C40 3P
TPS C40 series of low-voltage distribution system surge protector designed to suppress the surge voltage electrical device designed with a surge protection device is a combination of modular functions, and protect electrical installations and equipment installed in its downstream (eg EDP systems, communication systems, etc.) from damage due to surge switching, electrostatic discharge, induction or direct lightning strike lightning generated, each maximum discharge current of up to 40KA, for the second stage of low-voltage distribution systems protection.
TPS C40 can be used LPZ 1-2 or higher interfacial area lightning area, generally used for building or distribution box for UPS into the line side of the second level (C) overvoltage protection.
According to IEC 61643-1 and above GB18802.1-2002 selection. Main features:
through flow, residual voltage, fast response, no freewheeling
Built-in thermal tripping device, so protection from overheating, breakdown failure can automatically disconnect
The modular design
Standard 35MM rail mounting, very easy to install and maintain
window color display working status, normal green, red, indicating failure of the product
optional with remote communication terminals for remote alarm control

| | | |
| --- | --- | --- |
| 3P With remote schematics | 4P Schematics | 3P+N Schematics |
roducts Size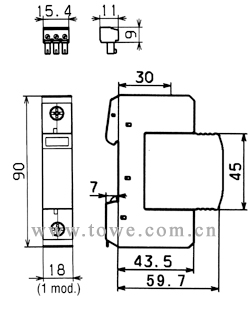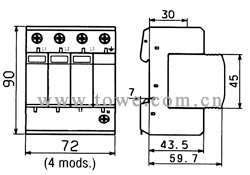 Individual modules and remote communication terminal dimensions Figure 3P + N/4P Dimensions Figure
Type
TPS C40
TNC
TNS
TT
L-N
N-PE
Rated Voltage
Un
230 V

-

50 Hz
Max.Operation voltage
Uc
385V/50Hz
255V/50Hz
Nominal discharge current

(

8/20)
In
20 kA
Max.discharge current

(

8/20

)

Imax
40 KA
40 KA
Voltage protect level
Up
≤1.8kV

≤1.2kV
Responce Time
tA
25 ns

100 ns
Maximum fuse intensity

125AgL/gG
—
Short-circuit current fuse strength
25kA/50Hz

—
Operation temperature
T
- 40+ 80
Insulation resistance
Risol
1000MΩ
Protect level
IP 20
Shell material
Gray glass fiber reinforced plastic
Installation
35mmElectrical installation guide to install a standard module width, 35mmDIN-rail, 1 modulo number
Installation conductor
Cross-sectional area
2.5

-

25 mm2
2.5

-

35 mm2
2.5

-

16 mm2
TPS C40 or higher for LPZ 1-2 region lightning interface area, generally used for building or distribution box for UPS into the line side of the second level (C) overvoltage protection. By choosing one or two modules may constitute 2P, 3P, 4P, 1P + N, 3P + N and other combinations, to achieve the TT, IT, TN-S, TN-C and TN-C-S power supply system provides surge overvoltage protection.
Product Installation
Usually installed in the distribution box office, the power phase line (L), neutral (N), respectively, corresponding surge protectors access terminals to ensure secure and reliable, and the surge protector ground terminal and ground as well electrical connection.
Product Maintenance
Surge protectors should regularly check the work, such as the protection window turns red indicating the deterioration of its front open space, when the fuse is tripped, timely maintenance or replacement module.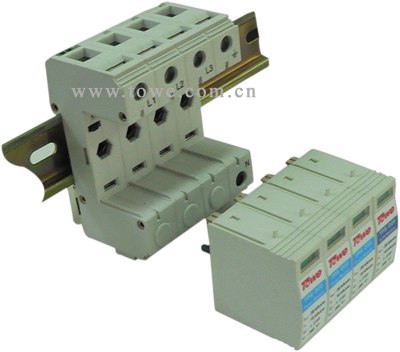 Surge protectors equipped with hot-swappable modules for easy maintenance and replacement

Failure to replace the surge protector modules.




Power surge protector alarm remote communication terminal and use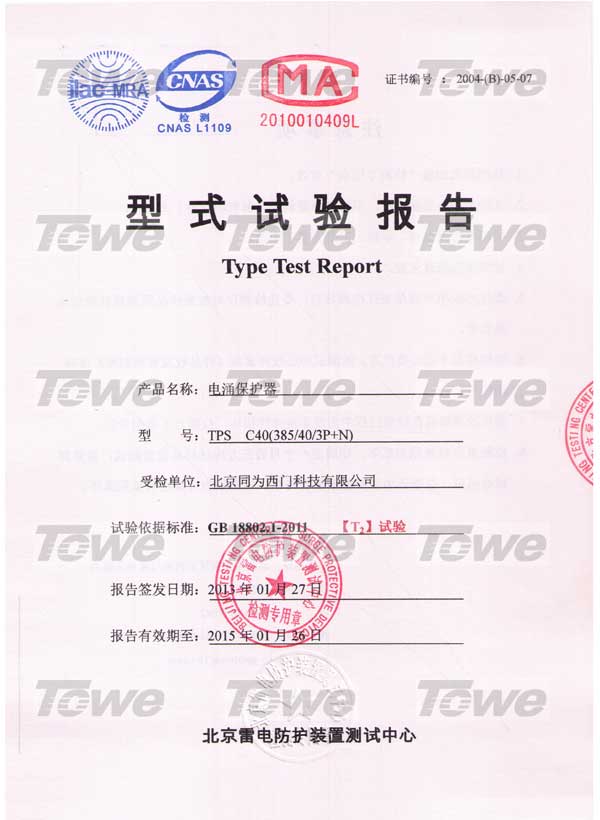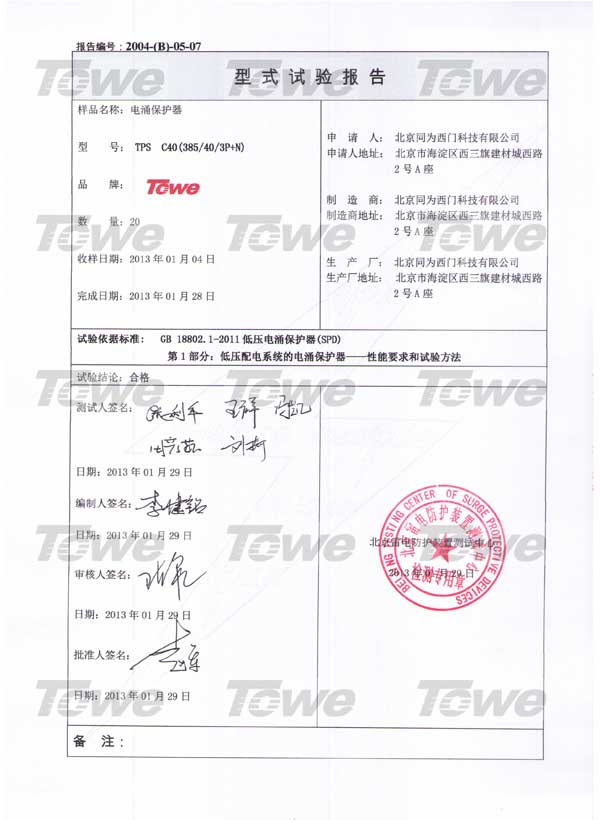 Series
Item
Type
Description
*1
20020
TPS C40 1P+N
Single-phase overvoltage protector,1+1 protect mode

with NPE
*2
20021
TPS C40 2P
Single-phase overvoltage protector
*3
20022
TPS C40 3P+N
Three-phase overvoltage protector,3+1 protect mode

with NPE
*4
20023
TPS C40 4P
Three-phase overvoltage protector
*5
20024
TPS C40 3P
Three-phase overvoltage protector, applicable in TN-C,IT