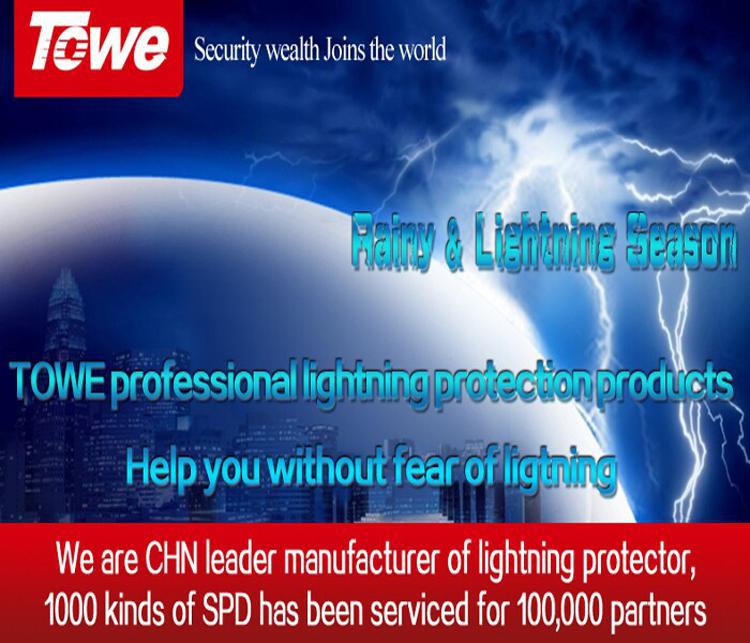 Products Description
TTS RJ45 1000M six twisted pair Ethernet data communications surge protector
Applied to the lightning region LPZ1- LPZ2 partition interface, providing full protection line 8. TTS-RJ45-E1000 / 8S can protect a 1000M Ethernet standard twisted-pair cable, RJ45-8E, 16E, 24E, respectively protection 8, 16 and 24 twisted-pair Ethernet standard six-way 1000M
Products Type
TTS-RJ45-E1000/8S TTS-RJ45-16E-1000M TTS-RJ45-24E-1000M TTS-RJ45-8E-1000M
Products Introduction
TTS RJ45 E1000/8S six Ethernet data line surge protector according to TIA / EIA 568B-2.1 and ISO / IEC 11801 standard design, E-Class is six cable or Ethernet cable structured cabling systems and other similar applications ideal the fully shielded surge protector. Universal RJ45 connection port, the product can be easily connected in front of the protected equipment; quality, high discharge capacity of surge protection devices and low capacitance, ultra-fast recovery diode matrix structure that provides high energy level protection for data lines coarse low energy and fine protection, which effectively absorbs and transfers the energy generated by lightning and surge impact and energy through the grounding cable into the earth, and ultimately protect sensitive electronic equipment from damage. Products with good frequency transmission characteristics, high-pass flow and fast response speed, can be widely used in office and industrial premises network cabling and similar data communication systems, such as the 1000M Ethernet, ATM, ISDN, VoIP network, PoE systems.
Product Features:
1 core device selected by an international brand, 8-wire full protection, superior performance, lightning fast response, can effectively prevent the various frequencies of lightning
2 multi-level protection, lightning currents can fight 5kA, and after testing authority, in accordance with international and domestic standards
3 insertion loss, when the 1000M is less than 0.3dB, guaranteed to reach 1000M rate
4 workmanship, easy to install, can be connected to a standard rail card, easy maintenance and management
TTS-RJ45-E1000/8S Schematics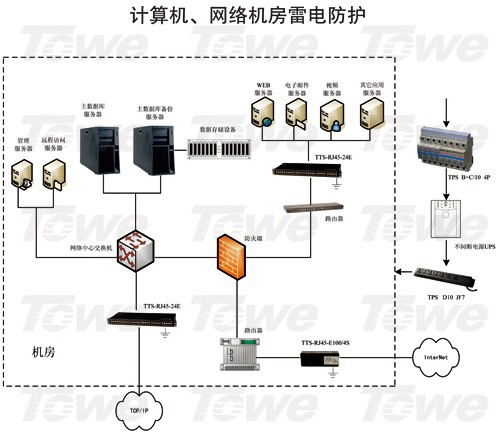 TTS-RJ45-16E-1000M
TTS-RJ45-24E-1000M
Size Chart
TTS-RJ45-E1000/8S

RJ45-16/24E-1000M Size

Technical Data

| | | |
| --- | --- | --- |
| Type | Input | TTS-RJ45-E1000 /8S |
| Nominal Voltage | Un | 48V |
| Max.Countinous operation voltage | Uc | 48V- / 34V |
| | IL | 200mA |
| C2 line - the line between the nominal discharge current (8/20μs) L-L | In | 100A |
| C2 Total nominal discharge current 8/20μs | In | 10kA |
| C2 line - between the ground nominal discharge current 8/20μs L-PG | In | 2.5kA |
| C2 IN voltage protect level L-L | Up | ≤130V |
| C2 IN voltage protect level L-PG | Up | ≤600V |
| Insert Loss 250MHz | | 0.3dB |
| Max.transfer speed | Vs | 1000M/s |
| Responce Time | tA | <1ns |
| protecting core wire | | 1/2, 3/6, 4/5, 7/8 |
| Protect level | | IP20 |
| Input / output interface | | RJ45 |
| Installation Rail | | 15mm |
| Operation Temperature | T | - 20+ 50 |
Applications
TTS-RJ45-E1000/8S primarily for a single Gigabit Ethernet port for surge protection, suitable for protecting a single computer or server, RJ45-8E/16E/24E protection respectively 8, 16 and 24 Gigabit Ethernet network standard twisted pair cabling standards applicable to lightning six systems SWITCH, HUB, ROUTER and computer network equipment, or other surge protection
Product Installation
LPZOB-1 interface or higher interface can be installed lightning protection district, while protecting all the way or gigabit network line. When installing wiring, signal data is protected line should be surge current end of the cable and ground wire unprotected contaminated; grounding wire should be grounded via the shortest possible path length not more than 1.5 meters; data cable bending radius not less than 35mm.
Note the direction of the cable out of the installation, there are "IN" and "OUT" sign. "IN" is always a non-protected side, and indicate the direction of voltage that may arise over the protection side "OUT" points to the protected area or equipment grounding conductor by equipotential connections should be installed as close to the equipment to be protected. TTS-RJ45-E1000/8S can be easily mounted on 15/35mm standard rail, RJ45-8E, 16E, 24E product is only one vertical unit height (1U), take up less space, and through 90 °, 180 ° and 270 ° rotating mounting bracket supports a variety of horizontal and vertical installation, particularly suitable for installation in a 19 "rack. attention out of the surge protector cable when installing wiring should be separated to avoid the emergence of a secondary coupling surge.
Product Maintenance
When routine maintenance and overhaul of the product, to measure the resistance between each pair twisted when megohms resistance is an order of magnitude, which means that the product is normal; When the resistance of only a few in Europe, which means that the product has been damaged, must be replaced immediately .
RJ45-E1000/8S wiring diagram
TTS-RJ45-8E/16E/24E network surge protector 19-inch rack installation diagram
DDN Telecom Data Line Protection: RJ45-DDN/4S
1000M Ethernet twisted-pair protection: RJ45-E1000/8S
16/24 port 10/100M Ethernet switch protection: RJ45-16E, RJ45-24E
single-port 10/100M Ethernet network protection: RJ45-E100/4S
Data center / central office network communication protection schematic
Tip: twisted-pair Ethernet surge protector Typically, network switches and servers arranged in the same room, and the close proximity, it is usually installed in the HUB Network mine entrance end, so you can protect the switch and server. If the port install surge protectors only NIC server, the server can only protect switch is still dangerous lightning surge invasion. For the possibility of being struck by lightning surges overhead lines maximum, this case should be separately install surge protectors in the home network at both ends.
Order information
| | | |
| --- | --- | --- |
| Item no. | Type | Specification |
| 30051 | TTS-RJ45-E1000/8S | 1000M Single-port Ethernet network protection |
| 30052 | TTS-RJ45-16E-1000M | 1000M 16 Ethernet Network Protection, 19 "standard rack mount |
| 30053 | TTS-RJ45-24E-1000M | 1000M 24 Ethernet Network Protection, 19 "standard rack mount |
| 30054 | TTS-RJ45-8E-1000M | 1000M8 Ethernet network protection, 19 "standard rack mount |