Tracer 3215BN 30A MPPT Solar Charge Controller 12V/24V Auto Solar Panel Battery Charge Regulator with EBOX-WIFI and MT50 Meter
>>Overview
Thank you for selecting the Tracer-BN series controller which represents advanced technology of our company.The Tracer-BN series controller is for off-grid solar system and control the charging and discharging of the battery. The controller features a smart tracking algorithm that maximizes the energy from the solar PV module(s) and charge the battery. At the same time, the low voltage disconnect function (LVD) will prevent the battery from over discharging.
The battery charging process has been optimized for long battery life and improved system performance. The comprehensive self-diagnostics and electronic protection functions can prevent damage from installation mistakes or system faults. In addition, the Tracer-BN series controller has a RJ45 interface to allow communication with other accessory.
MT50 is an optional remote meter to monitor and program EPsolar controller, compatible with:LS-B, LS-BP,VS-BN, Tracer-BN,Tracer-A, eTracer, iTracer.
eBox-WIFI-01 is a kind of serial server which can make our company's solar controller and inverter be with wifi communication function, and carry out wireless monitoring, parameter settings, and etc. for the system only by cooperating with mobile phone APP. Plug and play, simple and convenient set, it has many excellent features.
>>Features
Tracer 3215BN
12V/24V automatic identify or user-defined working voltage.

Excellent heat dissipation. Using the integration of cast aluminum radiator shell, the controller can be natural cooling.

Advanced maximum power point tracking technology to optimize using the solar system. Peak conversion efficiency is as high as 98%.

Lock the MP point fast and the controller provides the industry's highest tracking efficiency of 99%.

Widely used, automatic recognize day or night.

Several load methods are supported to convenient for different demand.

Support 4 charging options: Sealed, Gel, Flooded and User-defined.

Adopting temperature compensation and correcting the charging and discharging parameters automatically, improving the battery lifetime.

Protection: over temperature, over charging, PV and load short, PV (battery) revered, over current protection.

Actual power convenient and record function makes convenience to check the datum every day, every month and every year.

RS-485 ports via the open standard Modbus protocol are supported to meet different occasion of demand.

With supporting PC monitoring software and remote meter MT50, it is convenient to check the real-time data of controllers and set the parameters.

Support firmware update.

CC-USB-RS485-150U,communication cable of EP solar controller , EPEVER controller connected to PC.
?MT50
Automatic identify the controller, and display relevant parameter data

Large-screen informative LCD displays all the operating data and system working status

Simple and convenient operation

Real-time alarm of failure information

Longer communication distance based on RS485

Diversified load control modes : Manual Control, Light ON/OFF, Light ON+ Timer, Time Control

Battery type selection: Gel, sealed, flooded and User(programable)

Programmable parameters

Energy statistics display function
EBOX-WIFI?
controller and inverter

Support mobile phone APP, plug and play, simple and convenient to set

Use high performance CPU with core M4

Ultra-low power consumption and high speed data

processing capability

No need of external power supply

Communication distance up to 50 m

One-key restore the factory settings

Realize wireless monitoring function of sola
?
>>Characteristics: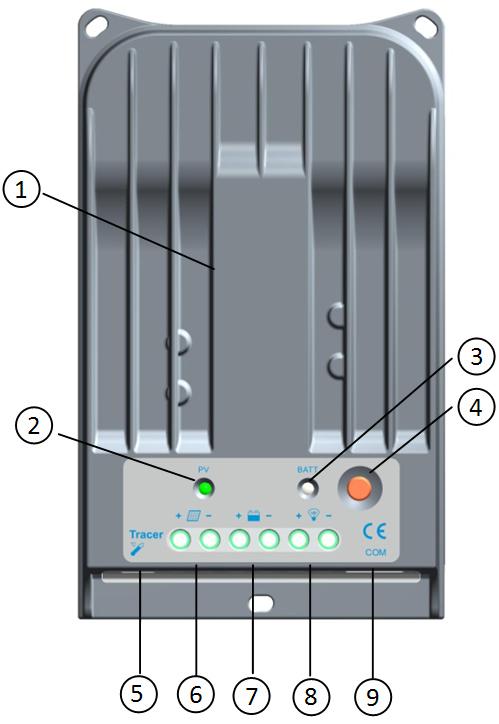 Figure Tracer-BN Series Characteristics
1. – Heat Sink
Cast aluminum heat sink to dissipate controller heat.
2. – Charging LED Indicator
Indicate that the battery is charging or not.
3. – Battery LED Indicator
Show charging status.
4. – Key
Switch the load on/off in the manual mode and clear the part of faults.
5. –Temperature Sensor Port
Connect remote temperature sensor to measure ambient temperature and make temperature compensation for charging and discharging.
6. – Solar Module Terminals
Connect solar modules.
7. – Battery Terminals
Connect batteries.
8. – Load Terminals
Connect loads.
9. – RS-485 Port (RJ45 interface)
Connect with PC or MT50 to monitor or update firmware.
>>Specification
?Item

Tracer 3215BN

Nominal system voltage

12/24V auto work

Rated charge current

30A

Rated discharge current

20A

Max. PV open circuit voltage

150V at minimum operating environment temperature

138V at 25℃ environment temperature

MPP Voltage range

Battery voltage+2V~108V

Max. PV input power

390W/12V 780W/24V

Equalize charging voltage

Sealed: 14.6V, Flooded: 14.8V, USER: 9~17V

Boost charging voltage

Gel: 14.2V, Sealed: 14.4V, Flooded: 14.6V, USER: 9~17V

Float charging voltage

Gel /Sealed /Flooded: 13.8V, USER: 9~17V

Low voltage reconnect voltage

Gel /Sealed /Flooded: 12.6V, USER: 9~17V

Low voltage disconnect voltage

Gel /Sealed /Flooded: 11.1V, USER: 9~17V

Self-consumption

≤60mA(12V) ≤30mA(24V)

Grounding

Common negative

Temp. compensation

-3mV/℃/2V

Communication Port

RS485 / RJ45 interface

Working temperature

-35℃~+55℃

Enclosure

IP30

Net weight

2.3kg

Item

EBOX-WIFI

Input Voltage

5VDC (Direct powered by RS485 port )

Standby power consumption

0.20W

Operation power consumption

0.25W

Communication distance

≤50m

Port baud rate

300bps~230400bps(Default 115200)

Communication

RS485 to WIFI

Interface type

RJ45

Connecting cable

Standard network cable (Parallel cable)

Overall dimension

51*67*24.5mm

Mounting dimension

41.2

Mounting hole size

Φ3.2

Working temperature

-35~75℃

Enclosure

IP30

erwNet weight

39g

Model

MT50

Self-consumption

Backlight and acoustic alarm on<65mA

Backlight on<23mA

Backlight off <15mA

Faceplate dimensions

98×98 mm / 3.86×3.86 in

Frame dimensions

114×114 mm / 4.49×4.49 in

Connector type

RJ45

Meter cable

0.190 Kg

MPP voltage range

VBAT+2V~ 72V

Ambient Temperature

-20℃~+70℃/-4℉~158℉
>>Product Show