It combines solar charge controller and LED constant current driver into one unit which is ideal for solar LED Lighting, especially when dimmer function is needed. The Maximum Power Point Tracking charging methods enables the system charging and discharging management to obtain optimization.
Features:
• Adopt high quality components of ST,IR and Infineon, make sure product using lifespan
• Wide working environment temperature(-40℃~60℃)
• Apply to lithium battery(LiFePO4/Li-NiCoMn)and battery(Sealed/Gel/Flooded)
• Lithium battery self-activating and low temperature protection function
• Maximum conversion efficiency of 98%
• Advanced Maximum Power Point Tracking (MPPT) technology, with tracking efficiency no less than 99.5%
• Ultra-fast tracking speed and guaranteed tracking efficiency
• Accurately recognizing and tracking of multiple power points
• Digital precision constant current control and the control accuracy are less than ±2%
• Load reduce power automatically
• Maximum output efficiency of 96%
• PV and Load power limitation function
• The output current can be adjusted among the rated power and current range
• Monitoring and setting parameter via Mobile APP, PC Monitor setting software with RS485 communication interface.
• Use of standard Modbus communication protocol for RS485 bus connections, communication protocol compatibility much better
• Connecting the IOT(Internet of Things) module and Cloud Server monitoring software to realize remote monitoring of the multi-machine system
• The RS485 connector can provide power supply
• Aluminum housing for better cooling
• Real-time energy statistics function
• IP67 waterproof degree
• Long lifespan design,five years warranty
Load working mode:
• Manual Mode
• Light ON/OFF(Default)
• Light ON + Timer
• Real-time Control
• Intelligent Power Mode
Electronic protections:
• PV reverse polarity protection
• Battery reverse polarity protection
• Battery over Voltage protection
• Battery over discharge protection
• Battery overheating protection
• Load short circuit protection
• Lithium battery low temperature protection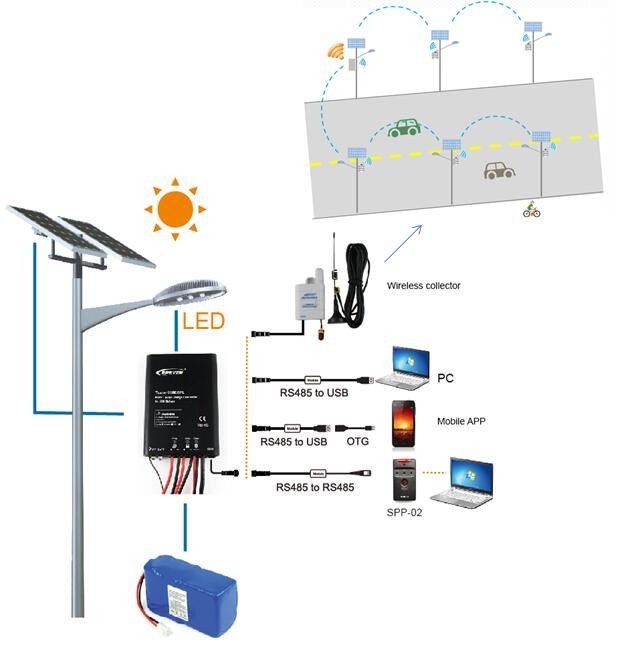 Specification: