A unique design for swimming pool light!
A316 Stainless Steel Plate and Bracket of this LED swimming pool light.
Acide-resistant, alkali resistant and cacable of salt water use.
31.5cm diameter, 4.49cm height, slim and elegant.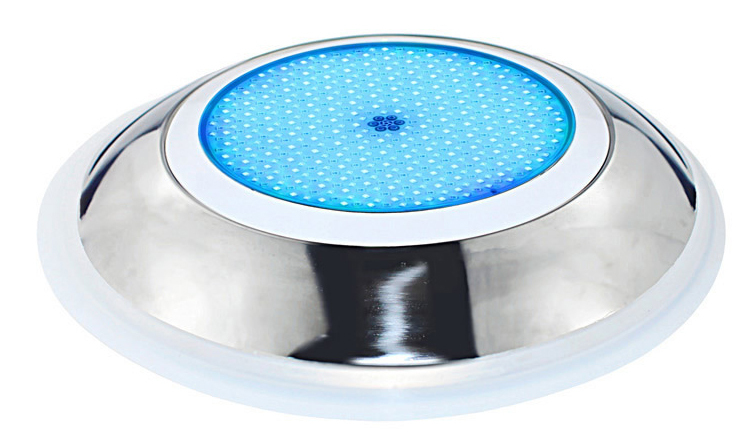 16 Types of Color changing Program.
Switch ON/OFF can change the color program.
Material: Stainless steel 316 +100% Resin+Cable
Low power consumption,high stability of 55W. AC/DC12V.
Lumen:5500LM. constant current drive to the led.
With 4M cable. If you need longer cable, for extra cable is 2USD/meter.
Certification: CE & RoHs, IP68
Warranty: 3 Years
Diameter:31.5cm; Height:4.49cm
We can also make it white or warm white color 60W, price is same to RGB, if you need white or warm white, please leave us a note when you place order.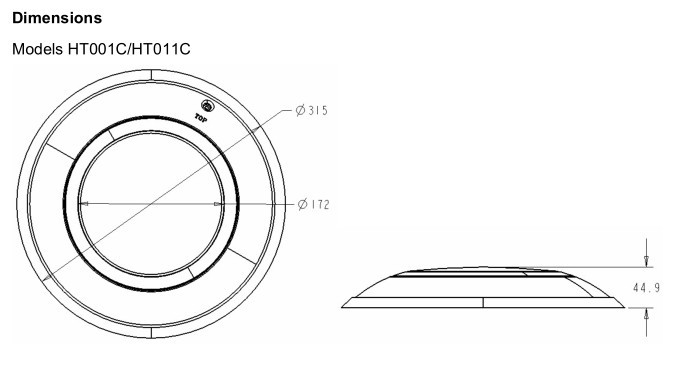 The material of the lamp is Stainless steel 316 which is anti-rust and anti-UV even used in salt water pool.
And the lamp is filled with epoxy inside,which makes it 100% waterproof,with waterproof level IP68.
It's a solid lamp! Forever waterproof!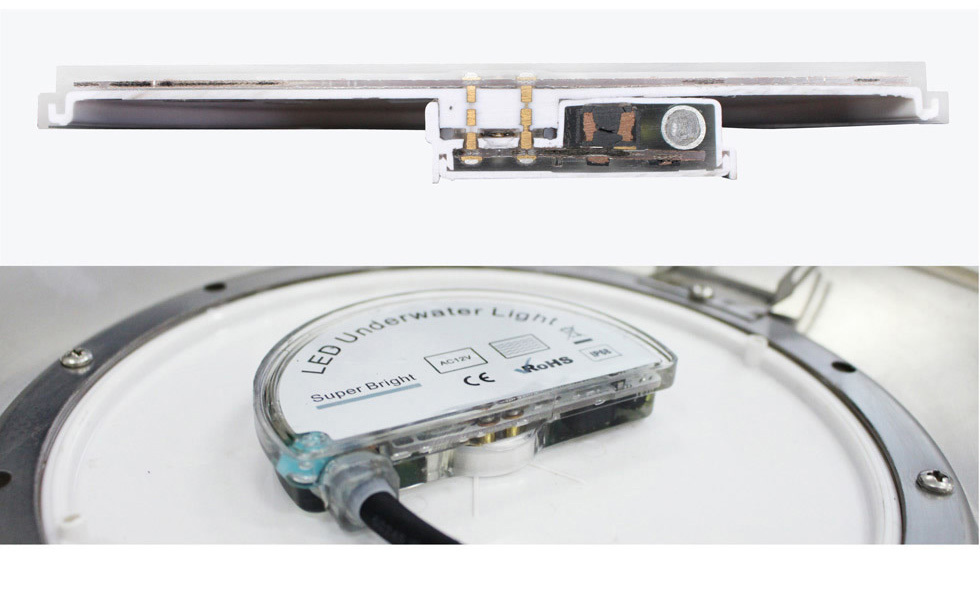 Constant current driving
All LED has consitent color and brightness. With protection of over electricity, electric surge and lightning strike. High stability and long working life.
High temperature protection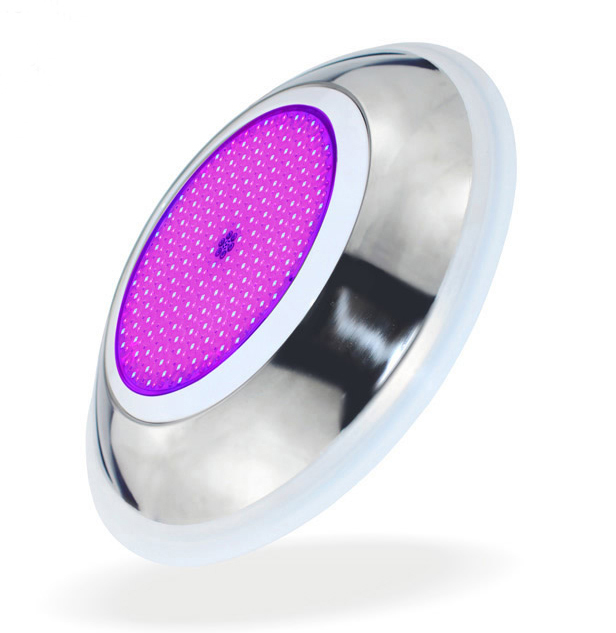 16 Color changing shows
There are total 16 programs of color changing. You can switch the lamp to next show by powering off and powering on. Exciting shows, florid and attractive.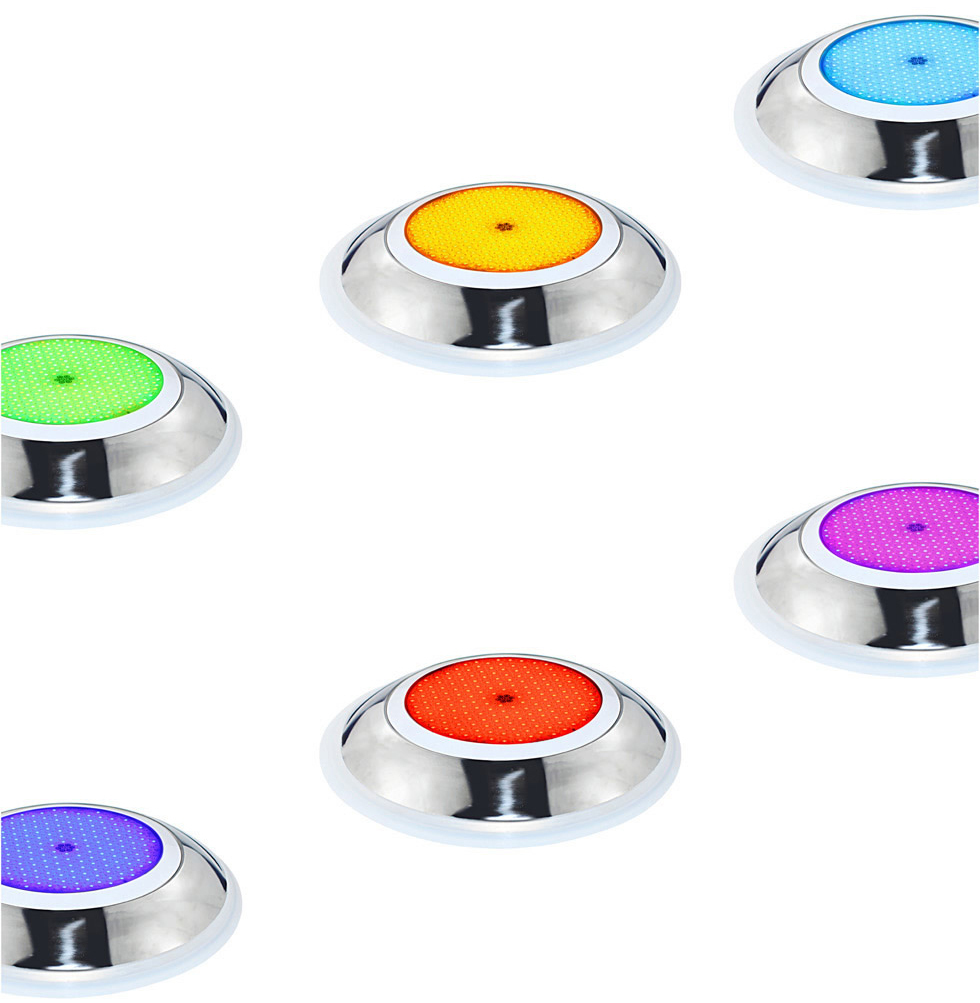 16 Programs of RGB LED Bulbs
1. White: sun white (warm white 3500K)
2. Red: one color red
3. Green: one color green
4. Blue: one color blue
5. Green-blue: fixed color green/blue
6. Red-green: fixed color red/green
7. Blue-red: fixed color blue-red
8. Evening sea: slow animation red/blue
9. Evening rivers: slow animation red/green
10. Riviera: slow animation green/blue
11. White: neutral white (pure white 6000K)
12. Rainbow: slow animation blue/red/green
13. River of colors: program 12, followed by program 15
14. Disco: fast animation
15. Four seasons: slow animation in red/blue/green/violet
16. Party: fast animation
Installation
Wall mounting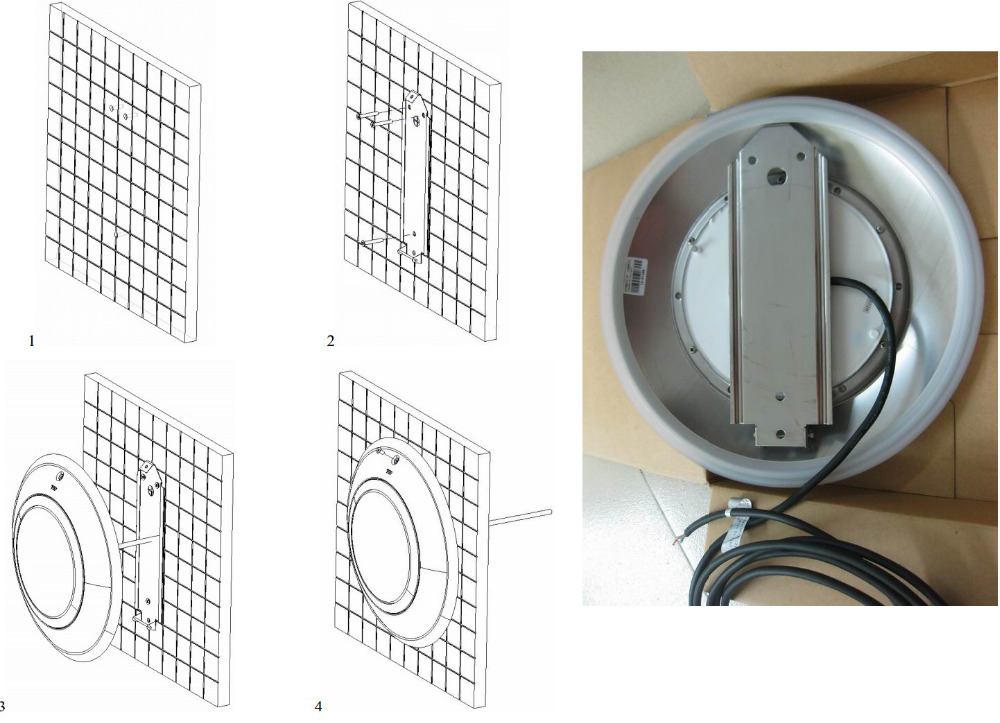 Niche install:
The BEST solution to replace your niche light with the NEWEST wall mounted resin filled lights!
This bracket is designed to install in virtually most niches. With this special bracket, the light can be mounted to most types of existing niches of various brands.
Diameter of this bracket is 270mm, height is 39.5mm. So please make sure your niches size is ok to install this bracket in.
You can also tell us the model of your light, and the size of your niche( diameter and depth), then we will check for you whether you can use this bracket to replace your niche light.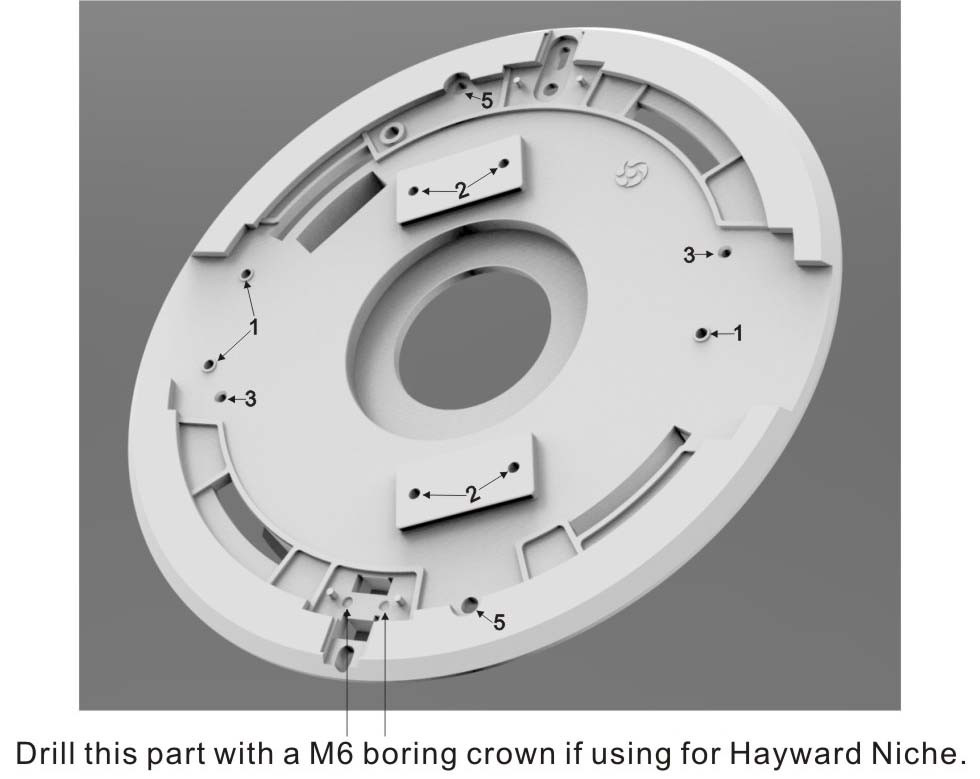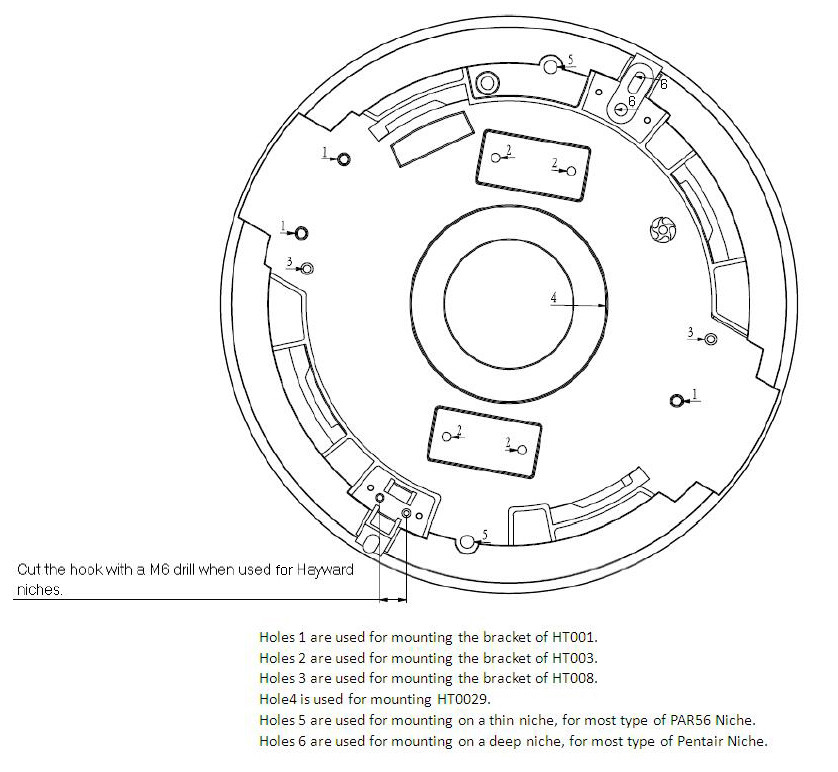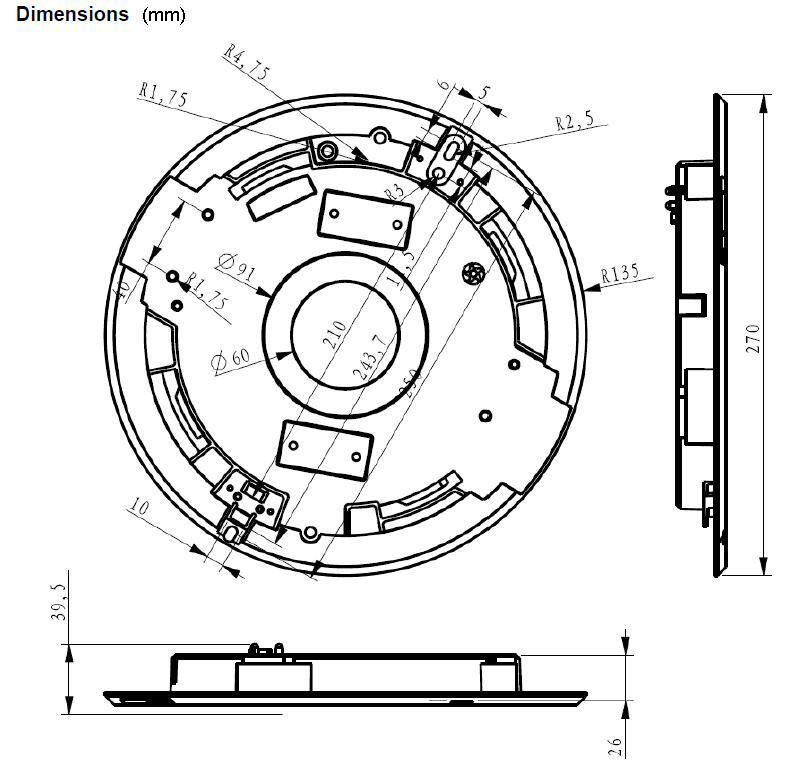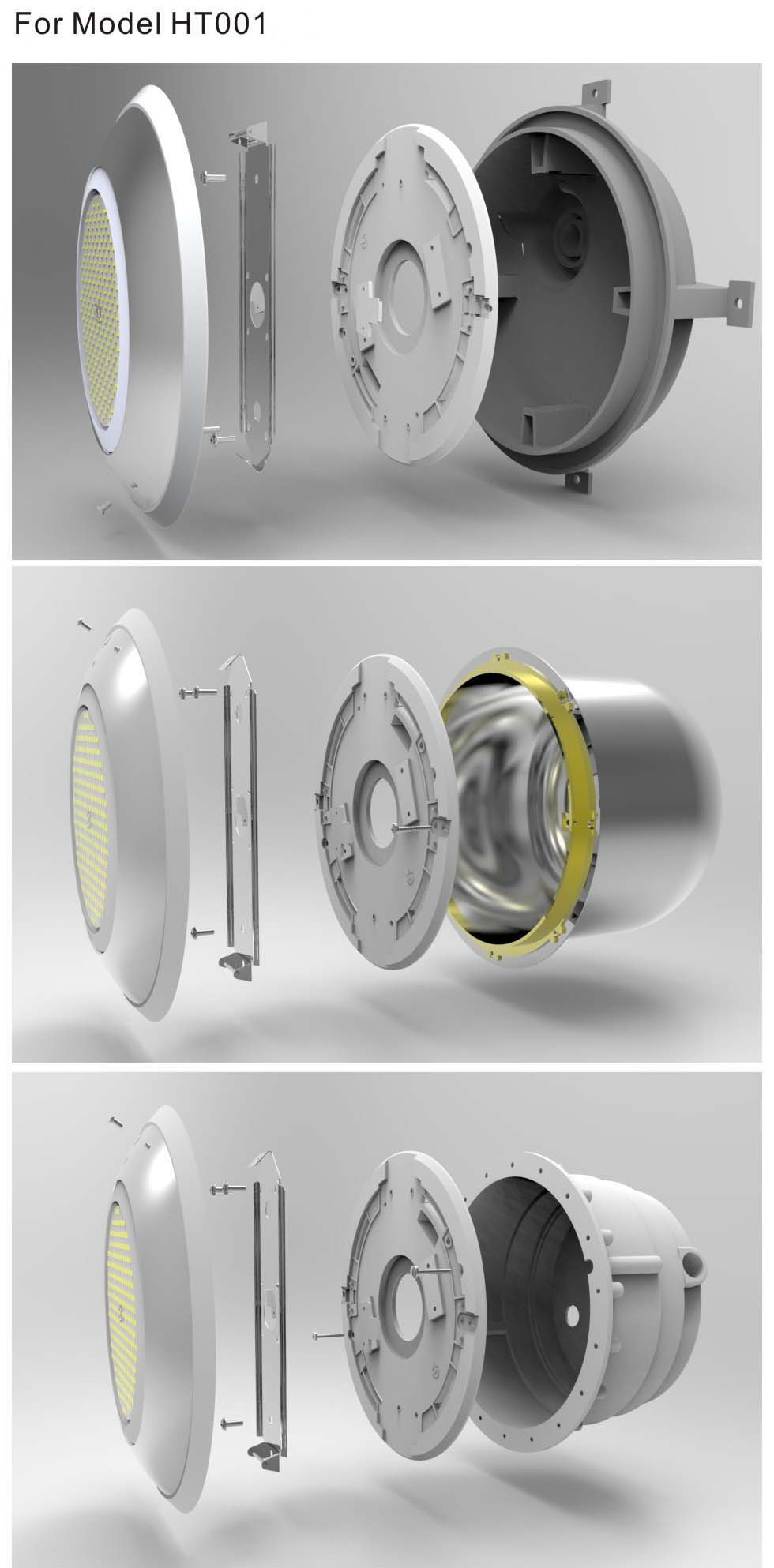 Start up
1. The lamp should only operate underwater while secured to the vertical walls of the pool. Never switch on the lamp if it is not underwater.
2. In case of colored lamps, 16 pre-programmed effects and combinations may be selected usingthe on/off switch of your pool lights. Just switch off and switch on within 2 seconds.
3. If the light is powered off for more than 20 seconds, it will keep the latest program when
it is turned on again.
4. To achieve synchronization, confirm all lamps are installed correctly on the same switch, after they are powered off for more than 20 seconds, switch on and switch off continuously three times, and then finally turn them on again. They will all go to program
5. Now you can select a program for them by switch off and on within 8 seconds.
Package contents: Lamp 55W Assembly x1pc, Niche bracket x1set Rubber ring x 1 Stainless steel screws x 3 Roll plug x 3 user manual x 1
Delivery time: within 3 business days after the payment is confirmed.
Warranty: we offer 3 years warranty of this light.
Note: All the lights must be connect to the AC12V transformer. and please test the light underwater, don't test it in the air long time.
If you still have some questions,please don't hesitate to contact us,we will reply you within 24 hours.