Quick Details
Brand Name: E3031
Material: 304ss
Color: Silver Gold
Warranty: 2 years
Type: E3031
Specifications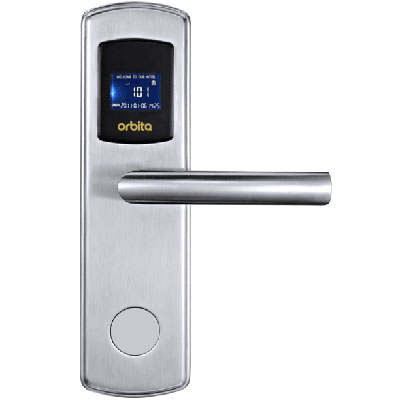 Fancy Features:
L to show room number, status of batteries, time and date.
L Indication of lock status such as "Welcome", "Don't disturb", "Wrong card" …
Etc. and error self-detective info is available as well.
Weight:4.00 kgs/PC
245mm*78mm*17mm
Static Load<15Ua
Working Load:200Ma-400Ma
Humidity:20%-90%
Working tempreture:-50℃-80℃
Stainless steel material, moisture proof, fire retardant
Brushed stainless steel color with PVD coating lasting more than10 years
ANSI Standard mortise/Euro standard mortise
Inside Dead Bolt. Inside handle retracts latches and deadbolt.
Mifare 1K/4K, compatible with Mifare Energy Saver
Override Computer Key for Emergency use, individual/master cylinder
Personalized Locking System and cylinder cover
Step by step installation software, easy operation. OEM locking system available.
Classified Access Authorization for safety management.
General master card, building master card, floor master card, guest card, Fire-alarm card
All card with validity, guest card expires automatically at default check out date and time.
Meeting room function and three levels of passage door functions.
Lost guest card suspension simply by issuing a new guest card with suspending function.
Multiple operators with different card issuing authorizations
Lock operation record printable. 240 pcs or more
Receptionist card issuing records printable
Power: 4pcs #5 AA Alkaline batteries. 18 months' duration
Low Battery Voltage warning. (Lower than 3.5 V)
Self Error detecting by LED and "beep".
Improper lock warning
Wireless stand alone lock realizes 95% of on line lock function.
Can be integrated with 16 public areas such as Lift/Parking/Swimming Pool/Sauna Room/Tennis court/Gym …etc. that is to say, one Guest card not only can open its own Guest room but also can open other common areas such as Lift, Parking, Club, Swimming…etc optionally (such as if the guest pays for Lift, Parking, Club, Swimming…etc, his Guest card can open its own Guest room and Lift, Parking, Club, Swimming…etc; if not, his Guest card can only open its own Guest room). Also it is suitable for suite Guest room.
Interface with most of the PMS systems
CE & FCC Certificate