Quick Details
Brand Name: E3061
Material: 304ss
Color: Silver Gold
Warranty: 2 years
Type: E3061
Specifications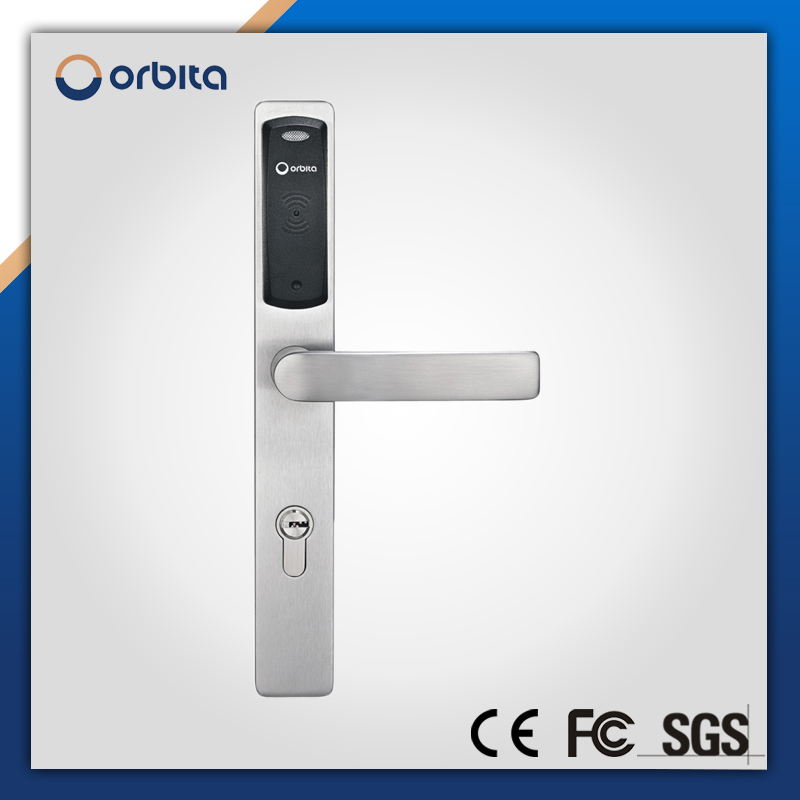 Replace your old mechanical lock with our electronic lock
Keep your mortise and carpentry, save your door
Weight:2.5 kgs/PC
280mm*38mm*20mm
Static Load<15Ua
Working Load:200Ma-400Ma
Humidity:20%-80%
Working tempreture:-50℃-80℃
Stainless steel Material, moisture proof, fire retardant
Stainless steel color, coating lasting 10 years
European Standard mortise 72mm/85mm hole distance
Mortise thickness 18mm, strike thickness 22mm
No electronic inside mortise.
Inside Dead Bolt.
Temic and Mifare card, 100,000 times life, high security, compatible with Energy Saver.
Override Computer Key for Emergency use, individual/master cylinder
Personalized Locking System and cylinder cover
Step by step installation software, easy operation. OEM locking system available.
Classified Access Authorization for safety management.
General master card, building master card, floor master card, guest card, Fire-alarm card
All card with validity, guest card expires automatically at default check out date and time.
Meeting room function and three levels of passage door functions.
Lost guest card suspension simply by issuing a new guest card with suspending function.
Multiple operators with different card issuing authorization
Lock operation record printable. 240 pcs or more
Receptionist card issuing records printable
Power:3 pcs #7 Alkaline battery. 14 months' duration
Low Battery Voltage warning. (Lower than 3.5 V.)
Self Error detecting by LED and "beep".
Improper lock warning
Wireless stand alone lock realizes 95% of on line lock function.
Can be integrated with Lift/Parking/Swimming/Sauna Room/Gym access…etc(One card system)
Interface with most of the PMS system
CE & FCC certified