| | |
| --- | --- |
| Export Markets: | North America, South America, Eastern Europe, Southeast Asia, Africa, Oceania, Mid East, Eastern Asia, Western Europe |
| Place of Origin: | Hebei in China |
| Packaging Details: | Both ends are wrapped with PP knitted bags |
Quick Details
Type: Fencing, Trellis & Gates
Feature: Easily Assembled,Eco Friendly,FSC,Pressure Treated Timbers,Renewable Sources,Rodent Proof,Rot Proof,Tempered Glass,TFT
Frame Finishing: PVC Coated
Pressure Treated Wood Type: Heat Treated
Frame Material: Metal
Metal Type: Steel
Brand Name: xmesh
standard: ASTM A392
color: silver or green
surface treatment: hot dipped galvanized or pvc coated
Height: 1.5m, 1.8m, 2.4m
Mesh: 50x50mm, 60x60mm
Wire Gauge: 2.5mm, 3.05mm, 3.76mm, 4.88mm
Wire diameter: 2.5mm, 3.05mm, 3.76mm, 4.88mm
Length: 15.2m
Zinc mass: 366g, 610g
Hole Shape: Diamond
Specifications
PVC coated, electro galvanized and hot-dipped galvanized Chain link fence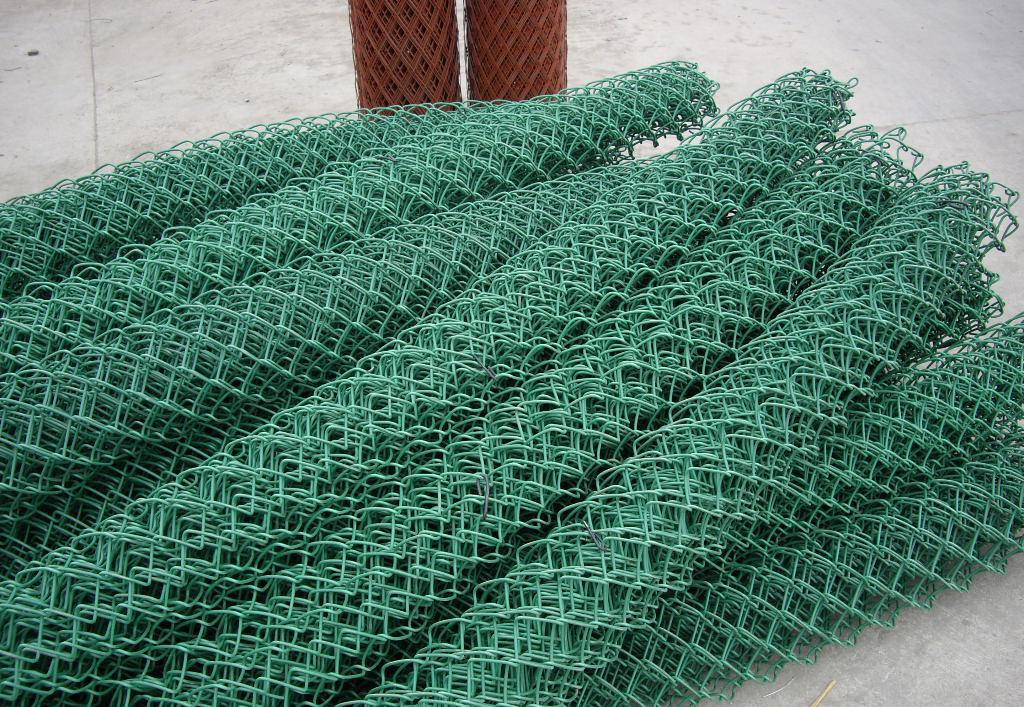 1.Introduction & Characteristic
Chain link fence also named diamond wire mesh, is woven from high quality steel wire, by a high precision wire netting machine.
Chain link fence with uniform mesh hole,flat surface, beautiful apprearance, great corrosion resistance, long service life.Does not dag or roll up at the bottom.
2.Applications
A.with the high quality and best price, chain link fence is widely used in industries
B.Used in highway fencing, stadium fenceing, machine protection, green belt fencing, zoo fencing, decoration and so on.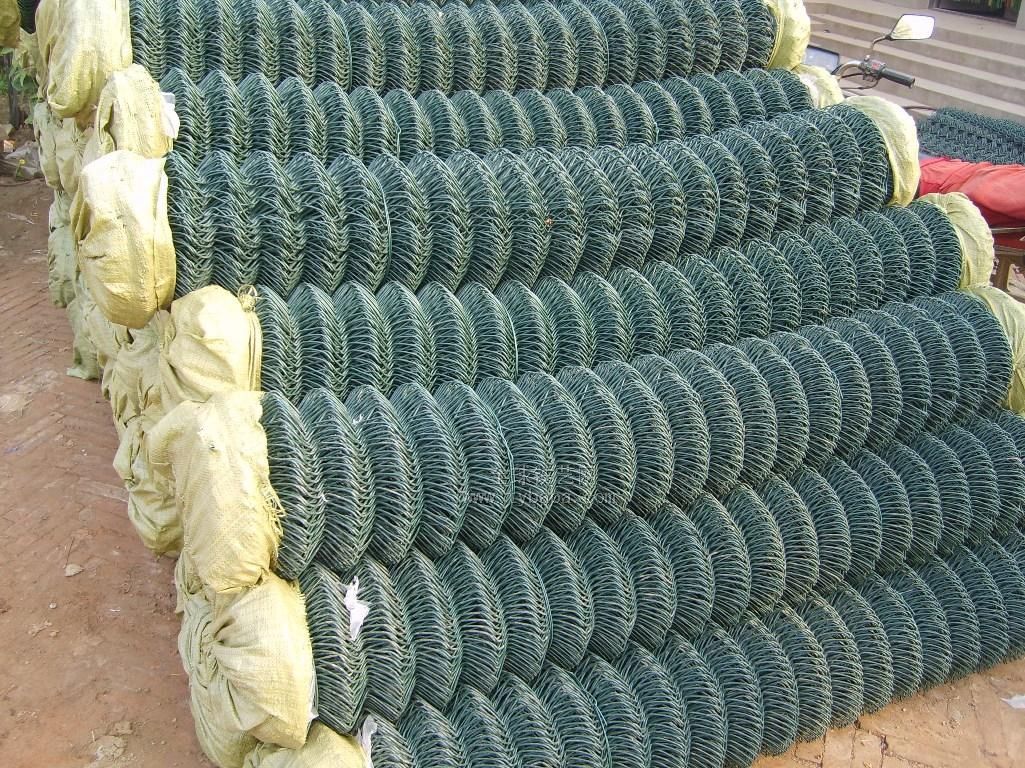 for galvanized chain link fence, ASTM A 392 standard, 11/ 9/ 6 gauge wire, galvanized chain link fence with class 1 zinc coating(1.2oz, 366g) or class 2 coating(2.0oz, 610), with all accessories for installing
for PVC coated types, ASTM F668 standard, extruded or fused bond are available.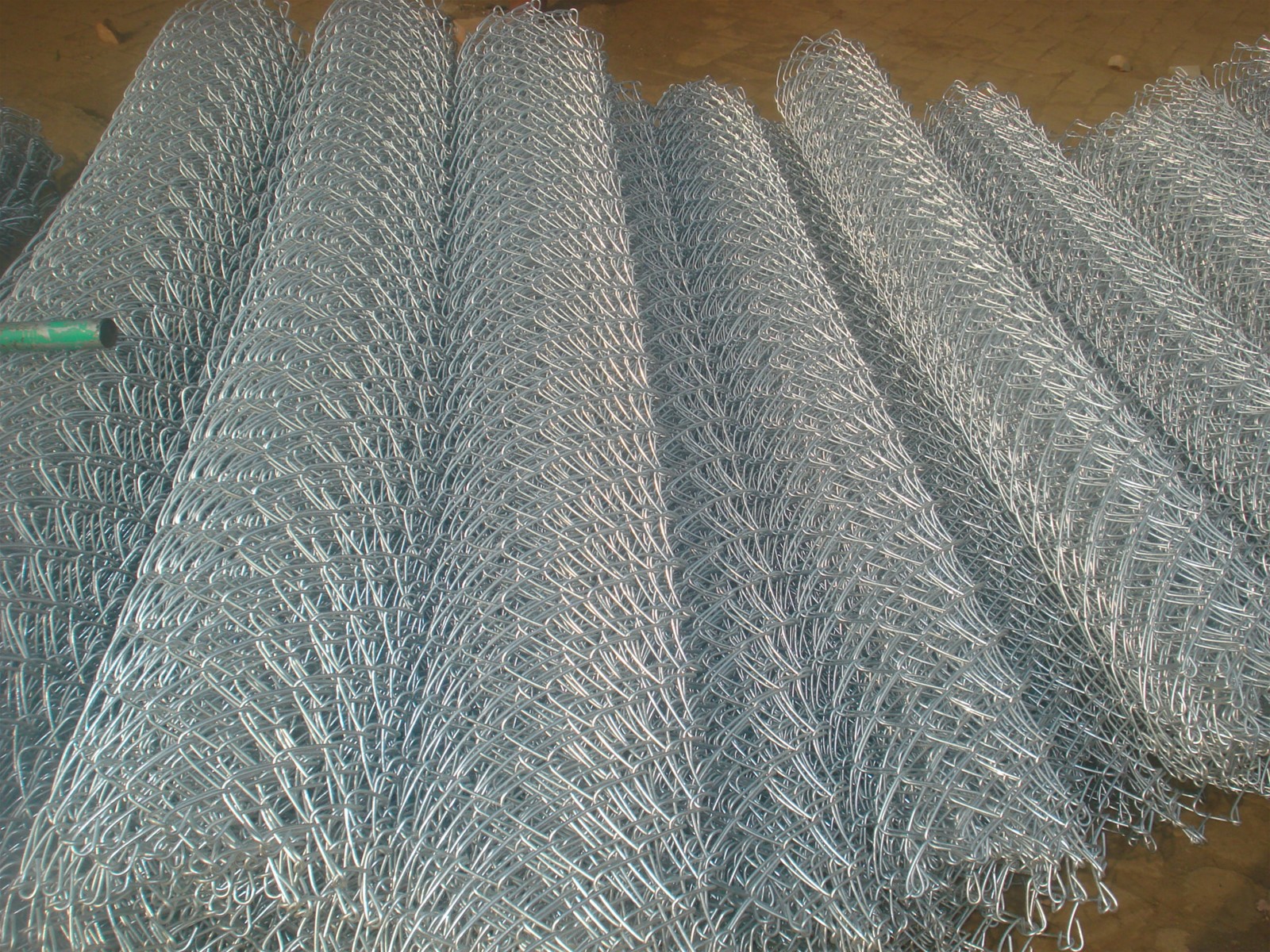 Product Description
Chain link fence, also referred to as chain-wire fence, cyclone fence, hurricane fence, or diamond-mesh fence , is one of the most popular choices of fence for both light residential to heavy commercial fence applications. It is woven by a way that the wires run vertically and are bent into a zig-zag pattern so that each "zig" hooks with the wire immediately on one side and each "zag" with the wire immediately on the other. this forms the characteristic diamond pattern fence.
Chain link fence is most commonly available galvanized which is silver in color. Chain link fence fabric is typically produced in 50' rolls' length(15.24m), and the most popular type is 6, 9, 11 gauge wire with 2x2 inches(50x50mm) mesh size, and it is ideal for industrial and commercial fence applications. the fabric is galvanized with a 1.2 oz.(366 grams) coating meets ASTM A 392-03 Class I and we also offer some sizes with a 2.0 oz.(610 grams) zinc coating meets ASTM A 392 Type I (Class II).
Nominal coated

Wire diameter

Available variance

Zinc coating weight, min.

Breaking strength
Minimum

Class 1

Class 2

ga

inch

mm

inch

mm

Oz/ft2

G/m2

Oz/ft2

G/m2

lbf

Newtons

6

0.192

4.88

+/- 0.005

+/-0.13

1.20

366

2.00

610

2,170

9,650

9

0.148

3.76

+/- 0.005

+/-0.13

1.20

366

2.00

610

1,290

5,740

11

0.120

3.05

+/- 0.005

+/-0.13

1.20

366

x

x

380

1,690
A typical specification list of 9 gauge chain link fence fabric
Chain Link Fence Fabric - 9 Gauge Residential and Commercial Galvanized

Fabric
Galvanized
9 gauge


Code

Size
(Mesh x Gauge x Height)

Ends

CL-9X36-G

2 x 9 x 36

KxK

CL-9X42-G

2 x 9 x 42

KxK

CL-9X48-G

2 x 9 x 48

KxK

CL-9X60-G

2 x 9 x 60

KxK

CL-9X72-G

2 x 9 x 72

KxB

CL-9X84-G

2 x 9 x 84

KxB

CL-9X96-G

2 x 9 x 96

KxB

CL-9X120-G

2 x 9 x 120

KxB

CL-9X144-G

2 x 9 x 144

KxB
1. ENds: KxK(Knuckle x Knuckle), KxB(Knuckle x Barb);
2. Size Column: mesh size in inches x gauge of wire x height of fence in inches;