| | |
| --- | --- |
| Export Markets: | North America, South America, Eastern Europe, Southeast Asia, Africa, Oceania, Mid East, Eastern Asia, Western Europe |
| Place of Origin: | Guangdong in China |
| Packaging Details: | 305m/roll or customized |
Quick Details
Brand Name: Accept OEM
Packing: Wooden Drum
Specifications


Basic informations: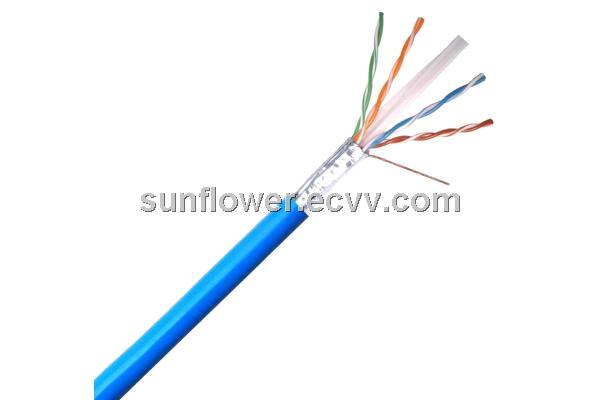 Name: Cat6 FTP LAN cable
Model : DTS-2002B
Material: CCA or Bare Copper
PE: Polyethylene
PVC: Polyvinyl-Chloride
Jacket Color : Yellow , Blue , Gray, Dark gray ,black, white or customized
Size: 100m, 150m,200m,300m,305m,500m,1000m or customized (Standard : 305m/roll)
PS:Cable code& designation:
HS-- LAN Cable
Y--PE insulation
V--PVC jacket
Z--Retardant low smoke zero halogen polyolefine jacket(LSZH)
P--Shield
6--Transmission frequency up to 250 MHz
UTP--Without shield
FTP--Aluminum foil shield
SFTP--Aluminum foil/ copper braid shield
More Details:
Application: Broadband Video, Gigabit Ethernet, fast Ethernet.
4 pairs twisted pair cable.
All cables meet or exceed the requirement proposed by TIA /EIA 568 B .2, ISO/IEC 11801 Category 6.
23AWG (0.57 mm) insulated copper conducts with PVC jacket.
Twisted pairs are brightly colored and distinguished at a glance.
The cross frameworks are stripped to match corresponding color pairs.
Ultra smooth jacket makes this cable easy to pull in tight spaces.
UL-Certified
Foil shield, drain wire, Use for permanent installations
Performance characterized to 600 MHz.
Supply on reels of 305 m.
23AWG solid bare copper, solid PE insulation,twisted pairs,PVC or LSZH jacket.
Cable Constructions:
Designation

Pair&AWG size

Conductor

(mm)

Insulation

(mm)

Cable Diameter

(mm)

Cable Weight

(kg/km)

Cat6 UTP PVC

4x2x23AWG

0.570

1.02

6.1

42

Cat6 UTP,LSZH

4x2x23AWG

0.570

1.02

6.1

44

Cat6 FTP,PVC

4x2x23AWG

0.585

1.15

7.2

46

Cat6 SFTP,PVC

4x2x23AWG

0.585

1.18

8.0

70

Cat6 FTP,LSZH

4x2x23AWG

0.585

1.15

7.2

48

Cat6 SFTP,LSZH

4x2x23AWG

0.585

1.18

8.0

73
Electrical Characteristics:
Conductor DC resistance

(?/100m)

DC resistance unbalance

(%)

Mutual Capacitance

(pF/100m)

Capacitance Unbalance

(pF/100m)

≤7.32

≤2.5

≤5600

≤330
MHz

Impedance

(Ohm)

Attenuation

(dB/100m)

RL

(dB)

NEXT

(dB/100m)

PS-NEXT

(dB/100m)

ELFEXT

(dB/100m)

PS-ELFEXT

(dB/100m)

Delay

(ns/100m)

Skew

(ns/100m)

1

100±15

1.8

20

74

72

68

65

570

45

4

100±15

3.7

22

65

63

56

53

552

45

8

100±15

5.3

23

61

59

50

47

547

45

10

100±15

5.9

23

59

57

48

45

545

45

16

100±15

7.5

25

56

54

44

41

543

45

20

100±15

8.4

25

55

53

42

39

542

45

25

100±15

9.5

24

53

51

40

37

541

45

31.25

100±15

10.6

24

52

50

38

35

540

45

62.5

100±15

15.4

22

47

45

32

29

539

45

100

100±15

19.8

20

44

42

28

25

538

45

250

100±15

32.8

17

38

36

20

17

536

45