| | |
| --- | --- |
| Export Markets: | North America, South America, Eastern Europe, Southeast Asia, Africa, Oceania, Mid East, Eastern Asia, Western Europe |
| Place of Origin: | Hebei in China |
| Packaging Details: | 1.it has soft sponge at the bottom of the pallet to avoid the bottom fence panel to be damaged by me |
Quick Details
Brand Name: Runtan
Model Number: Curvy welded wire fence-01
Technique: Welded Mesh
Wire Diameter: 3.5mm-8mm
Weave Style: Plain Weave
Application: Farm Fence
Type: Weled wire fence
Material: PVC Coated Steel Wire
3d fence Wire diameter: 3.5mm-8.0mm
welded wire Fence mesh opening: 50X100mm,50X200mm
welded Fence panel width: 2000mm,2200mm
bending welded Fence post height: 1800mm,2000mm,2200mm,2400mm
galvnaized fence Frame finished: galvanized ,PVC painted
Specifications
Curvy welded wire mesh fence panel

Dirickk Axis also called curvy welded wire fence, bending fence.
Curvy welded fence
is a combination of wires in the horizontal and vertical direction welded at their junctions to provide a rigid wire mesh fence. A number of
differing designs are manufactured from 3mm to 8mm wire at varying spacing for economy or strength. Styles with minimum horizontal bars widely spaced are used to restrict or deny climbing. Most curvy welded fence is supplied in a "hot galvani
z
ed" finish, due to their exposure to the elements and particularly salt laden atmospheres. However, for a more pleasing effect they can be powder coated in a range of popular colors.
Material:
low carbon steel wire, galvanized wire and stainless steel wire.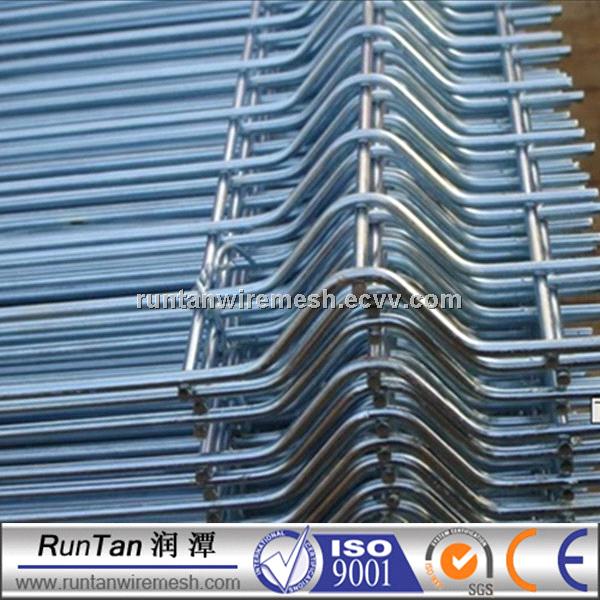 Characteristics:
Woven and welded, anti-corrosion, durable, easy to withstand outdoor exposure, corrosion-resisting, etc.
Surface Treatment:
Hot-dip galvanized steel wire / Hot-dip galvanized steel wire+power coated / low carbon steel wire+PVC coated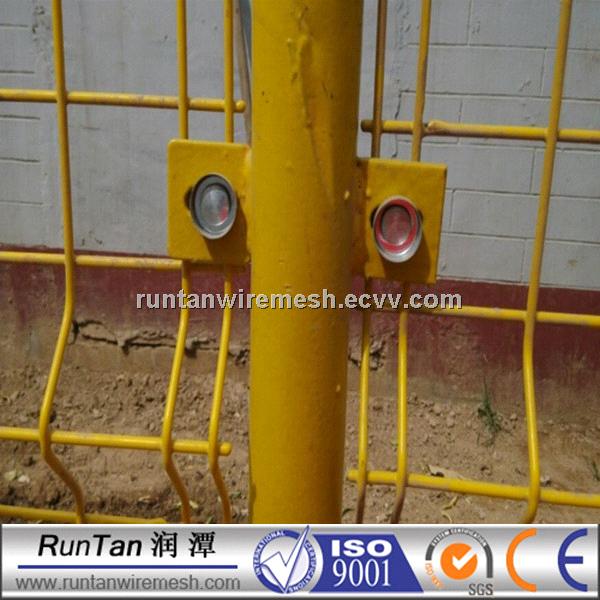 fence panel:

Panel height

Panel Length

Wire Diameter

Mesh Size

Folds No.

1.03m

2.0m

2.5m

Gal+Spray Painted

3.85mm/4.0mm

4.85mm/5.0mm

Gal+PVC Coated

3.0mm/4.0mm

4.0mm/5.0mm

50*200mm

55*200mm

50*150mm

55*100mm

2

1.23m

2

1.5m

3

1.53m

3

1.7m

3

1.73m

3

1.8m

4

1.93m

4

2.0m

4

2.03m

4

2.4m

4

Fence post specifications:
specification of fence post

Post Style

Post Size

Post height

Rectangle Post

40*60*1.2mm

1.63m

1.83m

2.1m

2.13m

2.2m

2.23m

2.4m

2.53m

2.6m

2.63m

40*60*1.5mm

40*60*2mm

Square Post

40*40*1.2mm

40*40*1.5mm

60*60*2mm

60*60*2.5mm

80*80*2mm

80*80*2.5mm

Peach post

50*70*1.2mm

70*100*1.2mm

Round post

38mm*1.2mm

40*1.5mm

42*1.5mm

48*2mm

60*2mm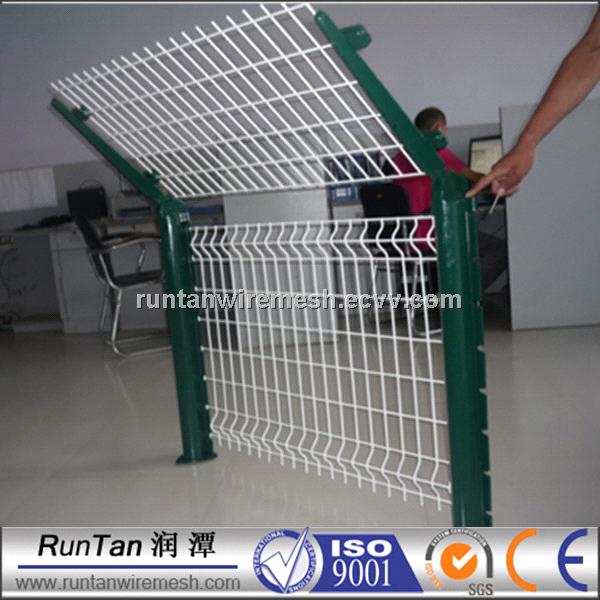 Advantages:
Excellent corrosion resistance, anti-aging and anti-aging property.
Sunshine resistance and weather-proof.
With rectangular mesh and horizontal reinforcement guarantee a very high level of rigidity.
Have four horizontal bending rebar therefore it will strengthen the fence network.
Not only has a beautiful outlook but also has a durable structure.
Can withstand outdoor exposure.
Easy and quick to transport and install.
Terrain adaptability, the adjacent column with undulating ground can be adjusted upwards or downwards.
Bright, reflective colors stand out in day or night
Easy transportation, save time and labor cost.

Applications:
Mainly used in highway and railway bridge on both sides of the protection zone.
Airports, ports, terminals security.
Municipal building in the park, lawn, zoo, pool lake, roads, and residential isolation.
Guest Houses, hotels, supermarkets and entertainment protective.
Fence Panel Process:
Wire Drawing → Wire Straightening & Wire Cutting → Welding → Folds/Curves Bending → Electric Galvanizing/Hot-dipped Galvanizing → Parkerizing → PVC Coating /Spraying → Packing → Loading
packing of PVC coated curvy welded fence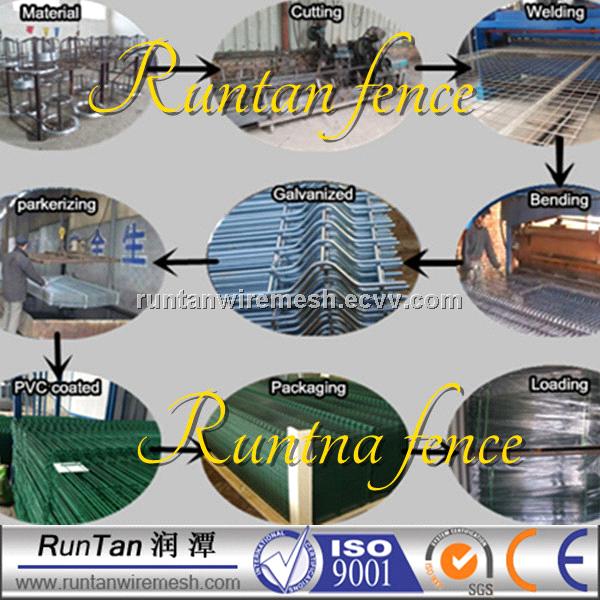 Panel packing:
Fence panel pancking
1. It has soft sponge at the bottom of the pallet to avoid the bottom fence panel to be damaged by metal pallet.
2. It has 4 metal corners to keep the pallet be more strong.
3. It has metal plate under the plastic bandage to avoid the bandage to pressure the fence panel.
4. It has wood plate on the top of pallet to keep the above pallet to de destroyed by the pallet.
post packing
the post is covered with plastic cap then packed with plastic film. Clips packed by set.