| | |
| --- | --- |
| Export Markets: | North America, South America, Eastern Europe, Southeast Asia, Africa, Oceania, Mid East, Eastern Asia, Western Europe |
| Place of Origin: | Zhejiang in China |
| Packaging Details: | inside black plastic box, then put in carton box |
Quick Details
Model Number: NLB-200
Brand Name: ALIYIQI
Rod Journey: 10mm
Size: 260*66*36
Max load: 200N/44lb
Min load: 20N/4lb
Specifications
Gauge introduction
The NK series Analog Force Gauge with compact size,high accuracy,they are easy to operate and handy to carry out,and can show the unit of newton and kilogram at the same time.The PEAK/TRACK knob of it can switch between the peak value load
test and the continuous load test.They are excellent products which can take the place of the old style force gauges, and
widely applied in electric,high & low voltage electric appliance, hardware,automobile parts,lighter and ignition system,light industry, mechanical,textile and so on industries for test of pull or push load test insertion force or pull and destructive experiment.Please reading the manual carefully before using this instrument.
Table of appendix
Name

Amount

Model

NK-20

NK-30

NK-50

NK-100

NK-200

NK-300

NK-500

NLB-20

NLB-30

NLB-50

NLB-100

NLB-200

NLB-300

NLB-500

ALB-4

ALB-10

ALB-20

ALB-40

ALB-100

Push clamp

4

4

4

4

4

4

4

Pull clamp

1

1

1

1

1

1

1

Added pole

1

1

1

1

1

1

1

User's manual

1

1

1

1

1

1

1

Check certificate

1

1

1

1

1

1

1

Parts appellation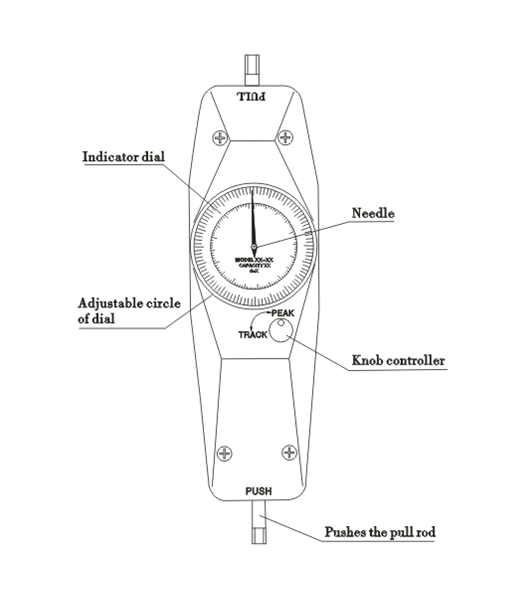 Parts appearance and install size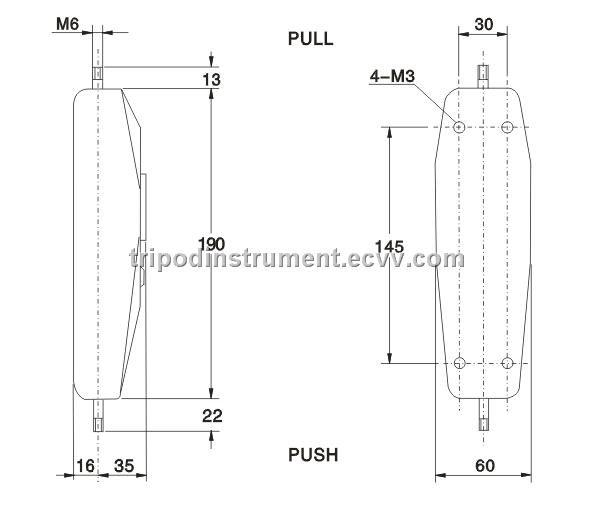 Preparation before test
Choose appropriate joint clamps and install it on the gauge before test.
(1) Pull test
Choose pull clamp and install it on the central stick of marked [PULL].
(2) Push test
Choose push clamp and install it on the central stick of marked [PUSH].
(3) Use of prolong stick
When it isn't possible to touch tested thing, use prolong stick to install clamp.
NOTE:
When testing, tested thing and gauge must be on the same straight line, if not, it isn't possible to test right value of load.
(4) Confirm operation method of changing knob
(a) [PEAK] change of [TRACK]
Lightly press knob changing, at the same time, turn it to left to make mark "●" be in the place of [TRACK].
(b) [TRACK] change of [PEAK]
Turn knob to right, the knob springs and mark "●" is in the place of [TRACK].
(C) Points for attention after testing
After finishing testing, change mark "●" , please put it in the place of [PEAK]. If changing knob is put in the place of [TRACK] for a long
term, life of inner springs lam in will shorten.
(5) Adjustments of indicator dial
(a) Please confirm whether needle aims at [O] of dial, if not, please turn adjustable circle of dial, and dial will run with it to make needle
aimed at [O].
(b) When the machine is vertically placed to use, especially under the condition installing clamp, even don't apply load, needle will be
lean, which is the dead weight reason of the machine and clamp. Turn adjustable circle of dial to have [O] aimed at needle, which can't
affect veracity of testing result.
Note:
Usually give the machine to apply the load exceeding the range of Max. test load, spring of load test machine will gradually be bad and
lead to test value of load rightly. When using it, please don't overload to maintain life of the machine.
Maintenance
(1)Please don't apply load exceeding the max test range of gauge to avoid
damaging instrument and producing trouble.
(2Don't put or use gauge in the place of low or high temperature.Please store and use it in the ruled environment.
(3)If there's something wrong with it,please contact with original sales
department or this corporation.