| | |
| --- | --- |
| Export Markets: | North America, South America, Eastern Europe, Southeast Asia, Africa, Oceania, Mid East, Eastern Asia, Western Europe |
| Place of Origin: | Zhejiang in China |
| Packaging Details: | One set in a aluminum alloy box, then put in the cardboard box |
Quick Details
Model Number: HD-20T
Brand Name: ALIYIQI
Specifications
Digital pressuremeter tension tester is a kind of special equipment to measure wind towers, signal transmission and power transmission systems rope tension. It
has characters of high precision, easy to operate, easy to carry, etc. also it has many kinds of test modes, convenient to
testing. Users can also input gravity acceleration value to make the test more accurately.
u Function Characteristics
1. High precision, high resolution.
2. Five kinds of test modes, three kinds display modes---To improve test efficiency to the greatest extent.
3. N (Newton), kg (kg), lb (lb) three testing units for selection, mutual conversion.
4. Gravity acceleration setting function---Users can input the precise gravity acceleration value of testing place, make the testing and unit conversion more accurate.
5. Peak holding function---Maintain peak display until manual reset.
6. Automatic peak function---Maintain peak value can be removed automatically after 2 seconds.
7. Can set upper and lower limit value to make statistical analysis, the value more than comparative value, the alarm
buzzer will alarm.
8. Data stored function, we can store 896 test values.
9. 10 minutes without operating automatic shutdown, green initiative.
10. High quality charging power,charge voltage from 240V to 100V, can adapt to domestic and foreign most areas,also
have short circuit, leakage, overload protection function.
11. 2 sets of installation dimensions, adapt to domestic and foreign most test machines,convenient to installation and using.
12. Six digit Big screen display.
u Sensor specification table 1, force gauge specification table 2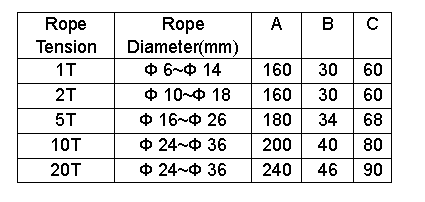 u Safety precautions
Notes:
v The wrong operating may damage the instrument or cause serious accidents.The instruction has noted important matters to prevent accidents and the usage of instrument.Please read this manual carefully before using, properly kept after reading so that can read again.
v If measured the impact load, please choose the machine type whose maximum test load is twice than the tested impact load.
Warnings:
v In testing, people should wear masks and gloves to protect, in case pieces were flung off in the testing process.
v Don't use the damaged or transmutative fixtures. Please refer to the related parameters in instruction about homemade fixture (Our company also provide
various fixture, customers can choose according to need separately)
v Don't use beyond maximun load of this instrument, otherwise the sensor can be damaged, big load may collapse the sensor to cause accident.
v When the testing value is 105% exceed the measuring value, buzzers will tweet continuously. Please remove to reduce the load quickly at this time.
v Please use the matched battery charger, or will cause circuit fault,even it will cause fire.
v Don't use the power which is lower or higher than rated voltage of battery charger, otherwise it may cause shock or fire.
v Please don't use wet hand pull out or insert plug, or will cause electric shock.
v Don't pull the power wire to pull the plug, to avoid electric shocks when wire was broke.
Please use the soft cloth to clean the machine, immerse the dry cloth into water with cleaner, wring out after the removal of dust and dirt. Do not use vaporific chemical substance, such as essential oil, thinner, alcohol etc.
v Do not operate machine in the environment of below:
① Damp environment
② Dusty environment
③ Using oil or chemicals place
④ Place of seismic focus
v Please use and storage under the scope of prescribed temperature and humidity, otherwise may cause instrument malfunction.
Do not disassemble, repair or reconstruction this machine. These actions may cause permanent fault.