| | |
| --- | --- |
| Export Markets: | Southeast Asia, Africa, Mid East, Eastern Asia |
| Place of Origin: | Yunnan in China |
| Packaging Details: | In 50Kgs Net Galvanized Drums With P.E. Liner |
Quick Details
Classification: Permanganate
Model Number: BP2000
Brand Name: Yonta
Application: in medical industry, water treatment, metallurgical industry
Appearance: Needle-like lustrous and dark purple crystal. It can dissolve in water
Purity: 99.3%Min.
Grade Standard: BP2000
EINECS No.: 231-760-3
MF: KMNO4
Other Names: Permanganic Acid, Potassium Salt; Condy's Crystals
CAS No.: 7722-64-7
Type: Potassium Permanganate
H.S. Code :: 2841.610000
Specifications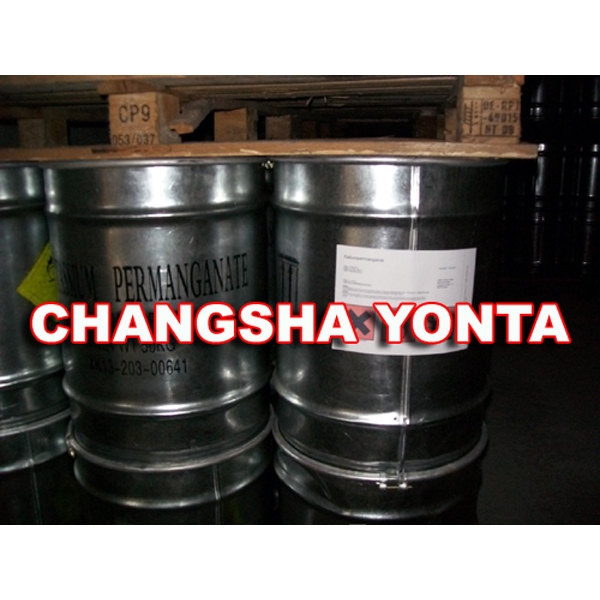 Potassium Permanganate BP2000
- Product Identification
CAS No.: 7722-64-7
EINECS No.: 231-760-3
H.S. Code: 2841.610000
Formula: KMNO4
Molecular Weight: 158.03
Synonyms: Potassium Salt; Chameleon Mineral; Condy's Crystals; Permanganate De Potassium; Permanganate of Potash; Permanganato Potasico, Potassio Permanganato Di
- Physical and Chemical Properties
PhysicalState(Appearance) : Needle-like Lustrous and Dark PurpleCrystal. It can be dissolved in Water, and it is a Strong Oxidizer.
Melting Point:240 °C
Specific Gravity: 2.7
Solubility in water:6.38 g/100 ml (20°C)
NFPA RATINGS: Health: 1; Flammability: 0; Instability: 1; Special Hazard: OX
Stability: Stable under ordinary conditions; Hygroscopic.
- Applications
- Purification of Water and Waste Water Treatment.
- as Decoloring Agent of Textiles (Garment Washing Plants as Excess Dye Remover), Starch, Fats.
- Used in Aquaculture Industry (Poultry Farm Industries as a Fumigation / Disinfection Agent),
Chemical Industry, Metallurgy, Environmental Protection, Agriculture, Petroleum and also
Apply to Preservatives, Disinfectants and Oxidizing Agents in Pharm., Toxic Gas Absorbent.
- Specification
Testing Items / Quality Standard (BP2000 ) / Reference Testing Results
Purity - KMnO4: 99.3% MIN. / 99.34%
Chloride (as Cl): 0.01% MAX. / 0.003%
Sulfate(as SO42-): 0.05% MAX. / 0.01%
Water Insoluble: 0.15% MAX. / 0.11%
- Transportation
Storage: Seal and cool saved.
Packing: In 50Kgs Net Galvanized Drums with P.E. Liner
Hazard Class: 5.1 (Packing Group: II)
UN No.: 1490
Hazard Symbols: OTN, Risk Phrases: 43-49-50/53-9, Safety Phrases: 53-17-26-27-36/37/39-45
- Other Trade Information
Min. Order Quantity: 5 MTS
Supply Capacity: 12,000mts /Year
Loading Capacity: 20Mts/400 Drums (1x20'FCL)
PortofLoading:Huangpu,China
Fresh Stocks: Yes
Ref. Price: USD2,480.- ~ USD2,550.-/MT FOBHuangpu,China
Shipment Time: Within 2-4 weeks after the Seller's receipt of Export License.
Payment Terms: T/T, L/C ( Sight / 90days ), D/P,Western Union
Origin:Yunnan,Chongqing,Guangdong,Hunan
Sample Availability: Yes
Main Export Markets:Germany,Brazil,Colombia,Mexico,Korea,Iran,Thailand,Vietnam