| | |
| --- | --- |
| Export Markets: | North America, South America, Southeast Asia, Africa, Mid East |
| Place of Origin: | Hunan in China |
| Packaging Details: | In 25kgs net p.p. woven bags |
Quick Details
Model Number: Explosives
Brand Name: Yonta
Application: Mainly used in making perchloric acid and other perchlorates
Appearance: White crystalline solid
Purity: 99%Min
Grade Standard: Industrial Grade
EINECS No.: 231-511-9
MF: NaClO4.H2O
Other Names: Perchloric Acid, Sodium Salt, Monohydrate
CAS No.: 7791-07-3
H.S. Code :: 2829.900090
Specifications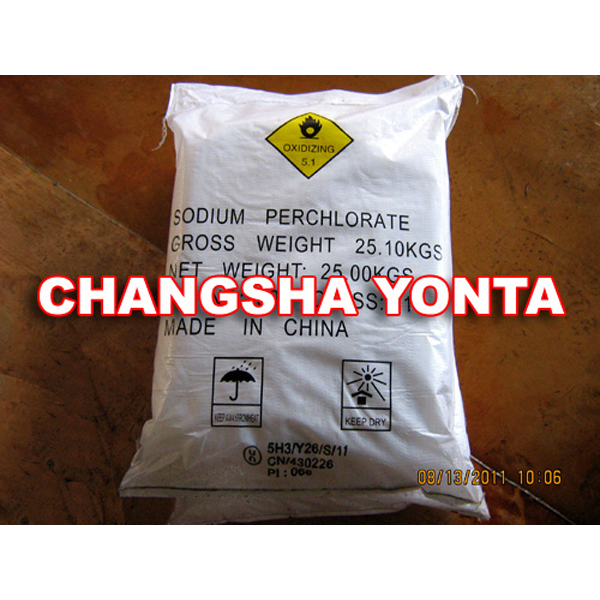 Sodium Perchlorate Monohydrate 99%Min

- Product Identification
CAS No.: 7791-07-3
EINECS No.: 231-511-9
H.S. Code: 2829.900090
Formula: NaClO4.H2O
Molecular Weight: 140.46
Synonyms: Perchloric Acid, Sodium Salt, Monohydrate

- Physical and Chemical Properties
Physical State: White crystalline solid
Melting Point: 130°C (266°F)
Specific Gravity: 2.02
Solubility: Easily soluble in hot water. Soluble in cold water.
Stability: Stable under ordinary conditions. Hygroscopic. Explosive in contact with concentrated sulfuric acid.

- Applications
Mainly used in making perchloric acid and other perchlorates, also can be used to produce explosives,gumpowder, fireworks, matches, rocket propulsion, paper and pulp processing

- Specification
Testing Items Quality Standard (GB/T23850-2009 ) / Reference Testing Results
Purity, as NaClO4.H2O: 99.5% Min / 99.5%
Chloride, as NaCl: 0.1% Max / 0.01
Chlorate, as NaClO3: 0.2% Max / 0.06
Water, as H2O -: 15% Max / 12.8
Water-Insoluble Matter: 0.01%Max / 0.01

- Transportation
Storage: Avoid fire and moisture, no mixed with organic matter.
Packing: In 25kgs net p.p. Woven bags
Hazard Class: 5.1
UN No.: 1502

- Other Trade Information
Min. Order Quantity: 10 MTS
Supply Capacity: 5,000mts /Year
Loading Capacity: 25mts/1000bags (1x20'FCL)
Port of Loading: Huangpu, China
Fresh Stocks: Yes
Ref. Price: USD1,120.- ~ 1,150.-/MT FOB Huangpu, China
Shipment Time: Within 2-3 weeks upon receipt of advance payment or L/C.
Payment Terms: T/T, L/C ( Sight / 90days ), D/P, Western Union
Origin: Hunan, Heibei, Tianjin, Dalian
Sample Availability: Yes
Main Export Markets: India, Iran, Argentina, Brazil, Turkey and etc.