| | |
| --- | --- |
| Export Markets: | North America, South America, Eastern Europe, Southeast Asia, Africa, Oceania, Mid East, Eastern Asia, Western Europe |
| Place of Origin: | Guangdong in China |
| Packaging Details: | export standard packaging |
Quick Details
Size: by buyer
Finishing: White
Blade Material: HSS
Model Number: band saw blade
Brand Name: changsheng
length and teeth space: customized
width: 6mm-180mm
thickness: 0.45mm-1.25mm
material: 65mn / sk5 / steel
used: cutting wood
brand: changsheng
price: reasonable
Specifications
Woodworking cutter knife trip with teeth (band saw blade )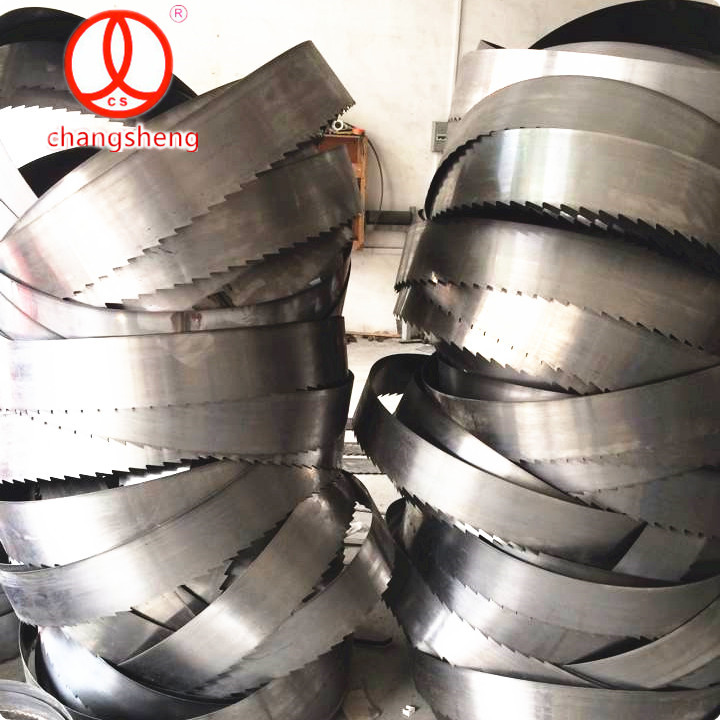 Company Profile
We as a leading cutting tools manufacturer here in dongguan China in 1985, in 1992 changshneg tool factory was established in wanjiang,Have run 30 years, is specialized in this industry, top quality is number one in china, Mainly focused on:
Steel Strips
For wood working,stone,meat,metal etc.
For foam,garments,blanket,leather,tannery,cork/soft wood,EVA,rubber,Synthetic,paper,sponge etc.
Grinding wheels, wood planer blade,leather shaving knife, fleshing knife etc.
Grinding wheels, wood planer blade,leather shaving knife, fleshing knife etc.
related machine: welding machine, gear grinding machine, tensioning machine etc.
can make different sizes as per customer's requirement. Looking forward to cooperate with you!
OUR MAKET: Our sales area are widely distributed, including the UK, Italy, Russia, India, Peru, Brazil, South Africa, Thailand, Vietnam, Singapore, South Africa, Indonesia,etc.
Product introduction
Product features:
Cutting some logs with large cross-section,different materials of band saw applies to different customer groups,and we can adjust the hardness of band saw applying to the different using repuirments for the better tenacity and strong wear resistance.Performance with the best flatness. Perfect straightness,good stability,easy cutting and better trimming,is the most sffective and economical cutting toolfor the logs.Best cutting saw blade for the manufacturing with the high fatigue resistance at the high speed,low cost loss and good efficiency.
Recommendation:
to press and tense saw blade while repairing saws
to keep the saw road by pressing and setting the saw teeth
to choose the right saw teeth by the cutting material thickness
to keep the saw blade sharp by grinding the teeth while in use
New product strip steel for wood working made in china
Using: Wood working factory, furniture factory.
Length can be customized
Part size:
| | | |
| --- | --- | --- |
| Width(mm) | Thickness(mm) | teeth |
| 50 | 0.65/0.7/0.8 | T12 |
| 65 | 0.65/0.7 | T12 |
| 65 | 0.8/0.9/1.05 | T15 |
| 75 | 0.56/0.65/0.7 | T12 |
| 75 | 0.8/0.8/1.05 | T15/ T22 |
| 80 | 0.8/0.9 | T10 |
| 90 | 0.9/1.05 | T20/ T25 |
| 100 | 0.9/1.05 | T20/ T25 |
| 125 | 1.05/1.25 | T25/ T28 |
| 150 | 1.25/1.5 | T30/ T32 |
Can manufacture according to the customiers'requirements for special specification.
* Note: Special dimensions available on request
* Note: while ordering please mention the required length
how to Choose the Right Bandsaw Blade
METALCUTTING BANDSAWS: Use or
WOODCUTTING BANDSAWS: Use , , or
Step 2 - Choose a Width: how Tight do you Need to Turn?
Horizontal metalcutting bandsaws are typically designed to use only one width of blade. Vertical metalcutting bandsaws and woodcutting bandsaws have the capacity to run a wide range of widths.
Step 3 - Bandsaw Blade Thickness
Choosing the proper thickness of the blade is important. Continual flexing and heating and cooling causes metal fatigue and ultimately, failure.the thickness of the blade depends on the diameter of the wheels, and the work to be done. Thick blades withstand more cutting strain from straight cuts but will break more easily from the bending and twisting action. Thinner blades are recommended for lighter work.
Step 4 - Choose a Tooth Pattern: What are you Cutting?
WOODCUTTING BANDSAWS: There is a wide range of what is considered correct for tooth patterns on a woodcutting bandsaw. The general rule is that fewer teeth per inch provide a faster, but rougher cut; and more teeth per inch provide a smoother, but slower cut.
METALCUTTING BANDSAWS: the correct tooth pattern for metalcutting is determined by the thickness (cross-section) of material you are cutting. There should be between 2 and approximately 10 teeth in contact with the material at all times. Generally, choose fewer teeth per inch for thicker materials and more teeth per inch for thinner materials.
S- how Many Teeth?
(1) Getting a balance between a good finish and a decent feed rate are the two objectives in determining how many TPI or teeth per inch you want to use. More teeth make a smoother but slower cut. Fewer teeth allow for faster cutting but with a slightly rougher finish.
(2) for any kind of precision cutting, the rule of thumb is to always try to keep at least 3 teeth in the material at all times. this adds stability and accuracy and applies to cutting in both metal and wood.
(3) Coarse tooth blades of 2 or 3 TPI should be used for re-sawing and thicker materials. for general wood cutting duties in typical 3/4″ material a range of between 4 TPI for coarse, fast cutting and 14 TPI for slower, smoother cutting. Something in the 6-8 range would be a good 'general purpose' blade. this same equation is applied whether you're cutting wood, or metal. An even finer 18 – 32 TPI tooth count should be used for thinner metals and plastics under 1/4″.
Packaging&Shipping&Delivery
PACkaging Details:
1.Use best rust preventing oil.
2.Wrap PE film
3.Wrap rust preventing paper Put in carton or pallet, or other way customer's design
Shipping: Usually we will quote you the most reasonable shipping method according to your country, good types, weight and requested delivery time.
We shall appreciate if you could write us details of your order quantity, country, sea port/air port before you send us inquiry. In this way we can offer you the best and most accurate price.
Payment: Accept payment by T/T
Delivery Detail: Produce band saw blade need 10-25 days after advance .