| | |
| --- | --- |
| Export Markets: | North America, South America, Eastern Europe, Southeast Asia, Africa, Oceania, Mid East, Eastern Asia, Western Europe |
| Place of Origin: | Hebei in China |
| Packaging Details: | Standartd wooden pallet package and if required, package can be made according to customer's request |
Quick Details
Product: moulded manhole covers
Product Material: FRP
Shaping Mode: Plastic Extrusion Mould
Model Number: 02
Brand Name: WJ
high strength: high pressure
good- look: high strength epoxy resin
Anti UV: Eco Friendly
Anti-Corrosive: Rot Proof
Tempered Glass: Easily Assembled
Specifications
burglar artistic manhole covers are suitable for a huge range of applications that include:

1. Underground Electrical Installations:
Draw pits, traffic lights, street lighting, Fiber optic cable ducts etc.
2. Telecommunication:
Connection chambers, Water Supply, Gas, Electric power, Telecom, Petrochemical Installation & Real estate etc.
Advantages of our products:
1. No recovery value- It can solve the manhole cover stolen problem thoroughly.
2. Quality assurance- accepted insurance by the Pacific Insurance Company and ISO9001:2008 & SGS approved.
3. High load capacity according to BS EN124 Standard- Its high load capacity exceeds the ductile iron.
4. Free design with characteristic logo & various colors - It can be designed according to users' demands.
5. Long service life- It can be used more than 30 years and there is no any crack in the experiment of 2,000,000 fatigue shocks.
6. Well sealed- It can be used hermetically, and effectively prevent those poisonous gases leaking out from cesspool.
7. No jangle- There is neither jangle nor rebound when cars pass through.
8. Good wear and corrosion resistance-It will never rust and can resist weak acid, alkali, salt and seawater..
9. Temperature resistant- It can stand temperature ranging from -40 to 80 degree

Compared with other composite materials manhole covers, burglarproof manhole covers have the following specialties:
1. Structure:
Using the structure of pot bottom style (loading equally), other than the one of ribbing style (loading centrally), the strength supporting area will extend by more than ten or dozens of times. Therefore, the ability of strength sustaining will be more excellent.

2. Material:
1) Our Burglarproof Artistic manhole covers (shorted for GRP manhole cover) are made from composite materials such as glass fiber, resin, quartz, corundum etc.
2) Applying wear-resistant and climate-resistant materials on the relief sculpture layer so that the products can be long-term used under different environment.
3) Applying continuous reinforced fiber on the structure layer to ensure the products sufficient load ability. While other composite material manhole covers (for example, BMC manhole cover) do not contain reinforced fiber, or just contain short fiber (the intensity of short fiber is 20-30% of continuous fiber);

3. Design:
Infusing the art of relief sculpture, image and color into the surface of manhole covers according to clients' demands for artistic effect, which promotes the culture taste of our products.

4. GRP manhole cover material quality
Our GRP products are made of:
-Unsaturated polyester resin (UP) (ISO type resin, vinyl ester resin)
-Glass fiber (E-glass 2400 Tex)
-Quartz
-Corundum
-Antioxidant
-Firming agent
-Promoter
-UV additive
-Ethylene-propylene-diene-monomer
-Cr13
-Other auxiliary materials

5. Application Temperature Scope
1) The materials used to manufacture the manhole covers are important, that is why we only use quality materials. The main material that contribute to the product application temperature is the non saturated polyester resin. It belongs to the thermosetting resin, the performance after its solidification is as follows:
2) Longitudinal strength: 250-600Mpa;
3) Compressive strength: 300-600Mpa;
4) Stretch modulus: 25-35Gpa;
5) Break elongation ratio: 1.3-10.0%;
6) Bending strength: 700-1400Mpa;
7) Curving module: 25-35Gpa;
8) Poisson-ratio: 0.35;
9) Relative density: 1.11-1.15;
10)Water-absorptivity (24h): 10-30mg;
11) Volume resistivity. 1*(1012-1014) cm
12) Unsaturated polyester resin for the reinforced plastics uses the most universal resin, general application temperature in -40~80. If there is any special request, we may introduce a special function structure to cause its temperature to be lower or higher. When the temperature approaches to -40°C, resin brittleness will occur. When temperature surpasses 80 for a long period of time (special heat resistant resin to be an exception) has the possibility to become soft or degrades. Therefore, our products application temperature is in the principle scope of -40~80.
13) C250 (can load 25tons) D400 (can load 40tons)

6. The Service Life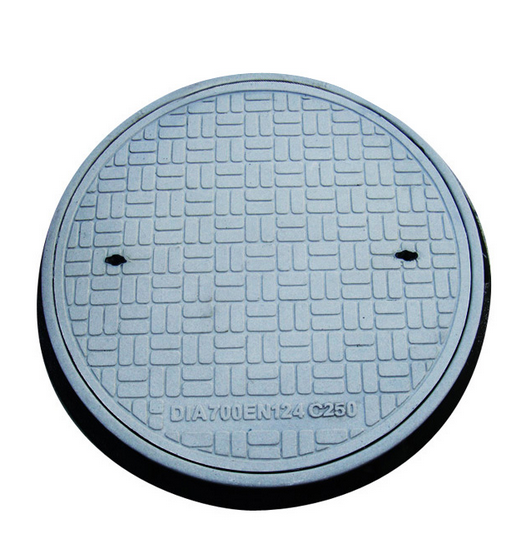 1) From the resin heat resistance view, our products under the normal temperature uses, its service life amount to above for 50 years.
2) The GRP manhole cover uses lamination compound craft on the surface layer between 5-8mm, where it joins the antioxidant to bear the marquis resin and it is filled by the aggregate of quartz, corundum and anti-friction materials (this kind of material is uses for the make grinding wheel). The surface of the manhole cover will not have any attrition because the designed 5-8mm provide wear resisting level extrapolation, it is possible to use above for 30 years.
3) The compound material of the manhole covers make sure that it could withstand more than 2 million fatigue shocks. Official tests and experiments have shown any problem on the heat resistance after more than 3 years of exposure.
4) To increase the intensity of the products, solidification craft processing is used after normal solidification process is done.



Manhole Cover Features:
1. No recycling value
2. High erosion resistance
3. Desirable breakage security
4. Shock-resistance

1. SMC Composite Manhole Cover Features:
1. Against theft ---JINMENG SMC manhole cover is non-metallic, non-conductive and non-sparking. It has no value of recycling, thus completely solving the problems caused by theft.
2. High load capacity ---Its main components are fibreglass and unsaturated resin. JINMENG's existing moulds load capacity are A15, B125, C250, D400, E600.
3. Free design
4. Long life ---Minimum lifespan of 30 maintenance free years
5. Well sealed ---It can be used hermetically, and effectively prevent those poisonous gases leaking out from cesspool. Well sealled, no noise pollution or rebound.
6. Good wear and corrosion resistance ---It will never rust because it has good wear and corrosion resistance.
7. High and low temperature resistance ---Excellent insulator against heat ( from -40° C to 200° C)
8. Lighter weight and more competitive price--- the weight of composite manhole cover especially SMC manhole cover is lighter. The composite manhole cover is more convenient to transport, install and repair.

2. Application:
(1) Electric power pipeling well; Post, telecommunication, communication pipeline well;
(2) Street lamp well, fire control well, all kinds of valve well;
(3)City water, drainage pipeline well; Heat supplied, gas well;
(4)As cover board for anti-corrosion project, open ditch; It as well as can be made according to customers requirements.
Size
Remarks
Clear Open 115x245mm A15+
Cover Dia 200x400mm
For road lamps
Clear Open 245x245mm B125, C250, D400
Cover Dia 300x300mm
For fuel gas manhole
Clear Open 250x250mm A15+, B125
Cover Dia 300x300mm
For fuel gas manhole
Clear Open 255x395mm A15+, B125
Cover Dia 300x450mm


Clear Open 345x485mm A15+
Cover Dia 400x500mm
For road lamps
Clear Open 350x515mm A15+, B125
Cover Dia 400x500mm


Clear Open 355x355mm A15+, B125, C250
Cover Dia 400x400mm


Clear Open 450x450mm A15+, B125, C250
Cover Dia 500x500mm


Clear Open 550x550mm A15+, B125, C250
Cover Dia 600x600mm


Clear Open 600x600mm C250, D400
Cover Dia 650x650mm
Antistatic, watertight with lock
Clear Open 450x600mm C250, D400
Cover Dia 500x650mm
Antistatic, watertight with lock
Clear Open 560x720mm B125, C250, D400
Cover Dia 600x800mm


Clear Open 600x900mm B125, C250, D400
Cover Dia 760x1060mm
Antistatic, watertight with lock