| | |
| --- | --- |
| Export Markets: | Oceania |
| Place of Origin: | Tianjin in China |
| Packaging Details: | Shipping via container or break bulk |
Quick Details
Brand Name: SJT
Model Number: SL,RL,L
Technique: Welded Mesh
Wire Diameter: 0*50 - 200*200, 3mm~16mm
Weave Style: Plain Weave
Application: Building construction Protecting Mesh
Type: Welded Mesh
Material: Black Wire Mesh
Standard: AS/NZS4671
Length: 1m-12m
Surface treatment: Epoxy coating /Galvanized coating
Property: Manufacturer
Hole Shape: Square
Specifications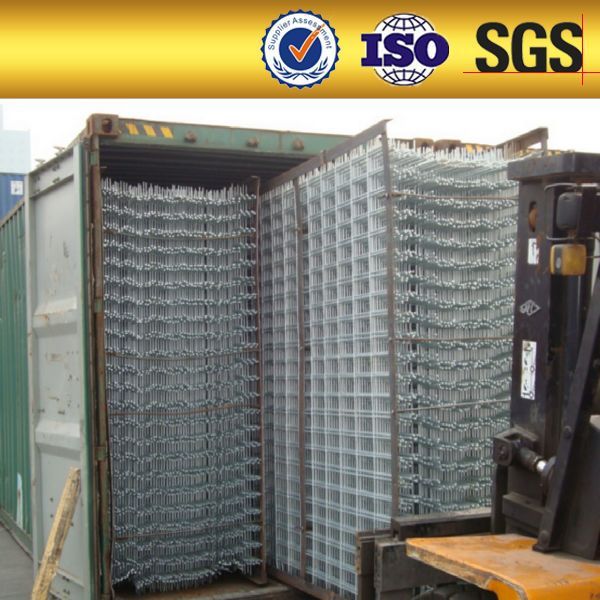 1. Standard :GB/T1499.3-2002,AS / NZS 4671: 2001,BS 4483:2005,A185-02,
2. Shap: Rectangular rib mesh,squarer
3. Dimension: 2.4x4.8m, 2.4x6m,2x4m. other size pls check with us
A) AS / NZS 4671: 2001
RL1218, RL1118, RL1018, RL918, RL818, RL718
SL102, SL92, SL82, SL72, SL62, SL52, SL62H, SL52H
L8TM3, L8TM4, L8TM5
B) BS 4483:2005
A393,A252,A193,A142
B131,B786,B508,B385,B283
C785,C636,C503,C385,C283
D98,D49
4. Packing: bulk or in package with steel frame outside
Definition of reinforcing welded mesh:
Longitudinal and transverse bars of the same or different diameter and length, which are arranged substantially at right angles and factory electrical resistance welded by automatic machines at points of intersection.
Processing of reinforcing steel mesh:
All mesh shall be factory made and machine welded. The joints at the intersections of the longitudinal bars and the transverse bars shall be made by electrical resistance welding to provide shear resistant connections. Mesh that includes butt welded bars shall be permitted.
Reinforcing Welded Mesh Type:
Rectangular welded mesh, Square welded mesh with edge side-lapping bars, Square welded mesh without edge side-lapping bars, trench mesh.
Reinforcing mesh standard: AS/NZS4671-2001
Reinforcing mesh reference number:
RL1218, RL1018, RL818
SL102, SL92, SL82, SL72, SL62, SL81
L12TM, L11TM, L8TM
Welded mesh sheet size tolerance:
The permitted maximum deviations from the specified dimensions of mesh are as follows:
Sheet dimensions≤6 m in length .............40mm
Sheet dimensions>6 m in length .............+/-0.7%
Applications of reinforcing mesh:
Industrial, Manufacturing, Guarding, Security, Enclosures, Large Animal Enclosures, Quarantine Caging, Fencing and Gabions.
For example, it is used on reinforced concrete construction, floor slabs reinforcement, brick wall reinforcement, floor warming.

Reinforcing Trench Mesh is long, narrow sheets of concrete reinforcing mesh. Its ideally sizes is suitable for trenches, paths or other narrow spaces.