Quick Details
Brand Name: Boegger
Model Number: 9
Technique: Welded Mesh
Weave Style: Twill Weave
Application: Woven Wire Mesh
Type: Weave Wire Mesh
Material: Stainless Steel Wire
Specifications
Honeycomb decoration mesh, also known as metal drapery, is a new type of architecture decoration material in the market. It is similar to and is reinforced metal coil curtain. Weaving more compact than metal coil curtain, honeycomb decoration mesh is woven by horizontal and vertical spiral wire while metal coil curtain is just made of vertical helix wire. Made from stainless steel, aluminum alloy, brass, copper or other alloy materials, through special technology compiled, endowed with shinning reflective surface make it has stylish characteristic, and feature of metal qualitative sense make your room gets simple elegance and fashionable.
Furthermore, with excellent incombustible materials, solid structure, high strength and perfect rust resistance properties, honeycomb decoration mesh can offer certain protection for the construction of buildings. At the same time, it can be used for facade decoration, large wall coverings or ceilings panels as well as decorate local small areas. And it is also suitable for hotels, stores, offices, houses and many other places.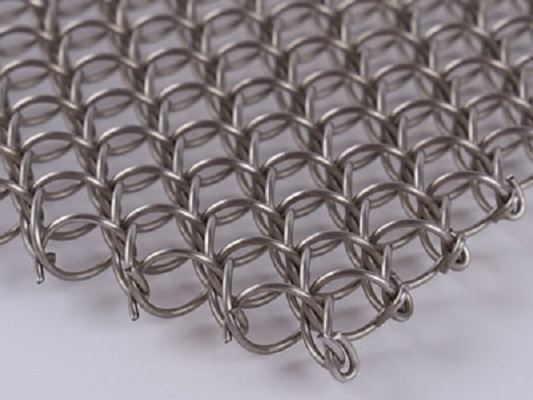 Specifications:
Product name: honeycomb decoration mesh.
Material: stainless steel, aluminum alloy, brass, copper or other alloy materials.
Finish: satin-matte, glossy, colored.
Color: stainless steel, bronze, copper, aluminum, gun-black, silver, golden, black, etc.
Weave type: twisted weave.
Dimensions: 0.5 mm - 5 mm.
Width: up to 3000 mm.
Open area: 40 % - 85%.
Note: colors, shapes and sizes can be customized.
Features:
Rust resistance.
Maintenance free.
Incombustible material.
High-strength and durable.
Good drooping.
Easy installation.