| | |
| --- | --- |
| Export Markets: | North America, South America, Eastern Europe, Southeast Asia, Africa, Oceania, Mid East, Eastern Asia, Western Europe |
| Place of Origin: | Guangdong in China |
| Packaging Details: | Carton package with Huawei original package |
Quick Details
Type: OLT
Brand Name: HUAWEI
Material: Metal
WEIGHT: 11KGS
Screen Size: 19 Inch
Model Number: MA5608T
Condition: New
Access capacity 1: 16*10G EPON
Access capacity 2: 8*10G GPON
Access capacity 3: 96*GE
Specifications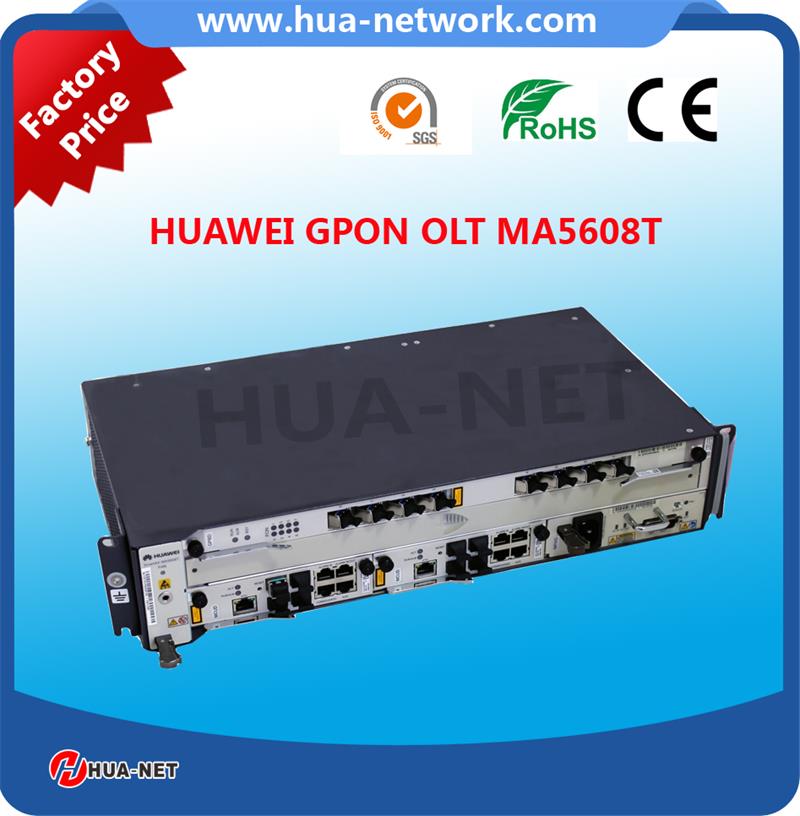 Product Description
the MA5608T Mini OLT is designed to address Fiber to the premise (FTTP) or deep fiber deployment scenarios where a large OLT
Chassis may not be the best fit for a variety of reasons. Huawei's mini OLT MA5608T is designed to be the perfect complement to
the other MA5600 series larger OLTs and offers the same carrier grade features and performance.
MA5608T's cmpact and front access design make it an ideal solution for deployments in locations such as space-constrained huts,
Outdoor cabinets or building basements. It has AC and DC powering options,extended temperature range, and offers easy installation.
Designed to support ever-increasing bandwidth demand, MA5608T has 200 Gbps backplane. the combination of the high-capacity
and line interfaces with best-in-class performance allows the operators to deliver a range of services for maximum revenue at highly
Competitive cost points.
the MA5608T shares the same product architecture with the MA5600 series OLTs to allow seamless network growth.
Highlights
Convergence and access integration

? Provides super large convergence switching capacity. Specifically, an MA5600T series device supports 3.2 Tbit/s backplane
Capacity, 1,920 Gbit/s switching capacity, and 512,000 MAC addresses.
? Provides super high-density cascading capability. Specifically, an MA5600T series device supports a maximum of 46 x 10GE
or 768 GE services, with no additional convergence switches.

High reliability

? Provides highly reliable networking capabilities and ensures dual-OLT hot backup, remote disaster tolerance, and service
Upgrades without interruption.
? Provides comprehensive Quality of Service (QoS) functions and supports traffic classification management, priority control,
and bandwidth control. the Hierarchical-Quality of Service (H-QoS) function meets various Service Level Agreement (SLA)
Requirements of commercial customers.
? Provides an End-to-End (E2E) highly reliable design, enabling Bidirectional Forwarding Detection (BFD), Smart Link, Link
Aggregation Control Protocol (LACP) redundancy protection and GPON type B/type C line protection in the upstream direction.

Multi-scenario access

? Supports access of multiple E1 private line services, and Native Time-Division Multiplexing (TDM) or Circuit Emulation Services
over Packet (CESoP)/ Structure-Agnostic TDM over Packet (SAToP) function.
? Supports the Emulated Local Area Network (ELAN) function and Virtual Local Area Network (VLAN)-based internal traffic
Exchange, satisfying enterprise and community network application requirements.
? Supports non-convergence access of Internet Protocol television (IPTV) users. One subrack supports 8,000 multicast users and
4,000 multicast channels.

Smooth evolution

? Supports GPON, 10G Passive Optical Network (PON), and 40G PON on a platform, enabling smooth evolution and achieving
Ultra-bandwidth access.
? Supports IPv4/IPv6 dual stacks and IPv6 multicast, enabling smooth evolution from IPv4 to IPv6.

Energy saving

? Uses special chips for conserving power. Specifically, 16 ports on a GPON board consume less than 73 W of power.
? Supports idle board automatic power-off and intelligent fan speed adjustment, effectively lowering idle board power
Consumption.
Key Features
System Performance

? 3.2T bit/s backplane capacity, 960G bit/s switch capacity,
512K MAC addresses
? Line speed L2/L3 switching
? Static route/RIP/OSPF/MPLS
? TDM private line service with Native TDM or CESoP
? BITS/E1/STM-1/Ethernet Synchronization/IEEE
1588v2/1PPS+ToD

GPON Line Card
? 8/16*port per card with pluggable SFP optical
Module(Class B+ or Class C+ are optional)
? up to 1:128 splitting ratio
? Bidirectional FEC
? ONU-based and queue-based traffic shaping
? Rogue ONT detection and isolation
? Type B / Type C protection and Type C dual-homing
? Optical power meter (can support ±1dB precision)
? EOTDR (1:8 splitting ratio)

10G GPON Line Card
? 4*port per card with pluggable XFP optical module
? up to 1:128 splitting ratio (N1)
? Bidirectional FEC
? Rogue ONT detection and isolation
? Type B / Type C protection and Type C dual-homing
? Coexist with GPON

Ethernet P2P Line Card
? 48 port per card with CSFP optical module, 768 ports per shelf
? Port-based and queue-based traffic shaping
? Single fiber double direction access, 100Mbit/s or
1000Mbit/s per port
? DHCP Option 82 relay agent and PPPoE relay agent
? Ethernet OAM
? Ethernet synchronization
Specifications
Dimensions (H x W x D)
88 mm x 442 mm x 233.5 mm
Operating Environment
–40°C to +65°C
5% RH to 95% RH
Power
–48V DC power input
Dual-power supply protection
Operating voltage range of –38.4V to –72V
Switching Capacity — Backplane Bus
Switching Capacity — Backplane Bus
720 Gbit/s
Switching Capacity — Control Board
512 Gbit/s
Access Capacity
8 x 10G GPON
32 x GPON
96 x GE
Port Type

Upstream ports: 10 GE optical and GE optical/electrical ports

Service ports: GPON optical port, P2P FE optical port, P2P GE optical port, and Ethernet optical port

System Performance

Layer 2/Layer 3 line-rate forwarding

Static route, RIP, OSPF, and MPLS

Clock synchronization schemes: BITS, E1, STM-1, Ethernet clock synchronization, 1588v2, and 1PPS + ToD

Maximum split ratio of 1:256

Maximum logical distance between devices: 60 km